Celebrating Advent and the Christmas season is one of Europe's longest traditions. But these days it's more than just a tradition, Christmas is a social event for friends and family to get together after work or on the weekends leading up to Christmas Day and often includes time spent at the local Christmas market.
In this guide, we share our view on the best Christmas markets in Europe for 2022.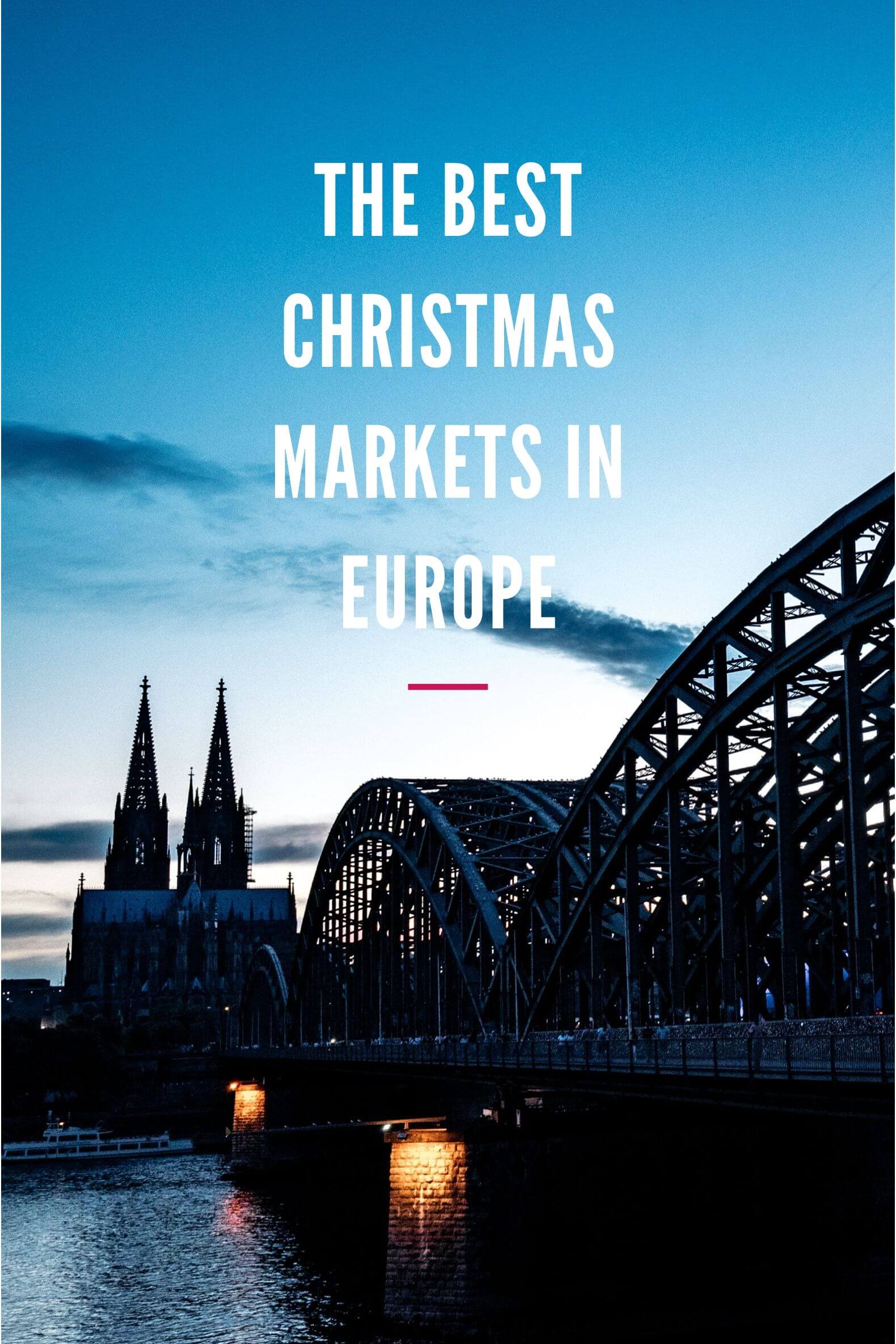 A typical visit to the Christmas markets involves wandering around the stalls, eating freshly prepared food, drinking mulled wine or hot chocolate and shopping for handmade gifts.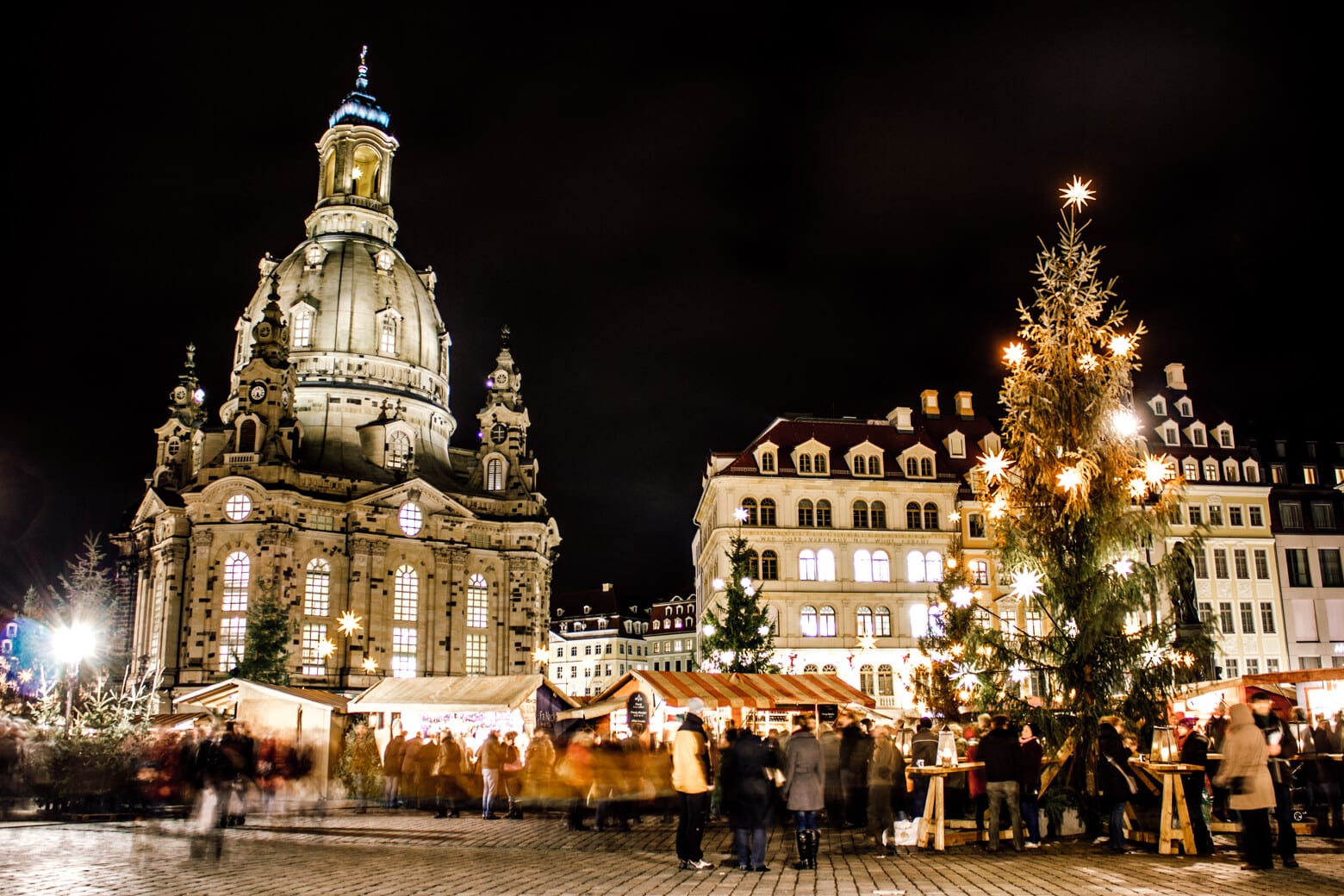 Traditional European Christmas markets typically take place starting the last weekend in November and finish on Christmas Eve. But many cities now extend their market dates, especially in less traditional destinations like Budapest and Ljubljana. Larger European cities like Vienna and Munich have multiple markets held around the city, often with different themes, while smaller towns usually only have one market in the main square.
Travel Tip: Read our guides to help plan your Christmas holiday or winter break.
Play your trip – everything you need to know before you go.
Christmas market tours – get local insights into the destination and culture.
Best Christmas hotels – book a hotel recommended by our travel experts.
The Best Christmas Markets in Europe in 2022
Deciding which Christmas market to visit and planning your winter holiday can be a daunting task. To make things easier, this page is designed to give you an overview of the best Christmas markets in Europe and link to each city guide where you'll find detailed information on:
market dates
regional specialities
destination highlights
where to stay and
when to go.
If this is your first time visiting Europe's Christmas markets you might want to visit the 'best of the best' or maybe the biggest or oldest Christmas market. On the other hand, if you've already visited a few markets around Europe then you might prefer to select a quieter or more unusual destination or a country that is new to you.
If you have the time and want to visit a few Christmas markets on the one trip, pick destinations in close proximity (via train for convenience), and create your own Christmas market tour. For example, you might find a cheap flight to a bigger city like Vienna but then take the train to a smaller city like Salzburg and then move on to a village-like Hallstatt. All destinations are in close proximity but offer completely different experiences.
There are many options, it really comes down to your personal interests, budget and availability.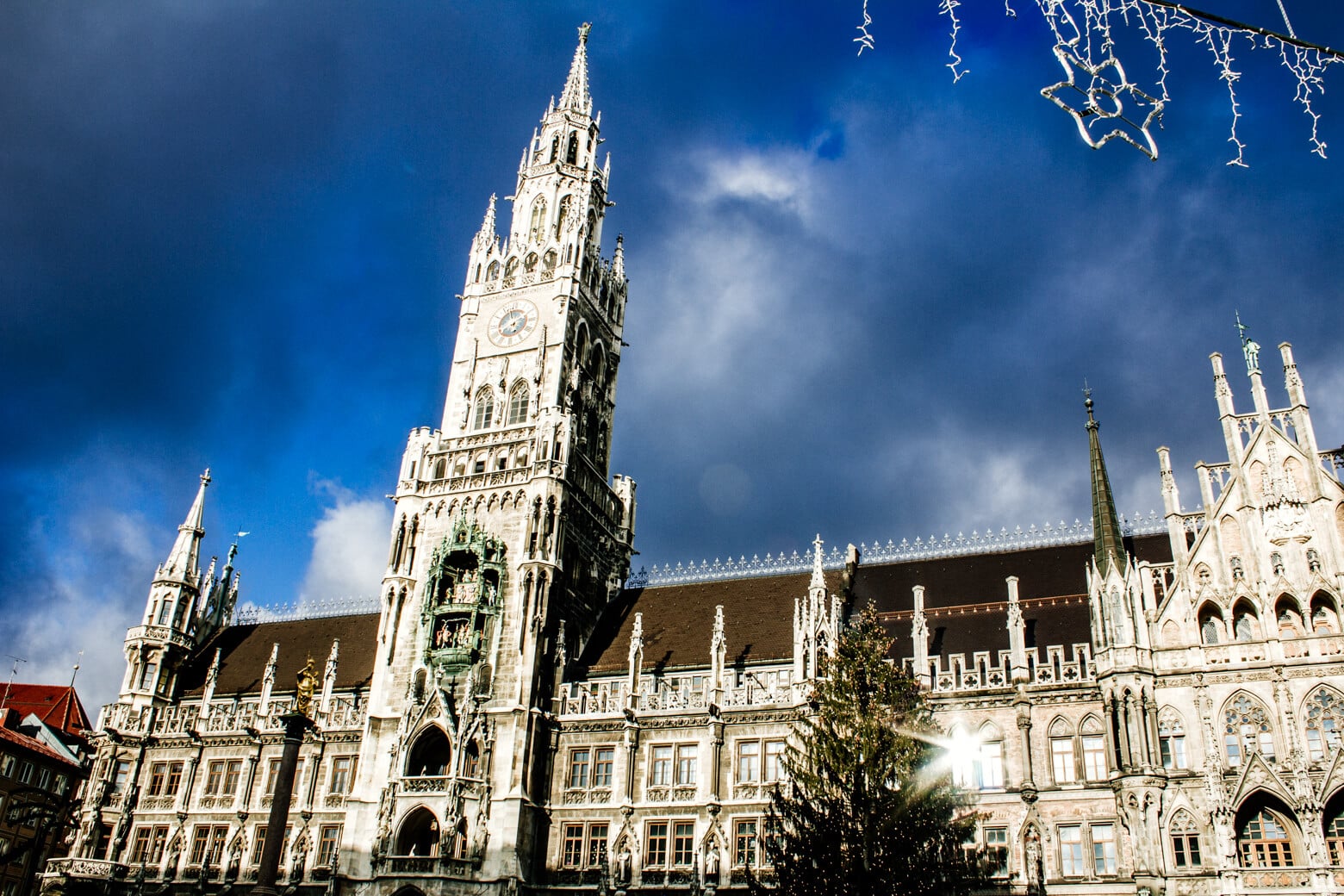 The following list is a good place to start planning your trip. Firstly, I'll list the top 10 Christmas markets in Europe, followed by the best alternative markets and then further down you can find the best Christmas markets per country.
Top 10 Christmas Markets in Europe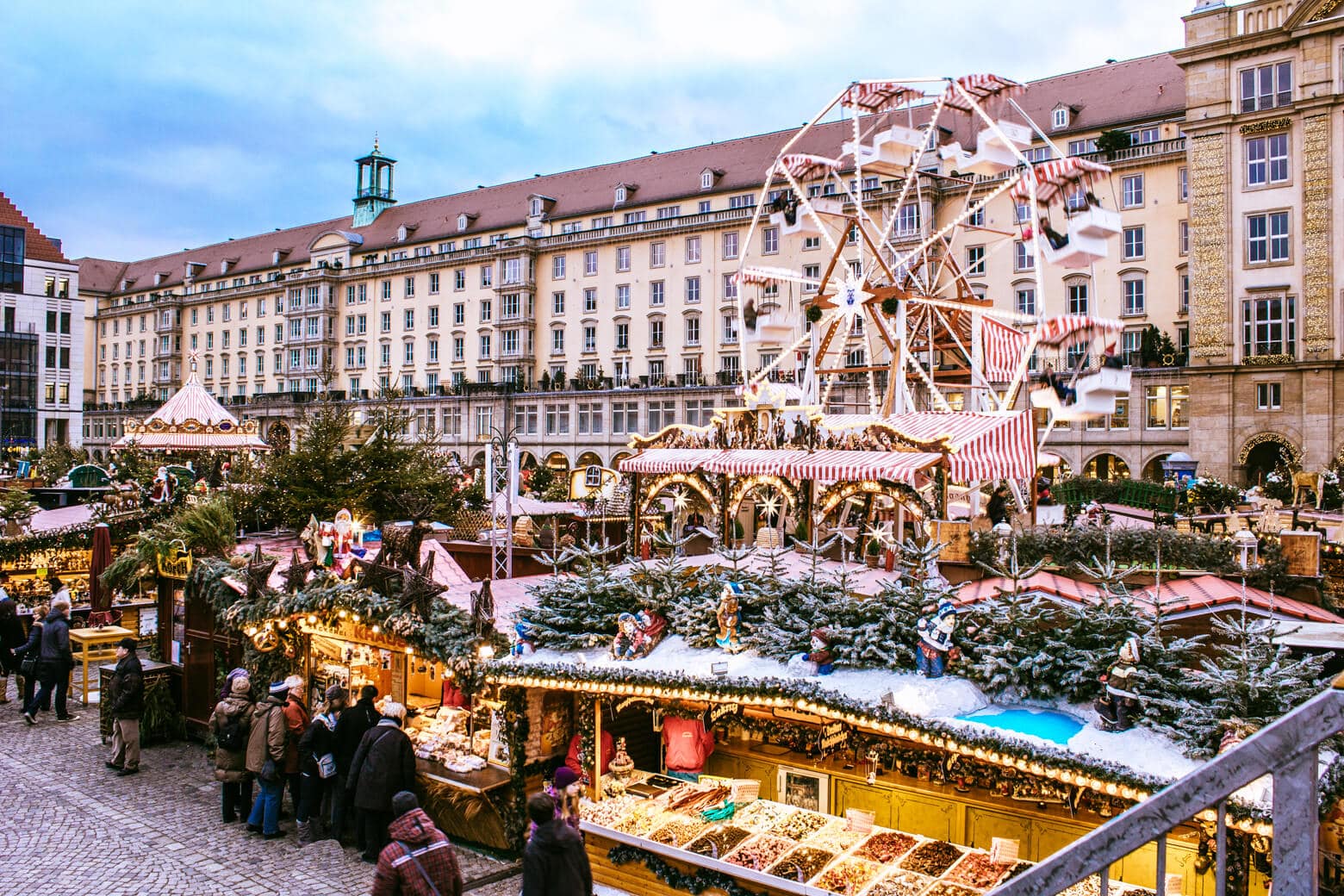 Obviously choosing the best Christmas markets is completely subjective. As a long term traveller over many years, I've visited the most famous, the biggest, the oldest and the cutest markets and these are my recommendations for winter 2022.
Dresden – The oldest Christmas market in Europe is in one of the most beautiful cities in all of Germany. Dresden Christmas market gets my vote for the top Christmas market for its stunning location, historic market, delicious food from around the world and relatively low prices.
Nuremberg – The biggest Christmas market and one of the oldest and most traditional in the world. Nuremberg has strict regulations governing the quality of products for sale making the Nuremberg Christmas market unique and special. Stall holders must be from the local region, plastic toys and gifts are banned and they even have an EU protected sausage that can't be sold elsewhere. Nuremberg Christmas market is popular with families as they have a market dedicated to children's activities.
Vienna – As one of the most beautiful cities in Europe, Vienna's Christmas markets are stunning and include the famous Schoenbrunn Palace market, the popular Town Hall Market and many smaller markets in the city's different districts.
Prague – One of the most dynamic and exciting city's in Central Europe, Prague is home to a mix of modern and traditional Christmas markets. Prague is an affordable destination with great food and complex history.
Strasbourg – If you would prefer to visit a smaller city with a fairytale old town with half-timber houses and romantic canals, Strasbourg is a great option. In the heart of Alsace, Strasbourg is a foodie's paradise and wonderful to visit all year round, not just at Christmas.
Brussels – Brussels has a number of Christmas markets but the Grand Place market is one of the most spectacular locations to enjoy Christmas and experience delicious Belgian food and drinks.
Budapest – One of Europe's great cities, Budapest is beautiful, historic, affordable and packed with markets and events over the winter period. Budapest may not be a traditional Christmas destination but is now one of the most popular winter destinations in Europe.
Zurich – Switzerland is famous for its cosy winter festivals and Zurich is home to the best. The old town streets are lined with timber Christmas stalls selling delicious food like raclette (served as melted cheese on a baguette) and hand made gifts made by local Swiss artisans. Events involve music and dance at locations around the city.
Munich – One thing that puts Munich ahead of other Christmas market destinations is simply the number and variety of markets to choose from. Munich has everything from a Medieval style market, a Pink Christmas market and the alternative Tollwood Winter Festival.
Salzburg – One of the more traditional market cities in Austria, Salzburg Christmas market is in the stunning old town where there is a hilltop fortress and Christmas decorations and markets all around the city.
5 Alternative Christmas Markets
There aren't many destinations in Europe that are off the beaten path but there are destinations that aren't known for Christmas celebrations but actually have great markets and winter events. These alternatives to the most popular markets listed above can be a worthwhile option if you want to visit somewhere a bit different, cheaper, with fewer tourists or maybe a destination you never considered before.
Ljubljana – Slovenia's capital is an adorable historic city situated on a winding river lined with Christmas stalls. Ljubljana Christmas market is a modern market with sustainably produced organic food, locally made eco-friendly gifts and a bonus of great views from the hilltop castle.
Minsk – As a mostly Orthodox city, Minsk's winter celebrations take place using the Orthodox calendar and aren't traditional but you'll be visiting one of the most interesting and unique capitals in Europe. Minsk can get very cold in winter but you can keep warm drinking vodka based drinks and eating hearty Belarusian meals.
Cesky Krumlov – Czechia's famous small town, Cesky Krumlov is one of the most beautiful destinations in all of Central Europe. The location is stunning, the food incredible and the markets are cosy and welcoming.
Krakow – Christmas markets are a relatively new event in Poland but the longest standing one takes place in the main market square in Krakow. You can try unique Polish dishes like pierogies and smoked cheese while drinking flavoured vodka or traditional mulled wine. Read our guide to Krakow Christmas market.
Tallinn – The historical old town in Tallinn is the location of the best Christmas market in the Baltic States. The main square has rows of stalls with classic dishes from around the world, hand made gifts and children's toys. Tallinn is affordable, there are lots to do in the city and places worth visiting just outside. You can even take a day trip to Helsinki to experience the Finnish winter markets.
Christmas Markets in Germany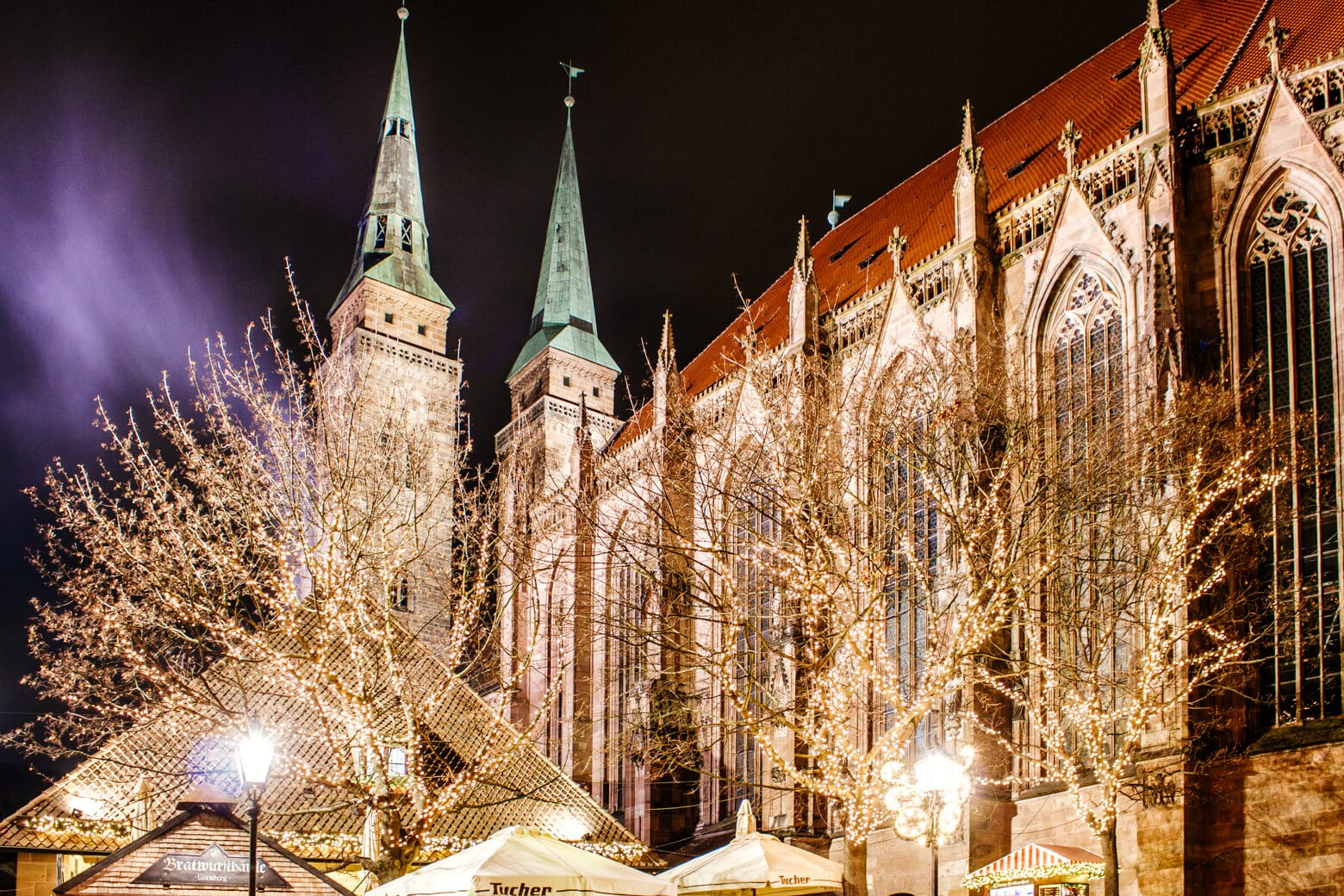 The best Christmas markets in Europe are definitely to be found in Germany. This is where you'll find the deep, long-held traditions of the oldest markets in the world. In Germany, it's all about history, tradition, family and friends. You have the choice of the biggest, oldest, most historic and the most modern Christmas markets. Every big city has multiple markets and you'll find Advent celebrations in the smallest of towns.
If you want to plan a Christmas market tour, Germany is a great place to do so with so many historic destinations to choose from and fast trains to get you around.
Dresden – A smaller city in the east of Germany, Dresden is close to Prague, Berlin, Nuremberg and even cities in Poland like Wroclaw, where you'll find the Wroclaw Christmas market. You could visit a couple of these cities in the one trip or stay and explore the historic city, its top museums and the oldest Christmas market in Europe.
Nuremberg – Nuremberg is a historic city with half-timbered houses, classic food and excellent museums. The huge Christmas market in the main square draws visitors from around the world and strict regulations mean you'll only find quality local products available for sale.
Cologne – Cologne is a more modern city in the west of Germany not far from the French and Dutch borders. There are unique markets like the water Christmas market on the Rhine River and huge celebrations for Advent, Christmas and the New Year.
Munich – If you're interested in visiting many different Christmas markets with various themes, unique stalls and with different atmosphere then you can't beat Munich. Every district has its own market as does almost every square in the city centre.
Hamburg – Hamburg is one of the more modern cities in Germany, great for high end food and crazy nightlife. I wouldn't say it's the best choice for Christmas markets but it's an often overlooked tourist destination and well worth visiting if you haven't been before.
Heidelberg – I was initially surprised to learn Heidelberg is one of the most visited small cities in Germany. It's well known for it's Christmas market and wines from the surrounding region.
Rothenburg ob der Tauber – An adorable medieval location with an intimate Christmas market and Advent celebration in central Germany, Rothenburg is a good place to visit on a day trip from Nuremberg or passing through to somewhere else.
Berlin – If you want to visit a big city with many markets, countless events, great shopping, excellent food, the best museums and all at an affordable price then Berlin is the place to go. The best Christmas market in Berlin is probably the market at historic Gendarmenmarkt or the artisan market at Opernpalais. Visit Berlin lists the many Berlin markets and events.
Christmas Markets in Austria
Along with Germany (and German speaking Switzerland), Austria is the place for some of the best Christmas markets in Europe. Events in November and December revolve around Advent and Christmas which include dance and musical events, concerts, food festivals, museum exhibitions and more, all running alongside the Christmas markets.
Vienna – One of the top reasons for choosing Vienna as your Christmas holiday destination is the huge number of Christmas markets that run at the same time. You can visit a different market each day and attend classical music concerts, choir singing as well as visit all the typical Viennese attractions.
Salzburg – Salzburg is one of the most charming destinations in Austria, the pedestrianised centre is lined with boutique shops, you can walk through the Mirabell gardens to visit the palace and take the fortress funicular to visit the castle and enjoy the views over the city.
Hallstatt – Hallstatt is one of the most picturesque villages in Austria. Situated on a lake surrounded by snow capped mountains, the scenery is breathtaking and the short-lived Christmas market adds to the charm.
Christmas Markets in Belgium
Belgium has pretty Christmas markets mixed with amazing, historic city destinations with some of the best food you'll find anywhere in Europe. These cities are easy to get to, easy to get around, they have world-class museums and a full calendar of events.
Brussels – For the most options for things to see and do in Belgium, visit Brussels and its lively Christmas markets. The main market is in the Grand Place, the centre square lined with elaborate architecture with gold touches. The Grand Place is one of the most exquisite squares in Europe and the rest of the city is busy with events over Christmas and New Year's.
Bruges – In spring, Bruges is known for its flower lined canals but in winter, visitors focus on the Flemish architecture, an abundance of excellent restaurants, small museums and the popular Christmas market.
Ghent – Ghent is similar to Bruges in that the old town is built around canals lined with historic architecture. The difference is Ghent is quieter with fewer tourists so it's a great option if you want to experience a less crowded Flemish city.
Christmas Markets in France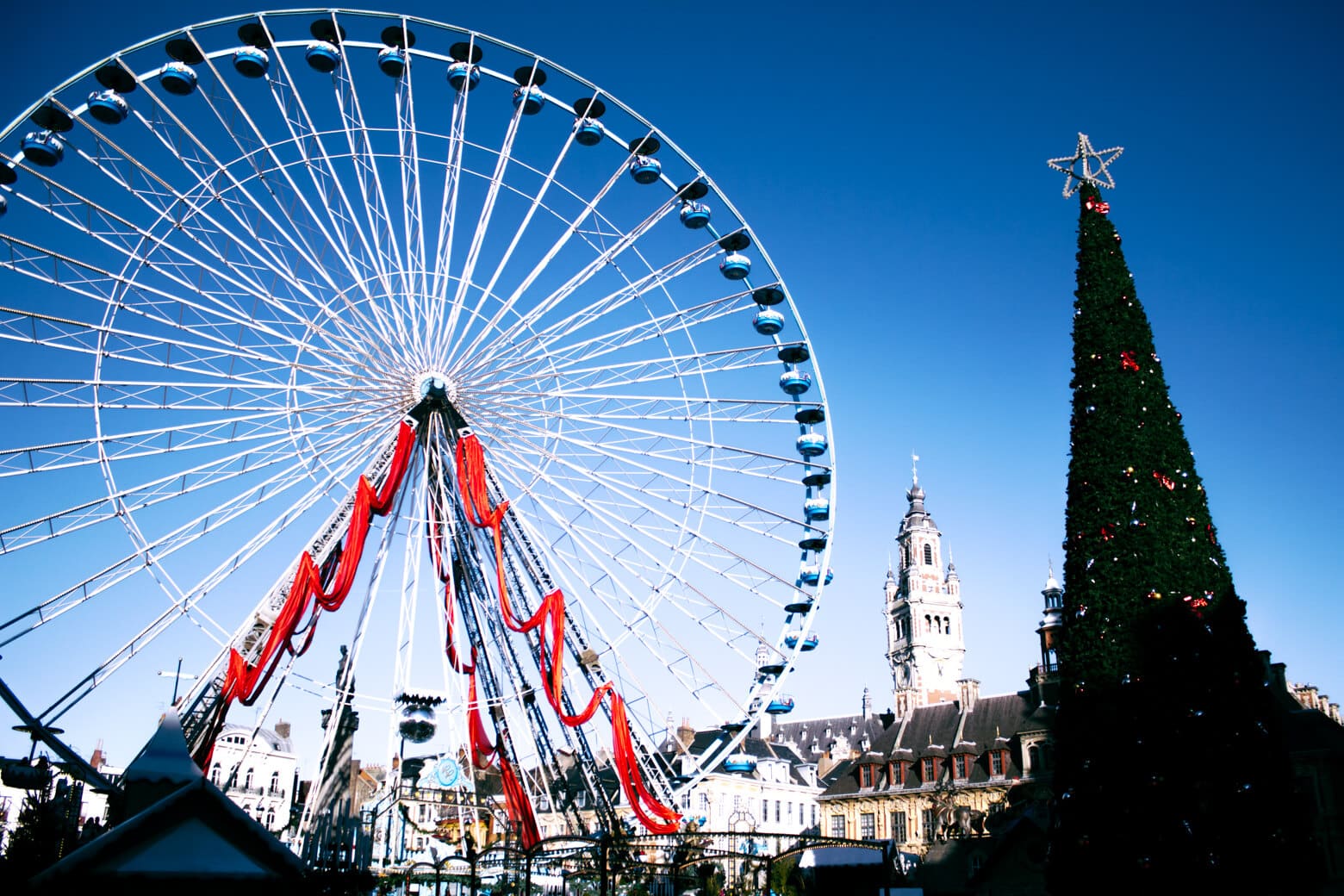 France's Christmas markets are often overlooked in favour of the more well known German and Austrian markets but you can't overlook the incredible French food and beautiful destinations.
Paris – Of course, the French capital has plenty to offer over Christmas and New Year. The Parisian Christmas markets are possibly more touristy and commercial than elsewhere but Paris is never a bad idea.
Strasbourg – The German and Alsatian influence mixed with French traditions and one of the prettiest cities in France makes Strasbourg a great choice for a winter getaway. Strasbourg is the most popular Christmas market destination in France and rightly so.
Lille – Less well known as a Christmas market destination, Lille's market is compact but high quality. Lille is a great destination for foodies, museum goers and those looking for a quieter winter city holiday. Read the full Lille Christmas market guide for 2022.
Christmas Markets in the United Kingdom
Christmas is a huge celebration in the UK and even though Christmas markets might not have the long tradition of markets in Germany or Austria, you can find them in almost every city. Expect to see many streets in the city centres lined with elaborated decorations, Christmas trees in major squares, ice rinks for skating as well as events and meetups for friends and family in the evenings and on weekends.
Our list of the best Christmas Markets UK should provide you with plenty of inspiration for a Christmas getaway or local celebration.
London – Of course the capital has the biggest and liveliest markets. The best Christmas fairs and winter markets include the Winter Wonderland at Hyde Park, Southbank Winter Festival and the pretty London Bridge Christmas by the River.
Edinburgh – Edinburgh has a great Christmas market but it's even more well known for the Hogmanay Festival. Hogmanay starts on the 30th December and is a huge celebration, events and parties which takes you into the new year.
Leeds – I was surprised to learn Leeds has one of the most well known Christmas markets in the UK. December is a great time to visit the northern city to see what it's all about.
Bath – The historic city of Bath is worth visiting all year round but especially for a winter break. Stay in a romantic bed and breakfast, explore the Roman baths during the day, then visit the festive Bath Christmas market in the evening.
Christmas Markets in Italy
Italy isn't known for its Christmas markets but the best in the country are in northern Italy. A huge benefit of visiting a Christmas market in Italy is obviously the incredible Italian food!
Bologna – The foodie capital of the Emilia-Romagna region and in my opinion all of Italy, Bologna Christmas market is a historic market in the city centre with food events over the winter period. If you love Italian food, visit Bologna.
Venice – Venice's Christmas market has artisan products like local Murano glass, traditional carnival masks and great tapas style food. It doesn't hurt that Venice is one of the most unique and stunning locations in the world.
Milan – If you want a big city winter holiday with boutique shopping, classy Italian food and popular events, Milan Christmas market has a lot to offer.
Christmas Markets in Scandinavia
If you can deal with the cold, and it will be cold, then Scandinavia has some cute Christmas markets and other winter events in December and January. If you're feeling really adventurous, head north towards the Arctic Circle to celebrate Advent during the day and watch the Northern Lights in the evening.
Stockholm – A great city to visit all year round, Stockholm has excellent museums and galleries, the scenic archipelago, indoor shopping areas where you can stay warm and pretty decorations to get you in the Christmas spirit, as will the Stockholm Christmas market.
Bergen – You could visit Olso's Christmas markets while in Norway but Bergen has a more cosy and inviting atmosphere. The small city is adorable and the surrounding scenery breathtaking, even in winter.
Copenhagen – Copenhagen has the Copenhagen Christmas market in front of the Town Hall or enjoy the family atmosphere at the Tivoli Gardens. Walking along the lit up Nyhavn in December will round out your Danish experience.
Christmas Markets in Eastern Europe
Eastern Europe is as off the beaten path as you can get when it comes to winter city break destinations. You might be cold but these cities are affordable, less crowded yet still charming.
Minsk – Minsk is an incredible city with Soviet-era architecture, quirky old school department stores, fascinating museums and Cold War history. Visiting during the Christmas and New Year celebrations is just a bonus of travelling in this cool country.
Tallinn – The most beautiful city in the Baltic States, Tallinn has one of the most well preserved historic old towns with cobblestone streets and a huge Christmas market in the main city square.
Riga – It may not be the most visited of cities but Riga is underrated and deserves more attention. Riga is cheap to get to and cheap once you get there. The city centre is walkable and charming with cafe lined streets and incredible Art Nouveau architecture. Read our full guide to Riga Christmas market.
Christmas Markets in the Balkans and Southeastern Europe
Southeastern Europe and the Balkans is not a region known for celebrating Advent and Christmas. But in recent years these cities have taken on the market tradition and made it their own. These are unique destinations with very few tourists compared to the often overcrowded and touristy Germany and Austrian Christmas cities.
Zagreb – The Croatian capital Zagreb has probably the most traditional of the Balkans Christmas markets. Zagreb is a quiet city, especially in winter but it's cute and compact, perfect for a winter markets break.
Sofia – As a predominately Orthodox country, Bulgaria doesn't have much of a Christmas market tradition but you can find markets and many winter events in the capital Sofia.
Sibiu – You might not think of Romania when it comes to Xmas markets but historic towns like Brasov and Sibiu Christmas market are charming and cheap destinations with small markets and interesting food.
Tirana – Yes, even Albania has Christmas markets these days. I wouldn't go just for the market stalls but Tirana is always a fun city to visit and very unusual compared to elsewhere!
Those are my recommendations for Christmas markets to visit in 2019. As you can see, there are many options so I can understand it's a difficult decision! I suggest picking one of the top 10 markets to start with or pick your preferred country first and then take it from there. I included the top alternative markets to get you thinking of places you might not normally consider but you can be sure, everywhere mentioned here will be an exciting and interesting trip and definitely worth visiting at Christmas or any time of the year.
To answer a couple of questions:
When do the Christmas markets start? Traditionally on the last weekend in November (the start of Advent). Refer to our specific guides with Christmas market dates for each destination.
Where are the best Christmas markets in the world? In Europe of course! Specifically in German speaking countries; Germany, Austria and Switzerland.
Pin this image to your travel or Christmas board to help with your winter travel planning.