Zurich is the largest city in Switzerland and one of the most popular with visitors. You'll experience a wonderful combination of urban and nature while in Zurich. The city has a gorgeous historic old town that sits on the shores of Lake Zurich while surrounded by snow-capped mountains. Zurich Christmas Market is one of the highlights of a city break in Zurich in winter.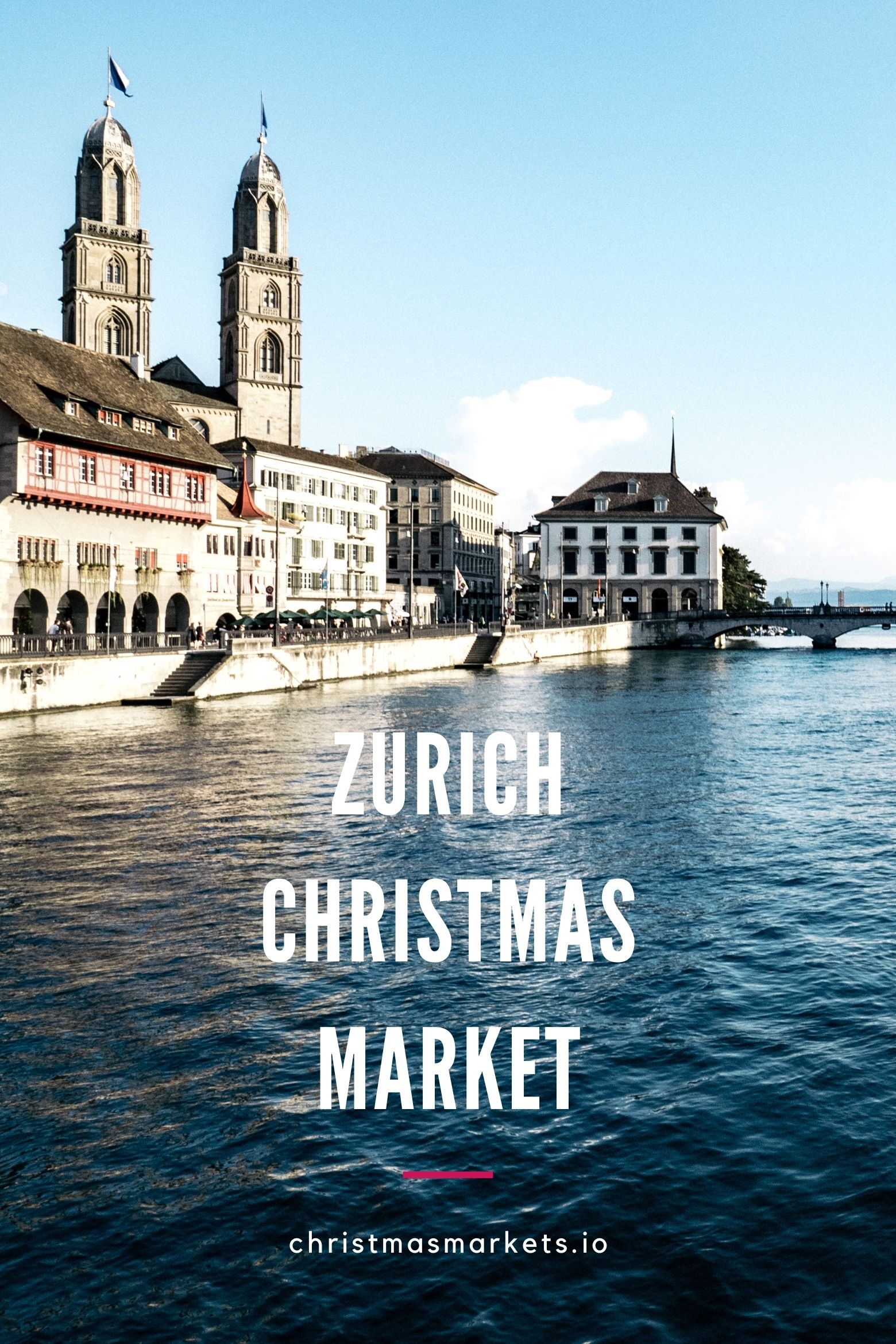 Zurich Christmas Market 2021
Zurich Christmas Market and Advent events take place all over the city from late November until New Year's Eve. The festive Christkindlimarkt is held inside Zurich's central train station, while the traditional Christmas market in Niederdorf is Zurich's oldest and is known as the Village Christmas Market.
The Christkindlimarkt is where you'll find Zurich's famous Swarovski Christmas tree, a 16-metre high tree that is decorated with 7,000 Swarovski crystals.
Start your visit to the Niederdorf Christmas markets in Zurich with a stop at Mühlegasse followed by Hirchenplatz and ending at Grossmünster. At Mühlegasse you'll be welcomed with the scent of cinnamon and mulled wine. At Hirchenplatz you can shop for Christmas gifts and Swiss culinary specialties while Grossmünster is famous for the fondue stands and delicious Swiss raclette.
Zurich Christmas Market: Niederdorf – the old town neighbourhood of Zurich that is known for its medieval streets, squares and cathedrals.
Zurich Christmas Market dates: 25th November to 23rd December 2021.
Opening times: 11am to 9pm. Closes at 10pm on Fridays and Saturdays and 8pm on Sundays.
Location: Between Mühlegasse and Grossmünster in the Niederdorf District. There are 5 other locations too.
Reason to visit: The mountain and lakeside landscapes and the stunning Swarovski tree.
Specialities: All kinds of food dipped in fondue, Swiss raclette, local handmade chocolate, artisan bakeries.
Travel tips: Switzerland can be very expensive. If you're on a budget, consider shopping at the indoor food markets to prepare a some delicious meals in your room for a reasonable price. Look for affordable street food options as you wander the old town and consider staying in an apartment to save on accommodation.
Hotels near Zurich Christmas Market: One of the newest hotels in Zurich, Ruby Mimi Hotel is a modern boutique hotel that is light, bright and exceptionally well-located. The Ruby hotels originated in Vienna and it's great to see them expanding into Switzerland. This hotel is excellent value for money.
Other Christmas Markets in Zurich
There are a number of lovely Christmas markets in Zurich that you might come across as you walk around the city. Or you can hunt them down to experience those that are less touristy or with different themes and specialties.
Christkindlimarkt: Zurich train station, Zürcher Hauptbahnhof. Closes on the 24th December. This is a great market to visit when the weather is poor as it is the only indoor Christmas market in Zurich.
City Christmas Market: City Weihnachtsmarkt, Lintheschergasse. Situated on Bahnhofstrasse, Zurich's famous shopping street. This is one of the more modern Christmas markets in Zurich.
Urban Christmas Market: Zürcher Wienachtsdorf, Sechseläutenplatz. Located next to the Opera House and Lake Zurich is a large market with 120 Christmas stalls with a large Christmas tree at its centrepoint. Note, this is a cashless market.
Regional Christmas Market: Weihnachtsmarkt Münsterhof, Münsterhof. A market that specialises in regional products that are designed or manufactured in Zurich or the surrounding region. This is a great maket to visit if you're looking for unique gifts to take home from Switzerland. This market closes on the 24th December 2021.
Musical Christmas Market: Weihnachtsmarkt, Werdmühleplatz. Known for the Singing Christmas Tree, a choir performance by local children. Read the program if you're interested in attending.
Things to do in Zurich in Winter
There are many exciting things to do in Zurich in winter, most of which include visits to the incredibly beautiful mountains that surround the city. Skiing, tobogganing, snowshoeing or cross-country skiing are some favourite sports with locals and tourists can easily participate too.
If winter sports aren't your thing then Zurich has some excellent world-class museums, gourmet experiences, indoor markets, spas and hammams. If the weather is good, you can walk around peaceful Lake Zurich, one of the most beautiful lakes in Switzerland.
You won't be short of things to do during a short stay in Zurich.
If this is your first time in Zurich, we strongly recommend taking a short city tour upon your arrival in the city. This will give you an excellent overview of the city and an idea of places where you might like to revisit or spend more time exploring.

Zurich is a wonderful culinary destination and a great way to experience this is via a food tour. We recommend the Swiss Cheese Fondue and Wine food tour but Get Your Guide offers a number of different culinary tours in Zurich.
Map of Zurich Old Town
If you have any questions regarding your visit to the Zurich Xmas market in 2021 or would like to know more about visiting Zurich or elsewhere in Switzerland in winter, please leave a comment below. We are regular travellers around Europe and we're happy to help with trip planning when we can. We generally reply to questions within 24 hours.
Reviews assist people who are planning on visiting Zurich Christmas Market, especially first time travellers. If you would like to leave a review after your visit, you're welcome to do so in the comment section below. We appreciate you taking the time to do this if you can.
Please be sure to follow all government travel guidelines and restrictions while in Zurich and elsewhere during your Christmas break in Switzerland. Be aware these may change at short notice so please continue to monitor the situation. The risk of cancellation remains, we recommend taking out travel insurance and purchasing refundable tickets and hotel accommodation.
The latest information for travellers is published by Switzerland Tourism, the official tourism board of Switzerland.
This post contains affiliate links to tours and hotels in Zurich, Switzerland. This means we get a small commission from any bookings at no extra cost to you.