Switzerland has always been one of the most popular winter destinations in Europe and this is especially true during the Christmas period. Almost every city square and shopping street is decorated with baubles and Christmas lights from late November, highlighting the incredible beauty of Swiss cities.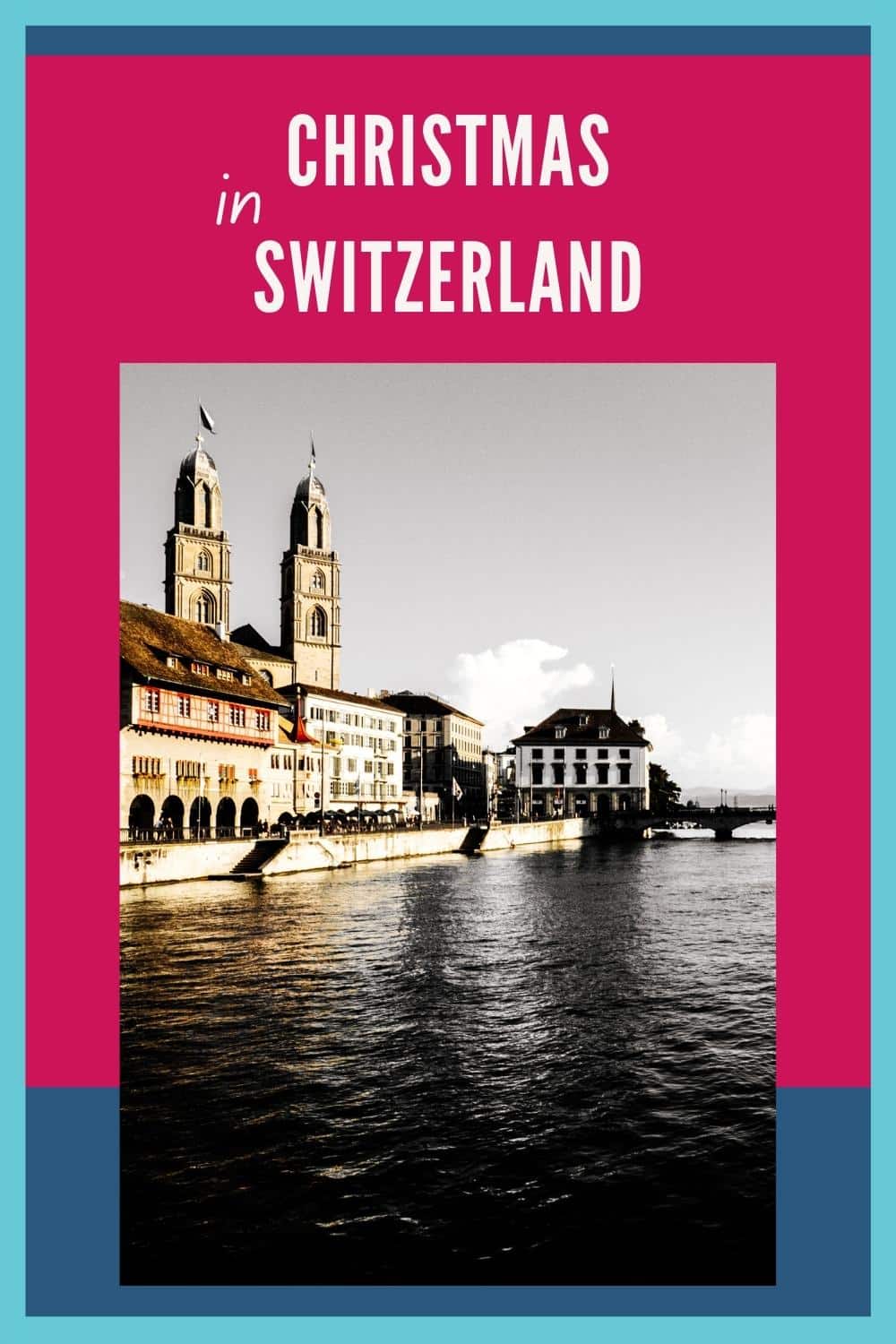 I'm fortunate to have travelled several times through Switzerland, often in winter, and in this guide, I share the best Christmas markets in Switzerland in 2022.
Best Christmas Markets in Switzerland 2022
Keep in mind that every Swiss city has a Christmas market and quite often several Christmas markets. So picking the best is incredibly difficult and completely subjective.
Personally, I love visiting big cities for the atmosphere and the number of cultural and entertainment activities available. There is always so much too alongside the Christmas markets.
But if you have time, it's well worth venturing out to the smaller towns and villages for a calmer experience.
1. Zurich
Zurich Christmas Market – Zurich Christmas and Advent events take place all over the city from late November until New Year's Eve.
The festive Christkindlimarkt is held inside Zurich's central train station, while the traditional Christmas market in Niederdorf is Zurich's oldest and is known as the Village Christmas Market.
At Mühlegasse you'll be welcomed with the scent of cinnamon and mulled wine. At Hirchenplatz you can shop for Christmas gifts and Swiss culinary specialties while Grossmünster is famous for the fondue stands and delicious Swiss raclette.
Get more information on Christmas market dates, times and things to see in Zurich with my Zurich Christmas Market guide, updated for 2022.

If you would like to stay in a central location, book one of my recommended hotels near Zurich Christmas Market.
2. Basel
Basel Christmas Market – Basel is Switzerland's cultural and Christmas capital. Basel Christmas Market takes place across two main squares in the Old Town but the rest of the city is also decorated with Christmas decorations and pretty lights.
There are two main Christmas markets in Basel's old town, one is in Barfüsserplatz and the other is in Münsterplatz. Basel's most beautiful Christmas tree stands on Münsterplatz, with ornaments by the well-known decorator Johann Wanner.
Look out for Swiss specialties that include traditional Basel Läckerli (a type of gingerbread), Swiss raclette, waffles and of course glühwein.
Get more information on dates, times and things to see in Basel with my Basel Christmas Market guide.

If you're looking for hotels near the Basel Christmas Market, I have shared a list of where to stay.
3. Bern
Bern Christmas Market – Bern has 3 main Christmas markets and 3 smaller markets and events spread out around the city.
For the most traditional market, head to Waisenhausplatz Christmas Market. For a cosier market, you might prefer the Christmas market in front of Bern Minster and for an upmarket, designer village-style Christmas market, Berner Sternenmarkt is the place for you.
One of Bern's most popular and beautiful Christmas markets is located in front of the beautiful Bern Cathedral. This is one of the biggest Christmas events in Bern and it's easily the cosiest and most inviting.
Chalet Alpenland is another market worth visiting while in Bern. It's a lovely space to enjoy a light meal, hot chocolate and handmade mulled wine. All originated from the city of Bern and the surrounding region.
For full details, read my Bern Christmas Market guide that includes dates, opening times and locations for festive Advent markets in Bern.
1. Geneva
Geneva Christmas Market – Christmas in Geneva can easily be described as magical. The whole city is decorated with festive decorations, stunning lights displays and a huge Christmas tree.
One of the highlights of the market is the variety of traditional Swiss food and drinks available. It gives the market a distinctly Swiss vibe that is very different from the nearby German markets.
Be sure to save time to take a ride on the Grande Roue (Ferris wheel) while the kids can enjoy pony rides and the vintage-style carousel.
Read my full guide to Geneva Christmas Market that provides an overview of what you can expect when visiting Geneva during the winter season, including Christmas market dates, opening times and how to make the most of your visit.
I'll be writing more details about Switzerland's wonderful cities and their Christmas markets. If you're looking for where to go, you might like one of these destinations:
Lausanne – A stunning city on Lake Geneva with a medieval old town.
Lauterbrunnen – An exceptionally beautiful village near Interlaken.
Locarno – A small town on the shore of Lake Maggiore at the foot of the Alps.
Lucerne – Not far from Zurich.
Lugano – An Italian Swiss experience.
Montreaux – Tranquillity on Lake Geneva.
Zermatt – A mountain resort with views of the famous Matterhorn.
For more Christmas travel inspiration for 2022, this guide to the best Christmas markets in Europe can help you decide where to go. Get an overview of each destination, local specialties, dates and locations.
Sustainable Travel in Switzerland
Implement some of these simple measures to create a positive impact and travel sustainably this Christmas.
Shop mindfully. Only purchase what you really need.
Walk, cycle and use public transport to get around.
Stay in a sustainable hotel powered by renewable energy.
Avoid plastic or buying items made or packaged with plastic.
Try to eat locally sourced organic food where possible.
Limit your consumption of meat and dairy.
Be open to diverse cultures and experiences.
Explore outside of the main tourist areas.
Support the arts and attend local events.
If possible, avoid flying to your destination.
FAQ
When do Christmas markets start in Switzerland?
The Christmas markets typically start on the 24 November until 24 December 2022 but this varies greatly between each market.
Where are the best Christmas markets in Switzerland?
Switzerland's largest cities generally have the best Christmas markets with the most diverse range of food and products available. Zurich, Basel and Geneva are three of the most popular.
Where is the oldest Christmas market in Switzerland?
The oldest Christmas market in Switzerland is in Basel at Münsterplatz. It has been used for festivals, parades, royal events and markets since medieval times.
—
Recommendations are independently chosen based on personal travel experiences and extensive research.