Christmas markets may not be a huge traditional event in Poland compared to Germany or Austria. But Poland is worth visiting in December for the markets and so much more. The incredibly rich culture, history and food are like nowhere else in Europe.
In this guide, I share the best Christmas markets in Poland, including confirmed dates, locations and opening times for 2023.
Polish Christmas markets are growing each year and will only improve. Poland is an incredible destination and is generally more affordable than Germany and Austria for Christmas markets.
Poland Christmas Market 2023
Krakow has by far the most established Christmas market, and Wroclaw has one of the most beautiful market square locations.
If you are set on visiting the best Christmas markets in Poland, I suggest picking one of these cities, with Gdansk rounding out the top 3.
1. Krakow
Krakow Christmas Market – Easily the best in Poland. Not only is the market filled with delicious food and interesting trinkets the city itself is one of the most beautiful and popular in Poland. When you consider value for money, you can't beat Krakow.
Krakow Christmas Market dates: 24th November 2023 to 1st January 2024 – includes the Epiphany Festival.
Location: Rynek Glowny.
Recommended tour: 4 Hour Polish Food Tour
Where to Stay: Puro Hotel – A well-located and great standard for a reasonable price.
The Christmas market occurs in the smaller section of the central square, Rynek Glowny, alongside the famous Cloth Hall. It's compact and quaint, with a heavy focus on traditional food and some unusual things too.
Krakow is a popular summer destination but is becoming more well-known as a great weekend destination during Christmas and New Year. It's a fun, young city with so much history, great nightlife and laid-back cafe culture.
Read my guide to Krakow Christmas Market that includes everything you need to know when preparing your visit.

Discover the best areas to stay in my guide to hotels near Krakow Christmas market that gives options for all budgets.
2. Wroclaw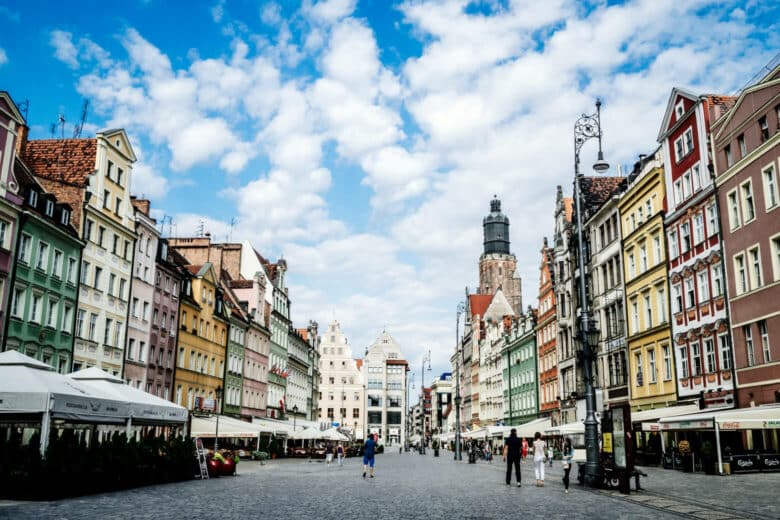 Wroclaw Christmas Market – Wroclaw is such a wonderful location and so underrated as a destination, both at Christmas time and otherwise.
The Christmas market is a decent size, but it's far less crowded than in Krakow. The atmosphere is considerably more intimate and welcoming than elsewhere in Europe, thanks to the warm and friendly people.
Wroclaw Christmast Market dates: 24th November to 31st December 2023.
Location: Market Square (Rynek we Wrocławiu) and Plac Solny.
Where to Stay: Puro Hotel Wroclaw
Wroclaw has traditional Polish food like pierogies and smoked cheese, but the market has more international stalls where you can get Hungarian langos, Dutch pancakes, paella-type dishes and many other delicious foods worth trying.
Of course, you can also find mulled wine, hot apple cider and hot chocolate too. This event is very food-oriented.
Read my full Wroclaw Christmas Market travel guide for more information.

If you're looking for somewhere to stay, I've prepared a list of hotels near Wroclaw Christmas Market and Market Square.
3. Gdansk
Gdansk Christmas Market – If you want to see an old Hanseatic seaport and Royal Way with fresh snow cover, Gdansk is your perfect Christmas destination.
There's a very good chance of a white Christmas, and you're bound to enjoy the grzane wino (you might need a few) even more with the chilly temps.
Gdansk Christmas Fair dates: 17th November to 23rd December 2023.
Locations: Christmas Fair at Targ Węglowy (Coal Market). Christmas tree next to Neptune's Fountain at Long Market (Długi Targ). Ferris wheel on Granary Island (Wyspa Spichrzów).
Where to Stay: Puro Gdansk – A gorgeous boutique hotel a short walk from Long Street and the Christmas markets.
At Gdansk Christmas Market, you can expect to see a Venetian carousel, ice skating rink, Christmas trees from around the world, handmade Christmas ornaments, toys, scarves, candles and festive gourmet food.
Polish festive cakes, pretzels, chocolate-covered fruit, chocolate 'tools', roasted nuts, smoked cheese, grilled sausages, and hot chocolate and spiced mulled wine are all available to buy at the Christmas markets.
Get more information on dates, times and things to see with my Gdansk Christmas Market guide for 2023.

Stay at one of my recommended hotels near Gdansk Christmas Market in the historic city centre.
4. Warsaw
Warsaw Christmas Market – Polish people might hate me for saying this, but I feel like Warsaw is like a mini version of Berlin in some ways. It has a cool, hipster lifestyle vibe, a vibrant craft beer scene, brilliant nightlife, a burgeoning food scene and an entrepreneurial spirit.
Warsaw's main Christmas market is located in the Old Market Square and starts the season with a huge Christmas light show.
Warsaw Christmas Market dates: Likely dates: 25th November 2023 to 6th January 2024.
Location: Old Town Market Square and Praga
Opening times: 11am to 8pm, close at 9:30pm on Fridays and Saturdays.
Where to Stay: Spichlerz II is a 7-minute walk to Warsaw Old Town and the Christmas market.
Warsaw has a few markets to look out for, one in the main market square, another closer to the Royal Palace and a more modern Christmas market in the Praga district towards the east of the Vistula River at the foot of the stadium.
Read my full guide to Warsaw Christmas Market and find the best hotels near Warsaw Christmas Market in the Old Market Square.
Best Christmas Markets in Poland
Not only do Poland's major cities host Christmas markets, but nearly every city in Poland has one, often held in the central square, often known as the "market square." Here are additional top Christmas markets in Poland.
For further ideas and travel inspiration, read about the best European Christmas markets that lists the best places to visit per region.
Bialystok Christmas Market – Waiting for 2023 dates.
Katowice Christmas Market – A great choice if you're looking to go somewhere different this year. Dates from 17th November 2023 to the 7th January 2024 in Market Square.
Łódź Christmas Market – In Piotrkowska Street, open until the 23rd December 2023.
Lublin Christmas Market – If you have time, take a day trip from Warsaw down to pretty Lublin. It has a more rustic look than the other cities mentioned here, but the old town buildings have some of the most gorgeous decorative facades you'll find in Poland. Waiting for dates.
Poznan Christmas Market – Halfway between Berlin and Warsaw, Poznan has a beautiful, historic main square and cute little side streets packed with cafes and boutiques to keep you busy on a day trip. Find where to stay in Poznan near the Christmas market in Old Market Square. Poznan dates – 17th November to 27th December 2023.
Rzeszow Christmas Market – Waiting for updated dates.
Sopot Christmas Market – Waiting for updated dates.
Szczecin Christmas Fair – There's a small Christmas fair at the Castle of Pomeranian Dukes in Szczecin, a lovely city not far from the border with Germany close to Berlin.
Torun Christmas Market – Open from 25th November to 22nd December 2023.
Zakopane Christmas Market – waiting for 2023 dates.
Let me know if there are any Xmas markets that I have omitted from the list so I can include them.
What to Expect
You can expect a unique blend of history, culture, and holiday cheer during a winter holiday in Poland. With crisp, cold weather and snow in many parts of the country, it's the perfect backdrop for outdoor activities such as skiing and snowboarding.
Cities like Krakow and Warsaw come to life during the holiday season with Christmas markets, concerts, and other festive events.
You can also explore the country's rich history by visiting castles, museums, and other cultural landmarks.
At the Christmas markets, you can expect some markets, especially in smaller towns and villages, to be relatively small and feature a limited number of stalls.
However, many of the larger markets in cities such as Krakow, Warsaw, and Wrocław can be quite substantial, with a decent number of stalls selling food, gifts, and other holiday-related items. The market size can also vary depending on the location, with some markets being held in small squares while others in larger public spaces such as parks or city centres.
To learn more about Polish Christmas traditions, take a Christmas market tour.

Book one of my recommended Christmas hotels to stay near the Christmas markets.
Sustainable Tourism in Poland
Here are some ways you can be more sustainable while visiting Poland:
Use public transportation or walk to reduce carbon emissions from driving.
Support local and environmentally friendly businesses by choosing locally sourced food and shopping for handmade goods at markets.
Avoid single-use plastics such as straws, utensils, and shopping bags.
Take actions that minimise food waste.
Consider staying in eco-friendly accommodations, such as using renewable energy or hotels supporting conservation efforts.
FAQ
Does Poland have good Christmas markets?
For various reasons, Poland's Christmas markets are considered some of the best in Europe. Firstly, the markets offer a unique blend of traditional and modern elements, with stalls selling handmade goods, delicious food, and holiday decorations. The markets also provide an opportunity for visitors to experience local culture and traditions, as many vendors are from the area and bring their own unique offerings. The markets are also held in picturesque locations, often in the central square or market square, enhancing the festive atmosphere. The historic architecture, holiday lights, and bustling crowds create a memorable and magical experience for visitors.
Which Poland Xmas market is best?
One of the best Christmas markets in Poland is the Krakow Christmas Market, held in the city's Main Square. The market is known for its stunning displays of Christmas lights, the aroma of traditional food, and the sound of local choirs singing carols. Visitors can browse stalls selling handmade gifts, sample traditional Polish treats, and try mulled wine to warm up on chilly evenings. The Main Square is a magnificent market setting, surrounded by historic buildings and a large Christmas tree, making for a truly enchanting experience.
Is Krakow Christmas market worth visiting?
Yes, the Krakow Christmas market is worth visiting. It is considered one of the best Christmas markets in Poland and attracts visitors worldwide with its festive atmosphere, traditional food and drinks, and handmade goods. The market is held in the Main Square, a magnificent setting surrounded by historic buildings and a large Christmas tree, adding to the charm of the experience.
When is Christmas in Poland?
Christmas in Poland is celebrated on December 25th, as it is in many other countries that follow the Christian calendar. Many Poles attend church services and spend time with family on this day, enjoying traditional food and exchanging gifts. The holiday season in Poland begins several weeks before Christmas and continues through the New Year, with Christmas markets, concerts, and other festivities taking place throughout the country.
—
Recommendations are independently chosen based on personal travel experiences and extensive research. This post contains affiliate links to hotels and tours in Poland. This means I get a small commission from any bookings at no extra cost to you.