As one of the most popular tourist destinations in Switzerland, Zurich is busy all year round. It's a gourmet heaven popular with foodies, high-end shoppers and mountain-loving visitors. Christmas is a wonderfully festive time of the year to visit Zurich.
In this guide, I recommend a number of hotels near Zurich Christmas Market, from stunning luxury hotels, cool boutique hotels and affordable budget hotels in the city centre.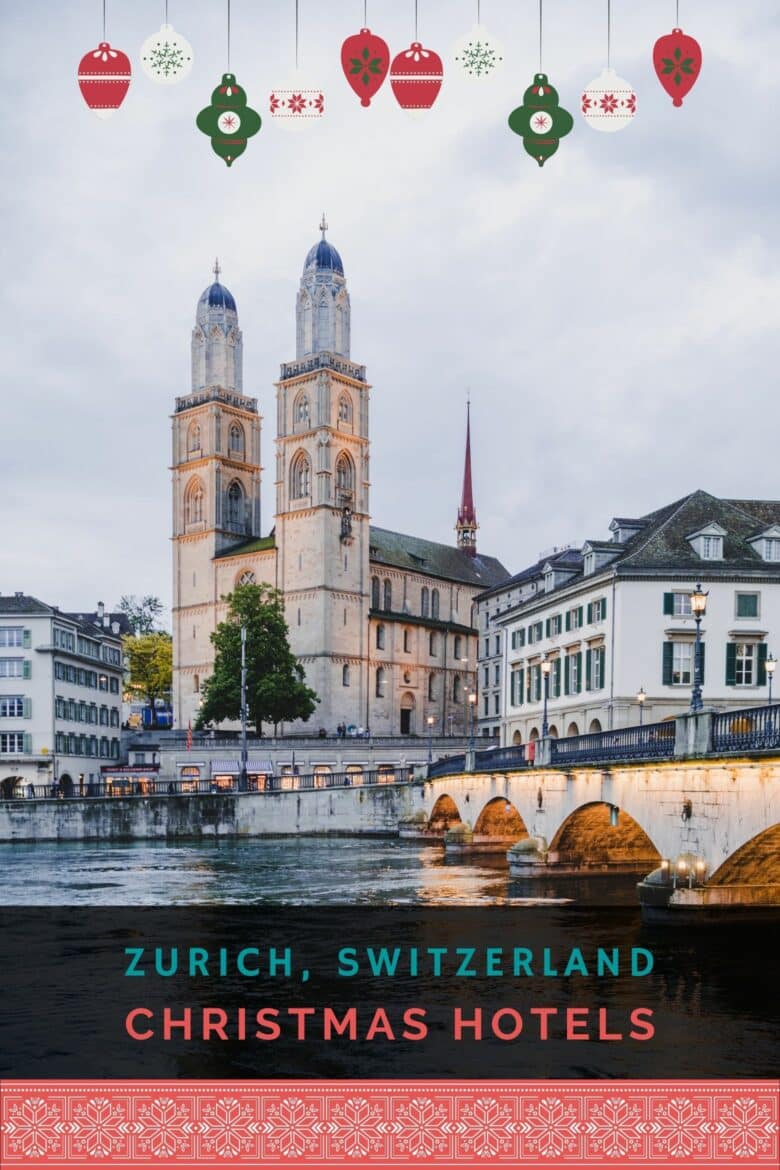 Hotels near Zurich Christmas Market
There are 6 Christmas markets in Zurich, all within the historic city centre. They each have their own unique theme and atmosphere, and each can be visited during a short stay in Zurich.
If you're unsure of where to stay in Zurich, anywhere between the train station and the Opera House near Lake Zurich would be within walking distance of most places you will likely want to visit.
If you would prefer to stay in the historic old town where there are narrow, medieval streets and pretty squares, then I suggest staying in Niederdorf.
This is also the location of the Village Christmas Market and many excellent restaurants, cafes, bars and some museums. This is a great area to stay in Zurich.
If you would prefer somewhere a little quieter than near Opera House or further along Lake Zurich would be ideal.
Top Pick
Ruby Mimi Hotel
Address: Beatenplatz 4, City Centre, Zurich, Switzerland
One of the newest hotels in Zurich, Ruby Mimi Hotel is a modern boutique hotel that is light, bright and exceptionally well-located. The hotel is near Zurich train station (there is an indoor Christmas market here) and is a short walk across the Limmat River to the Niederdorf district. Some rooms are on the smaller size so be sure to book the right size room for your needs. The lovely common areas and the brilliant location make up for any issues in this regard. The Ruby hotels originated in Vienna and it's great to see them expanding into Switzerland. This hotel is excellent value for money.
Check Availability
Location of Ruby Mimi Hotel
Boutique Hotel in Zurich
25hours Hotel Langstrasse
Address: Langstrasse 150, Aussersihl, Zurich
One of the original boutique hotels in Zurich, the 25hours Hotel never disappoints. It's fun, quirky, clean and trendy, with excellent facilities, including a gym, sauna, bike rental and an on-site Israeli/Turkish/French-influenced restaurant. The 25hours Langstrasse is conveniently located at Zurich train station, which means it is a short walk to the train station Christmas market. It is also near the City Christmas Market, starting at Lintheschergasse and continuing along Bahnhofstrasse. If this hotel is fully booked or if it is a little out of your budget, they have a sister hotel in Zurich West that is very similar, although it is not located in the city centre.
Budget Hotel in Zurich
Motel One Zürich
Address: Stockerstrasse 61, City Centre, Zurich
If you're looking for a budget hotel in Zurich, Motel One is a great affordable option that offers basic but clean, nicely designed rooms, friendly staff and an excellent location near the Christmas markets. Due to the price and location, these rooms book out early, especially around special events like Christmas. Once you confirm your trip, I suggest booking your hotel as soon as possible so you don't miss out.
Luxury Hotel in Zurich
Widder Hotel
Address: Rennweg 7, City Centre, Zurich
Zurich has a number of exceptional 5-star luxury hotels. The Widder Hotel is among the most highly rated and best in the heart of the old town. The design is a mix of old and new,f with large, plush rooms furnished with designer pieces and luxurious bathrooms. Furniture and various objects by artists including Mies van der Rohe, Frank Lloyd Wright, Le Corbusier, and Adolf Loos can be admired in Hotel Widder, as well as paintings and sculptures by Andy Warhol, Robert Rauschenberg, and others. Each of the rooms are unique, often with high ceilings in the historic building. The Widder is near all of the Christmas markets in Zurich.
Apartment Stay
Le Bijou Bahnhofstrasse – Paradeplatz
Address: 18 Bahnhofstrasse, Zurich
If you would like to say in an apartment in Zurich, these 1 and 2-bedroom apartment hotel rooms are centrally located on Bahnhofstrasse, the main shopping street in Zurich. This is a great option for longer stays or if you would like an apartment's extra space and privacy. It's also good value for money compared to a Zurich hotel. Please keep in mind that in some cities, renting apartments out to tourists can contribute to a lack of housing for residents.
For more information on spending Christmas in Switzerland, read my guide to Zurich Christmas Market that includes dates, locations and opening times for 6 unique Christmas markets.

Or if you're looking for other places to visit, this guide to the Christmas markets in Switzerland should provide plenty of inspiration.
This post contains affiliate links to hotels in Zurich, Switzerland. This means I get a small commission from any bookings at no extra cost to you.