Winter in Latvia might not be what you expect. Sure, one day Latvia might have bitterly cold Baltic winds, but the next might be a cool, calm day with blue skies. Don't be surprised if you experience both on the same day.
The weather can be all over the place, but one constant is the wonderful people who make Latvia a joy to visit. One of the best places to meet the locals is at the Christmas markets in Latvia.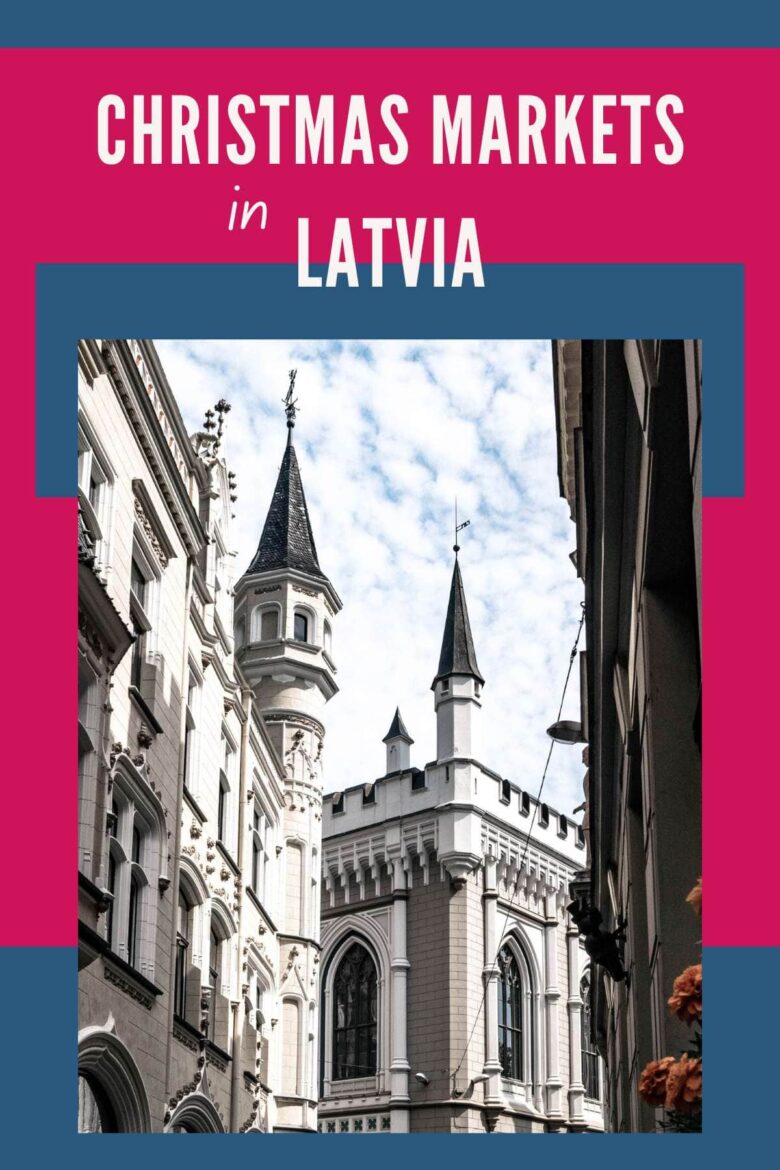 Christmas in Latvia doesn't have to mean Riga. Although not well known to visitors, there are many smaller cities that are well worth visiting.
Not everywhere in Latvia has a Christmas market, but all have some kind of Christmas or winter solstice celebration.
Latvia Christmas Markets 2023
Several Christmas experiences are worth seeking out in Latvia. Many of these are centred around the Christmas markets in the major cities, with Riga's Christmas markets being the largest and most popular.
1. Riga Christmas Market
The main Riga Christmas market is located on Doma Laukums, the main square, while the other is not far away on Livu Laukums.
Another smaller Christmas market on Esplanade Park in front of the Orthodox Cathedral.
On Saturdays, there is a Christmas Fair in the Kalnciems Quarter on the other side of the Daugava River.
Here you will find goods from Latvian farmers, artisans, designers, and music and Latvian or Baltic region plants.
This market actually takes place year-round but has a Christmas feel in December.
Kalnciems Quarter is a district worth visiting for the market, Latvian cultural events, and unique timber architecture.
Read my full guide to Riga Christmas market to find the latest information including dates, opening times, locations and regional specialties.

If you're looking for somewhere to stay, these hotels near Riga Christmas market are conveniently located and well-reviewed.
2. Daugavpils Christmas Market
The Daugavpils Christmas Market is located on Rigas Street, where you'll find many beautiful lights and decorations around the streets and parks.
Daugavpils is Latvia's second-largest city, located in south-eastern Lativa close to both the Lithuanian and Belarusian borders.
It's very off the beaten path for most foreign tourists, but it's an interesting place to visit. It's especially worthwhile if you're heading to Lithuania after your time in Latvia.
Historically, Daugavpils has been part of Poland and later the Russian Empire. It retains cultural influences from these periods, making it one of Latvia's more interesting destinations.
Today Daugavpils is predominantly ethnic Russian. The city is filled with beautiful East Orthodox religious buildings, Art Nouveau architecture and celebrated red brick buildings.
3. Liepaja at Christmas
Liepaja, a city located in western Latvia, typically hosts a Christmas market in the city centre.
As the third largest city in Latvia, with an enviable coastal location, Liepāja is very popular with local tourists.
Liepāja is quite far from Riga, but it's a great place to stop if you're travelling toward the coastal city of Klaipeda in Lithuania.
Not surprisingly, Liepaja is well-known for its Art Nouveau architecture, as this is a feature of most Latvian cities.
4. Jelgava Ice Sculpture Festival
Conveniently close to Riga, Jelgava is easy to get to if you have time to visit more than just the capital. It's notable for its palaces, parks, historic churches and wild horses.
Jelgava is a city located about 41 kilometres southwest of Riga, Latvia's capital city. Every winter, Jelgava hosts an annual Ice Sculpture Festival, one of Latvia's most popular winter events.
During the festival, talented ice sculptors from around the world create stunning works of art from blocks of ice displayed throughout the city.
In addition to the ice sculptures, the festival also features a range of activities and events, such as live music, ice skating, and winter sports.
In addition to the festival, Jelgava is home to several other attractions, including the historic Jelgava Palace and beautiful parks, making it a worthwhile destination to explore during the holiday season.
Jelgava is a great place to experience Christmas in Latvia. Jelgava has a Christmas market that takes place during the holiday season. The market is typically located in the city centre and features a range of festive stalls selling traditional Latvian foods, drinks, and crafts.
Visitors can sample local delicacies such as gingerbread, mulled wine, and roasted nuts while browsing the market's selection of handmade gifts and decorations. The Jelgava Christmas market is a great place to soak up the holiday atmosphere and enjoy some traditional Latvian Christmas cheer.
5. Cesis Christmas Market
Cesis typically hosts a Christmas market in its Old Town, which is a picturesque setting for a festive celebration.
The market features stalls selling local crafts, gifts, and food, including traditional Latvian holiday treats such as gingerbread and mulled wine.
Visitors can also enjoy live music, performances, and other activities, making the Cesis Christmas Market a fun and lively event.
5. Valmiera Christmas Market
Similarly, Valmiera generally hosts a Christmas market in its city centre, which is surrounded by historic buildings and landmarks. The market offers a variety of handmade crafts, decorations, souvenirs, and a range of local foods and drinks.
Visitors can sample traditional Latvian Christmas treats, such as smoked sausages and hot cranberry juice, while taking in the festive atmosphere of this charming city.
If you're looking to extend your winter holiday or are simply curious, my guide to the best Christmas markets in Europe is full of ideas on where to go this winter.
Christmas in Latvia
Christmas in Latvia is a special time, typically celebrated as a family affair. While the festivities revolve around traditional dishes and a Christmas feast, the focus is less on Christmas Day and more on the Winter Solstice.
Many people in Latvia decorate their homes with natural decorations, such as pine cones, branches, and other festive greenery, in addition to having a decorated natural tree.
Food plays an important role in Latvian Christmas celebrations, with families often preparing a variety of traditional dishes. However, modern and international twists are increasingly being incorporated into the Christmas feast.
It's common for families to spend the day cooking and preparing for the feast, which is typically enjoyed together in the evening.
The Christmas market is a must-see attraction for those visiting Latvia during the holiday season. Latvians are encouraged to buy presents for their loved ones at the market, which features handmade ornaments, toys, homewares, and unique artisan gifts.
As a visitor, you can also take part in this tradition and find the perfect gift for someone special.
In Latvia, presents are usually opened on Christmas Eve, which is a time for families to come together and celebrate.
If you are in Latvia on December 24th, you could take part in this special celebration too and experience the joy and warmth of Latvian Christmas traditions firsthand.
Sustainable Travel in Latvia
As travellers, we are responsible for considering the environmental and social impact of our actions, especially when visiting places like Christmas markets. By making conscious choices, we can positively impact the places we visit and the communities that call them home.
One simple step is to shop mindfully and only purchase what you really need. This helps reduce waste and supports local artisans and businesses. Another way to reduce your impact is to walk, cycle, or use public transport to get around, reducing your carbon footprint and supporting sustainable transport options.
Choosing to stay in a sustainable hotel powered by renewable energy is another great way to reduce your impact. Consider avoiding short-stay apartment accommodation, as it can lead to a lack of affordable housing for locals.
When shopping at Christmas markets, try to avoid items made or packaged with plastic and instead opt for more sustainable and eco-friendly products. Eating locally sourced organic food and limiting your meat and dairy consumption can also help reduce your environmental impact.
As a traveller, it's important to be open to diverse cultures and experiences and to explore more than just the main tourist areas. Attending local events and supporting the arts can also help support local communities.
Finally, consider visiting fewer places but staying longer at each destination. This allows you to truly experience and appreciate the local culture and helps reduce your overall environmental impact. By implementing these simple measures, we can all create a more sustainable and responsible tourism industry.
Final Thoughts
For more information on visiting Latvia, the official tourism website is a great resource. It's especially helpful for hiking tips, finding gourmet experiences and cultural events.
Latvia is a magical place to visit during winter, with its stunning landscapes, rich history, and unique culture.
The Christmas markets in Latvia are a highlight, offering visitors an opportunity to immerse themselves in the local traditions, taste the delicious food, and purchase unique handmade gifts.
Remember to dress warmly and bring a sense of adventure and openness to fully experience all that Latvia has to offer during the winter season.