Germany undoubtedly remains one of the top global destinations for Christmas markets, with a rich legacy of festive traditions and customs surrounding Advent, high-quality gifts and a welcoming atmosphere. However, with so many options, it can be challenging to determine where to go.
This guide provides a comprehensive list of the best Christmas markets in Germany for 2023, ensuring a memorable and festive holiday experience.
Best Christmas Markets in Germany 2023
Germany is known for its stunning array of Christmas markets, with each city offering its own unique festive experience.
However, the holiday spirit extends beyond old town centre squares, with almost every square and neighbourhood hosting its own Christmas event or market.
What's even more impressive is the variety on offer – different themes, specialties and experiences are waiting to be discovered wherever you go.
As someone fortunate to have explored countless Christmas markets, I've curated a list of my top picks that are sure to capture your festive imagination.
1. Dresden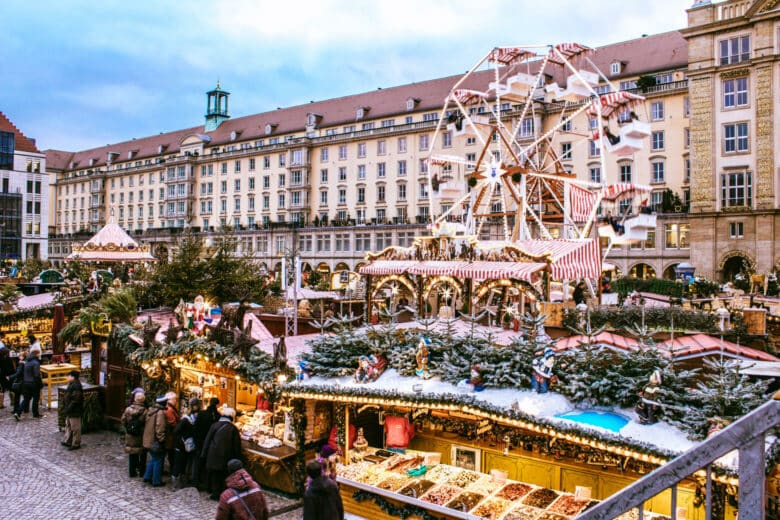 Dresden Christmas Market – Dresden has a rich Christmas history, dating back to the iconic Striezelmarkt, which continues to captivate visitors with its unique charm and ambience.
The city is also home to a diverse range of Christmas markets, including the traditional Frauenkirche Christmas Market and the more intimate Romantic Christmas Market.
No trip to Dresden is complete without a visit to its stunning baroque Old Town (Altstadt), featuring the awe-inspiring Frauenkirche, Brühl's Terraces, the Opera, and the magnificent Zwinger.
Dresden is a highly recommended destination that promises an abundance of opportunities for learning, exploration, and unforgettable experiences. Dresden is my top pick!
For more information on Christmas market dates, times and things to see in Dresden with my Dresden Christmas Market guide, updated for 2023.

If you would like to stay in a central location, book one of my recommended hotels near Dresden Christmas Market.
2. Nuremberg
Nuremberg Christmas Market – Nuremberg is home to what is widely regarded as the largest, most authentic, and well-known Christmas market in Germany, surpassing even the oldest market in Dresden.
The market's authenticity lies in its commitment to local and handmade products, with all stalls constructed from timber and other natural materials.
This means that visitors can expect to find no plastic or foreign-made goods, not even products from other regions in Germany outside of Bavaria.
Located in the heart of the city, the market takes place in a spacious central square that can get quite crowded, which may not be suitable for those who prefer quieter environments.
However, the people's bustling atmosphere and festive spirit contribute to the market's wonderful ambience.
Despite the crowds, the Nuremberg Christmas Market remains a hugely popular destination for those looking to experience the true essence of a traditional German Christmas market.
Read the full guide to Nuremberg Christmas Market for 2023 dates, opening times, locations and maps.
3. Munich
Munich Christmas Market – Having friends in Munich has allowed me to explore the city's numerous Christmas markets semi-regularly, and I've lost count of the number of times I've been mesmerised by their festive charm.
Among these, the main Marienplatz Christmas Market stands out as one of the best in Germany. With its traditional flair and stunning decorations, the market exudes a magical atmosphere that is sure to enchant visitors. This includes the towering Christmas tree at its centre.
Beyond Marienplatz, there are other smaller markets in Munich that are equally festive. The market off Odeonsplatz offers a cosy and intimate setting, while the medieval-style market at Wittelsbacherplatz transports visitors to a bygone era.
If you're seeking a more unique experience, the Tollwood Winter Festival is an interesting destination. The festival features themed tents and human circus acts, creating a festive and alternative atmosphere that is sure to entertain visitors of all ages.
Whether you're a first-time visitor or a seasoned Munich Christmas market-goer, the city's markets are certain to leave a lasting impression. You can go wrong with a visit to any of Munich's many Christmas markets.
Get the latest dates, locations and opening times for Munich Christmas Market and each of the other markets located around the city.
4. Cologne
Cologne Christmas Market – Cologne has always been one of my favourite cities in Germany. Way back when I lived in Paris, it was quick, easy and affordable to hop on the train and head to Cologne for the weekend.
Cologne is home to some of the most unique Christmas markets, including the waterfront markets that take place on the Rhine River. It's the number one destination for festive events like the Christmas Garden at the Zoo, music events and thematic weekend-only markets.
Be sure to walk over the famous Hohenzollern Bridge so you can look back towards Cologne Cathedral as the sun sets. There's also an excellent Christmas market on this side of the city in the Deutz neighbourhood.
Cologne Christmas Market is located in front of Cologne Cathdral and Cologne Town Hall. Read my guide for details on these and each of the other markets in the old town.

If you're looking for where to stay, this guide to where to stay in Cologne for the Christmas market covers all budgets.
5. Berlin
Berlin Christmas Market – Berlin is a city that's always buzzing with energy and excitement, especially during the Christmas season. The city's streets are illuminated with twinkling lights, and the atmosphere is charged with festive cheer.
While the shops and bars can get crowded during the holiday season, there's always something new and exciting to discover. Berlin is a city that never sleeps, and you'll find plenty of events and activities to keep you entertained, no matter what your interests are. There's always something happening in Berlin, from art exhibitions and theatre performances to live music shows and winter festivals.
Of course, one of the main draws of the Christmas season in Berlin is the city's many Christmas markets. From the traditional market near Berlin Cathedral to the vibrant market at Alexanderplatz, there's no shortage of options to choose from.
The cosy market at Gendarmenmarkt is a personal favourite, with its charming atmosphere and festive decorations. Hopefully, it will return to this location in 2023.
Another popular option is the bustling market at the Kaiser Wilhelm Memorial Church on Kurfürstendamm, which is known for its lively entertainment and delicious food and drink options.
In this list, I share the 8 best Berlin Christmas Market locations for 2023. Berlin's always an incredible winter destination.
6. Frankfurt
Frankfurt Christmas Market – This market is one of Germany's most iconic holiday markets, attracting visitors worldwide with its festive atmosphere and a wide variety of gifts, decorations and Christmas food.
The market is spread out along a long stretch of the city centre, starting at Mainkai on the waterfront and continuing through Römerberg, Paulsplatz, and Friedrich-Stoltze-Platz, before ending at Hauptwache. This one long stretch of festivities makes it a cozy, accessible experience for visitors, with plenty of opportunities to explore and discover new delights.
The market is known for its stunning decorations, which include a towering Christmas tree and beautifully adorned chalets. You can peruse the stalls, which offer an eclectic mix of traditional and contemporary gifts, including handmade crafts, ornaments, and clothing. The market is also great for foodies, with stalls selling a variety of festive treats, including gingerbread cookies, roasted chestnuts, and mulled wine.
In addition to the Christmas market, Frankfurt is a fascinating city to explore during winter, with its historic landmarks, world-class museums, and vibrant cultural scene.
Read my full guide to Frankfurt Christmas Market with updates dates, locations and opening times.
7. Rothenburg
Rothenburg Christmas Market – The Christmas market in Rothenburg, known as the Reiterlesmarkt, is steeped in a rich history that dates back to the 15th century. It's named after the 'Reiterle', a character from local legends that has transitioned from a feared spectre to a beloved symbol of the holiday season.
As you wander through the market, you'll find a wide array of handcrafted items, from traditional German Christmas decorations to delicate glass ornaments. Delight in local delicacies like the 'Schneeballen', a unique, snowball-shaped pastry.
The complete guide to Rothenburg Christmas Market provides everything you need to know before heading off, including confirmed dates for 2023.
8. Esslingen
Esslingen Medieval Market – The Christmas market in Esslingen uniquely blends a Medieval Market and a traditional Christmas Market. Its stalls, each one more enticing than the last, specialise in artisan crafts, traditional medieval-style goods and Christmas decorations. In Esslingen, emphasis is placed on authenticity and quality rather than mass-produced goods.
One of its highlights includes intriguing demonstrations of ancient crafts. Also, don't miss the chance to try the local specialty food and drink, including hot mead served in clay goblets. More than 200 Christmas stalls and 500 cultural activities await, with vendors donning medieval costumes and craftspeople demonstrating age-old techniques, giving a glimpse into the bygone era.
Plan your trip with the full guide to Esslingen Christmas Market that includes confirmed dates, opening times and what to expect at this unique medieval fair.
German Christmas Markets
Winter in Germany is an enchanting time of year, with Christmas markets all over the country, each with its unique character and charm.
While the markets I've highlighted are some of the best, there are still plenty of other destinations to explore.
To get a complete picture of all the Christmas markets happening in Germany, it's worth taking the time to read through a variety of guides that provide dates and locations for each market.
For more Christmas travel inspiration for 2023, this guide to the best Christmas markets in Europe can help you decide where to go. Get an overview of each destination, local specialties, dates and locations.
Whether you're looking for a quaint and traditional market, a bustling and lively atmosphere, or a more alternative experience, Germany's Christmas markets offer something for everyone.
By exploring multiple guides, you can plan your winter itinerary accordingly, ensuring you don't miss out on any of the festivities.
Germany's Christmas markets are a magical way to celebrate the holiday season, from the northernmost markets in Hamburg to the southernmost in Munich.
Here's a list of where to go for the best German Christmas markets in 2023.
Aachen Christmas Market – In the heart of the city, the Christmas market in Aachen occupies the square in front of the stunning Aachen Cathedral.
The central location makes it easy for you to wander among the various stalls, each providing its unique touch to the market.
Notably, Aachen is famous for its Printen, a type of gingerbread cookie. Stallholders sell them in all sorts of flavours and shapes, making them a perfect souvenir or treat.
Augsburg Christmas Market – One unique aspect is the Engelsspiel, a special Angel Performance on the balcony of Augsburg Town Hall. The 24 angels represent an Advent calendar. Families can also enjoy the area near Moritzplatz, a dedicated Children's Christmas market.
Bamberg Christmas Market – Nestled in the Franconia region of northern Bavaria, Bamberg is a picturesque small city renowned for its stunning historic architecture spanning from the 11th to the 19th century.
Its compact size and walkable streets make it an ideal destination for a day trip or a short getaway. Visitors can stroll through its narrow cobblestone streets, admiring the beautifully preserved half-timbered houses and grand buildings, including the iconic Bamberg Cathedral.
In the heart of Bamberg's old town, the Maximiliansplatz square transforms into a festive wonderland during the Christmas season.
The Bamberg Christmas Market offers a unique and intimate experience, with a range of traditional crafts, gifts, and seasonal treats on offer.
Visitors can also enjoy traditional Franconian cuisine and local beer at the market's food stalls. The picturesque backdrop of Bamberg's historic buildings and the square's sparkling Christmas lights add to the market's cosy and welcoming vibe.
In addition to the Christmas market, Bamberg has a wealth of other attractions to explore, including its numerous museums, breweries, and beautiful parks. The city is also a UNESCO World Heritage Site, recognised for its exceptional preservation of medieval urban architecture.
Bamberg is a hidden gem that should not be missed, offering a delightful combination of history, culture, and festive cheer during the holiday season.
Bielefeld Christmas Market – One of the largest Christmas markets in North Rhine-Westphalia.
Bremen Christmas Market – Bremen is home to one of Germany's most impressive Christmas markets, known for its festive decorations, delightful atmosphere, and a wide variety of stalls selling everything from handicrafts to festive foods.
The market is in the charming Market Square, in the heart of the city's old town. To fully experience the magic of Bremen's Christmas market, staying in the central area where the market is held is highly recommended.
The Market Square is not only the site of the Christmas market but also home to some of Bremen's most iconic landmarks, including the stunning Town Hall and the famous Roland Statue, which is recognised as a UNESCO World Heritage Site.
The Roland Statue symbolises the city's freedom and independence and has become a beloved symbol of Bremen.
During Christmas, the square is adorned with sparkling lights and festive decorations, creating a magical atmosphere that's hard to resist.
Aside from the Christmas market, Bremen has a lot to offer visitors, including fascinating museums, historic architecture, and picturesque parks.
The Schnoor Quarter is a popular destination, with its narrow cobblestone streets and charming cafes, and the Böttcherstrasse is another popular attraction, known for its unique architecture and artisan shops.
Dortmund Christmas Market – Dortmund is home to the largest Christmas tree in the world, made from 1000 Norway spruce trees from Germany's Sauerland forests. The tree is decorated with 48,000 fairy lights and topped with a Christmas angel.
Dusseldorf Christmas Market – The Altstadt Markt is the main Christmas market in Dusseldorf and is one of the city's largest and most popular markets. It's a sprawling market that extends along two main thoroughfares in the Old Town, Flinger Straße and Marktstraße. The market features more than 200 stalls selling a wide variety of goods, including crafts, gifts, decorations, and seasonal treats.
In addition to the Altstadt Markt, Dusseldorf has several other Christmas markets scattered throughout the city, each with its own unique character and offerings. The Engelchen Markt, located in Heinrich-Heine-Platz, is a family-friendly market that offers a range of children's activities and attractions, including a carousel and ice-skating rink. The Schadowplatz Christmas Market, located in the heart of the shopping district, is a popular destination for those looking to combine their Christmas shopping with some festive cheer.
Essen Christmas Market – The city takes on an enchanting allure as winter descends on Essen, Germany. The rich industrial heritage of Essen, typified by the UNESCO World Heritage Zollverein, contrasts beautifully with the festive glow of the city. Essen is known for its illuminated huts and bustling stalls and is a beautiful seasonal event that adds to the city's charm.
Freiburg Christmas Market – Freiburg stands out for its long-standing market tradition, tracing its roots back to the 19th century and officially running since 1973. Here you'll find over 120 Christmas chalets spread across the city centre.
Fulda Christmas Market – At the heart of Germany's Hesse region, Fulda is renowned for its baroque architecture, stunning cathedral and the Palace Park. Visit the small Weihnachtsmarkt for somewhere different this year.
Hamburg Christmas Market – The festive highlight of the city is held at the iconic Rathausmarkt and various neighbourhoods, transforming Hamburg into a sparkling winter wonderland. Each market area has its unique charm, from the historical setting of Rathausmarkt to the hip ambience of St Pauli and the maritime flair of HafenCity.
Hanover Christmas Market – The market features a total of 111 stalls, where you can find an array of items from wooden toys originating in the Erzgebirge and South Tyrol regions to various arts and crafts, ceramics, and household goods.
Heidelberg Christmas Market – Nestled on the banks of the Neckar River, Heidelberg is one of Germany's most enchanting small cities, renowned for its picturesque views, historic landmarks, and charming atmosphere. One of the city's most iconic sights is the majestic Heidelberg Castle, which towers over the city and offers breathtaking panoramic views of the surrounding landscape.
Beyond the castle, Heidelberg boasts a wealth of other attractions, including the picturesque Old Town, with its cobblestone streets, historic buildings, and charming cafes. The city's Gothic Church of the Holy Spirit is another popular destination, with its impressive façade and intricate stained glass windows.
At Christmas, Heidelberg transforms into a winter wonderland, with the city's main market in the historic Marktplatz, the Old Town's central square.
Leipzig Christmas Market – With a history spanning over 500 years, Leipzig is one of the oldest and most vibrant in Germany. Sprawling across several squares in the city centre, it brings together more than 250 stalls that showcase diverse crafts, local food specialties, and festive wares. With a historic carousel, a fairytale forest for children, and a cultural programme for adults, it's an enthralling blend of tradition and merriment for all ages.
Mainz Christmas Market – Winter in Mainz can get quite chilly, but the atmosphere certainly warms up with the infectious festive spirit that's prevalent throughout the city. As the capital and largest city of Rhineland-Palatinate, Mainz is brimming with centuries-old buildings, charming cobblestone streets and a vibrant cultural scene that grows more pronounced during Christmas.
Monschau Christmas Market – As you stroll through the cobblestone streets, you'll encounter about 30 stalls selling everything from traditional handicrafts and decorations to Monschau's unique culinary delights like Moutarde de Montjoie and Monschauer Dütchen.
Munster Christmas Market – Advent in Munster is one of the most highly anticipated events of the year, drawing visitors worldwide to experience its festive atmosphere and unique charm. In 2023, the city will be home to six Christmas markets, each offering its own distinct character and selection of products. Visitors can explore the historic Aegidii market, which dates back to the 14th century, and the enchanting Lamberti market, known for its beautiful light displays and carousel rides.
Munster is a fascinating winter destination located in the heart of the Westphalia region of Germany. The city is renowned for its rich cultural heritage and stunning architecture, including the beautiful Gothic-style Munster Cathedral and the historic Prinzipalmarkt, a picturesque square lined with charming cafes and shops.
Regensburg Christmas Market – Regensburg is a UNESCO World Heritage site well-known for its historic medieval city centre. The Bavarian city becomes especially inviting with its popular Christkindlmarkt and the Romantic Christmas Market at the Thurn und Taxis Palace.
Rostock Christmas Market – Located in the heart of Rostock, the annual Christmas market transforms the city into a festive delight steeped in centuries-old traditions. It uniquely combines a medieval market with the traditional Christmas fair, featuring hundreds of stalls filled with artisan crafts, delightful local foods and a jovial atmosphere.
Stuttgart Christmas Market – This medieval city, adorned with landmarks like the Old Castle, Collegiate Church and New Castle, becomes the grand stage for the Stuttgarter Weihnachtsmarkt. With over 300 years of tradition and a rich array of Christmas goods, Stuttgart's Christmas market is among Europe's most wonderful.
Trier Christmas Market – At the Christmas market in Trier, you'll find around 100 beautifully decorated wooden huts, each selling a variety of festive goods. The market is centred around the city's historic Hauptmarkt, where the stunning backdrop of the Church of Our Lady and St Peter's Cathedral set the stage for a truly unique Christmas experience.
Tubingen Christmas Market – Experience the magic of the Christmas season at Tuebingen's enchanting Christmas Market, nestled within the town's historic Marktplatz. This picturesque university town comes alive with twinkling lights, festive music, and the scent of traditional German treats, creating an atmosphere that's simply irresistible.
Lose yourself in a labyrinth of delightful stalls brimming with unique handcrafted gifts, indulge in delectable Swabian specialties, and embrace the warmth of the local community as you create cherished memories in this fairytale winter wonderland.
Wiesbaden Christmas Market – Also known as the Twinkling Star Christmas Market, it's one of the most highly anticipated events of the holiday season. Located in the picturesque Schlossplatz, the market features over 100 beautifully decorated stalls, each offering a unique selection of festive gifts, crafts, and culinary delights.
One of the highlights of the market is the traditional German Christmas pyramids, which are a sight to behold with their spinning wooden figures and intricate designs. Visitors can also enjoy live music performances, carol singing, and a variety of other entertainment options throughout the market.
For families with young children, the separate children's market on Luisenplatz. This charming market offers a range of family-friendly activities, including a carousel, gingerbread house decorating, and a visit from Santa Claus.
Sustainable Christmas Travel in Germany
If you're planning to travel to Germany this Christmas, implementing some simple measures can help you make a positive impact and travel sustainably. Here are some tips to get you started:
Shop mindfully: When browsing the Christmas markets, try only to purchase items you need. Consider opting for locally-made crafts and souvenirs instead of mass-produced items that may have been shipped from far away.
Walk, cycle and use public transport: Germany's big cities have excellent public transport networks, including buses, trains and trams. Consider using these options instead of renting a car or taking taxis. You can also explore cities on foot or by bike, which can be a fun and eco-friendly way to see the sights.
Stay in a sustainable hotel: Look for hotels that are powered by renewable energy or have eco-friendly practices in place. Many hotels in Germany have implemented measures to reduce their carbon footprint and support sustainable tourism. This list of eco-friendly hotels in Berlin is a great place to get started when planning your Christmas trip.
Avoid plastic: Avoid purchasing items packaged in plastic, and bring your own reusable bags and containers when shopping. You can also opt for plastic-free products like bamboo toothbrushes or refillable water bottles. Several of Germany's Christmas markets are now going plastic-free or zero waste.
Eat locally sourced organic food: Many restaurants in Germany offer locally sourced, organic food options. Look for menus that feature seasonal ingredients and support local farmers and producers.
Limit your consumption of meat and dairy: Reducing your consumption of meat and dairy products can significantly impact your carbon footprint. Consider trying vegetarian or vegan options during your travels. Berlin, Hamburg, Cologne and Munich each have restaurants serving vegetarian and vegan Christmas specialties.
Be open to diverse cultures and experiences: Germany is a diverse country with many different cultures and regional traditions. Be open to exploring outside of the main tourist areas and learning about the local customs and history.
Support the arts: Attend local events, such as concerts, theatre performances or art exhibitions. By supporting the arts, you can help to promote cultural exchange and sustain the local creative economy. Supporting small Christmas markets is one way to do this.
FAQ
When do Christmas Markets start in Germany?
The Christmas markets in Germany generally start during the week before Advent and end on Christmas Eve. However, this varies significantly between cities and within individual markets within cities. Most Christmas markets are open from 22nd November to 24th December 2023.
How do you say Merry Christmas in German?
Frohe Weihnachten or Fröhliche Weihnachten is the German expression for Merry Christmas. You could also say Frohes Fest, which is the equivalent of saying Happy Holidays in English.
Which is the best Christmas market in Germany?
There are many Christmas markets in Germany, each with its unique charm and atmosphere. Some popular ones include the Nuremberg Christmas Market, the Dresden Christmas Market, and the Munich Christmas Market.
What kind of food and drink can I expect to find at the Christmas markets in Germany?
The food and drink offerings at the Christmas markets in Germany vary depending on the region, but you can expect to find traditional holiday treats such as Glühwein (mulled wine), Lebkuchen (gingerbread cookies), Bratwurst (grilled sausage), and roasted chestnuts. There are also a variety of non-alcoholic beverages and vegetarian options available.
Final Thoughts
As you plan your trip to Germany for the Christmas season, keep in mind that this is a time for celebration, reflection and togetherness. The Christmas markets offer a unique opportunity to experience the local culture, traditions and culinary delights.
Be sure to shop mindfully, travel sustainably, and support local businesses and artists. And most importantly, take the time to enjoy the festive atmosphere and create memories that will last a lifetime.
From the twinkling lights to the warm Glühwein, the Christmas markets in Germany are a magical experience that should not be missed. So immerse yourself in the holiday spirit, embrace the local customs and traditions, and most importantly, have a very Merry Christmas! Frohe Weihnachten!
—
Recommendations are independently chosen based on personal travel experiences and extensive research.