Luxembourg City, the capital of the small European nation of Luxembourg, combines medieval architecture with modern luxuries, making it an appealing destination year-round.
During December, the city comes alive as part of the Winterlights festival, with the Luxembourg Christmas Market taking place at prominent spots like the Place d'Armes and Place Guillaume II.
In this guide, I'll provide you with essential details such as confirmed 2023 dates, opening times, locations and the local dishes and crafts you can expect to find.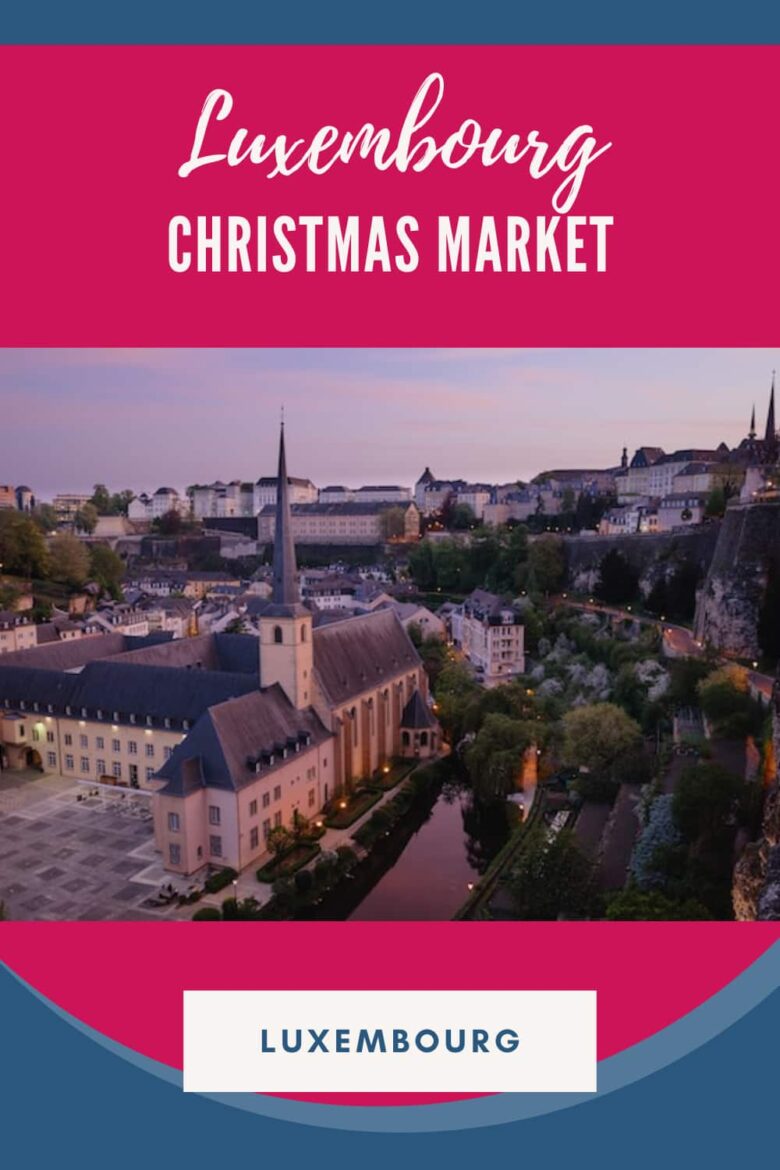 The Winterlights festival elevates the atmosphere with activities and entertainment spread across the city, including the Cirque du Luxembourg, Christmas movie screenings and Winterkids reading sessions.
Luxembourg Christmas Market 2023
As the festive period nears, Luxembourg becomes a focal point of Christmas magic, especially during its Winterlights festival.
You'll find an array of attractions that cater to various tastes: from craft items, toys, and jewellery to a diverse selection of food and drink, including the local favourite, Gromperekichelcher.
Adding to the lively ambience are rides like a Ferris wheel, a miniature train, and a programme of concerts and workshops designed specifically for children.
What sets the Christmas market in Luxembourg apart is its balanced blend of traditional and unconventional offerings, making it an ideal spot for both the young and the young at heart.
Dates and Location
Luxembourg Christmas Market dates: 24th November 2023 to 1st January 2024.
Winterlights Festival: 24th November 2023 to 1st January 2024.
Location: Place de la Constitution and Place d'Armes.
Opening times: Sunday to Thursday: 11am to 9pm. Friday and Saturday: 11am to 10pm.
Christmas Eve: 11am to 5pm.
Christmas Day: Closed.
Admission: Free.
Christmas lights: Yes, switch on date: 24th November.
Santa: No.
Ice skating: Yes, at Kinnekswiss Park.
Vegetarian: Yes, plenty of options.
Vegan: Yes, plenty of options.
Gluten free: Yes, but limited.
Accessible: Yes.
Pet-friendly: Yes, but not recommended during busy periods.
Parking: Please take public transport to help limit congestion.
Reason to visit: Unique ice sculptures, authentic Luxembourgish cuisine, vibrant city centre location – a distinct festive experience.
Recommended tour: Guided walking tour with wine tastings.
Specialities: Glühwäin, gromperekichelcher, thüringer – a trifecta of gastronomic indulgence in the Luxembourgish Christmas festivity.
Where to stay: Domus Hotel is a highly-rated hotel, 6 minutes from the Christmas market.
Hotels near Luxembourg Christmas Market
The Ville Haute district serves as an ideal place to stay during your visit to Luxembourg, given its proximity to the vibrant Christmas market.
This historic central district is home to various attractions, restaurants, and shopping outlets, thereby ensuring convenience at your doorstep.
For accommodation, I highly recommend Domus Hotel, known for its exceptional rating and strategic location near the Christmas market.
Location of Luxembourg Christmas Market
Recommended Walking Tours
A city tour of Luxembourg is an excellent way to acquaint yourself with the city's intriguing blend of medieval and modern elements. With its impressive fortifications, grand squares and vibrant cultural scene, Luxembourg City is a destination worth exploring, whatever the time of year.
I suggest this Luxembourg walking tour with wine tastings, where you'll see key highlights of the city, guided by a local expert. This tour is particularly useful for those visiting Luxembourg for the first time, though locals might also find it enjoyable.
On this tour, you'll explore the city's central areas and the old town, taking in key landmarks and attractions. What makes this tour unique is the inclusion of wine tastings, where you'll have the opportunity to sample local sparkling and white wines.
Christmas in Luxembourg
The following video provides an overview of what the Luxembourg Christmas Market is like. It showcases the various attractions, food, and crafts you can expect to encounter.
Christmas Specialties in Luxembourg
Gromperekichelcher: At the Christmas markets in Luxembourg, one of the standout local treats is Gromperekichelcher. These are delicious fried potato cakes, often flavoured with onions, parsley and sometimes bacon. These savoury snacks are beloved street food that provides a delightful crunch and warmth during the cold festive evenings.
Glühwäin: While not unique to Luxembourg, no Christmas market experience would be complete without a cup of Glühwäin, the traditional mulled wine. This hot beverage is typically infused with a variety of spices such as cinnamon, cloves, and nutmeg, providing a warming, sweet, and aromatic treat as you browse the market stalls.
Thüringer: A popular item at the Luxembourg Christmas Market is Thüringer, a type of sausage originating from Thuringia in Germany. It's grilled on a large open flame, delivering a smoky flavour that pairs perfectly with a dollop of mustard and a crusty roll.
Flammkuchen: This is a thin pizza-like dish hailing from the border regions of France and Germany but enjoyed throughout Luxembourg. Topped with cream, onions, and smoked bacon, this delight is cooked in a high-heat oven until the edges become crispy. A vegetarian version with cheese and vegetables is also widely available.
Pretzels: You'll find a variety of pretzels in the market, from the traditional salted variety to those topped with sesame seeds, cheese, or even poppy seeds. They're a popular snack, providing a satisfying chew and a savoury break from the sweet Christmas treats.
Schokokuss: Among the sweeter treats found at the Christmas market are Schokokuss. These fluffy marshmallow-like sweets covered in a thin layer of chocolate provide a sweet and airy delight that perfectly concludes a street food meal or serves as a snack while browsing the stalls.
Boxemännchen: Traditionally baked for Saint Nicholas Day on December 6th, Boxemännchen is a delightful bread-like pastry that children in Luxembourg look forward to each year. It's often shaped like a small man and sprinkled with powdered sugar, a sweet treat savoured during the festive season.
What to Buy
Traditional Christmas Decorations: At the market, you'll also find a wide array of traditional Christmas decorations, such as advent wreaths, Christmas tree ornaments, and wooden nutcrackers. Many of these are handmade, ensuring each piece is unique and imbued with a personal touch.
Local Wines and Spirits: Luxembourg is known for its vineyards, and the Christmas market offers a selection of local wines and spirits. From crisp Rieslings to aromatic Crémants, these make for an excellent gift for the wine connoisseur or a delightful indulgence for yourself.
Luxembourgish Delicacies: There are numerous stalls selling packaged local food items such as mustards, jams, and honey, as well as locally produced chocolates and biscuits. These are a fantastic way to taste Luxembourg back home or gift friends and family a flavourful experience.
Winter Fashion: Luxembourg's winter can be quite cold, and as a result, there are stalls selling winter fashion items like hand-knit scarves, hats, and gloves, often made from high-quality, warm materials like wool and cashmere. These help you keep warm as you explore the market and make stylish gifts.
Things to Do in Winter
For up-to-date information on attractions and events, including winter activities, you might find Visit Luxembourg useful; it's the city's official website and serves as an additional resource for both first-time visitors and seasoned travellers. Here's some information on Luxembourg City to get you started.
Sustainable Christmas Tips
Here are a few tips on how we can travel more responsibly in Luxembourg at Christmas.
Use Renewable Energy Sources: Luxembourg is making strides in renewable energy, and many hotels now operate on green energy. Opt for an eco-friendly hotel that runs on renewable energy for your stay during the festive season.
Reduce Food Waste: With tempting food stalls at every corner of the Christmas markets, it's easy to over-order. Plan your meals wisely to avoid wasting food. Leftovers? Take them back to your hotel for a snack later.
Ethical Shopping: Many local artisans sell their crafts at the Christmas market. By purchasing these handmade goods, you're supporting the local economy and ethical trade practices.
Sustainable Diets: Opt for dishes with locally sourced ingredients at the Christmas market. You'll get a taste of Luxembourgish cuisine and help reduce carbon emissions associated with food transportation.
Public Transport: Luxembourg is the first country to make all public transport free. Make use of this extensive network of trams, buses, and trains to explore the city in a more sustainable manner.
Carry Reusable Items: Bring a reusable water bottle and shopping bag. Many stalls at the Christmas markets will happily fill your bottle, and it's an easy way to reduce single-use plastic.
Mindful Consumption: The Christmas market in Luxembourg is a shopping paradise, but it's important to buy only what you need. Think twice before purchasing items and consider if they will be used or discarded.
Local Produce: Luxembourg is known for its local wines and produce. Buying these products reduces the carbon footprint associated with long-distance transportation of goods.
Walking and Cycling: Luxembourg's capital is compact and walkable. Choose to walk or rent a bicycle for short distances, reducing your carbon footprint and enjoying the city's beautiful architecture and sights along the way.
FAQ
When is the Luxembourg Christmas Market?
The Luxembourg Christmas Market 2023 and the Winterlights festival runs from 24th November 2023 to 1st January 2024.
Where is the Luxembourg Christmas Market?
The main Christmas market in Luxembourg takes place in the heart of the city in a neighbourhood known as Ville Haute. The market spreads across Constitution Square, Place d'Armes, and the streets around, creating a festive atmosphere.
What time does the Luxembourg Christmas Market open?
The Luxembourg Christmas Market typically opens Sunday to Thursday: 11am to 9pm. Friday and Saturday: 11am to 10pm. Christmas Eve: 11am to 5pm. Christmas Day: Closed.
What is the weather like in Luxembourg at Christmas?
Winter in Luxembourg tends to be cold, with temperatures often dipping below freezing. Snow is possible but not guaranteed. Dress warmly, and consider layering your clothing to stay comfortable as you explore the Christmas market and other outdoor attractions.
Is Luxembourg a good place to visit in winter?
Absolutely. Winter, especially the festive season, is a wonderful time to visit Luxembourg. The city is beautifully decorated, and the Christmas market adds a vibrant, joyful atmosphere that appeals to locals and visitors alike.
What language is spoken in Luxembourg?
Luxembourgish is the national language, but you'll find that English, French, and German are widely spoken, making it easy for most tourists to communicate.
Can I use Euros in Luxembourg?
Yes, the Euro is the official currency of Luxembourg, and you'll have no trouble using it throughout the country.
If you would like to leave a review of Luxembourg Xmas Market, comment below.
—
Recommendations are independently chosen based on personal travel experiences and extensive research. This post contains affiliate links to hotels and tours in Luxembourg. This means I get a small commission from any bookings at no extra cost to you.