Linz is Austria's third-largest city. It's well known for its annual Christmas market, attracting visitors with a mix of traditional crafts, food, and entertainment.
Its central location makes it accessible and convenient for tourists wanting to soak in the festive atmosphere.
In this guide, I recommend quality hotels close to Linz Christmas Market, focusing on proximity and amenities.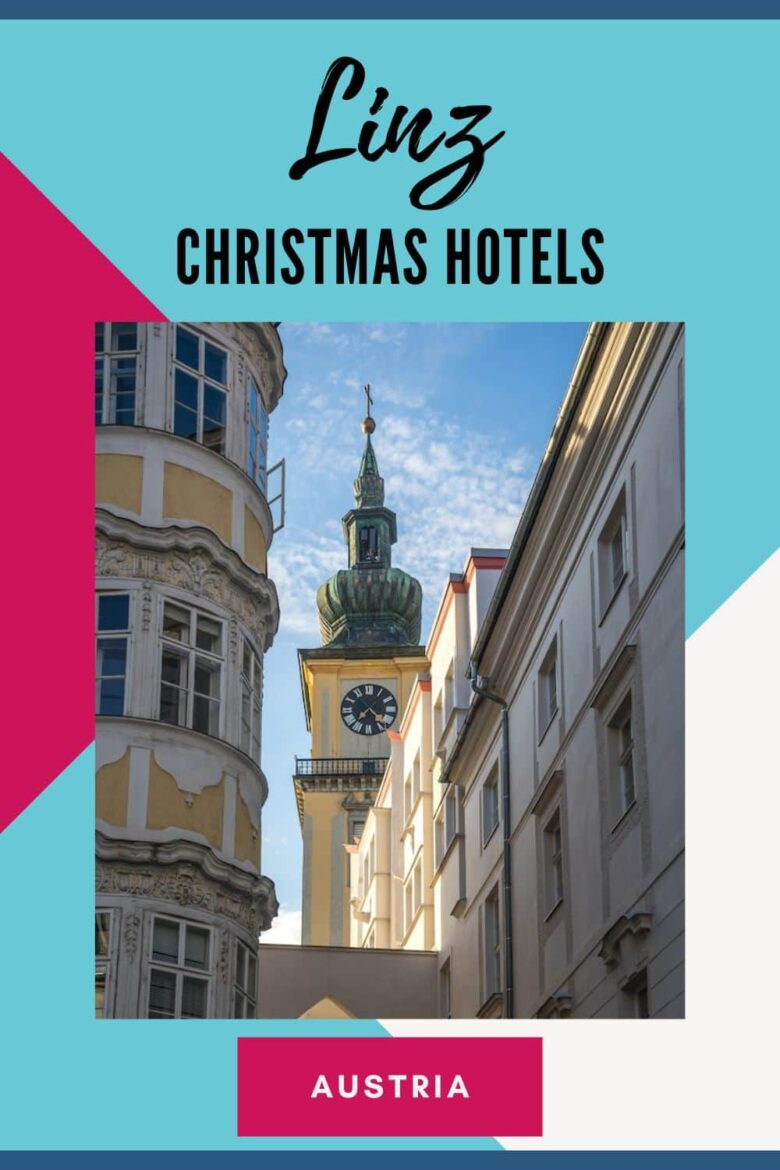 Hotels Near Linz Christmas Market
The best area to stay in Linz to be close to the Christmas market in Hauptplatz is the Altstadtviertel (Old Town) district.
This district provides easy walking access to the market and an array of dining and shopping options.
You'll find my top hotel pick in this very district, perfectly positioned for a festive experience.
Top Pick
Motel One Linz
Address: 10 Hauptplatz, Linz
Neighbourhood: Altstadtviertel
Distance to the Christmas market: This hotel is located directly on the main square.
Motel One Linz has a prime location in the historic main square, conveniently situated near the Danube River and a short walk from Linz's main attractions. The tram stops right in front of the hotel, providing additional accessibility to various points of interest. The hotel features comfortable, clean rooms with adequate space, and staff are known for their friendliness and helpfulness. A rich breakfast menu is available, and for cycling enthusiasts, the hotel provides a bike garage.
Features:
Distinctive decor and design.
Stylish rooms with ample natural light.
Huge selection for breakfast.
Great location near Tabakfabrik, Linz Castle and New Cathedral.
Sustainability:
The hotel uses 100% renewable electricity.
Most food at the hotel is organic and locally sourced.
Vegetarian and vegan menus are available.
Electric vehicle charging station.
Pros: Prime location near the Christmas market; tram accessibility; clean, spacious rooms.
Cons: Can be busy over the Christmas and New Year period.
Check Availability
In addition to Motel One Linz, I'll point you towards a few other hotel options near the Christmas market in Hauptplatz.
These recommendations vary based on factors like location, style, and eco-friendliness, offering different advantages depending on your specific preferences.
Next Best
Arte Hotel Linz
Address: Fiedlerstraße 6, Urfahr, Linz, Austria
Neighbourhood: Urfahr
Distance to the Christmas market: 8-minute walk (650 metres)
Arte Hotel Linz is well situated across the river from the city centre and offers excellent tram and bus connectivity. The hotel is known for its clean rooms, accommodating staff who are helpful with late check-ins, and a wide range of breakfast choices, including healthy options. Additionally, the interior decor receives positive remarks from visitors. The establishment also uses 100% renewable electricity, making it an eco-conscious choice.
Boutique Hotel
Hotel Am Domplatz
Address: Stifterstraße 4, Innere Stadt, Linz, Austria
Neighbourhood: Altstadtviertel
Distance to the Christmas market: 8-minute walk (800 metres)
Hotel Am Domplatz is a boutique hotel situated within easy walking distance of essential amenities yet away from noisy streets. The hotel features clean, modern rooms that are notably quiet, complemented by effective and silent air conditioning and heating systems. Staff at the hotel are reported to be friendly, professional, and particularly informative about local transport like trams. Additional perks include a delicious breakfast selection and an extended hotel bar service that sometimes remains open past its usual closing time.
Budget Hotel
Art-Inn Design
Address: Museumstraße 5, Innere Stadt, Linz, Austria
Neighbourhood: Innere Stadt
Distance to the Christmas market: 5-minute walk (400 metres)
ART-INN Design is a budget-friendly hotel situated a mere five minutes from Hauptplatz and the city centre and shopping areas. The hotel offers hassle-free online check-in and check-out systems and uses 100% renewable electricity. Rooms are clean and well-equipped, featuring comforts like coffee, water, and wine. Notably, the beds are comfortable, and the generous shower size makes it a practical choice for a weekend stay in Linz.
Sustainable Hotel
Stadtoase Kolping Hotel
Address: Gesellenhausstraße 5, Innere Stadt, Linz, Austria
Neighbourhood: Innere Stadt
Distance to the Christmas market: 13-minute walk (1.1 km)
Stadtoase Kolping Hotel is centrally located and within easy walking distance to both the train station and the city centre, including the nearby Christmas market. The hotel prioritises sustainability, running on 100% renewable electricity. Guests frequently commend the comfortable and spacious rooms with king-size beds and high cleanliness standards. The staff are friendly, and the breakfast earns high marks, making it a well-regarded choice for both comfort and eco-conscious travellers.
Apartment Stay
Limehome Linz Schillerstraße
Address: 48 Schillerstraße, Linz, Austria
Neighbourhood: Innere Stadt
Distance to the Christmas market: 18-minute walk (1.5 km)
Limehome Linz Schillerstraße provides a convenient base for exploring the city, as it's within walking distance of the railway station and the city centre. The apartment complex is not just central but also renovated, with units featuring well-equipped kitchens and tasteful furnishings. The apartments are spacious and bright, and they come equipped with the amenities needed for a comfortable short stay. Sustainability is also a focus, with 100% renewable electricity used throughout the premises.
For the most accurate and up-to-date information on the Linz Christmas Market, including opening times, locations, and local Christmas specialties, you'll find my guide indispensable.

If you're considering a broader Austrian experience, my Austria Christmas Market guide is filled with essential details to help you plan your festive itinerary.
Sustainable Travel Tips
To make your Linz Christmas experience more sustainable, here are some tips on responsible travel, including opting for an eco-friendly hotel near the Christmas market.
Choose a Green Hotel: Look for accommodations that are committed to renewable energy sources, water conservation, and waste reduction. In Linz, several hotels near the Christmas market use 100% renewable electricity and have other sustainable practices.
Consume Responsibly at Markets: The Christmas markets in Linz serve a variety of food and drinks, often in disposable containers. Bring a reusable cup or food container to minimise waste. Many stalls are happy to fill their cups with mulled wine or serve food in their containers.
Ethical Shopping: Linz's Christmas markets are teeming with crafts, decorations, and trinkets. Be mindful of your consumption and opt for items that are locally made or serve a functional purpose. Resist the urge to buy things you don't really need or won't use.
Sustainable Transport: Linz has an efficient public transport network, making relying on taxis or rideshares unnecessary. Trams and buses can get you close to most tourist destinations, including the Christmas market. Walking or cycling is also good, especially if you choose accommodation near the market or city centre.
By incorporating these measures, you can ensure your visit is both enjoyable and kind to the planet.
Further Information
For further details on city visits, you can rely on Visit Linz for in-depth neighbourhood guides and practical trip planning.
Tailored to enhance your travel experience, their platform provides updated information on local attractions, dining spots, and efficient itineraries.
If you have questions or want to leave a hotel review, please do so in the comments.
—
Recommendations are independently chosen based on personal travel experiences and extensive research. This post contains affiliate links to hotels in Linz, Austria. This means I get a small commission from any bookings at no extra cost to you.