Almost every city in the UK has a Christmas market or Winter Wonderland festive event. Although it's completely subjective, I've created a guide to what I believe to be the best Christmas markets in the UK based on my experience of living and travelling in the UK. Spend your time wisely by visiting the markets that best suit your festive needs.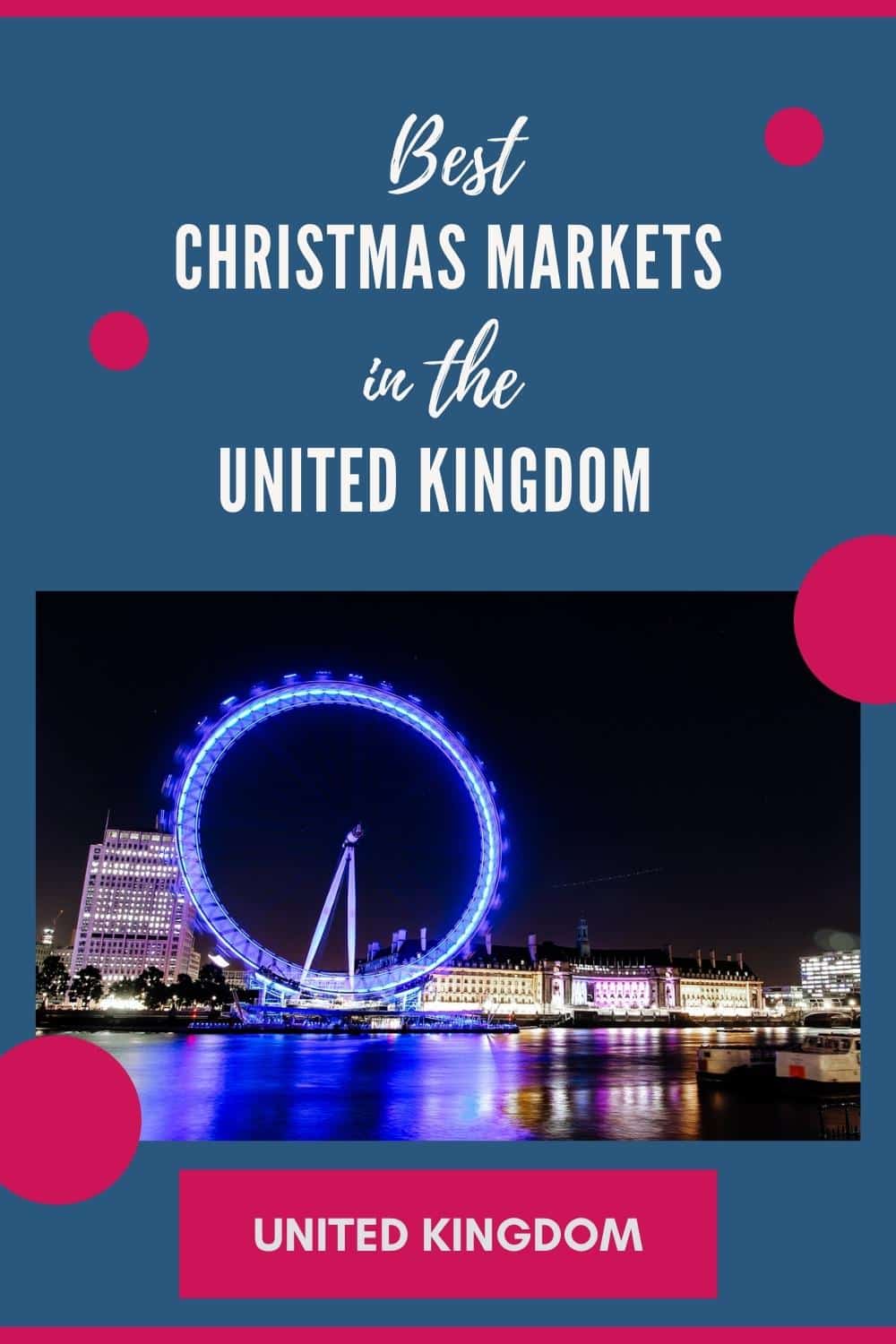 Best Christmas Markets UK 2022
The Christmas markets are ideal places to meet with friends and family to connect over a mug of mulled wine or hot chocolate. While there are common themes to every Christmas market, each has a unique atmosphere that offers a different experience. These are the top 10.
1. Manchester
Manchester Christmas Market – Located in Albert Square in the city centre (temporarily moving to Piccadilly Gardens), Manchester is home to one of the largest Christmas markets in the UK.
You'll find more than 300 Christmas stalls with a mix of traditional German and Austrian gifts and food along with many locally produced specialties.
It's a great Christmas market for eating out with stalls by some of the top food vendors in Manchester. There is a Giant Santa at St Peter's Square, a gin bar with 100 types of gin and the Skate Manchester ice rink at Cathedral Square.
Get more information on Christmas market dates, times and things to see in Manchester with my Manchester Christmas Market guide, updated for 2022.

If you would like to stay in a central location, book one of my recommended hotels near Manchester Christmas Market. In general, I suggest staying in the Northern Quarter.
2. Edinburgh
Edinburgh Christmas Market – Edinburgh's winter festivals combine Christmas and Hogmanay over the November to January festive period.
There are several Christmas markets both in the city centre and in neighbourhood squares.
Do some Christmas shopping at the Scottish Market on George Street or visit the traditional European Market in the Mound Precinct.
You can enjoy a ride on the Big Wheel, the Star Flyer or a traditional Christmas carousel. Ice skating on St Andrew Square is always popular and you can hire skates if you don't have your own.
This guide to Edinburgh Christmas Market has everything you need to know to book your trip for Christmas or Hogmanay.

Book a recommended hotel near Edinburgh Christmas Market in the Mound district.
3. Birmingham
Birmingham Christmas Market – Unlike elsewhere in the UK, Birmingham Christmas Market is a special kind of market as it is aligned with the Frankfurt Christmas Market in Germany. It's the largest Christmas market outside of Germany and Austria.
Birmingham's Frankfurt Christmas Market will take place over seven weeks from early November until just before Christmas Day. This is the most traditional Christmas market in the UK and is by far the most popular.
Read my guide to Birmingham Christmas Market and dates and full details for 2022.

I suggest stay near Victoria Square and New Street at one of these recommended hotels near Birmingham Christmas Market.
4. Bath
Bath Christmas Market – The beautiful city of Bath is famous for its Roman baths, historic Bath Abbey, Pulteney Bridge and in winter, the Bath Christmas market.
It's a city teeming with historic attractions, green spaces, museums and galleries, Bath is one of the most desirable winter destinations in the UK.
Get more information on dates, times and things to see in Bath with my Bath Christmas Market guide.

If you're looking for hotels near the Bath Christmas Market, I have shared a list of where to stay.
5. York
York Christmas Market – York is so much more than The Shambles, the famous cobblestone street lined with half-timbered houses.
The city is filled with iconic attractions like York Minster, Clifford's Tower and of course York Christmas market.
The Christmas market in York is known as St Nicholas Fair and it's returning in 2022, bringing the community together for a magical winter in York.
Located in the heart of the city, you can experience the wonderful Christmas decorations along The Shambles to Parliament Street where the Christmas market begins.
Enjoy the stalls and sample the Christmas food as you walk towards St Sampson's Square which is lined with alpine-style chalets.
For full details, read my York Christmas Market guide that includes dates for 2022, opening times and locations.

Discover the best areas to stay close to Parliament Street and St Sampson's Square in this guide to hotels near York Christmas Market.
6. Southbank, London
Southbank Christmas Market – Southbank Winter Festival is a hugely popular Christmas event for Londoners and visitors alike.
The banks of the River Thames are decorated for the festive season, along with German-style wooden cabins.
You'll find regular events, street performers, food trucks and Christmas market classics.
Read the full guide to Southbank Christmas Market that includes dates, opening times and a list of food vendors.
7. Nottingham
Nottingham Christmas Market – If you want to experience the best of the Christmas markets in the UK, then you will want to visit Nottingham Christmas Market.
Known locally as Nottingham Winter Wonderland, it's one of the region's most popular winter events, and many are excited for its return in 2022.
The Winter Wonderland is a traditional German-style market with all the wonderful Christmas food, mulled wine, handmade gifts and decorations that you would expect to see in a German Christmas market.
Read my full guide to Nottingham Christmas Market which is returning in 2022.

Stay in one of my recommended hotels near Nottingham Christmas Market for a convenient stay in the Lace Market or near the Old Market Square.
8. Winchester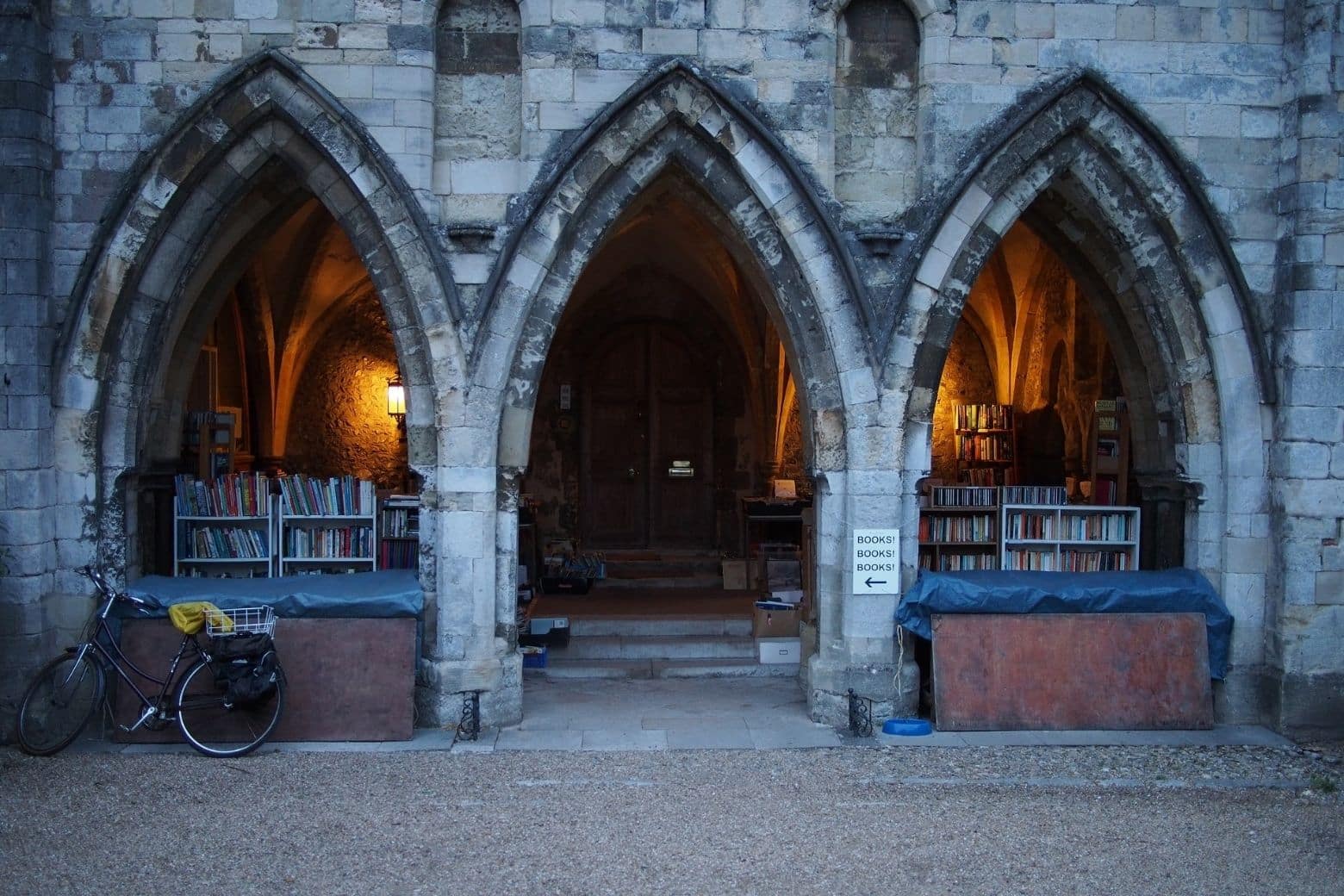 Winchester Christmas Market – Winchester Cathedral Christmas Market is considered to be one of the best in the United Kingdom.
More than 100 Christmas chalets are expected to line the streets and you can go ice skating at the popular Christmas Ice Rink.
Winchester market is known for its focus on artisanal, locally produced gifts and decorations.
Get the latest updates on what's happening at Winchester Christmas Market that is held at the cathedral.

Stay within walking distance at one of these hotels near Winchester Christmas Market.
9. Exeter
Exeter Christmas Market – Once again held on Cathedral Green, the return of this community-minded event is welcome after several difficult years.
Cathedral Green is located in the heart of the city and the Christmas Market in Exeter is one of the most popular events to experience in winter.
The Bavarian-style Christmas stalls will line the paths surrounding the Cathedral where you'll find traditional Christmas food, artisanal gifts and decorations, local musicians and family-friendly entertainment.
Food is a high priority in Exeter and the Exeter Food & Drink Trail celebrates local producers, even in December.
Read my guide to Exeter Christmas Market 2022 where it will be held in front of Exeter Cathedral.

If you're looking for good value for money hotels near Exeter Christmas Market I recommend several places to stay close to Cathedral Green.
10. Belfast
Belfast Christmas Market – You can expect to find local Belfast specialties at Northern Ireland's best Christmas market. But there's also a huge international presence with gifts and decorations from around the world.
Much of the local food is provided by nearby St George's Market, so look out for your favourite traders while you're there.
Get all the details on Belfast Christmas Market that includes updated dates for 2022.
Christmas Markets in England
Many other Christmas markets in the UK are well worth visiting. Almost every city has their own British-style Christmas market or those that resemble traditional German Christmas markets.
Bakewell Christmas Market – Over one weekend in November, Bakewell Christmas Market takes over the town centre. A busy, festive event that hosts around 100 Christmas chalets, it's one of the most popular Christmas events in the Peak District.
Bournemouth Christmas Market – The Christmas market in Bournemouth is a popular event with stalls selling gifts, decorations, food and drinks. It takes place throughout December and into January.
Brighton Christmas Market – During Christmas in Brighton, there's a huge focus on live entertainment, street artists and buskers, adding to the warm and lively atmosphere that Brighton is known for.
Bristol Christmas Market – Located in the heart of Bristol with more than 50 stalls, Bristol Christmas Market is returning to the city centre in 2022. The event is known for its cosy igloos, Bavarian bar and the stunningly decorated Christmas tree on Broadmead.
Chatsworth Christmas Market – Chatsworth House Estate is open over Christmas, where you can visit the stately home, garden, farmyard and playground. The Christmas market at Chatsworth House is an event within the larger Christmas at Chatsworth event that continues into January.
Cheltenham Christmas Market – Christmas in Cheltenham is unique because of its traditional Regency buildings, cobbled streets and many beautiful parks and gardens that are illuminated during the festive season.
Chester Christmas Market – Around 70 Christmas chalets surround the Town Hall Square, each prettily decorated with Christmas lights and baubles. Don't miss the traditional Christmas tree in the centre of the market.
Harrogate Christmas Market – The Christmas market in Harrogate is a cosy winter experience filled with unique gifts, Christmas decorations, tasty food and entertainment for kids.
Leeds Christmas Market – It's official, the Leeds German Christmas Market (Christkindelmarkt) has been cancelled for 2022. This is the third cancellation in a row for the main Christmas market, normally located at Millenium Square.
Lincoln Christmas Market – This year marks the 40th anniversary of the Christmas market in Lincoln. More than 250 stalls await you over 4 days in December in Cathedral Quarter.
Liverpool Christmas Market – As one of England's greatest cities, you'll never be short of things to do in Liverpool. Some cultural highlights include theatre, music and comedy events, art galleries and museums. In winter, you can't miss the Liverpool Christmas Market.
Newcastle Christmas Market – Great food is on offer from local traders, and you can buy Christmas gifts, tree decorations and stocking fillers from a variety of stalls.
Oxford Christmas Market – Located on historic Broad Street, there's plenty to see and experience in the area. Oxford Christmas Market successfully blends old and new, traditional and contemporary. Authentic mulled wine and German bratwurst can be enjoyed alongside handcrafted gin and hot chips.
Rochester Christmas Market – Claiming to be the biggest Christmas market in Kent, there's plenty to keep you entertained over 3 weekends.
Salisbury Christmas Market – Salisbury is especially beautiful in winter, with its cobbled streets, historic buildings, and festive decorations.
Sheffield Christmas Market – This Christmas event highlights local independent businesses and craft makers, with around 50 stalls lining the streets in central Sheffield.
Skipton Christmas Market – Held over 2 Sundays in December, Skipton Christmas Market is a small event that is popular with the local community.
Stratford Upon Avon Christmas Market – Home to one of the newest Christmas markets in the UK and a uniquely themed Victorian Christmas market.
Christmas Markets in Scotland
Glasgow Christmas Market – Glasgow has plenty to celebrate this winter. There are two traditional Christmas markets, the IRN-BRU Carnival and, of course, Hogmanay. St Enoch is very much about the food, from the traditional German bratwurst to sweet handmade cakes. At the same time, George Street is the home of the city's international Christmas market, best for artisanal gift shopping and Christmas decorations.
Christmas Markets in Wales
Cardiff Christmas Market – The Christmas markets in Cardiff have been taking place for 30 years. Celebrate this great tradition at what has become one of the best winter festivals in the country.
Sustainable Travel in the UK
The choices we make have an environmental and social impact on the places we visit. When visiting the Christmas markets, keeping sustainability in mind is important.
Implement some or all of these simple measures to create a positive impact.
Shop mindfully. Only purchase what you really need.
Walk, cycle and use public transport to get around.
Stay in a sustainable hotel powered by renewable energy.
Stay in hotels. Short-stay apartment accommodation can lead to a lack of affordable housing for locals.
Avoid using plastic or buying items made or packaged with plastic.
Try to eat locally sourced organic food where possible.
Limit your consumption of meat and dairy.
Be open to diverse cultures and experiences.
Explore more than just the main tourist areas.
Support the arts and attend local events.
Visit fewer places but stay longer at each destination.
FAQ
When is Christmas Jumper Day 2022 in the UK?
10th December 2022.
When was the last time Britain has snow on Christmas Day?
2010.
Where are the best Christmas markets in the UK?
Manchester, Edinburgh, Birmingham and Bath.
If you want to head abroad during the upcoming holidays, my guide to the best Christmas markets in Europe has plenty of inspirational winter destinations.