I'm often asked which country has the best Christmas markets in Europe and I always reply with Austria. Festive cabins covered in snow, warm spiced wine, handmade toys and indulgent snacks. This is just the beginning of what you'll find at the Austria Christmas markets. From the traditional to the modern to the most famous or the coziest of neighbourhood markets, Austria has a Christmas market to suit all tastes.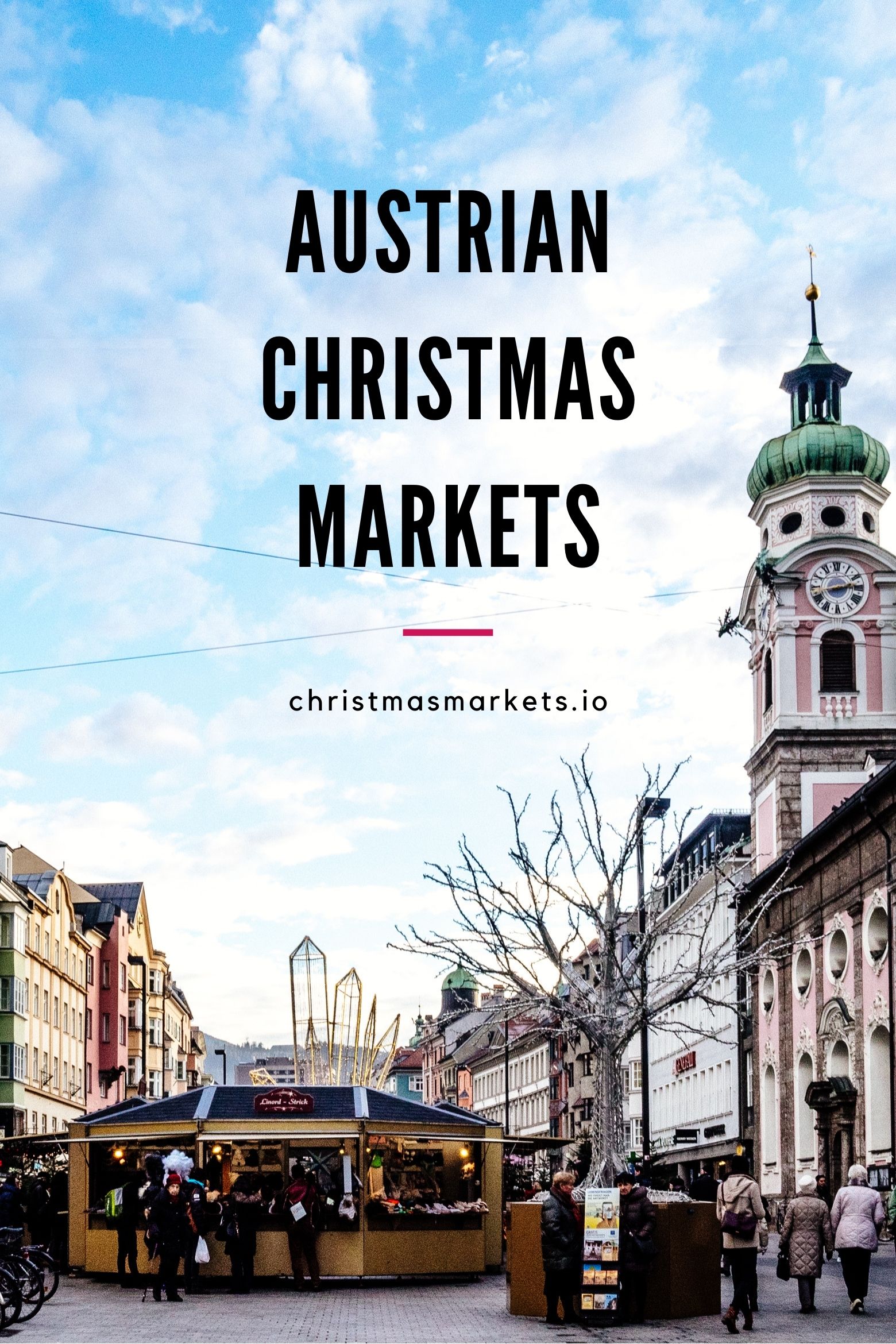 Best Christmas Markets in Austria 2021
Let's get straight to it with an overview of which are the best Christmas markets in Austria for 2021.
For more information on each city, scroll down to the full Christmas market guide below where you can find the Christmas market dates, times, location, specialties and a few highlights to visiting each of these Austrian destinations.
Vienna Christmas markets – Of course Austria's beautiful capital is the number one destination if you want to see the biggest, the best and the most traditional Austrian Christmas markets. There isn't just one market in Vienna but a number of large markets and many smaller ones. You could stay for a week and visit a different market each day. Vienna is absolutely stunning in winter, rain, hail or shine. I highly recommend visiting, not only for Christmas festivities and activities but in general for the wonderful attractions, cultural experiences and excellent food.
Salzburg Christmas market – Situated in front of Salzburg Cathedral with glimpses on the famous Hohensalzburg fortress which lies upon the hill above, Salzburg Christmas market is traditional, musical and magical. Like Vienna, Salzburg has a number of markets, large and small, some within Salzburg city centre and others in the surrounding towns and villages. Salzburg is ideal if you're looking for a classic European Christmas experience.
Innsbruck Christmas market – Popular with visitors from neighbouring countries along with Austrian locals, Innsbruck is compact, festive and wonderful. If you don't know much about Innsbruck, the city runs along the emerald green River Inn and is surrounded by spectacular mountains on all sides. It's known for its city skiing where locals famously go for a ski before work or during their lunch break. One of the Christmas markets lines the river while the other is located in the compact centre square. I would describe Innsbruck's Christmas markets as being relatively modern, run by incredibly friendly Tyrolean locals. You'll find many neighbourhood markets too, as is the case throughout Austria, but Innsbruck is particularly worth visiting for the two main markets and the stunning alpine scenery.
Graz Christmas market – Another wonderfully traditional Austrian Christmas market is to be found in the city of Graz. The Advent Market in the square in front of the Town Hall is a compact market with handmade toys and decorations. The specialty drink is feuerzangenbowle, a fiery mix of wine and rum, better than any gluwein in my opinion. This part of old town Graz is absolutely classicly Austrian. A pedestrian square with mid-rise historic buildings, easily accessed by the trams which slowly pass by. Graz has a number of unique Christmas markets worth visiting and is a great option of you want to get away from the crowds in Vienna.
Klagenfurt Christmas market – Now we're getting off the beaten path as far as Christmas markets go. I only visited Klagenfurt when I discovered a friend lived there and I was staying not far away in Ljubljana in Slovenia. I will never forget Klagenfurt as still to this day I wear the thick woolly socks I bought there during winter. Klagenfurt is a nice side trip if you happen to be in the area and there are some small regional markets worth visiting nearby.
Like elsewhere in Central Europe, almost all Austrian cities, towns and villages have a Christmas market or Advent market or sometimes simply called a winter market. Turn up anywhere in late November through to Christmas day and you are sure to find a festive experience. Some of the more modern markets continue until early January.
Austrian Christmas Market Dates & Details
If that overview isn't enough to help you to decide where to go in Austria (or maybe that just made it more difficult to decide?) I will now go into further detail for each of the markets.
Vienna, Austria
Get more information on Christmas market dates, times and things to see in Vienna with our Vienna Christmas Market guide, updated for 2021.

If you would like to stay in a central location, book one of our recommended hotels near Vienna Christmas Market. In generally we suggest staying near the Museum Quarter or Rathausplatz.
Vienna's Christmas markets are easily in the top 5 Christmas markets in Europe and quite possibly the number one. Vienna is an incredible, historic city with beautiful architecture, world-class museums, unique stores, diverse cuisine and a progressive community. It is often voted the most liveable city in and it's a well-deserved accolade.
The Christmas markets span the city from the main market in front of the Town Hall to the magical Christmas Village at the Belvedere Palace. The Christmas Village on Maria Theresien Square is huge, sandwiched between the Museum of Natural History and the Museum of Art, two of Vienna's most grandiose buildings.
Another favourite is the Christmas Market at Schönbrunn Palace or you could try the more modern Winter Market at the Museum Quarter.
Other Advent markets scattered around the city are typically Viennese in style and generally cater more to locals, taking place predominantly in the German language. These markets are actually great if you want to get a more 'Austrian' experience although you can't go wrong with any of Vienna's Christmas markets, big or small, local or international.
Vienna Christmas Market dates: The opening of the Rathausplatz and other markets are currently postponed. Finalised dates will be announced later in 2021.

Reason to visit: A traditional experience with incredible food, drinks, variety and atmosphere all in one of the most beautiful cities in the world.

Specialities: International choirs, vanillekipferl Christmas crescent cookies, handmade decorations and the best food in Austria.

Tips: Book a long stay if you can. There is so much to see in Vienna, not just Christmas related but in every other way. A weekend is too short but enjoy it if that's all you can manage.
Salzburg, Austria
Get more information on dates, times and things to see in Salzburg with our Salzburg Christmas market guide.

If you're looking for hotels near the Salzburg Christmas market, we have a list of where to stay.
If you're lucky you'll get a white Christmas in Salzburg where the streets, rooftops and trees will be covered in a layer of snow.
Unfortunately, snow is not guaranteed but it's an incredible sight when you see it.
On the other hand, if the weather is fine, you'll have more opportunities for wandering around the compact city and experiencing some of the city's wonderful outdoor parks and attractions.
Particularly worth visiting is the Mirabell Palace and adjacent gardens. These are incredible in spring but are lovely to walk around at other times of the year too.
During Christmas, there is a Christmas market at Mirabellplatz, just outside of the Palace. It's less crowded and popular with locals.
Salzburg Christmas Market dates: 18th November to 26th December 2021.

Reason to visit: The beautiful, romantic location, delicious Austrian food, excellent opportunities to see classical music.

Specialities: Salzburg is home to the famous Sacher torte that originated at the Sacher Hotel in the historic city centre. As the birthplace of Mozart, you'll see his image everywhere. Salzburger Nockerl is a must try soufflé dessert.

Tips: Try not to succumb to the Mozart memorabilia, it's tempting but not great quality. Instead, choose handcrafted, locally made gifts from the Christmas markets.
Innsbruck, Austria
For full details, read our Innsbruck Christmas market guide that includes dates, opening times and locations for 7 festive advent markets in Innsbruck.

Book one of our recommended hotels near Innsbruck Christmas market to be conveniently located during your stay.
The old town is of course the heart of Innsbruck and it's where you'll find many of the festivities and decorations. You'll know you've reached the main market when you see the elaborate Golden Roof, the centrepiece of Innsbruck.
Spend time walking around the historic streets with the colourful pastel-coloured buildings and pretty fountains, statues and columns.
Just because you're likely to be eating as you wander around the markets, save space each afternoon for coffee and cake, an especially delicious treat in traditional Innsbruck.
Innsbruck Christmas Market dates: Old Town Christmas Market – 15th November to 23rd December 2021. Other markets in Innsbruck are open through to January 2022.

Reason to visit: Skiing in the city, the small city atmosphere, the beautiful mountain landscapes and the panorama market at the top of the funicular railway.

Specialities: The locally famous kiachln, a sauerkraut doughnut. Also known for its carousel and the modern Christmas market along Maria Theresien Straße.

Tips: If you have trouble finding flights to Innsbruck, consider flying to Munich in Germany then getting the train to Innsbruck. It's a stunning journey through the mountains and well worth the extra step to getting there.
If after all this you still can't decide then you might not have a choice but to create a Christmas tour of Austria and visit multiple places.
Note: Please keep in mind the requirements and regulations for travelling to Austria. These are subject to change and can be updated without notice. Be sure to follow the guidelines closely and double check before you leave. I strongly encourage you to take out travel insurance which provides broad coverage including unforeseen cancellations and treatment or evacuation for serious health issues. I also ask you to carefully consider if you believe this is the time to be travelling and the potential health impact on not just yourself but those around you. Please take all necessary precautions to ensure a safe trip and follow the health guidelines at your destination.