The Christmas markets in Europe are a magical and unforgettable experience, attracting visitors from all over the world. With twinkling lights, festive scents, and unique gifts and treats, these markets truly embody the spirit of the holiday season.
Whether you're a first-time visitor or a seasoned traveller, planning a trip to the Christmas markets can be overwhelming, with so many options to choose from.
In this guide, you'll find comprehensive information and tips to help you plan a trip to the Christmas markets that suits your interests, travel style, and budget, ensuring that your time at the markets is both memorable and enjoyable.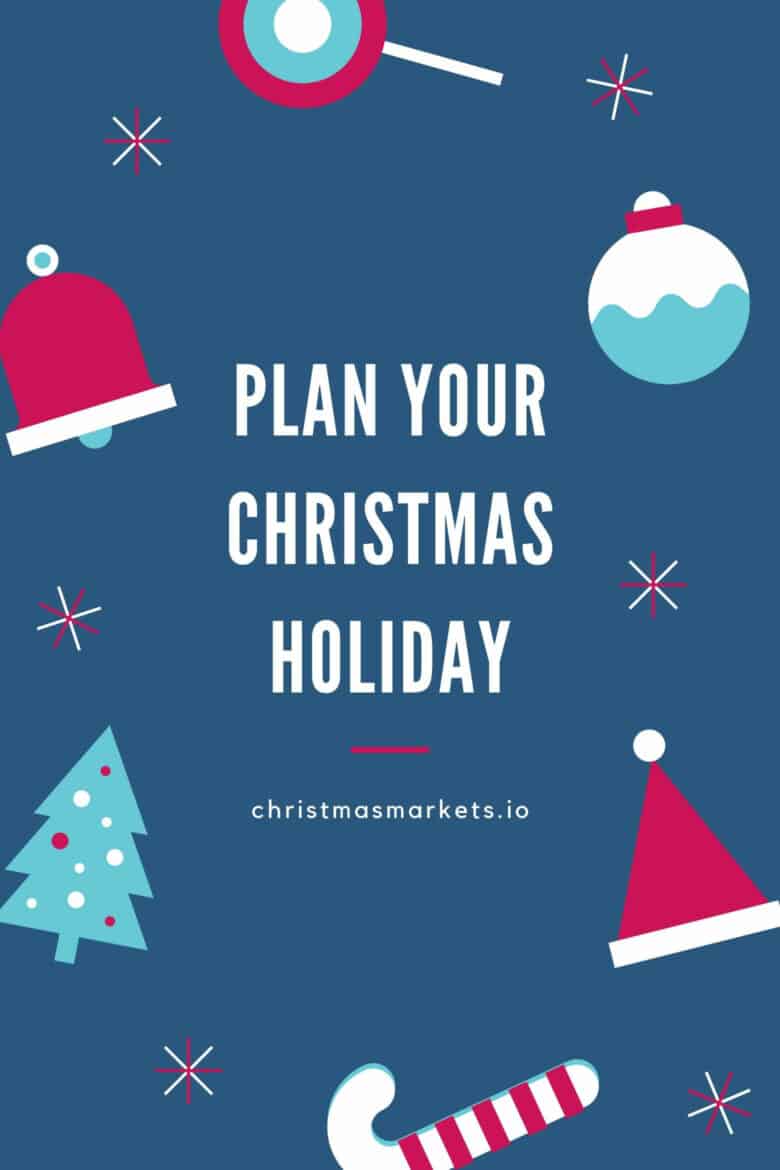 Planning Your Trip
Winter is synonymous with Christmas markets, especially in Central Europe, where the most famous and bustling markets can be found in Germany and Austria.
However, nearly every city in Europe has at least one Christmas market, offering a range of options to suit your interests.
Choose from a traditional market like Nuremberg or Vienna, discover a rising market in Krakow, Poland, or opt for a smaller market in Ljubljana, Slovenia.
You can even visit multiple destinations and create your own Christmas market tour.
Whether you're visiting Europe for the first time or you're a seasoned traveller, it's important to plan your trip, taking into account more than just flights and accommodation.
Consider arranging tours, visiting museums, exploring markets, and choosing restaurants to visit. Don't forget to also consider your insurance needs before you go.
Table of Contents
1. Choosing a Destination
Travel Inspiration
If you're in the early stages of planning your trip and seeking inspiration, start by exploring our popular posts, blog, and winter destinations.
Check out the "Top 10" – Get ideas by reading my article on Europe's most popular Christmas markets.
Use the "Search" function – Utilise the search box at the top or click on "Guides" in the top navigation bar to search the blog.
Browse by country – If you're looking for Christmas markets or holiday ideas in a specific country, hover over the "Destinations" link, where you can find information by country.
Research the Destination
Once you've decided on your destination, consult our specific Christmas market guide for in-depth information.
Our Christmas market guides provide you with all the details you need, including market dates, times, and locations, tips for sightseeing, travel advice, and recommendations for accommodation.
You can find your desired destination by using the top navigation bar or search box.
Plan with Google Maps
When planning your trip, use Google Maps to keep track of all the places you want to visit or are interested in, such as your arrival points, accommodations, Christmas market locations, cafes, restaurants, and attractions.
This will simplify your trip by having all the important information in one place, accessible at your fingertips.
Additionally, using Google Maps allows you to research cafes and restaurants before you go, avoiding random tourist spots and finding quality options that cater to your taste and dietary needs.
Mark the places with great reviews as "Want to go" on Google Maps to ensure a memorable experience.
2. Planning Tips and Advice
For general planning tips, the following links and resources should cover everything you need to plan or book your Christmas trip.
Booking Train Tickets
Train travel in Europe is a wonderful and eco-friendly way to get around. Compared to flying, it is less stressful and less complicated and provides a more comfortable journey than a bus trip.
Buses can often be cramped and sometimes lack proper amenities, so it is best to avoid them if possible, even if it means sacrificing potential cost savings.
For booking train tickets within Europe, I highly recommend the user-friendly booking experience of Austria's Oebb website.
However, it's also a good idea to compare prices on different country-specific booking sites, as they may offer different prices for the same journey.
If you are planning to take multiple trains in a short period of time, consider purchasing a Eurail pass (for non-Europeans) or Interrail pass (for Europeans).
Oebb (Austria)
Eurostar (UK/France)
Oui SNCF (UK/France)
DB (Germany)
Trenitalia (Italy)
Renfe (Spain)
Finding Flights
To reduce your carbon footprint, I advise against taking short flights in Europe, especially for non-essential trips. Instead, take a train for a more environmentally friendly mode of transportation.
Buses and electric cars are also greener options compared to flying. I understand that flying may be more convenient or preferred for some, but it's important to consider sustainable alternatives.
Finding a Hotel
When it comes to booking hotels in Europe, my go-to platform is Booking.com. It offers a wide range of hotels and apartment rentals and is known for its reliability and trustworthy reviews.
However, it's important to be mindful of the cancellation policy when making your booking. If there's a chance that your plans may change, I recommend opting for a refundable room instead of the cheapest option, as the latter are often non-refundable.
Read my guide to the best hotels for Christmas in Europe.
Apartment Stays
When it comes to accommodations, you might like to stay in an apartment, whether for a short or long term. Apartments are advantageous as they provide more space, privacy, and the option to cook or eat in.
Plus, you may have the chance to interact with the owner and receive insider tips on local attractions and dining options. It is essential to thoroughly review all the comments and ratings before making a reservation.
It's important to keep in mind that holiday apartments (booked through sites such as Airbnb) can affect housing affordability in some cities, particularly in big cities, by decreasing the housing supply for residents. Consider this impact before making a reservation.
City and Food Tours
Consider taking a tour with a local guide on your trip, as they can provide valuable insights and experiences.
In each destination guide, I've compiled a list of the best Christmas market tours, city tours, food tours, and useful tickets and passes to make your planning easier.
My list of recommended Chistmas market tours is a great starting point.
Alternatively, you can search directly with Get Your Guide.
City tours are a great way to get an overview of the destination, especially if you're visiting for the first time.
Food tours are a fantastic way to sample local cuisine and specialties at cafes and markets you might not have discovered on your own.
Meanwhile, Christmas market tours offer a unique blend of history and local specialties from the markets.
I recommend using Get Your Guide to book your tours in advance or at least the day before. The website is user-friendly with authentic reviews, and taking a tour supports local individuals, small businesses, and the economy.
Skip the Line Entrance Tickets
For Christmas markets, admission is generally free, but if you're looking to visit major museums or events during your trip, it's wise to purchase your entrance tickets ahead of time to save time.
Skip-the-line tickets are available for popular attractions such as the Louvre in Paris, the Van Gogh Museum in Amsterdam, and Schoenbrunn Palace in Vienna, allowing you to bypass the ticket lines and have your ticket sent directly to your email.
For skip the line tickets in Europe, I suggest using Get Your Guide.
Travel Insurance
Unfortunately, things can and do go wrong when you travel. World Nomads offers coverage for more than 150 activities as well as emergency medical, lost luggage, trip cancellation and more.
World Nomads provides travel insurance for travellers in over 100 countries. As an affiliate, we receive a fee when you get a quote from World Nomads using this link. We do not represent World Nomads. This is information only and not a recommendation to buy travel insurance.
Tourist Office Information
The official tourist office website is an excellent resource when planning your trip. This website can provide valuable information on the opening hours and dates of Christmas markets, events, museums, tourist spots, and other attractions.
Additionally, consider purchasing a city card from the tourist office if you plan to visit multiple museums and tourist sites.
Tourist office websites also offer guidance on transportation, including airport transfers, public transportation usage, ticket purchasing, and potential day trip suggestions.
You can easily find your travel destination's official tourist office website by using Google or consulting our Christmas travel guides for direct links.
Renting a Car – Best for Families and Groups
For a city vacation or Christmas market visit, renting a car is usually not necessary. If you are exploring nearby cities, I highly suggest taking the train, which is convenient, comfortable, and more environmentally friendly than driving.
However, having a car can be advantageous if you are embarking on a longer trip, visiting multiple cities over an extended period and including some rural areas.
If you are travelling with a large group or family, renting a car might also be more economical. If you can afford it, please consider renting an electric vehicle for a more sustainable option.
Uber and Taxis
While walking or biking are great ways to explore a city, sometimes the convenience of a ride-share service like Uber is necessary.
Before your trip, check if Uber is available in your destination city and the main pick-up locations at the airport or train station.
I suggest avoiding unlicensed taxis and only getting in properly marked ones that agree to turn on the meter. Although not necessarily dangerous, unlicensed taxis can be scams.
I recommend using a reputable ride-share service or public transportation or booking a taxi from an airport or hotel.
3. Visiting the Christmas Markets
Experiencing the Christmas markets is a must-have in any holiday itinerary during the festive season. These markets are a celebration of the holiday spirit, with an array of twinkling lights, delicious scents, and warm drinks.
It's a place to stroll and explore, browse handmade gifts and trinkets, and indulge in traditional holiday treats.
The Christmas markets are about shopping and embracing the cultural heritage and bringing joy to the holiday season.
What to Expect at the Christmas Markets
Visitors can expect a festive atmosphere at the Christmas markets in Europe with a rich cultural experience.
The markets typically feature rows of wooden stalls selling handmade gifts, ornaments, toys, and traditional food and drinks.
One can savour the aroma of mulled wine and gingerbread while browsing the stalls, listen to carolers and street performers, and marvel at the beautiful Christmas lights and decorations.
It's a perfect opportunity to immerse oneself in the holiday spirit and indulge in the region's local traditions.
Additionally, visitors can attend concerts, shows, and other events, making the Christmas markets an enjoyable experience for all ages.
Traditional Food and Drinks
The Christmas markets in Europe offer a variety of traditional food and drinks to enjoy. Some popular examples include:
Glühwein (mulled wine)
Bratwurst (grilled sausage)
Lebkuchen (gingerbread)
Stollen (fruitcake)
Baked potatoes
Raclette (melted cheese)
Chestnuts (roasted)
Hot chocolate (spiced or with liqueur)
Pretzels
Apfelstrudel (apple strudel)
These festive treats can be paired with local delicacies and drinks unique to the region, providing a complete experience of the area's culture and traditions during the holiday season.
Shopping for Gifts and Souvenirs
As far as shopping goes, you can find a variety of traditional holiday items, including handcrafted ornaments and decorations, jewellery, clothing, candles, and soaps.
Some stalls sell gingerbread cookies and candies, mulled wine, fruit bread, and other treats that are popular during the holiday season.
You can also find items made of wood, such as wooden toys and carved ornaments.
Other common items include pottery, glassware, and hand-knitted goods like scarves, hats, and mittens. Many stalls offer handmade gifts that are perfect for friends and family.
Music and Entertainment
Music and entertainment is an integral part of the European Christmas markets experience.
Visitors can expect a variety of live music performances, ranging from traditional Christmas carols to modern covers. There may also be street performers, such as acrobats, clowns, and musicians, adding to the festive atmosphere.
You may also find ice-skating rinks, ride attractions, and traditional fair games in some markets.
4. Visiting Other Attractions in the City
Visiting other attractions in the city during your trip to the Christmas markets is a great way to experience the local culture and history. Popular sights to visit can include museums, cathedrals, historical landmarks, and palaces.
Many cities also offer city tours and food tours, which provide an overview of the city and its main attractions.
Additionally, there may be seasonal events and festivities happening in the city that you can attend. You can often find the latest event listings on the local tourist office website.
Keep in mind that some of these attractions may be busy during the Christmas season, so it's recommended to book tickets in advance to avoid long lines.
5. Sustainability at the Christmas Markets
Sustainability is a major issue in tourism and with large commercial events like Christmas markets. Many Christmas markets use recyclable and biodegradable plates and cutlery and only sell handmade wooden, metal and fabric decorations and toys, while other markets do not.
Here are a few thoughts on how we can be more sustainable at the Christmas markets.
Be mindful of sustainability issues when considering what to purchase and from whom to purchase it: This means being aware of the impact your purchases have on the environment and choosing vendors that align with your sustainability values.
Stay in accommodations that use renewable energy: Choosing accommodations that utilise renewable energy sources, such as solar or wind power, can help reduce carbon emissions.
Avoid purchasing from stalls that use plastic products or import their products and ingredients: Plastic is generally made from fossil fuels and plastic waste is a significant contributor to environmental degradation.
Use walking, cycling or public transportation as your mode of transportation: This reduces energy use and air pollution.
Reduce your consumption of meat and dairy products: Livestock farming is a significant contributor to greenhouse gas emissions, and reducing your consumption of these products can help reduce this impact.
Purchase local and seasonal produce: Purchasing locally sourced, seasonal produce supports local livelihoods.
Minimise food waste: While it can be tempting to try a variety of different foods while on holiday, minimising food waste is an important aspect of sustainable tourism. Consider ordering only what you can finish, sharing dishes with your travel companions, or taking leftovers home with you.
Participate in recycling programs where possible: Recycling is a simple way to reduce waste and support sustainable practices. Look for recycling facilities in your area and participate in local recycling programs to help reduce your impact on the environment.
FAQ
Is it safe to travel to Europe?
Yes, it is generally safe to travel in Europe. I have travelled extensively both on my own and with a partner and personally find Europe to be very safe. I find countries in the Balkans and the Nordic countries somewhat safer than Western Europe, but I consider no European country unsafe. However, as with travelling to any foreign country, it is important to be aware of your surroundings and take the usual precautions for personal safety, such as keeping an eye on your valuables and being cautious in crowded areas.
Are the Christmas markets open on Christmas Day?
Christmas markets are usually closed in most European cities on Christmas Day, but some smaller markets may have limited opening hours on Christmas Eve. It is best to check our Christmas market guides or contact the local tourist office for more information.
When is the best time to book Christmas travel?
The best time to book Christmas travel to Europe is generally in the early autumn months, between September and November. This is when many travel providers release their holiday packages and prices, giving you a better chance of securing the trip you want at a good price. However, booking as soon as possible is best if you have a specific travel date or destination in mind, as popular destinations can sell out quickly. Booking in advance also allows you to have more time to prepare and plan your trip.
Final Thoughts
In conclusion, visiting Europe during the Christmas season to experience its vibrant and festive Christmas markets is an unforgettable experience. From the smell of mulled wine and gingerbread to the twinkling lights and holiday cheer, these markets offer a unique way to experience the heart of Europe's cities and their cultures.
Planning ahead, researching destinations and checking opening times, purchasing tickets and entrance fees in advance, and choosing the right mode of transportation will ensure you have a stress-free and enjoyable trip.
Remember to take the time to experience the beauty and culture of the cities you visit, and don't forget to have fun!
Recommendations are independently chosen based on personal travel experiences and extensive research. This post contains affiliate links to hotels, tours and other products and services. This means I get a small commission from any bookings at no extra cost to you.