In Boston, the cold air carries the hum of anticipation and joy as the city gears up for the winter holidays.
The Boston Christmas Market events hold unique allure, attracting visitors with their blend of traditional charm and contemporary celebration.
Markets and festivals across the city highlight a mix of handcrafted goods, local art, and international delicacies, making every visit a diverse experience.
In this guide, I provide a detailed list of Boston's best Christmas and winter holiday markets, including all the key information for planning your visit, such as 2023 dates and locations.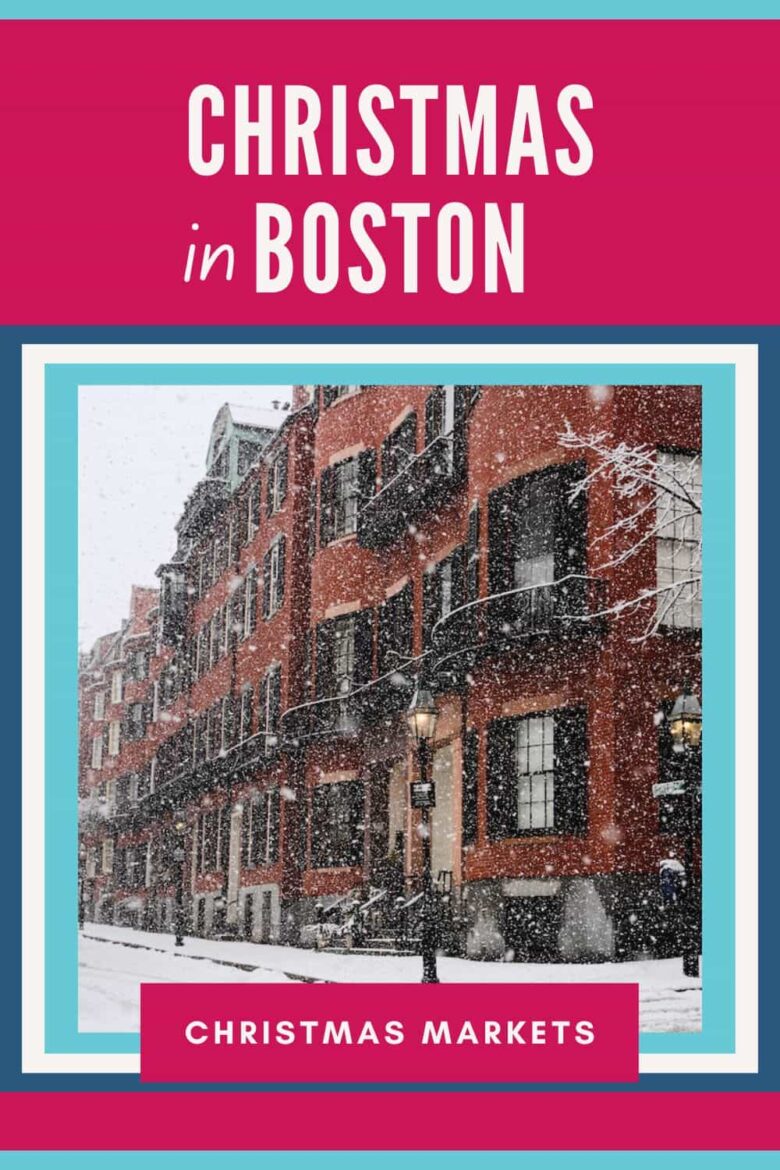 Boston Christmas Market 2023
In Boston, each Christmas market bears its own distinctive charm and character, ensuring a varied experience for visitors and locals alike.
The Seaport Christmas Market at Snowport Boston stands out with its ice skating rink, providing enjoyment for families and individuals, while the plethora of vendors means you can find unique gifts and foods.
The SoWa Winter Festival, on the other hand, emphasises art, design, and crafts, showcasing the city's creative pulse and offering unique pieces that reflect Boston's vibrant arts community.
Additional markets are scattered throughout the city, each presenting a varied array of goods, from handcrafted jewellery to locally made gourmet foods, reflecting the diversity and vibrancy of Boston.
I've curated a list of the best places to visit in 2023, ensuring your Boston Christmas market experience is as rich and varied as the city itself.
1. Seaport Christmas Market
Snowport Boston – As you plan your winter outings, the Seaport Christmas Market at Boston Snowport emerges as a distinctive destination.
Sometimes called the Seaport Winter Market or Holiday Market, the event hosts over 120 makers, offering an ample assortment of products for diverse preferences.
Beyond shopping, visitors can explore a tree market and relish both traditional and contemporary food choices.
Accentuating the experience is a custom cocktail bar complemented by creative festive decorations, including a mistletoe arch and a winter wish wall.
Local businesses form the core of this market, offering an opportunity for you to show direct support to the Boston community by purchasing locally crafted goods.
Your experience at Snowport Boston is further enriched with a wide array of gift categories, from apparel and accessories to artisanal food products, predominantly featuring locally produced New England-based goods.
Read my guide to Seaport Christmas Market to find all the essential information such as confirmed dates and opening times, helping you effectively plan your visit or itinerary.
2. SoWa Winter Market
SoWa Boston – The SoWa Winter Market and Festival is located in Boston's lively South End and is known for its vibrant arts community and unique shopping avenues.
The Winter Market enhances the district's charm by featuring a selection of handmade artwork, gifts, seasonal foods, and artisanal goods.
As the district's regular art galleries and unique retail spaces embrace the holiday spirit, the area's creative energy is magnified.
The historic Power Station location combines innovation with the extraordinary, spanning 15 days over four weekends in November and December.
Walking through, you encounter an aromatic pine forest leading to a shopping area with more than 100 regional makers, artists, and specialty food vendors.
Elevate your Winter Market experience with French Mediterranean cuisine at Marseille and winter cocktails at the Artist Loft Lounge's mezzanine level.
You can also discover unique items, including olive oil, handmade doughnuts with holiday flavours, and sustainable candles.
To ensure your visit to the SoWa Winter Market is as seamless as possible, read my guide to SoWa Winter Market, where I detail essential information such as the 2023 dates and opening times for your convenient planning and scheduling.
3. Harvard Square Holiday Fair
Harvard Square Market – Held in the historic Harvard Square, the Harvard Square Holiday Fair stands as one of the Boston area's oldest and most esteemed fairs, opening its doors for free over eight or nine winter days.
As a juried fair, it hosts a diverse mix of regional craftspeople and world-travelling importers, each bringing their unique wares for display and sale.
As you explore the fair, you will encounter a wide range of items, from hand-carved hardwood utensils and household items to exquisite jewellery and playful tableaus creating miniature worlds.
The fair's selection is vast and unique, offering block-printed cards, hand-thrown decorative pottery, silkscreen prints on paper and fabric, and even handmade dark chocolate.
Engage in exciting adventures in watercolour and discover essential oils, body products, and soaps that invigorate the senses.
The fair proves to be a high-energy marketplace, filled with a harmonious soundtrack that accompanies your exploration of wood and lino block prints, hand-drawn designs on ethically sourced clothing, and plant and moss terrariums.
Christmas Markets in Boston
Beyond the renowned markets, many other Christmas markets in Boston are worth your attention and visit.
Each one showcases its unique character and variety, presenting an assortment of crafts, food, and entertainment to enrich your holiday festivities.
Explore smaller holiday markets, festivals and fairs throughout the city, such as Christmas events at the World Trade Center or Winter on the Wharf, or venture just outside of Boston to the Wrentham Artisan Market.
If you have the chance to continue your holidays beyond Boston, take the opportunity to read my guide on the best European Christmas markets, which discusses where to go in 2023 for an exciting European Christmas holiday, providing you with essential information to enhance your travel planning and itinerary.
Christmas in Boston
Embark on a culinary and creative adventure as you explore the unique offerings at Boston's Christmas markets, including Seaport Christmas Market, SoWa Winter Festival, and Harvard Square Holiday Fair.
Boston Harbor Spice Blend: Available exclusively at the Seaport Christmas Market, this aromatic mixture of spices represents the essence of Boston's Harbor, infusing a unique, local flavour into your meals.
South End Artisanal Goods: SoWa Winter Festival presents a variety of handmade items, each infused with the spirit and creativity of Boston's South End. Here you can find items like handmade dark chocolate, hinting at the area's rich cultural and historical tapestry.
Harvard Square Pottery: Don't miss out on the wheel-thrown pottery at the Harvard Square Holiday Fair. Each piece, meticulously crafted by local artisans, embodies the intellectual and cultural vibrancy of the Harvard community.
Marseille Culinary Delights: Only at the SoWa Boston, enjoy French Mediterranean cuisine from Marseille, showcasing the intricate and refined flavours that make this cuisine a world-class culinary experience.
Locally Crafted Essential Oils and Soaps: Unique to the Harvard Square Holiday Fair, these products are crafted with local ingredients, giving you a sense of the region's natural bounty while nourishing your skin and senses.
Ethically Sourced Clothing with Hand-Drawn Designs: Offered exclusively at the Harvard Square Holiday Fair, these clothing items combine comfort, ethics, and artistry, reflecting the region's commitment to sustainable and responsible fashion.
Unique Sustainable Candles: These candles, found at the SoWa Winter Festival, are not only functional but also a tribute to Boston's commitment to sustainability, each crafted with environmentally friendly materials and techniques.
Specialty European Olive Oil: Available at the SoWa Winter Festival, this olive oil brings the robust flavours of Europe to Boston, allowing you to add a touch of international flair to your dishes while in the heart of the city.
Wrentham Artisan Items: Just outside of Boston at the Wrentham Artisan Market, discover unique items that showcase the artistry and craftsmanship of the local Wrentham community.
Each specialty provides a treat for your senses and offers a unique insight into the diverse and vibrant communities that make up Boston, making your visit to these markets an enriching experience.
Responsible Travel in Boston
Navigate the festive period with awareness: here are some tips on how we can travel more responsibly in Boston at Christmas.
Reduce Food Waste: When savouring the culinary delights at Boston's Christmas markets, make it a point to order modest portions to avoid food waste. Many stalls, including those at the Seaport Christmas Market, will likely allow you to sample small quantities, ensuring you only consume what you can eat. Share dishes with friends and family to experience a variety without excess.
Ethical Consumption: As you explore the markets, practice mindful shopping by prioritising locally made and sustainably sourced products. For example, opt for ethically sourced clothing with hand-drawn designs from the Harvard Square Holiday Fair or sustainable candles available at the SoWa Winter Festival. Only purchase items that you genuinely need or will use, thus supporting local artisans while also reducing the potential for waste.
Sustainable Diets: Opt for plant-based or locally sourced meals and snacks as you roam the Boston markets. Many stalls prioritise the use of local produce, ensuring lower carbon footprints and promoting regional agriculture. Choose handmade dark chocolates at the SoWa Winter Festival, crafted with ingredients from the area, combining indulgence with sustainability.
Sustainable Transport: Explore Boston using the city's extensive public transportation system. The Massachusetts Bay Transportation Authority provides extensive bus and subway services, enabling you to traverse the city with a minimal carbon footprint. Alternatively, take advantage of Boston's bike-friendly routes by renting a bicycle for eco-friendly, convenient navigation around the city's festive offerings.
Embracing these practical and accessible tips allows you to enjoy the vibrancy and joy of Boston's Christmas season while contributing positively to the city and the planet.
FAQ
Does Boston have Christmas markets?
Absolutely, Boston is home to several Christmas markets that bring warmth and cheer to the winter season. These markets, including the Seaport Christmas Market and SoWa Winter Festival, offer a variety of local crafts, foods, and arts, creating a delightful holiday atmosphere in the heart of the city.
Which is the biggest Christmas market in Boston?
The SoWa Winter Festival is recognised as one of the largest Christmas markets in Boston. Located in the historic Power Station, it showcases an extensive collection of regional makers, artists, and specialty food vendors, providing a broad and diverse shopping and culinary experience.
What are the Boston Christmas Market 2023 dates?
The Boston Christmas Market 2023 dates are confirmed as follows. Seaport Christmas Market: 10th November to 31st December 2023. SoWa Winter Festival: Weekends from 24th November to 17th December 2023.
Is it crowded in Boston at Christmas?
While Boston does see an influx of visitors during the Christmas season, the city's wide array of markets, events, and festivities ensures that crowds are well-distributed. Planning in advance and arriving early at popular events can help you avoid the largest crowds and make the most of your visit.
Further Information
For a more extensive grasp of what Boston can provide in winter, I encourage you to refer to the official websites Meet Boston and the City of Boston.
Both resources arm you with essential destination guides and timely trip-planning tips, ensuring your winter visit to the city is seamless and filled with the finest experiences unique to Boston.
Reviews
I would be grateful for your insights and feedback about your time at the Boston Xmas markets; your experiences and opinions can help others plan their visits and set expectations.
—
Recommendations are independently chosen based on personal travel experiences and extensive research.