Are you looking for a fun way to get into the holiday spirit? Then you should check out Snowport Boston during the winter. The area is full of festive events and activities, including the famous Seaport Christmas Market.
This article will give you all the details you need to know about visiting the holiday market in 2023, including confirmed dates and opening times.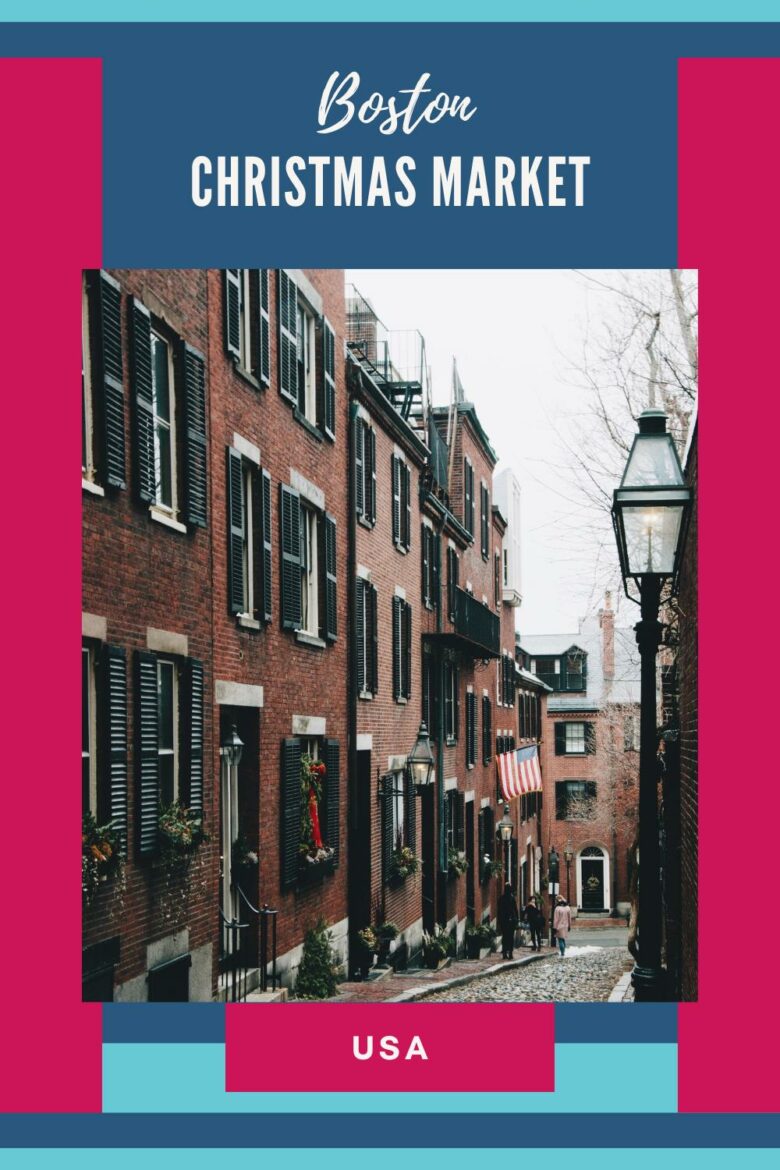 Snowport Boston is a great place to be during the Christmas season. The area is decked out in festive decorations and has various events and activities. It's the perfect place to get into the Christmas spirit and do some holiday shopping.
Seaport Christmas Market 2023
The Seaport Christmas Market is a must-see event this holiday season. Also known as the Seaport Holiday Market, the event has moved to a new location and doubled in size for its third season.
The Christmas market features over 120 makers, a tree market, traditional and contemporary food, a custom cocktail bar from Tuscan Kitchen and festive decorations like a mistletoe arch and winter wish wall.
Small local businesses are at the heart of the Snowport Boston Christmas Market. Show your support for the local community by celebrating the holidays at this event.
Dates and Location
Seaport Christmas Market dates: 10th November to 31st December 2023.
Location: Boston Seaport, 100 Seaport Boulevard.
Opening times:
10th November to 10th December:
Monday to Thursday: 3pm to 8pm.
Friday and Saturday: 11am to 9pm.
Sunday: 11am to 8pm.
11th December to 31st December:
Sunday to Thursday: 11am to 8pm.
Friday and Saturday: 11am to 9pm.
Thanksgiving Day: Closed.
Christmas Day: Closed.
Boxing Day: Closed.
Admission: Free, no tickets required.
Santa: Yes.
Ice skating: Yes, at Snowport Winter Village.
Vegetarian: Yes, plenty of options.
Vegan: Yes, plenty of options.
Gluten free: Yes, but limited.
Accessible: Yes.
Pet-friendly: Yes. Dogs are allowed on a lead.
Parking: Please take public transport to help limit congestion.
Reason to visit: The inclusive Christmas stalls and respectful community atmosphere.
Recommended tour: Take the family-friendly Cocoa and Carols Holiday Cruise.
Specialities: Festive cocktails, pierogies, soul food, spiked hot chocolate.
Where to stay: The Langham, 12-minute walk from the Christmas market or a short drive.
Hotels near Seaport Christmas Market
Boston has a ton of cool neighborhoods to explore, each with its own unique atmosphere and charm. Some of the most popular neighborhoods include Back Bay, Beacon Hill, and South End.
But if you want to stay near Boston Seaport, I suggest staying at The Langham as it's only a 12-minute walk from the Christmas market while also being close to many of Boston's historic sights.
If you prefer to stay in one of Boston's trendy neighbourhoods, I recommend The Lenox. It's located in Back Bay, a neighbourhood known for its designer boutiques, art galleries and great restaurants.
Seaport Christmas Market at Snowport Boston is one of the city's most popular winter events. Read our Boston Christmas Market guide to discover where else to go in 2023.
Location of Seaport Christmas Market
What to Expect
Food at the Christmas Market
These snacks and specialties are a combination of Boston's local flavours and international Christmas market fare, allowing you to taste a variety of foods while you explore the Seaport Holiday Market.
New England Clam Chowder: Traditional to Boston, this hearty soup made from clams, potatoes, onions, and cream will warm you up on a cold winter day.
Lobster Rolls: Another local favourite, these sandwiches, typically served on a hot dog bun with butter or mayonnaise, are a must-try when you're in Boston.
Pretzels: An international Christmas market staple, these twisted dough delights can be savoury, covered in coarse salt, or sweet, dusted with sugar or cinnamon.
Bratwurst: Reminiscent of the market's German influence, this classic sausage dish is often served with sauerkraut or mustard in a bread roll.
Roasted Chestnuts: You'll often find vendors roasting these festive favourites over an open fire, providing a warming and tasty snack.
Hot Mulled Cider: A popular alternative to the classic mulled wine, this sweet, spiced apple drink is a favourite at Boston's Christmas markets.
Zaz Food Truck's Caribbean Cuisine: This popular food truck is known for its authentic Caribbean dishes, with offerings that include jerk chicken, fried plantain and a selection of tangy tropical salsas.
Chequessett Chocolate's Artisan Treats: Handmade in Truro, Massachusetts, Chequessett produces a range of exquisite chocolates that make for a delicious indulgence or a perfect gift.
The Fat Cactus's Hot Chocolate and Truffles: Enjoy a cup of rich hot chocolate from The Fat Cactus, which is made even more decadent with the addition of their homemade chocolate truffles.
What to Buy
New England Crafts: Discover beautifully crafted items representing New England's distinct culture and traditions. From handmade knitted scarves to uniquely patterned ceramic dishes, they encapsulate the spirit of the region.
Local Art: Support Boston's artistic community by purchasing original artwork from local artists. The stalls are a trove of unique prints, paintings and sculptures, each one adding a touch of Boston to your home.
Boston-themed Souvenirs: Remember your trip with Boston-themed souvenirs. Models of famous landmarks, decorative ornaments, or themed clothing items make excellent keepsakes.
Handmade Jewelry: For a more personal gift, seek out handmade jewelry stalls. With unique designs and a wide variety of materials, there's a piece to match everyone's style.
Gourmet Food Products: Local food producers offer various delectable products, from artisan cheeses and handmade chocolates to specialist jams and chutneys. They're perfect for gifting or for treating yourself to some local flavours.
Hand-poured Candles: Consider the array of hand-poured candles available for a calming atmosphere. Many of these are made with natural, eco-friendly materials, ensuring a cleaner burn.
Organic Beauty Products: Skincare enthusiasts will appreciate the range of organic beauty products on offer. Handcrafted soaps, natural skincare creams, and fragrant bath salts are among the items available, all created with care and a commitment to sustainability.
Vintage Apparel from The Drift Collective: Step into a time machine and update your wardrobe with chic vintage clothing. The Drift Collective, known for its curated selections, provides unique pieces that speak to both current trends and classic styles.
Bags and Accessories from Oceanum Vela: Oceanum Vela presents a unique collection of bags and accessories made from recycled sails. These eye-catching products are durable and waterproof and embody a spirit of maritime adventure and sustainability.
Artwork and DIY Punch Needle Kits from Homebody DIY: For the craft enthusiast, Homebody DIY offers punch needle kits that allow you to create your own beautiful textile artwork at home. Also available are completed pieces of punch needle art, perfect for adding a cozy touch to your decor.
Candles by Mo&Co Home: Infuse your home with the calming scents of Mo&Co Home's candles. These hand-poured candles use eco-friendly materials, and their stunning designs make them an excellent addition to any room.
Irish Trinkets from The Irish Spirit: Celebrate the Emerald Isle with charming trinkets from The Irish Spirit. Whether you have Irish heritage or just a love for all things Celtic, these keepsakes will bring a touch of Ireland to your home.
Winter Apparel by WearsWoody: Stay warm and stylish this winter with Boston-made apparel from WearsWoody. Known for its high-quality designs, this brand's winter collection is sure to keep you cozy while representing the city's flair for fashion.
Events at Seaport Holiday Market
Some interesting events and activities to look out for:
Tree Lighting at Seaport Common: Held on the 1st of December, this event marks the official start of the festive season at the Seaport Christmas Market. A towering Christmas tree adorned with sparkling lights and ornaments will illuminate Seaport Common, creating a magical atmosphere for all to enjoy.
Menorah Lighting: Scheduled for the 21st of December, this event adds another layer of cultural diversity to the Seaport Holiday Market. This evening of celebration and reflection, highlighting the Jewish Festival of Lights, invites everyone to join in and learn about Hanukkah traditions.
The Tree Market: Available daily in the lead-up to Christmas Day, The Tree Market provides an array of beautiful, fragrant Christmas trees for sale. The sight of these fresh, green trees certainly contributes to the festive spirit of the Seaport Christmas Market.
Curling: An unusual but highly engaging game to participate in, the Seaport Christmas Market's curling setup offers a novel experience to enjoy with friends and family. Note, however, that the game isn't played on real ice, ensuring it's suitable for players of all ages and skill levels.
Rooftop Igloo Bar: This unique pop-up bar on the rooftop promises fantastic festive cocktails and breathtaking views of Boston's city skyline. Encased in a cozy, translucent igloo, you can sip your drink while watching the city twinkle below. It's an experience that perfectly marries the spirit of the festive season with the urban charm of Boston.
If you're looking to get further into the holiday spirit, then you should check out my guide to the best Holiday markets in the USA.
The Boston tourist office is packed with helpful information for visitors. This website is a great resource if you're planning a trip to Boston and want to learn more about the city's attractions, events, and more.
Sustainable Travel Tips
Many of us are increasingly concerned about climate change and sustainability. Here are a few ideas on how people can be more sustainable this Christmas in Boston:
Opt for Public Transport: Boston's efficient MBTA system, affectionately known as the "T", is a green way to explore the city. Swap your car ride for a journey on one of the subway lines, buses, or ferries to reduce your carbon footprint.
Support Ethical Businesses: Consider making your purchases from vendors who adhere to ethical practices. For instance, Oceanum Vela creates bags and accessories from recycled sails, contributing to a circular economy.
Eat Sustainably: A visit to Snowport Boston Holiday Market would be incomplete without tasting local delicacies. Opt for stalls like Zaz Food Truck that prioritise locally-sourced ingredients, contributing to a reduced carbon footprint and supporting local farmers. Also, look at prioritising plant-based meals.
Minimise Food Waste: Don't let your eyes be larger than your stomach! Only order what you can comfortably eat to avoid unnecessary waste. Should you find yourself with leftovers, consider donating them to local shelters or composting where facilities exist.
Carry a Reusable Water Bottle: Boston's tap water is safe to drink. Carry a refillable water bottle to reduce single-use plastic waste.
Shop Mindfully: Buy only what you need and opt for products with minimal or recyclable packaging. For example, the candles by Mo&Co Home would make for an eco-conscious choice. Be mindful of only purchasing what you really need.
Walk When Possible: The Snowport Boston district is known for being pedestrian-friendly. Reduce your carbon emissions by strolling through the market and exploring the nearby attractions on foot.
FAQ
When is Seaport Christmas Market?
Seaport Christmas Market dates start on 10th November and ends on 31st December 2023.
Where is Seaport Christmas Market?
The Christmas markets in Seaport are held at Boston Seaport, 100 Seaport Boulevard.
What time does Seaport Christmas Market open?
Until the 10th December: Monday to Thursday: 3pm to 8pm. Friday to Sunday: 11am to 8pm. Closes at 9pm on Saturdays.
From the 11th December: Monday to Thursday: 11am to 8pm daily. Closes at 9pm on Saturdays.
If you would like to leave a review of Seaport Xmas Market, feel free to comment below.
—
Recommendations are independently chosen based on personal travel experiences and extensive research. This post contains affiliate links to hotels and tours in Boston, United States. This means I get a small commission from any bookings at no extra cost to you.