Exeter Christmas market is back again in 2022, held on Cathedral Green in front of the Gothic Cathedral. The Bavarian-style Christmas stalls will line the paths surrounding the Cathedral where you'll find traditional Christmas food, artisanal gifts and decorations, local musicians and family-friendly entertainment.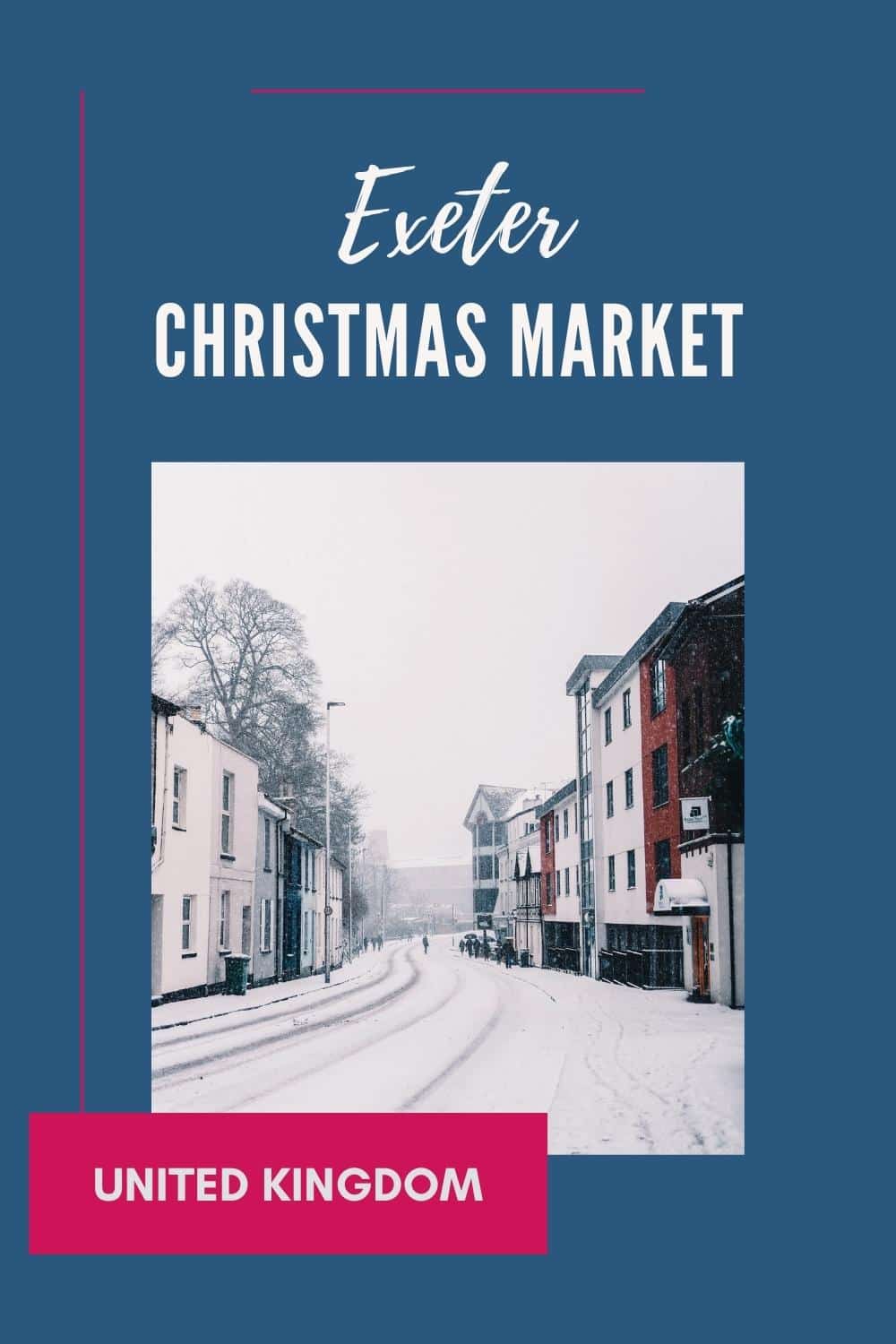 Exeter Christmas Market 2022
Cathedral Green is located in the heart of the city and the Christmas market is one of the most popular events to experience winter in Exeter.
Food is a high priority in Exeter and the Exeter Food & Drink Trail celebrates local producers throughout the Christmas period.
Exeter Christmas market dates: 18th November to 18th December 2022.
Opening times: Times vary but are generally between 10am and 8pm.
Location: Cathedral Green, just off the High Street.
Reason to visit: A family-friendly event with a focus on local artisans and performers.
Specialities: Locally caught seafood, baked goods, specialty coffee, Exeter gin, fudge and cheese.
Hotels near Exeter Christmas Market
A few steps from Exeter Cathedral is City Gate. Alternatively, stay at the classically decorated Southernhay House Hotel which is a 3-minute walk from Cathedral Green.
Exeter city centre is a relaxing area to walk around and there are a number of excellent places to stay. If you're looking for somewhere nice but affordable, my guide to hotels near Exeter Christmas Market gives some options for all budgets.
Things to Do in Exeter in Winter
Exeter and the surrounding Devon countryside is a popular destination with domestic tourists and this is expected to be the case again in 2022.
There are many things to do in winter to keep things interesting and to keep you warm.
Exeter Cathedral – While you're at the Exeter Cathedral Christmas market, you don't want to pass up the opportunity to visit the Cathedral itself. The Cathedral is an excellent example of Gothic architecture and on some days, a free tour is on offer with a local guide.
Exeter's Underground Passages – Historic passages under Exeter High Street were constructed during medieval times and are available to visit on a guided tour.
Royal Albert Memorial Museum – Exeter's world-class museum has stunning displays and galleries, fabulous exhibitions and modern amenities. The displays reveal Devon and Exeter's rich history and global connections.
The Bill Douglas Cinema Museum – A public museum dedicated to the moving image.
Powderham Castle Christmas – If you have time, take a day trip to this 600-year-old castle.
If you're looking to visit other UK cities this winter, be inspired by our list of the best Christmas markets in the UK.
The Exeter Christmas market is one of the highlights of a trip to Devon in December.
It's great to see the event return again in 2022 and we hope local residents, as well as tourists, will support the event and enjoy Christmas in Exeter.
Find out more at the Visit Exeter tourist office.
Map of Exeter Cathedral
Sustainable Travel Tips
The choices we make have an environmental and social impact on the places we visit. When visiting the Christmas markets, it's important to keep sustainability in mind.
Implement some or all of these simple measures to create a positive impact.
Shop mindfully. Only purchase what you really need.
Walk, cycle and use public transport to get around.
Stay in a sustainable hotel powered by renewable energy.
Stay in hotels. Short-stay apartment accommodation can lead to a lack of affordable housing for locals.
Avoid using plastic or buying items made or packaged with plastic.
Try to eat locally sourced organic food where possible.
Limit your consumption of meat and dairy.
Be open to diverse cultures and experiences.
Explore more than just the main tourist areas.
Support the arts and attend local events.
Visit fewer places but stay longer at each destination.
FAQ
When does Exeter Christmas Market start?
18th November 2022.
When does Exeter Christmas Market end?
18th December 2022.
What time does Exeter Christmas Market open?
Times vary but the market generally opens around 10am.
What time does Exeter Christmas Market close?
Times vary but the market generally closes around 8pm. It may open later on the weekend.
Where is Exeter Christmas Market?
Cathedral Green.
If you have any questions or comments about visiting Exeter in Xmas or would like to leave a review of the Christmas markets, please leave a comment below.
—
Recommendations are independently chosen based on personal travel experiences and extensive research. This post contains affiliate links to hotels and tours in Exeter, UK. This means I get a small commission from any bookings at no extra cost to you.