If it's your first time in a city or you don't have a lot of time, a tour can be a great introduction to a city, enabling you to gain insight via a local guide.
City tours will give you an overview of everything the destination has to offer, while taking a food tour will introduce you to regional specialties and unique flavours you might not discover on your own.
You can find specialised tours like architecture, street art, photography, or history and war tours.
Seasonal and holiday activities can also be a great way to learn about the local culture and people by experiencing customs, traditions, festivals and, of course, the Christmas markets.
Christmas Market Tours in 2022
I recommend the following city tours, food tours and dedicated European Christmas market tours, offered by experienced local guides in small groups.
You can also purchase tickets to events and museums before you go to save time and avoid queues. This is especially useful at the most popular destinations known for huge crowds.
Note:

As a travel blogger, I've taken many tours over the years.

During this time, I found Get Your Guide to be the most user-friendly, safe and reliable booking company.

Most of the tours I recommend below can be booked via Get Your Guide.

If you can't find what you're looking, click here to search for a tour at your destination.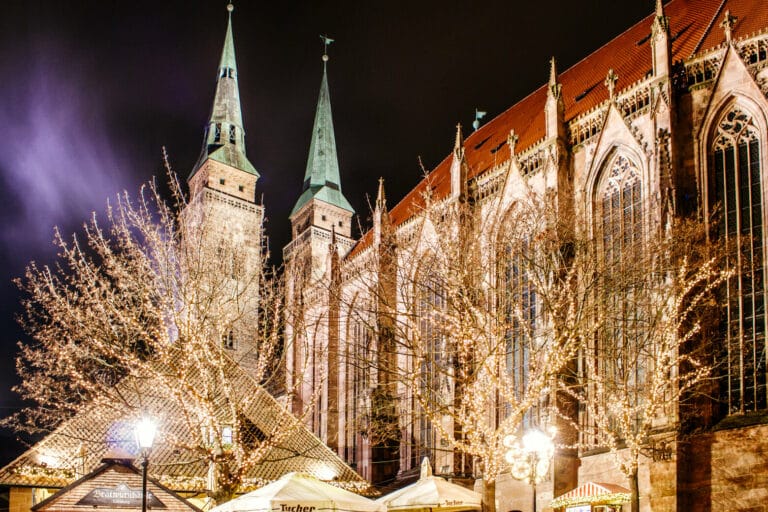 Nuremberg old town and Christmas market 1.5-hour tour. Visit the medieval city of Nuremberg, including the Imperial Castle and historic squares. Stop and explore the Christmas market while drinking a mug of mulled wine.
Visit the Christmas markets in central Prague, including the city centre's main market. Try traditional Czech snacks, mulled wine, and hot mead during this evening tour.
Take a walking tour of 4 of Vienna's traditional Christmas markets. Drink hot rum, snack on market food and experience some of Vienna's alternative districts.
Dresden Advent Tour with Stollen Tasting
This city tour includes stops at 3 Dresden Christmas markets, including the oldest Christmas market in the world, Striezelmarkt. Also, see Dresden's Opera House, the incredible Zwinger museum and the famous Frauenkirche historic church. Tour includes tasting stollen, a Christmas snack unique to Dresden.
Alsace Villages Christmas Tour
Discover the Christmas markets in Alsace from Strasbourg, including the beautiful Colmar Christmas market. Visit multiple markets in different cities and villages during this one-day tour.
Berlin Christmas Lights by Trabi
One of the most unique tours you'll ever experience. View Berlin's Christmas lights from the comfort of a Trabi limousine. Enjoy sparkling wine as you're driven around your chosen route.
Food Tours in Europe
Brussels Chocolate Tasting Tour
Enjoy chocolate tastings as you are guided around the centre of Brussels on this tasty city tour. Learn about the history of chocolate in Belgium while experiencing the beautiful surroundings of Brussels in winter.
Bologna is the culinary capital of Italy's incredible food scene. During this 3-hour food tour, you will experience the best the region has to offer, discovering local specialties, passionate food producers and delicious food.
A great tasting experience with Budapest's famous Taste Hungary. Try cheese and charcuterie paired with 5 unique Hungarian wines.
Past Christmas Tours
London Markets Tour
If you've never been to London during the Christmas season, it's quite the experience. Decorations in the streets and squares are incredible, including central Christmas trees. This tour covers Christmas markets in Trafalgar Square, Covent Garden and more.
Warsaw Christmas Tour
Walk along Nowy Świat and the Royal Route to experience the Christmas lights and decorations in Warsaw's old town. Try a traditional Polish doughnut and drink a shot of cherry liqueur.
Copenhagen Christmas Spirit
Experience the Danish Christmas season as you tour the Christmas markets and the pretty decorations and lights in Copenhagen.
Salzburg Christmas Tour
Tour the Salzburger Christmas market with a local guide. Drink mulled wine as you discover Austrian Christmas traditions under the lights and decorations of the old town.
Best of Rome Christmas Tour
Tour the sights of Rome with a local guide during the Christmas season. Experience the city at one of the most beautiful times of the year as you learn about its history and traditions.
Stockholm Old Town Christmas
Walk around Stockholm's beautiful old town during winter and the Christmas season. Learn about Swedish history and Christmas traditions by lantern light.
Zagreb Christmas Tour
During this small group tour, a local guide will take you around Zagreb's Christmas markets. Try Croatian Christmas treats, learn about local traditions and tour the best of the city's 25 Christmas markets.
Bremen Christmas Market Tour
Wander through the winding streets of the old town and the beautifully decorated stalls at the Bremen Christmas market this November and December.
London Christmas Lights
Experience London's Christmas lights from the comfort of an old-fashioned 1960s open-top bus. Drive under the lights of Oxford Street and past the beautiful decorations at Harrods on this popular tour.