Hallstatt is often described as the most beautiful village in Europe and it's most likely true. At least if you love the combination of a lakeside location, towering mountains, cobblestone streets and quaint houses. Located in the heart of the village is Hallstatt Christmas Market, a special one-day event well worth experiencing.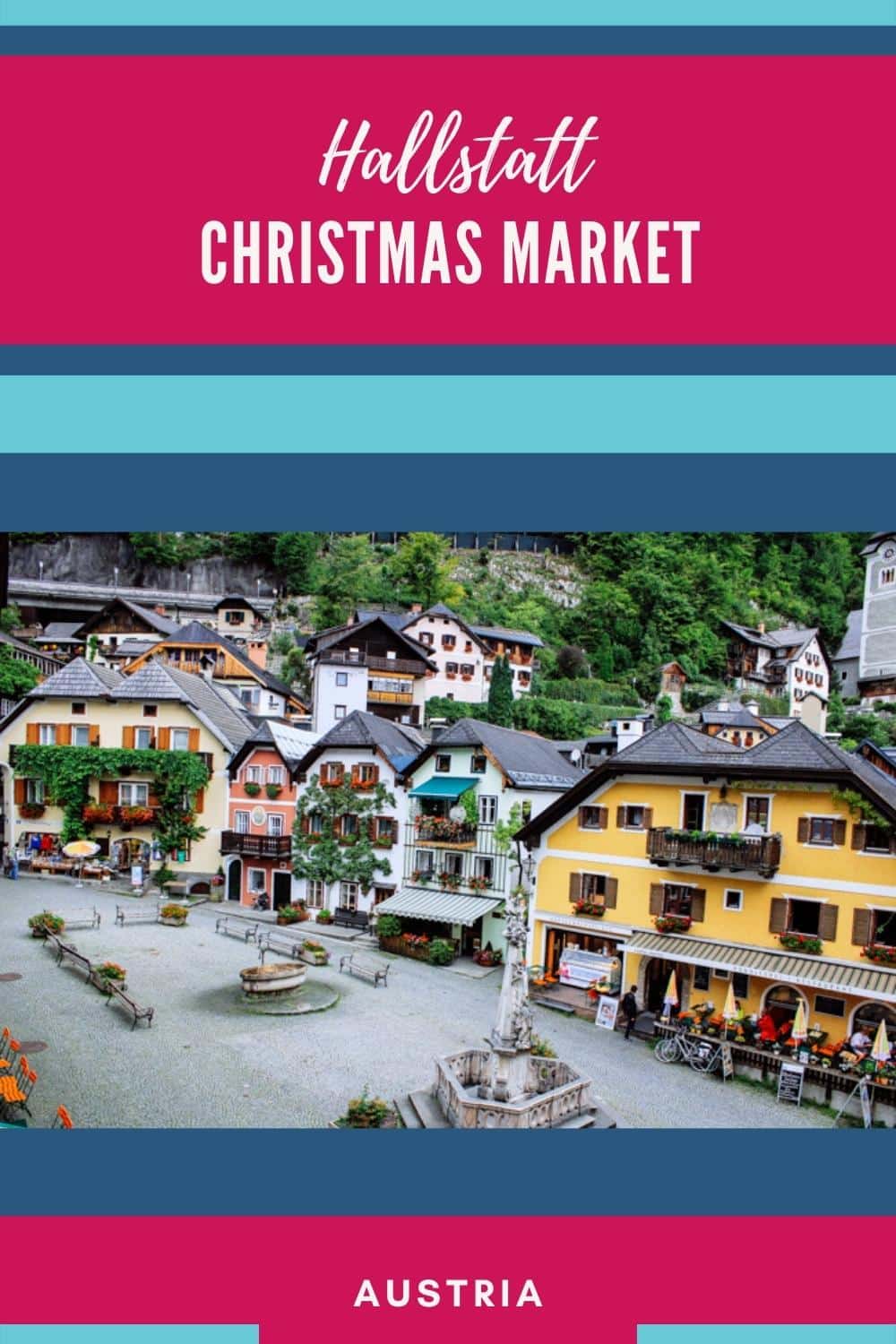 Hallstatt Christmas Market 2022
The Christmas market at Hallstatt is unique in that it's a one-day only event. It's located in the main square, steps away from Lake Hallstatt, surrounded by mountains. If you're lucky, you'll get to see Hallstatt even more beautiful than normal, covered in a blanket of snow.
Hallstatt Christmas Market dates: 8th December 2022.
Opening times: 11am to 6pm.
Location: Marktplatz, Hallstatt.
Reason to visit: Spend Christmas at a UNESCO World Heritage listed region while enjoying the beauty of Lake Hallstatt.
Recommended tour: Unique sunrise hike.
Day trip to Hallstatt: If you choose to visit Hallstatt on a day trip, I recommend this trip from Salzburg or this one from Vienna.
Travel tip: Although most people visit Hallstatt on a day trip from Salzburg, I suggest staying overnight experience the serenity of the lake as the sun rises without the hectic crowds that arrive later in the day.
Where to stay: Seewirt Zauner is located directly on Marktplatz.
Hotels near Hallstatt Christmas Market
Given that Hallstatt is a small destination, almost everywhere is near the Christmas market. Some lakeside hotels can be up to 10 minutes away which could be an issue if the weather isn't great.
I suggest staying at Seewirt Zauner as it's located directly on Marktplatz, the location of the Christmas market as well as being close to the waterfront sights and restaurants.
Alternatively, my guide to hotels near Hallstatt Christmas Market lists several well-located hotels for all budgets.
Hallstatt Specialties
Advent in Hallstatt is a small family-focused event with traditional music, arts, crafts and theatre for children and local delicacies like kaiserschmarrn, holzknechtnockn, beugerl and pofesen. Definitely try kaiserschmarrn if you can, it's a kind of smashed-up pancake with berries and icing sugar.
Things to do in Hallstatt in Winter
Skiing – There are several popular family skiing areas in the Hallstatt region.
Cross-country skiing – You can hire equipment in Hallstatt or take your own.
Winter hiking – A winter hiking trail winds its way through Hallstatt, starting at the tourist office. Alternatively, prepared to rug up before heading out hiking in the Dachstein region.
Horse sleigh ride – A more gentle, relaxing winter activity.
Snowshoe hiking – A fun experience, especially for those who are new to snow holidays.
Tobogganing – Another great activity for the kids.
Plan your trip to the region with my Austrian Christmas markets guide. Discover where to go, things to do and the best ways to experience Austrian food, history and culture.
The tourist office has further information regarding Advent events and the best ways to experience Hallstatt at Christmas.
Location of Hallstatt Christmas Market
Sustainable Travel Tips
The choices we make have an environmental and social impact on the places we visit. When visiting the Christmas markets, keeping sustainability in mind is important.
Implement some or all of these responsible travel measures during your visit.
Shop mindfully. Only purchase what you really need.
Walk, cycle and use public transport to get around.
Stay in a sustainable hotel powered by renewable energy.
Stay in hotels. Short-stay apartment accommodation can lead to a lack of affordable housing for locals.
Avoid using plastic or buying items made or packaged with plastic.
Try to eat locally sourced organic food where possible.
Limit your consumption of meat and dairy.
Be open to diverse cultures and experiences.
Explore more than just the main tourist areas.
Support the arts and attend local events.
Visit fewer places but stay longer at each destination.
FAQ
Does Hallstatt have a Christmas market?
Hallstatt has a one-day Christmas market on 8th December each year.
When is Hallstatt Christmas Market?
8th December 2022.
Is Hallstatt worth visiting in winter?
If you love cosy winter experiences in an idyllic setting then Hallstatt is worth visiting in winter.
If you have visited Hallstatt in winter or would like to leave a review of the Christmas market, feel free to comment below. This helps others who are interested in visiting and are trying to plan their holiday.
—
Recommendations are independently chosen based on personal travel experiences and extensive research. This post contains affiliate links to hotels and tours in Hallstatt, Austria. This means I get a small commission from any bookings at no extra cost to you.