As Poland's vibrant capital, it's not surprising there are a number of Christmas markets in Warsaw, not just the traditional event in the Old Town Market Square but contemporary Christmas markets like the one in Praga, Warsaw's alternative neighbourhood.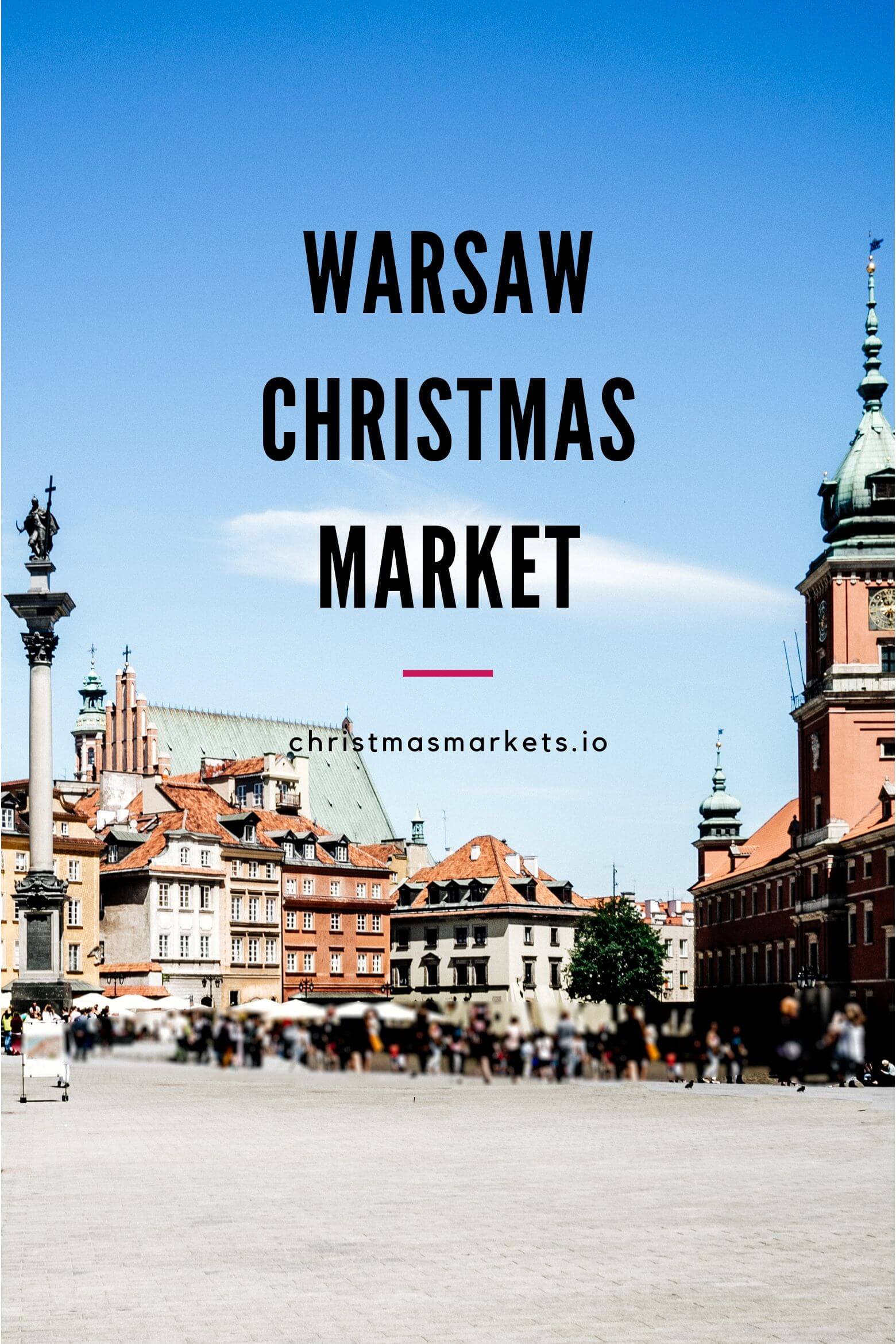 Warsaw is a fantastic tourist destination all year round. The city is exciting and dynamic with an eclectic mix of old and new, a complex history, classical music, tech industry and hipster cafes. There's a lot to do and see alongside the Warsaw Christmas market, the most popular event in Warsaw in December.
Warsaw Christmas Market 2021
Warsaw Christmas Market dates: 26th November 2021 to 6th January 2022.
Opening times: 11am to 8pm, close at 9:30pm on Fridays and Saturdays.
Location: Old Town Market Square and Praga
Reason to visit: Poland's capital is fun with great nightlife, a fantastic foodie scene and fascinating WWII and Cold War history.
Polish specialties: Sweet fruit based vodka, alternative market stalls in Praga, vegetarian pierogies, wooden decorations, decorated doors.
Tours: There are a couple of Christmas market tours in Warsaw and interesting city and food tours.
Travel tip: The Christmas markets start late in Warsaw, book your trip for mid-December to have the most Christmassy experience.
Warsaw weather in winter: Temperatures average 2°C / -4°C (high / low) in December.
Where to stay: The H15 Boutique luxury apartment complex in the former Soviet embassy or a more affordable apartment in the old town near the Christmas market.
Hotels Near Warsaw Christmas Market
To help you find a hotel in a convenient location this winter, we've created a guide to the best hotels near Warsaw Christmas market. These hotels are within walking distance of the main market or close to the metro.
Warsaw Christmas Market Specialities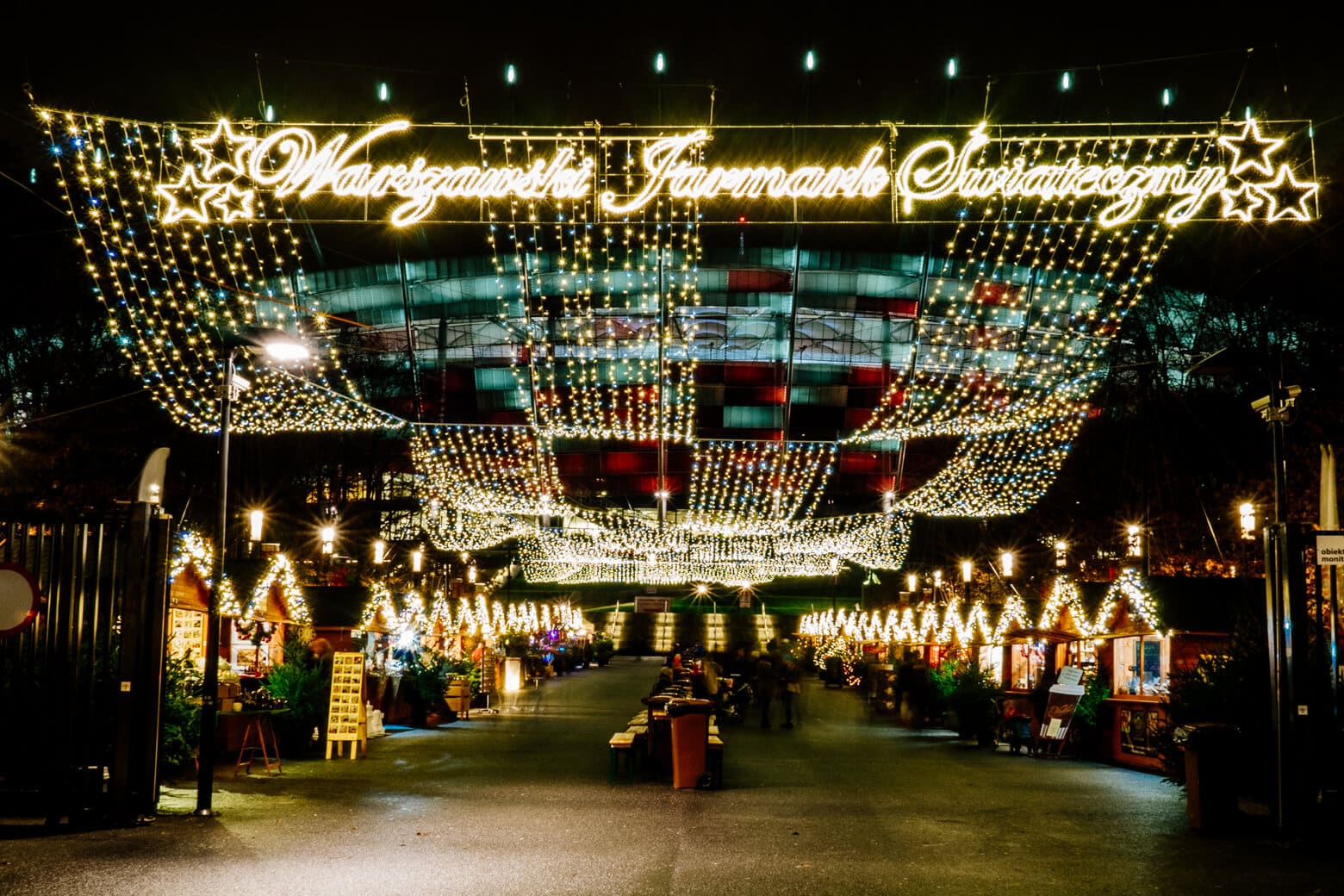 Warsaw's Christmas markets are smaller than their counterparts in Munich and Vienna but they still have a bit of everything on show. There is traditional Polish food like pierogies, fried fish, sweets, hearty soups and grilled meat plus international food like langos, goulash plus dried fruit and chocolate. You can't go wrong with a cup of spiced hot wine (mulled wine) or a shot of sweet fruit vodka (try the raspberry or peach).
Warsaw has a couple of markets worth visiting, Rynek Christmas market in the main square of the old town, close to the Royal Palace, and a more contemporary Christmas market in the Praga district on the other side of the Vistula River in front of the stadium.
Warsaw Christmas market in Market Square starts a little later than other celebrations and events around the city. It's worth waiting for the opening of the main market as a light show marks the start of the Christmas season. You'll see Christmas lights and decorations from late November, traditional live music, handcrafted wooden decorations, Christmas trees and seasonal cuisine.
Things to Do in Warsaw in Winter
Warsaw is like a mini version of Berlin. It has a counter-culture lifestyle, vibrant nightlife, great vodka bars and craft beer breweries. There is a delicious, dynamic foodie scene, World War II and Cold War history, cool architecture and an entrepreneurial spirit. This list is a starting point of things you can do and see in Warsaw in December as well as a couple of recommended day trips.
Old Town – Restored after the destruction of WWII the Old Town and New Town (also old and rebuilt) and pretty areas to walk around and is also home to the Royal Castle.
Visit the viewing platform at St Anne's Church for the best views of Warsaw's old town.
The Royal Route – Start at the Royal Castle, walk down the medieval Nowy Swiat and continue past historic royal landmarks towards Wilanow Palace.
The Soviet-era Palace of Culture and Science in Central Warsaw – An art deco inspired skyscraper and the tallest building in Poland. In winter there is an ice skating rink in front of the building.
Warsaw Uprising Museum – One of the most fascinating yet sombre museums in Central Europe depicting life in the Warsaw Ghetto, the resistance and the aftermath of the uprising in 1944.
Warsaw Ghetto – Approximately 400,000 Jews were forced to live in the sealed off ghetto. In one small area, you can see the remains of the ghetto walls.
Lazienki Park – The largest park in Warsaw and home to Lazienki Palace on the water and the Chopin monument. The park is part of the Royal Route linking the Royal Palace and Wilanow summer palace.
Tomb of the Unknown Soldier – The last remaining part of the Saxon Palace that was destroyed during WWII and never rebuilt.
Wilanow Palace – One of the few buildings in its original state, the renovated baroque palace is now an art gallery, museum and pretty garden. This is the last stop on the Royal Route.
Lublin – If you have time take a day trip to nearby Lublin, an adorable little town with pastel coloured buildings with pretty facades.
We're here to help you experience the best of winter in Poland in 2021. Plan your trip with our Poland Christmas markets guide. Discover where to go, things to do and the best ways to experience Polish food, history and culture.
Discover Warsaw has a comprehensive list of things to do in Warsaw, vantage points, Warsaw Quest, winter holiday tips, Christmas events and dates, as well as information on museums, castles, palaces and other noteworthy attractions.
Map of Warsaw
If you have visited Warsaw in winter or would like to review the Christmas market, leave a comment below.
This post contains affiliate links to hotels in Warsaw and recommended tours.