Salzburg is known as the city of Mozart and in my opinion, it's the city of sacher torte too. At Salzburg Christmas Market you can experience both, listening to classical Mozart while wandering around the Christmas stalls and taking a break with a slice of rich sacher torte.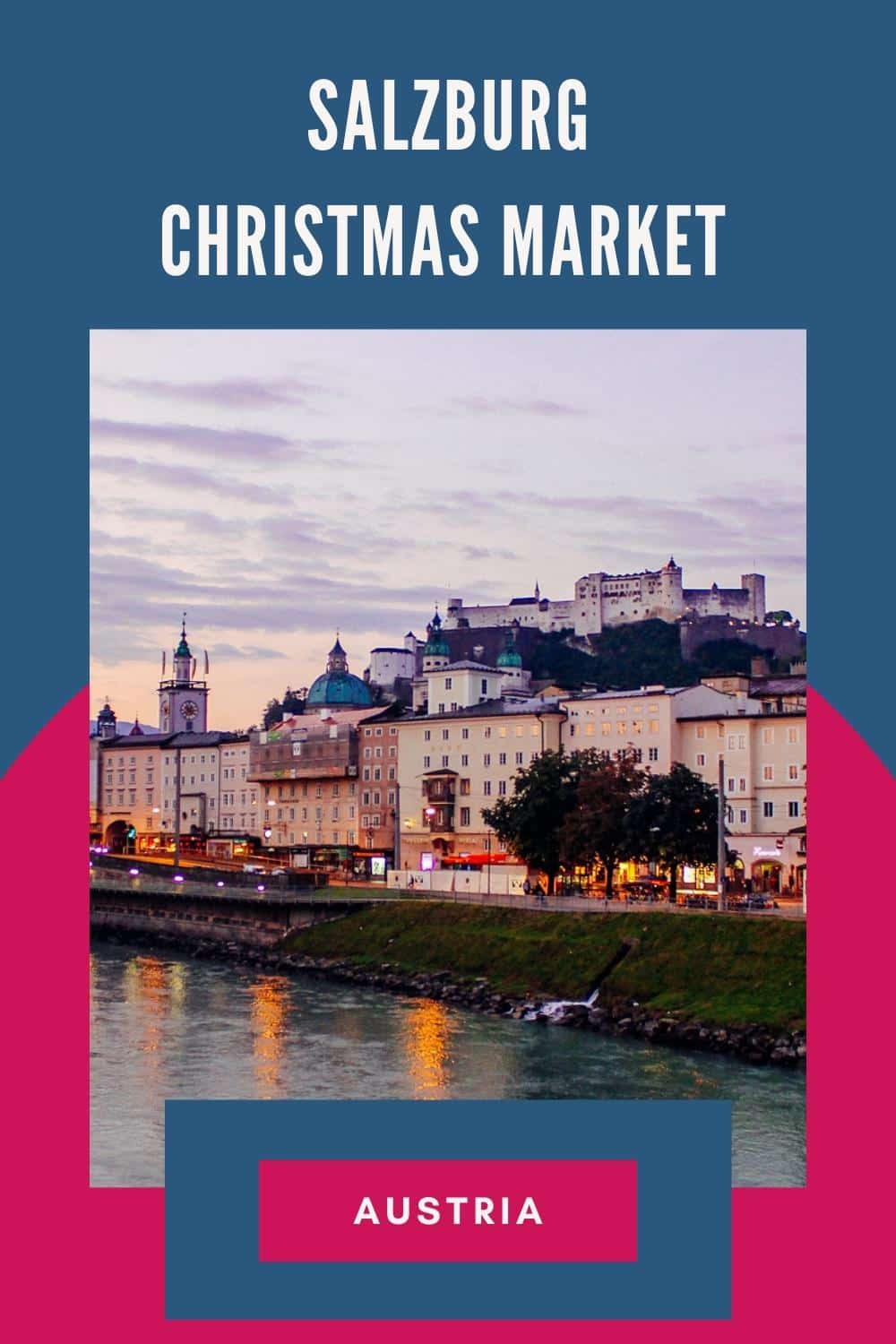 Situated in front of Salzburg Cathedral with glimpses of the famous Hohensalzburg fortress that lies above, Christmas in Salzburg is traditional, musical and magical.
Like Vienna, Salzburg has several markets, large and small, some within Salzburg city centre and others in the surrounding towns and villages.
Salzburg is the ideal location if you're looking for a classic European Christmas experience.
Salzburg Christmas Market 2022
Salzburg Christmas Market dates: 17th November to 1st January 2023.
Location: At the base of the famous Hohensalzburg fortress in Residenzplatz near Salzburg Cathedral.
Reason to visit: Hot chestnuts, chocolate gingerbread, the markets in the Mirabell Gardens, Austrian folk traditions.
Recommended tour: Salzburg City and Christmas Markets tour. Drink mulled wine as you discover Austrian Christmas traditions.
Where to stay: Motel One is a modern and excellent value hotel near the Mirabell Palace.
Winter events: Ice skating, skiing and Austrian food events.
Salzburg weather in winter: Temperatures average 4°C / -2°C (high / low) in December.

OTHER MARKETS IN SALZBURG:

Christmas Market on Mirabell Square: 17th November to 24th December 2022.
Advent Market in the Hohensalzburg Fortress Courtyard: 25th November to 18th December 2022.
Advent Magic in Hellbrunn: 17th November to 24th December 2022.
St. Leonhard Advent Market: Weekends in December.
Stern Advent with Winter Market: 17th November 2022 to 6th January 2023.
Hotels Near Salzburg Christmas Market
To make your winter stay more comfortable, I recommend using this guide to finding hotels near Salzburg Christmas market. I've published a selection of the best hotels located close to the main markets for easy access and convenience based on my several visits to Salzburg.
Salzburg Christmas Market Specialities
Advent is an important time of the year in Salzburg with the Salzberger Christkindlmarkt being a traditional event since the 15th century.
In Salzburg you'll find events and traditions unlike elsewhere in Europe.
Salzburg Christkindlmarkt – The main Christmas market and festival at Residenzplatz.
Hellbrunn Christmas Market – A family-friendly Advent market at Schloss Hellbrunn.
St Leonhard Advent Market – A quiet market with authentic arts and crafts where the proceeds go to charity.
Mirabell Palace Market – One of the most beautiful locations in Salzburg, the Mirabellplatz Christmas market focuses on unique products and local, traditional food.
Folk Traditions – Parades feature the Austrian folk characters Krampus and Perchten.
Salzburg Christmas Museum – A unique museum on Mozart Square specialising in all things Xmas.
If you're looking to visit more destinations this Christmas, read my Austria Christmas markets guide for details and where to go and what to see. Keep in mind that Salzburg is one of the best Christmas markets in Austria so you will be making a great choice if you do visit this winter.
Things to Do in Salzburg in Winter
Salzburg in winter isn't entirely about Christmas and I'm sure that isn't the only reason you're visiting. For most of us, visiting the Christmas markets is predominately a way to wind down after a long day by meeting up with family and friends.
If this is the traditional experience you're looking for then that leaves you with all day to explore Salzburg while visiting the famous sights and attractions.
Salzburg has so much to offer visitors. The old town is UNESCO World Heritage-listed, meaning it offers a special and unique cultural experience.
Within the Old Town you'll find castles, palaces, museums, churches and theatres. Each of which you can visit, in some cases for free but otherwise for a reasonable cost.
Salzburg's most notable attraction is Hohensalzburg fortress, the white stone fortress which overlooks the baroque city. You can generally catch a glimpse of it from all areas of the city.
On a cold winter's day, I suggest taking the funicular up to the fortress. You can purchase a ticket when you arrive or buy a ticket as part of your castle entrance ticket if you plan to visit inside.
Another highlight of Salzburg is the Mirabell Palace and Gardens. The formal gardens are incredibly beautiful, even in winter and the Mirabell Palace Christmas market is in the gardens.
Mirabell Palace is located on the opposite side of the river to the old town but it's not far, you can easily walk across the bridge to get there if you're able.
From the bridge here, you get sweeping views of the river, old town and the fortress skyline. Try to visit for sunrise if you can, you won't be disappointed with the views and beautiful light at that time of the morning.
For the latest information on visiting Salzburg and elsehwere in Austria, the official tourism website is an excellent resource.
Map of Salzburg Old Town
Sustainable Travel Tips
When visiting the Christmas markets, it's important to keep sustainability in mind as a way to respect the environment and local residents.
Shop mindfully. Only purchase what you really need.
Walk, cycle and use public transport to get around.
Stay in a sustainable hotel powered by renewable energy.
Avoid using plastic or buying items made or packaged with plastic.
Try to eat locally sourced organic food where possible.
Limit your consumption of meat and dairy.
Be open to diverse cultures and experiences.
Explore more than just the main tourist areas.
Support the arts and attend local events.
Visit fewer places but stay longer at each destination.
FAQ
Where is Salzburg Christmas Market?
There are several Christmas markets in Salzburg but the main market is located in Residenzplatz near Salzburg Cathedral.
What to buy at Salzburg Christmas Market?
Christmas decorations, children's toys and sweet treats are popular gifts you'll find at the Christmas markets.
When does Salzburg Christmas Market start?
17th November 2022.
Is Salzburg Christmas Market open on Christmas Day?
Yes it is, from 11am to 6pm.
If you have experienced Christmas in Salzburg or elsewhere in Austria and would like to share your experience, leave a comment or a Christmas market review below.
—
This post contains affiliate links to hotels in Salzburg and recommended tours. This means we get a small commission from any bookings at no extra cost to you.