Vienna is home to more than 20 Christmas markets scattered across its various neighbourhoods. Most of these, and the most frequented, are situated in the 1st district, where you'll find many of the city's attractions and points of interest. Visitors will most likely want to stay in or near this area.
In this article, I list the best hotels near Vienna Christmas Market. That generally means staying near Rathausplatz (Town Hall Square) or the MuseumsQuartier in the neighbouring 7th district.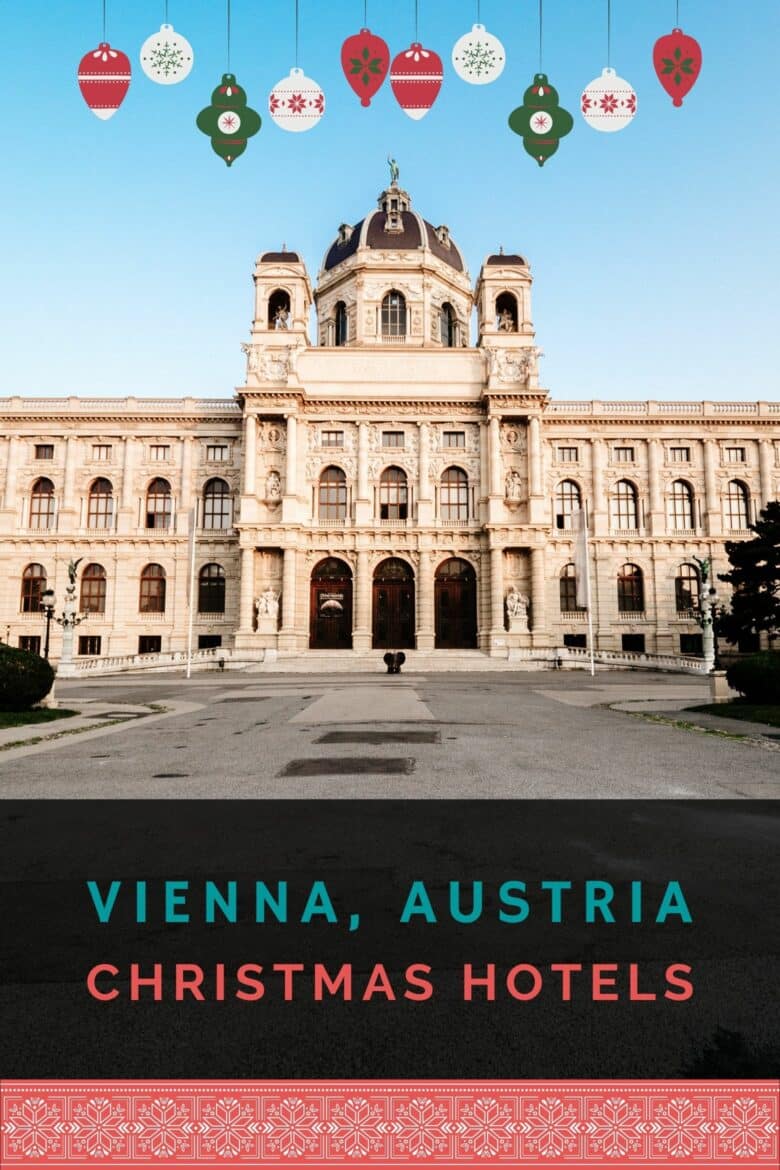 Hotels near Vienna Christmas Market
Having spent a lot of time in Vienna, I actually think staying near MuseumsQuartier is the way to go. This location not only places you within walking distance of the Christmas markets but also the city's magnificent museums and parks, not to mention the popular eateries, cafes and pubs of the 7th district, commonly referred to as Neubau.
Opting for this area also situates you close to the 6th and 4th districts, which host a wealth of additional excellent dining spots. Furthermore, you're a stone's throw away from Karlsplatz, the site of yet another inviting Christmas market.
In this area, you would also be close to the 6th and 4th districts, where you'll have access to even more great places to eat out. You'll also be a short walk away from Karlsplatz, the site of yet another of Vienna's Christmas markets.
Read my guide to Vienna Christmas market to get a feel for the different Christmas markets and their locations.
If you want to stay in the city centre, somewhere between St Stephen's Cathedral and the famous Cafe Central would be a good choice.
Top Pick
25hours Hotel MuseumsQuartier
Address: Lerchenfelder Straße 1-3. Neubau, Vienna
The 25hours is an affordable boutique hotel in the MuseumsQuartier in Neubau. The location is unbeatable if you want to be near Vienna Christmas Market at Rathausplatz or the Christmas Village on Maria Theresien Platz. The hotel is walking distance to the Hofburg Palace, Volksgarten, Austrian Parliament, Town Hall, Albertina, Vienna State Opera and the main shopping districts. It really is the best area to stay in Vienna. As for the hotel itself, each room is uniquely designed with eclectic furniture and there is a rooftop bar. I've stayed in a number of the 25hours hotels and they have always been great.
Check Availability
Location of 25Hours Hotel MuseumsQuartier
If you look at the map, you can see that the 25Hours Hotel is just down the road from Rathausplatz, the Town Hall.
Vienna hotels near Christmas Markets
Budget Hotel near Maria Theresien Platz Christmas Market
Motel One Wien-Staatsoper
Address: Elisabethstraße 5, Innere Stadt, Vienna, Austria
If you're on a budget, I recommend the Motel One, located just around the corner from Vienna's Opera House. Don't be put off by 'motel' in the name. Motel One has high standards, great style and excellent value for money, and the location of this hotel in Vienna is brilliant. The hotel is only one block from Art Advent on Karlsplatz and a 5-minute walk from the Maria Theresien Platz Christmas market. The other main markets are a short walk away. Motel One has three other hotels in Vienna, but this one near the Opera is the best location.
Location of Motel One Staatsoper (Opera House)
Luxury Hotel in Neubau near Rathausplatz
Hotel Altstadt Vienna
Address: Kirchengasse 41, Neubau, Vienna, Austria
A family-run boutique hotel with a focus on art and quality service. Located in Neubau, this is a great area to stay if you're interested in eating out and visiting galleries and museums. The hotel is located next to two of the best brunch spots in Vienna, Ulrich and Erich (same owners). Definitely visit if you get the chance. Hotel Altstadt Vienna is a 10-minute walk to Maria Theresien Platz and a bit further to the Rathausplatz Christmas Market.
Location of Hotel Altstadt Vienna
Eco-Friendly Hotel in Neubau near Rathausplatz
Hotel Sans Souci Wien
Address: Burggasse 2, Neubau, Vienna, Austria
One of Vienna's most famous luxury hotels, Hotel Sans Souci is wonderfully decorated in sophisticated Viennese style, and the service is impeccable. Importantly, 100% of the hotel's electricity is powered by renewable energy, and they avoid single-use plastics meaning this is one of the best eco-friendly hotels in Vienna. The hotel is around the corner from Maria Theresien Platz and a very short walk to Rathausplatz (Town Hall) and all the sights in historic Vienna.
Location of Hotel Sans Souci
Apartment near Stephansplatz Christmas Market
High Street Suites
Address: Kohlmarkt, Wallnerstraße 2, Altstadt, Vienna
If you would prefer to have the space and privacy that comes with an apartment, High Street Suites is one of the best in Vienna. It is ideally located halfway between Stephansplatz and Cafe Central in the heart of Vienna. There is a huge range of apartments available that would suit groups and families, but there are also studios that are ideal for singles or couples. This is a great location for sightseeing in Vienna and is especially worth considering if you plan a longer stay in Vienna.
Location of Stephansplatz Apartment
Hotel near MuseumsQuartier
Boutiquehotel Das Tyrol
Address: Mariahilfer Straße 15, Mariahilf, Vienna, Austria
One of the most highly-rated hotels near the Christmas markets in Vienna. Located in the 6th district near the MuseumsQuartier and Rathausplatz. The rooms have an interesting design in a unique gold and red theme, and the reviews rate the rooms and beds as very comfortable. The hotel has an electric car charging station and bike rental.
Location of Boutiquehotel Das Tyrol
If you're looking to visit other destinations, our guide to the Austria Christmas markets 2023 will hopefully give you some ideas.
Best Area to Stay in Vienna for Christmas Markets
Altstadt
Innere Stadt, also known as the Old Town or Altstadt, is the heart of Vienna and a great choice for your stay at any time of the year. As the main district, it's host to many Christmas markets, and you'll find many of the city's iconic landmarks here, along with many cosy cafes, unique boutiques and well-known museums. It's also within easy reach of the impressive St Stephen's Cathedral and the historic Hofburg Palace. This is arguably the best area to stay in Vienna for Christmas markets, but I also highly recommend Neubau.
Neubau
Neubau is next on the list. This 7th district is known for its thriving cafe culture and a vast array of independent stores. Staying here puts you close to Rathausplatz and MuseumsQuartier, an epicentre of art and culture, home to a multitude of museums and galleries. The vibrant atmosphere of this district, alongside its numerous bars and eateries, makes it an attractive choice.
Wieden
You might also want to consider Wieden, the 4th district. Close to the Opera, this area exudes a laid-back charm with its selection of cool bars, nightspots and inviting green spaces, including the nearby Belvedere Palace Christmas Market. A short walk will take you to Karlsplatz, where you'll find another Christmas market.
Landstraße
Landstraße, the 3rd district, provides a balance of quiet residential streets and busy commercial areas. It's home to many art galleries and borders the 1st district, making it easy to access those Christmas markets.
Leopoldstadt
Leopoldstadt, the 2nd district, presents a more relaxed side of Vienna. It's famous for its Prater Park, the oldest amusement park in the world, and it also has the city's man-made beaches along the Danube River. It's a great spot to unwind after a long day of Christmas market browsing.
Each district has its own unique charm, allowing you to immerse yourself in Vienna's diverse cityscape while being near the Christmas markets. Pick the one that best matches your preferences.
Map of Rathausplatz Christmas Market
Responsible Travel in Vienna
Here are a few ideas on how we can travel more responsibly in Vienna.
Embrace public transport: Vienna's public transport system is one of the most efficient in the world. Trams, buses and the underground U-Bahn service the city extensively, reducing the need for private vehicles. This helps cut down on carbon emissions and contributes to better air quality in the city. If you're keen on cycling, Vienna has several bike-sharing programs, and the city's infrastructure is friendly towards cyclists.
Reduce food waste: Make an effort to only buy what you can consume. Vienna has a multitude of local markets where you can buy fresh produce. Instead of getting takeaway, consider dining in at restaurants to avoid excess packaging waste. Be particularly mindful when eating out at the Christmas markets.
Sustainable eating: Consider incorporating more plant-based meals into your diet. Vienna has an array of vegetarian and vegan options that don't compromise on flavour, giving you a chance to explore different cuisines while reducing your carbon footprint. There are plenty of plant-based choices at Vienna's Christmas markets.
Support local businesses: Rather than shopping at large chain stores, seek out local artisans and producers. The Naschmarkt, for example, is Vienna's largest market, where you can buy directly from local vendors, benefiting the community economically.
Avoid unnecessary flights: If you're travelling within Europe, consider taking a train to Vienna instead of flying. The city's central location means it's well-connected by rail to many major cities. Not only does this reduce your carbon footprint, but it also provides the opportunity to see more of the beautiful European landscape.
Use renewable energy: Where possible, try to stay in a hotel that uses renewable energy sources. Many hotels in Vienna are committed to sustainability and use renewable energy sources such as solar power.
By incorporating these suggestions into your travel plans, you can enjoy your time in Vienna at the Christmas markets while minimising your environmental impact.
—
Recommendations are independently chosen based on personal travel experiences and extensive research. This post contains affiliate links to hotels in Vienna, Austria. This means I get a small commission from any bookings at no extra cost to you.