Now that you have decided to spend Christmas in Salzburg, the next step is to look for hotels near Salzburg Christmas market. Generally, where you stay in Salzburg is not too important as most hotels are located in the compact historic Old Town known as the Altstadt.
But you might find that in winter, when Salzburg often has temperatures close to zero, then it's important to find a hotel that is as central as possible.
In this guide, I list seven hotels near the Christmas markets, covering all budgets.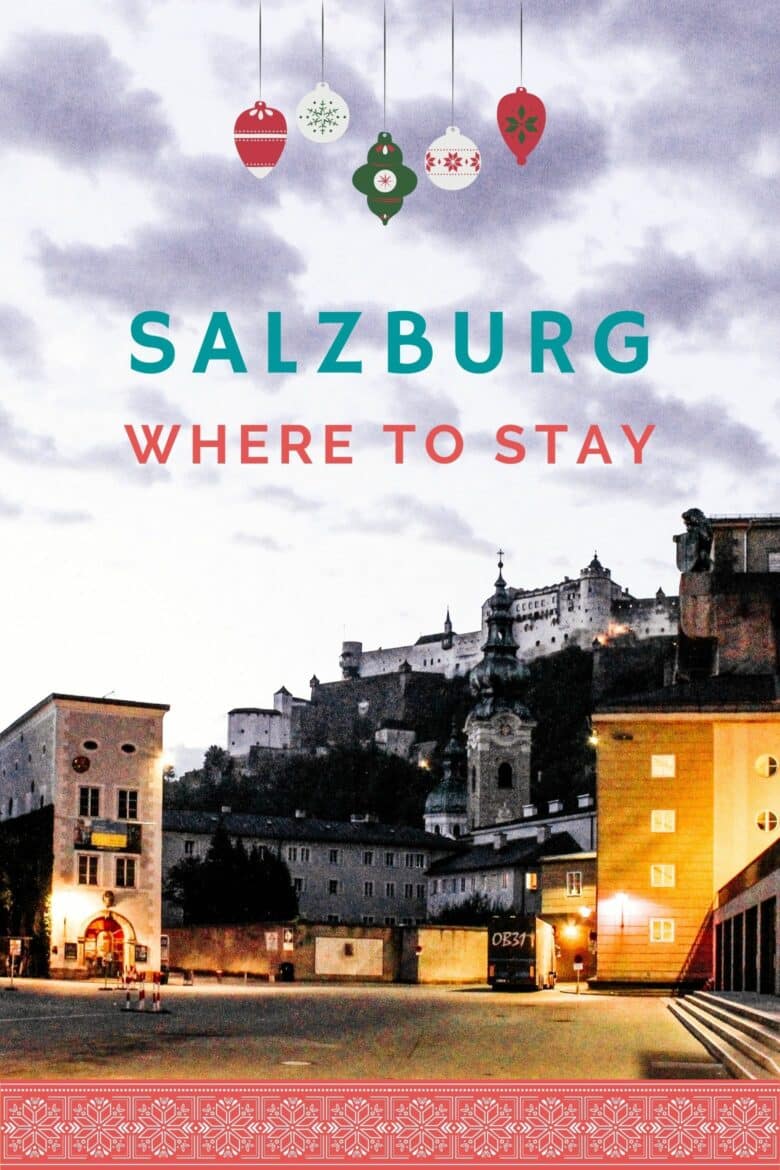 Hotels Near the Salzburg Christmas Market
Salzburg's main Christmas market is in the Baroque Old Town in front of the Salzburg Cathedral. It's located on the main square called Residenz Square or Residenzplatz in German.
This area of Salzburg is very beautiful, and much of it is pedestrianised. Staying in the Old Town means you can walk almost everywhere in Salzburg, not only to visit the Christmas market but also to many of Salzburg's sites, including the 11th-century Fortress Hohensalzburg and the funicular that will get you there.
Top Pick

Boutiquehotel am Dom
Address: Goldgasse 17, Altstadt, Salzburg

This hotel is easily my pick for the best hotel in Salzburg. A stunning design hotel mixed with traditional touches, the rooms are spacious, spotless and the staff are warm and welcoming. A huge bonus is this street is where you can order the famous Salzburg nockerl dessert. Unbelievably delicious, don't miss it. As for the location, not only is this hotel near Salzburg Christmas market, I don't think you'll find a hotel which is closer. The Christmas market is literally 10 metres away.

Check Availability
Location of Boutiquehotel am Dom
Next Best in Salzburg Old Town
Of course, there are many hotels in the Old Town area of Salzburg. I only recommend highly-rated hotels, so the most you need to do is consider what is in your budget. I recommend everything from a basic but clean budget hotel to a cool boutique hotel, a luxury hotel or maybe even an apartment.
Here are my recommendations:
Apartment in Salzburg
Salzburg Place to Stay
Address: 10 Herrengasse, Altstadt
You can't go wrong with these apartments in the centre of the old town (Altstadt in German). The great thing about staying in an apartment is that you have more space and more privacy, but you also often get to meet your local host. Take advantage of meeting your host by asking them for recommendations on where to go and where to eat, especially on how to avoid potential tourist restaurants. By staying here, you also have the opportunity to prepare some meals for yourself, which is great if you're on a budget or simply don't feel like eating out all the time. There is also a washing machine which is very handy if you're been on the road for a while.
Luxury Hotel in the Old Town
Hotel Goldener Hirsch
Address: Getreidegasse 37, Altstadt
If you want a luxury hotel in Salzburg and you want to be near the Christmas market, then the Hotel Goldener Hirsch fits the bill. This beautiful old hotel has been renovated to an exceptional standard. The location is brilliant, within walking distance of everything you would want to see. There are many excellent restaurants in this part of the old town, and much of the area is pedestrian-only, meaning it's safe and secure to walk around at all times.
Hotels Near Mirabell Palace Christmas Market
There is also plenty to see on the other side of the river, opposite Salzburg Cathedral and the fortress. The highlights here are the Mirabell Palace and Gardens and Mozart's Residence.
Just outside of the palace is the Mirabell Christmas Market. This area is slightly quieter and a great place to stay while in Salzburg.
Hyperion Hotel Salzburg
Address: Rainerstraße 4, Salzburg
The Hyperion is a relatively newly opened hotel in Salzburg. This is the hotel for you if you want a modern, minimalist, luxury design hotel. The rooms are decorated in lush greys and blues with stunning dark timber floorboards. Everything in this hotel is centred around design and comfort.
Budget Hotel in Salzburg
Motel One Salzburg-Mirabell
Address: Elisabethkai 58-60, Elisabeth-Vorstadt, Salzburg
A 15-minute walk from Mirabellplatz, the square where the Mirabell Christmas Market is held, is the Motel One hotel. Even though it has motel in its name, it's a regular hotel which is exceptional value for money, especially in Salzburg, which is generally an expensive city (at least during Christmas). In fact, this is probably the best budget hotel in Salzburg unless you are happy to stay in a hostel. Considering the price, the rooms are beautifully decorated, although the fittings might be slightly on the basic side. The hotel is located directly on the Salzach River with some rooms with lovely water views. This hotel isn't quite so near to the main Salzburg Christmas market but do keep this hotel in mind if you are on a budget.
Luxury Hotel in Salzburg
Hotel am Mirabellplatz
Address: Paris-Lodron-Straße 1, Salzburg
Directly on Mirabellplatz opposite the Mirabell Palace is the Hotel am Mirabellplatz. The design here is very traditional and Austrian but also very nice. This is a great location if you're happy to be away from the crowded old town. Keep in mind that this is in a completely different price bracket to the Motel One.
Most Famous Hotel in Salzburg
Hotel Sacher Salzburg
Address: Schwarzstraße 5-7, Altstadt, Salzburg
Taking it up a notch or three further is the most famous luxury hotel in Salzburg, the Hotel Sacher. Yes, this is the home to the original Sacher torte, the rich, dark chocolate cake for which Salzburg and Austria, more broadly, are famous. If the hotel rooms aren't within your budget, come here to try the Sacher cake. If the hotel is within your budget, then you can be sure you'll receive impeccable service in pristine, highly designed rooms, many of which have terraces with river, Old Town and castle views. This hotel is grand, traditional and exceptional.
Read my Salzburg Christmas Market guide for more information on things to do in Salzburg.

Alternatively, go beyond Salzburg with this Austria Christmas markets 2023 guide to help you plan visits to other winter destinations in Austria.
No matter which area you choose, all these hotels are near the Salzburg Christmas markets and most of the city's famous sights and attractions. All hotels are well-rated, and I have personally stayed in Salzburg a number of times and know these areas well.
Don't hesitate to book any of these; the choice really comes down to budget. Salzburg is absolutely beautiful in winter; it's truly one of the most majestic and romantic cities in Europe, not just in Austria.
If you have questions or want to leave a hotel review, please do so in the comments.
—
Recommendations are independently chosen based on personal travel experiences and extensive research. This post contains affiliate links to hotels in Salzburg, Austria. This means I get a small commission from any bookings at no extra cost to you.