Winter in Lugano wraps you in a serene blanket of chill, the city shimmering under a delicate layer of frost, inviting you to explore the Lugano Christmas Market, a magnet for locals and tourists alike.
In this guide, I'll share key details such as the 2023 opening dates, locations, the best Christmas stalls and traditional Lugano delicacies you might like to experience.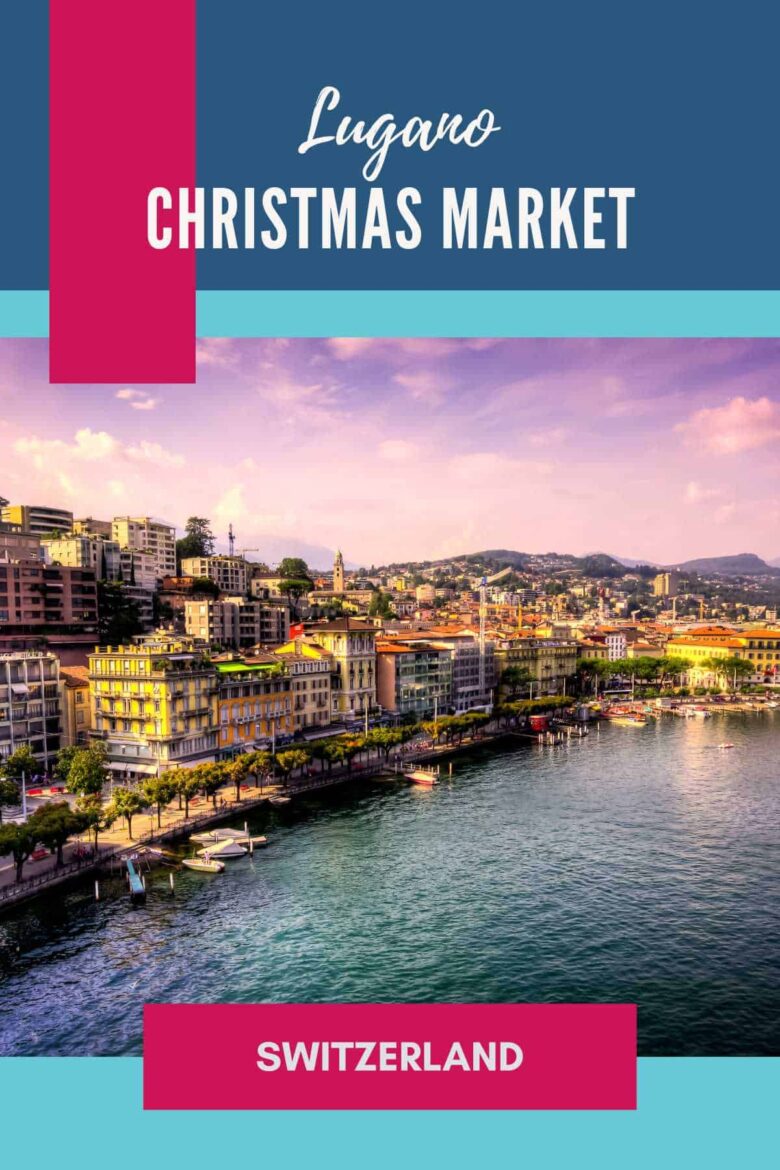 Christmas in Lugano, with its serene snow-covered palm trees and illuminated streets, is an experience to remember.
As the city's distinct Italian-Swiss charm intertwines with the yuletide spirit, you'll find yourself immersed in a unique fusion of cultures.
Lugano Christmas Market 2023
The Lugano Christmas Market is hugely popular during the city's winter season, with rows of Christmas stalls creating a labyrinth of festive charm.
Each stall has a unique allure, whether artisan crafts, bespoke jewellery, or delicious gastronomic treats like traditional Swiss fondue and biscuits.
Walking through the maze of lights and tinsel, you'll encounter the heart-warming sounds of live music that echo throughout, adding a harmonious rhythm to your exploration.
Dates and Location
Lugano Christmas Market dates: Likely dates: 30th November to 24th December 2023.
Location: Piazza della Riforma and Piazza Manzoni.
Opening times: 11am to 7pm.
Christmas Day: Closed.
Admission: Free, no tickets required.
Christmas lights: Yes, switch on date on the opening evening.
Santa: Possibly.
Ice skating: Yes, at Piazza Manzoni.
Vegetarian: Yes, plenty of options.
Vegan: Yes, but limited.
Gluten-free: Yes, but limited.
Accessible: Yes.
Pet-friendly: Yes, dogs are allowed on a lead.
Reason to visit: Swiss-Italian culture blend; unexpected tropical backdrop amidst frosty peaks; interesting Christmas sweets.
Recommended tour: Express walking tour of the city.
Specialities: Ticinese risotto; hearty polenta dishes; Luganighe sausages; unique gorgonzola gelato; rich Swiss chocolates.
Where to stay: Luganodante is a highly-rated hotel just 4-minutes from the Christmas market.
Hotels near Lugano Christmas Market
Choosing to stay in the city centre of Lugano will place you right on the doorstep of the vibrant Piazza Manzoni Christmas Market.
This area blends convenience with charm, providing easy access to the market while enveloping you in the city's festive ambience.
This is why I recommend staying at Luganodante as it's situated in this location of Lugano near the Christmas market.
Location of Lugano Christmas Market
City and Christmas Tours
A city tour of Lugano is an excellent means to discover the city's rich heritage and vibrant culture. With its quaint old town, vibrant building exteriors and exquisite architecture, Lugano caters to a broad spectrum of interests.
I suggest taking this walking tour of Logano, which allows you to appreciate the city's many highlights alongside a local guide, all at a reasonable cost. This is particularly beneficial for those visiting for the first time.
During a city tour, you'll visit some of Lugano's most symbolic sites and attractions, which include the historic Monte San Salvatore, the beautiful Lake Lugano and the Cathedral of Saint Lawrence.
Alternatively, you might like this self-guided food tour as a way to learn about the local culture through their cuisine. Food tours have gained popularity in recent years and with good reason. I highly recommend them.
Christmas in Lugano
This video provides a glimpse of the Lugano Christmas Market. As you watch, you'll get a feel for the festive buzz and charm that you could experience at this winter event.
To further enhance your festive season in Switzerland, I've carefully put together a detailed guide to the best Christmas markets in Switzerland, a resource that will prove invaluable in planning your holiday.
Christmas Specialties in Lugano
Fondue: A staple in Swiss cuisine, fondue is a communal dish that epitomises the spirit of sharing during Christmas. It involves dipping cubes of crusty bread into a pot of melted cheese, typically a mix of Gruyère and Emmental. The cheese is melted with white wine and garlic, creating a rich, indulgent dish that's perfect for cold winter nights.
Raclette: Another cheese-centric dish, raclette is named after the cheese used in its creation. The raclette cheese wheel is melted, often over an open fire, and the oozy, gooey cheese is scraped onto boiled potatoes, pickles and onions. It's a warming, filling dish, as comforting as a Christmas hug.
Ticinese Risotto: Originating from the Italian-speaking canton of Ticino, this risotto is prepared using local Merlot wine, which gives it a distinctive and flavoursome twist. Rich, creamy and typically studded with seasonal vegetables, this risotto offers a comforting vegetarian option that marries Swiss precision with Italian flair.
Zürcher Eintopf: A traditional Swiss stew from Zurich, it's usually brimming with root vegetables, potatoes, and meat such as beef. However, a vegetarian version replaces the meat with hearty Swiss mushrooms without losing any of the robust flavours that make it a festive favourite.
Swiss Christmas cookies: A sweet end to the Swiss Christmas feast comes in the form of traditional cookies. One to look out for is the "Spitzbuben", a jam-filled treat that often contains raspberry or apricot jam. Another favourite is "Brunsli", a chocolate almond cookie that's naturally gluten-free.
Gingerbread: While gingerbread is popular across many cultures during the holiday season, the Swiss rendition, known as "Lebkuchen", is uniquely spiced and often filled with a delicious nut mixture. They're usually cut into different shapes and decorated, adding a whimsical touch to the festive dessert spread.
Food at the Christmas Market
Luganighe sausages: Local to the region, Luganighe are mild pork sausages that are a staple at the Christmas market in Lugano. Typically grilled and served in a crusty roll, they make for a hearty snack as you navigate the stalls.
Chestnuts: Roasted on open fires, the aroma of chestnuts is a hallmark of Christmas in Lugano. They're sold in paper cones, easy to eat while exploring the market, and their warm, nutty flavour is a real winter treat.
Gorgonzola gelato: A daring blend of sweet and savoury, this ice cream is infused with gorgonzola cheese. It may sound unusual, but the creamy gelato paired with the sharpness of the gorgonzola creates a unique, unexpectedly delicious balance.
Polenta: This hearty cornmeal dish is a cornerstone of Ticinese cuisine. At the Christmas market, you'll often find it served grilled or fried, topped with cheese or mushroom sauce, making it a popular vegetarian option.
Glühwein: Originating from Germany but embraced by Swiss Christmas markets, glühwein, or mulled wine, is a must-have drink. It's a warm blend of red wine, spices and citrus fruits.
Pretzels: While more associated with Germany, pretzels have found their place in Swiss Christmas markets. Whether you prefer them plain, buttered, or even filled with cream cheese, their distinctive knot shape and chewy texture make them a satisfying snack.
Churros: Borrowed from Spanish Christmas traditions, churros have become an international Christmas market treat. These deep-fried dough pastries, often dusted with sugar and served with a side of thick chocolate sauce, bring a sweet finale to your Christmas market feast.
What to Buy
Tessin wines: The Canton of Ticino, where Lugano is located, is known for its vineyards and excellent wines, particularly Merlot. At the Christmas market, local winemakers often have stalls where you can buy bottles of their best vintages.
Swiss chocolate: Synonymous with indulgence, Swiss chocolate is an undeniable favourite. The Lugano market features local chocolatiers selling a wide range of their creations, from classic milk chocolates to exotic flavour combinations, all beautifully packaged for gifting.
Handcrafted jewellery: Reflecting the artistic spirit of Lugano, the market hosts stalls with bespoke pieces of jewellery. Each piece, from delicate silver necklaces to bold statement rings, carries a unique touch of local craftsmanship.
Local ceramics: Lugano is home to a number of talented ceramic artists. Their work, often reflecting the region's scenery and lifestyle, includes everything from decorative vases to functional tableware, presenting an array of unique, homegrown gifts.
Cheese boards: Given Switzerland's rich tradition of cheese-making, a high-quality cheese board makes for a practical and locally-inspired gift. Often crafted from Swiss wood and even personalised, they're a hit with foodies.
Artisanal preserves: Ticino's abundant fruit harvest is often transformed into delicious jams, marmalades and chutneys. These artisanal preserves, beautifully jarred and often sold in gift sets, are a sweet reminder of Lugano's rich harvests.
To ensure you're well-equipped for your Lugano adventure, I strongly recommend visiting Lugano Region, a resource-rich website that provides comprehensive and current information tailored specifically for visitors to the city.
Sustainable Christmas Tips
Many of us are increasingly concerned about climate change and sustainability. Here are a few tips on how we can travel more responsibly in Lugano at Christmas.
Use Renewable Energy: In Lugano, many hotels have already implemented renewable energy sources. Seek accommodation that uses solar power or geothermal energy for heating and cooling, which helps reduce your carbon footprint while enjoying the Christmas festivities.
Reduce Food Waste: When exploring the Christmas market, try only to buy food you can finish. Many local delicacies, like Luganighe sausages or grilled polenta, are made to order, so you can ask for smaller portions if needed.
Ethical Consumption: Lugano's Christmas market is a treasure trove of local artisans selling their handmade goods. By purchasing these locally made crafts, you're supporting small businesses and reducing the demand for mass-produced items, which often come with a larger carbon footprint.
Sustainable Diets: The Swiss are known for their love of cheese and dairy, but these can have a high environmental impact. To eat more sustainably, look out for vegetarian options at the Christmas market, like roasted chestnuts, or try dishes made with locally sourced produce.
Sustainable Transport: Lugano has an excellent public transport system, including buses, trains and boats. Opt for these modes of transport over taxis or hire a car to get around the city and the beautiful surrounding area in a more eco-friendly way. For shorter distances, consider walking or hiring a bike; Lugano's picturesque streets and stunning lake views make it a joy to explore on foot or two wheels.
By making these small changes to your travel habits, you can enjoy the magic of Lugano's Christmas period while also being kinder to our planet.
FAQ
When is Lugano Christmas Market?
The Lugano Christmas Market runs from 1st December to 24th December 2023.
Where is Lugano Christmas Market?
Lugano Christmas Market is located in the heart of the city, at Piazza Manzoni and surrounding areas.
What time does Lugano Christmas Market open?
Lugano Christmas Market usually opens around 11am and closes at around 7pm; however, opening hours may vary by day and year, so it's best to check back for up-to-date information.
How cold does Lugano get in winter?
Lugano experiences relatively mild winters, with average temperatures ranging from 2°C to 8°C. Snowfall in the city is uncommon, but nearby mountains may receive snow.
What should I wear for visiting Lugano during winter?
As Lugano can be chilly and damp during the winter months, it's wise to dress in layers, with a warm coat, a hat, gloves and comfortable shoes suitable for walking on potentially slippery surfaces.
Are there other Christmas activities in Lugano besides the market?
Yes, Lugano also hosts various Christmas-themed events and activities, such as concerts, ice skating at Piazza Manzoni and a nativity scene exhibition at the Church of Santa Maria degli Angeli.
In Summary
Winter in Lugano is truly a special experience. Between the twinkling lights of the Christmas market and the charm of the city's historic centre, your visit is sure to be filled with joy. So wrap up warm, take a leisurely stroll around the lake, and let the Yuletide charm of Lugano warm your heart.
If you want to leave a Lugano Xmas Market review, comment below.
—
Recommendations are independently chosen based on personal travel experiences and extensive research. This post contains affiliate links to hotels and tours in Lugano, Switzerland. This means I get a small commission from any bookings at no extra cost to you.