Skanderbeg Square is turned into a winter village in December for the annual Tirana Christmas Market. A huge decorated Christmas tree is the centrepiece, surrounded by Christmas chalets and places to eat and drink. In this guide, find dates, locations, opening times and things to do in Tirana in winter.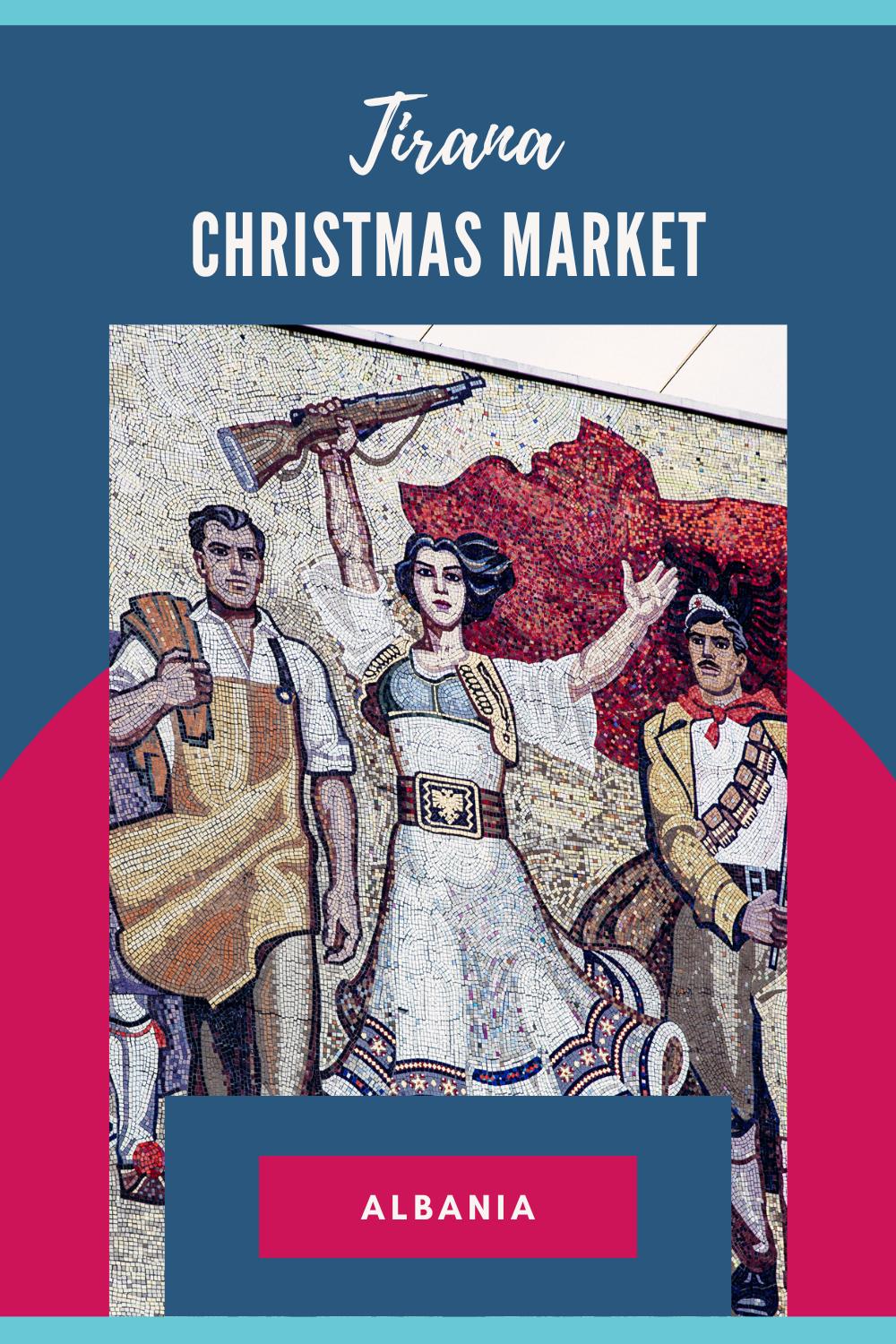 As the capital of Albania, Tirana is a vibrant city known for its youthful energy, its lively nightlife and surprisingly diverse cuisine. Its streets are bursting with colour, life and a unique character.
Having visited Tirana on many occasions over the years, I can assure you that the city is always changing and never boring.
Tirana's many attractions include the Skanderbeg Square, the National History Museum and the Bunk'Art 2 contemporary art museum.
Skanderbeg Square is the city's main square and the location of many events, including this year's Christmas market.
Tirana Christmas Market 2022
Tirana's Christmas market boasts various festive products such as handmade decorations, Albanian souvenirs, traditional foods and drinks.
The market is located in the city centre at Skanderbeg Square and in front of the Et'hem Bej Mosque and is open throughout the month of December.
You can also find a smaller Christmas Market on Toptani Street, a busy pedestrian street with seasonal food and handmade Albanian gifts for sale and there is another market at Pazari i Ri.
The Christmas market is a great opportunity to get into the Christmas spirit and find original, traditional gifts and children's toys. Try to be there for the Christmas tree lighting on the 6th December from 5pm to 7pm.
Dates and Locations
Tirana Christmas Market dates: From 6th December 2022.
Opening times: 10am to 7pm.
Location: Skanderbeg Square.
Reason to visit: Great atmosphere in the main square and delicious Albanian food. This market is much quieter in comparison to other European destinations.
Recommended tour: A fantastic walking tour of Tirana, ideal for first time visitors.
Specialities: Winter pickled salads, suxhuk from Kosova (spicy sausage), locally brewed beer, Albanian-style mulled wine and Fergese e Tiranes me Piperka (a kind of baked vegetable dish with cheese).
Where to stay: Maritim Hotel Plaza Tirana is a highly-rated hotel, located 2 minutes from Et'hem Bej Mosque and Skanderbeg Square.
There is a small Christmas market at Pazari i Ri, the new bazaar. Even when the Christmas marketing isn't on, this is a great market for fruit and vegetables as well all kinds of household goods and clothes.
Well worth visiting on any trip to Tirana. This market is located at Avni Rustemi Square, a 7-minute walk from Skanderbeg Square.
Hotels near Tirana Christmas Market
Tirana is a safe, walkable city with a vibrant city centre district. The historic central district surrounds Skanderbeg Square and this is the area where you'll likely want to stay to be near the Christmas markets.
I've stayed at several hotels in Tirana and always come back to the Maritim Hotel Plaza Tirana. Along with the ideal location near all the main sights, it's a beautiful hotel with large rooms, a great restaurant and gym that overlooks Skanderbeg Square and the mountains.
Considering the quality of the hotel, it's brilliant value for money.
Location of Tirana Christmas Market
Plan the rest of Christmas holiday with my guide to the best Christmas markets in Albania. Discover where to go, things to do, and the best ways to experience Albanian food, history, and culture.
Visit Tirana has further information regarding events, things to do and the best ways to experience Tirana at Christmas.
Sustainable Travel Tips
The choices we make have an environmental and social impact on the places we visit. Try to implement these responsible travel measures when visiting the Christmas markets.
Shop mindfully. Only purchase what you really need.
Walk, cycle, and use public transport to get around.
Stay in a sustainable hotel powered by renewable energy.
Avoid using plastic or buying items made or packaged with plastic.
Try to eat locally sourced organic food where possible.
Limit your consumption of meat and dairy.
Explore more than just the main tourist areas.
Support the arts and attend local events.
FAQ
When is Tirana Christmas Market?
Tirana Christmas Market starts on the 6th December 2022 with the lighting of the Christmas tree.
Where is Tirana Christmas Market?
The Christmas markets in Tirana are held at Skanderbeg Square.
What time does Tirana Christmas Market open?
The Christmas markets are open from 10am.
What time does Tirana Christmas Market close?
The Christmas markets close at 7pm.
If you would like to leave a review of Tirana Xmas Market, feel free to comment below.
—
Recommendations are independently chosen based on personal travel experiences and extensive research. This post contains affiliate links to hotels and tours in Tirana, Albania. This means I get a small commission from any bookings at no extra cost to you.