Whether in the Upper Town or Lower Town, Zagreb's old town streets and squares are lit up with Christmas lights and decorations. Winter is a wonderful time to visit the city and Zagreb Christmas Market is a highlight of the season. Read on for the latest details on dates, opening times and locations, updated for 2022.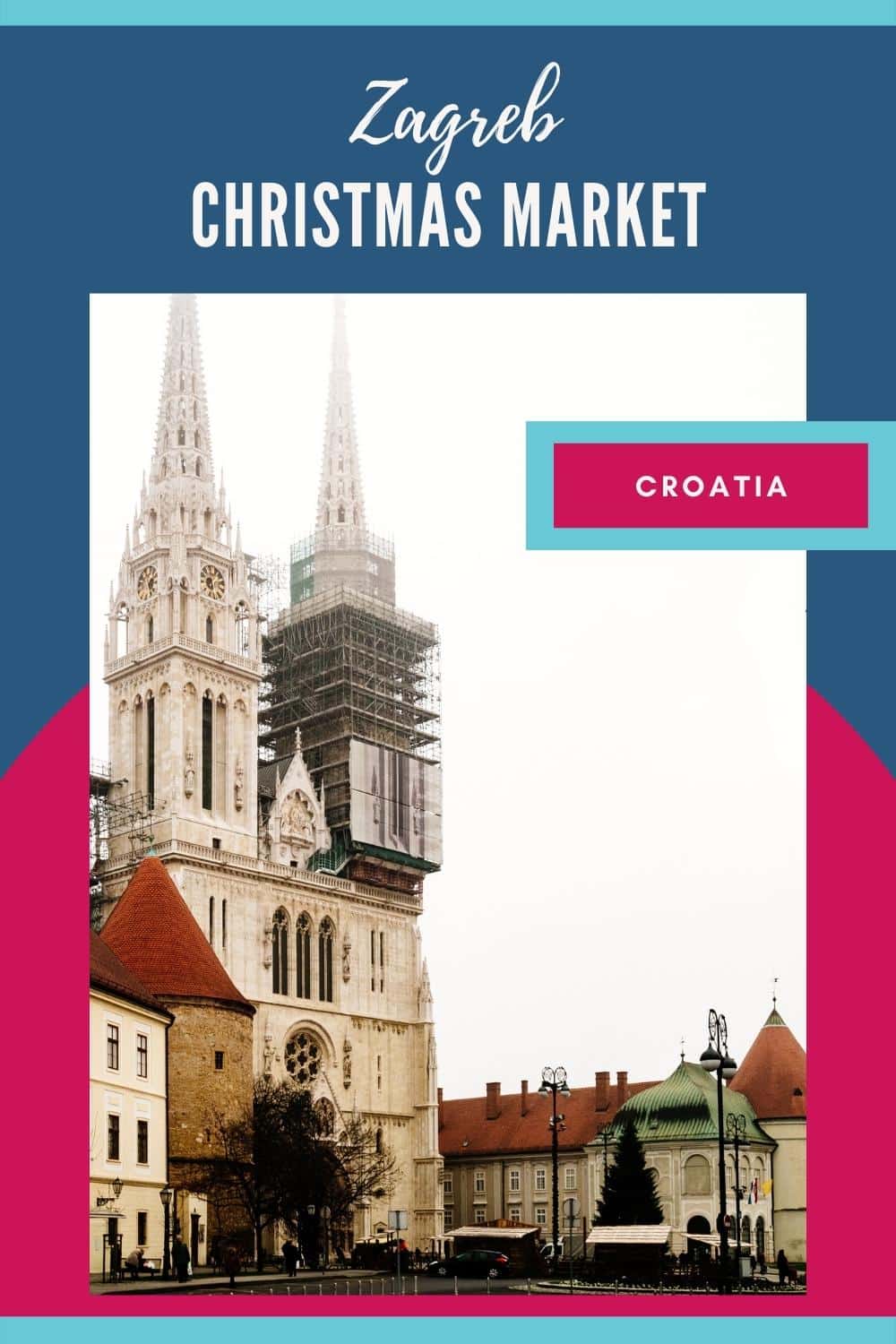 Zagreb Christmas Market 2022
Zagreb has several Christmas markets located across the city that are connected through a series of lights that pass through the squares and beautiful parks.
The main markets are located at Ban Josipa Jelačića Square, the central square in Zagreb's Lower Town, and at King Tomislav Square, in front of the main train station (also in the Lower Town).
I suggest an itinerary starting at King Tomislav Square to see everything related to Advent in Zagreb. After enjoying the decorated square, walk past the Art Pavilion and continue past the National Museum of Modern Art until you reach Park Zrinjevac.
Park Zrinjevac is beautifully decorated with fairy lights and you might see music being played in the centre at the Music Pavilion.
From here, keep walking north towards the Christmas chalets at Ban Josipa Jelačića Square. Walk up towards Zagreb Cathedral in the Kaptol district and then finish your Christmas walk in front of the Christmas tree at St Mark's Church in the Upper Town.
Zagreb Christmas Market dates: 26th November 2022 to 7th January 2023.
Opening times: Enjoy the decorations and atmosphere at any times. Market opening times vary but you can generally expect them to be open from 10am to 8pm.
Location: Ban Josipa Jelačića Square and King Tomislav Square.
Reason to visit: Contemporary decorations that are unique to Zagreb.
Recommended tour: Taste Zagreb Food Tour provides a great introduction to local Croatian specialties.
Specialities: Paprenjaci (lightly spiced pepper cookies), vanilin kiflice (half-moon cookies) and poppy seed rolls.
Where to stay: Hotel Capital is a highly-rated hotel, less than 5 minutes from the Christmas market.
Hotels near Zagreb Christmas Market
Zagreb is a safe, walkable city with a great public transport system. If walking is difficult, you can get easily get around by tram and you can take the funicular from the Lower Town to the Upper Town.
I suggest staying in the Lower Town as this area is famous for its Austro-Hungarian architecture and gridlike streets. This is where you'll find most of the Christmas activities as well as many sights and restaurants.
The Upper Town has many restaurants and bars too, so don't overlook this area but the Lower Town is calmer, yet with more things to do.
I recommend staying at Hotel Capital as it's close to both Ban Josipa Jelačića Square and King Tomislav Square, as well as other sights like Zagreb Cathedral and the famous Market Dolac.
Location of Zagreb Christmas Market
Christmas in Croatia is a wonderful time of year. The warm and friendly atmosphere along with great food and artisanal shopping adds to the experience.

Plan your Christmas holiday with my guide to the Christmas markets in Croatia. Discover where to go, things to do and the best ways to experience Croatian food, history and culture.
Croatia's official tourism website is a great resource for planning your trip to Zagreb and elsewhere in Croatia. They share lots of things to do and unusual sights around the city. It's especially useful for first-time visitors.
As a travel blogger, I spent several months in Zagreb over many years. I'm happy to answer questions if you're looking for help on planning your trip or what to expect.
Sustainable Travel Tips
The choices we make have an environmental and social impact on the places we visit. Try to implement these responsible travel measures when visiting the Christmas markets.
Shop mindfully. Only purchase what you really need.
Walk, cycle and use public transport to get around.
Stay in a sustainable hotel powered by renewable energy.
Avoid using plastic or buying items made or packaged with plastic.
Try to eat locally sourced organic food where possible.
Limit your consumption of meat and dairy.
Explore more than just the main tourist areas.
Support the arts and attend local events.
FAQ
When do Christmas markets start in Zagreb?
Zagreb Christmas Market starts on 26th November 2022 and ends on 7th January 2023.
Where is Zagreb Christmas Market held?
The Christmas markets in Zagreb are held at Ban Josipa Jelačića Square, King Tomislav Square and several other squares around the city.
Is Zagreb worth visiting at Christmas?
I spent one wonderful Christmas in Zagreb and can't recommend it enough. Croatians are typically incredibly warm and welcoming, and you'll have plenty to keep you entertained over Christmas and winter.
If you would like to leave a review of Zagreb Xmas Market, feel free to comment below.
—
Recommendations are independently chosen based on personal travel experiences and extensive research. This post contains affiliate links to hotels and tours in Zagreb, Croatia. This means I get a small commission from any bookings at no extra cost to you.