If you're interested in sustainable travel during Christmas and want to avoid the mass consumerism common at more visited destinations, the Ljubljana Christmas Market is easily the best choice in Europe.
In this guide, you can find dates and information for planning your visit. I've visited Ljubljana several times and highly recommend visiting if you get the chance.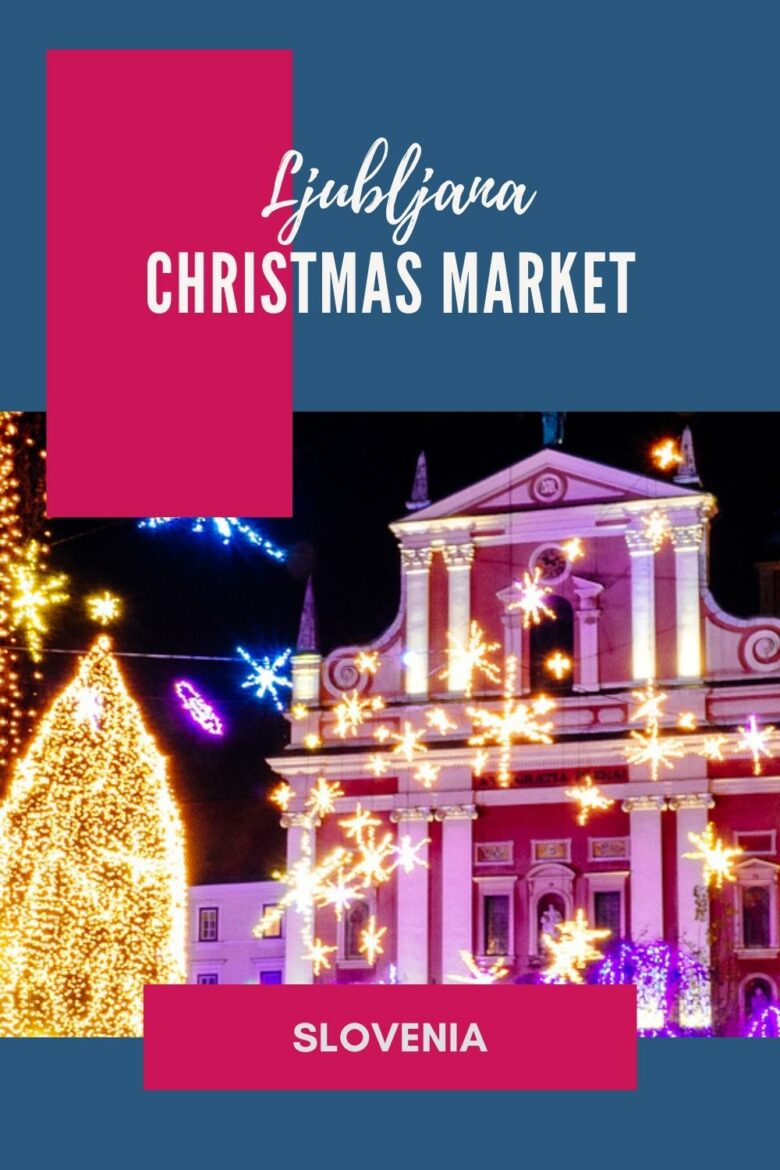 Slovenia is one of the most eco-friendly destinations all year round, and in December, the city focuses on supporting small, local businesses, zero-waste products and organic Slovenian cuisine.
I've spent a lot of time in this city, and it's a picturesque calm and quiet location with beautiful scenery and friendly locals happy to chat.
Ljubljana Christmas Market 2023
Christmas in Ljubljana in 2023 will include Christmas trees, decorations, and lights around the city centre and at the Arboretum.
In previous years, the Christmas market was in Prešeren Square on the river.
Details are still to be confirmed, and I'm not sure it's happening this year, but you'll have plenty to see and do if you visit in December.
Dates and Locations
Ljubljana Christmas Market dates: Likely dates: 1st December 2023 to 2nd January 2024.
Location: Prešeren Square, along the Ljubljanica River embankment and four other locations.
Opening times: From around midday to early evening.
Christmas Day: Partially closed.
Admission: Free.
Christmas lights: 18th November 2023 to 7th January 2024 at the Arboretum from 3pm to 9pm.
Santa: No.
Ice skating: Yes, at Ice Fantasy Ljubljana at Park Zvezda in Congress Square.
Vegetarian: Yes, plenty of options.
Vegan: Yes, plenty of options.
Gluten free: Yes, some but there are dedicated GF cafes and bakeries in Ljubljana.
Accessible: Yes.
Pet-friendly: Yes, dogs are allowed on a lead.
Reason to visit: One of the prettiest capitals in Europe. Strong focus on sustainability.
Specialties: Sustainable travel and products. Clothes by Slovenian designers.
Travel tip: Include a day trip to Lake Bled.
Winter events: Free music concerts. The Magical Forest.
Ljubljana weather in winter: Temperatures average 4°C / -2°C (high / low) in December.
Where to stay: Hotel Cubo is 2 minutes from the Christmas markets.
Hotels near Ljubljana Christmas Market
The Christmas markets in Ljubljana are located in Prešeren Square and along the Ljubljanica River. You can also find some festivities nearby in Congress Square (Kongresni Trg). I spent several months in Ljubljana; this area is the nicest neighbourhood to stay in.
This is why I recommend Hotel Cubo, as it's very close to all the Christmas markets and other attractions in Ljubljana.
If this doesn't suit you, my guide to hotels near Ljubljana Christmas Market lists all the places I recommend.
Location of Ljubljana Christmas Market
Recommended City and Christmas Tours
A city tour of Ljubljana is a wonderful way to immerse yourself in the city's vibrant history and culture. With its picturesque old town, charming architecture, and delightful atmosphere, Ljubljana offers something for everyone, including in winter.
I recommend taking this city tour of Ljubljana to discover all the top sights and attractions.
During your city tour, you'll have the chance to visit Ljubljana's most iconic landmarks and attractions, including the stunning Ljubljana Castle, the charming Prešeren Square, and the beautiful Triple Bridge.
Alternatively, you could consider a walking food tour to explore the local cuisine and learn about the city's culinary traditions. Slovenia is an incredible food destination, so I definitely recommend this food tour if you have time.
Finally, you won't want to miss a day trip to Lake Bled; I've been several times as it's stunning, especially when there has been recent snow.
This tour of Lake Bled includes a stop at Lake Bohinj, which is possibly even more beautiful than Bled. Other Bled day trips don't stop in Bohinj, so be sure to book this one if you want to visit both lakes.
Ljubljana at Christmas
I filmed these two videos of the historic city centre and the Christmas market during my last visit to Ljubljana at Christmas, highlighting the city's winter atmosphere.
Having been to the city multiple times during this season, I can attest that Ljubljana remains a fantastic destination, even when it's cold. It really is a wonderful city with lovely people and beautiful nature.
This is the second video when I visited the Christmas market on a different day to give you a different perspective.
Ljubljana Christmas Market Specialities
Ljubljana, and Slovenia in general, is one of the most sustainable travel destinations in the world, and this is reflected in the Christmas markets in Ljubljana.
The Land of Ice – A Christmas event showcasing ice and snow sculptures by Slovenian and international artists.
Magical Forest – Includes creative workshops where you can learn to make your own eco-friendly Christmas decorations.
Organ Grinders – A familiar sight around the streets of Ljubljana over the winter months.
Free Music Concerts – Held in Novi Square from the 14th to 25th December. There are other free concerts in Ljubljana too.
Honey Schnapps – Delicious but strong. A Slovenian classic.
Christmas Decorations – Unique abstract Christmas lights and decorations line the streets of Ljubljana at Christmas.
Things to Do in Ljubljana in Winter
Ljubljana has plenty to offer for a small city, from incredible food to stunning castles and pristine nature.
Start with the most popular things to do in Ljubljana and then venture out for a day trip to Lake Bled and the mountains.
In the evenings, enjoy the atmosphere of the Ljubljana Christmas markets and Slovenian seasonal cuisine.
Ljubljana Castle – The modern funicular is the quickest way to reach Ljubljana Castle and its wonderful views of the city and the mountains in the distance.
Ljubljana Dragon – The symbol of Ljubljana is the fiery green dragon. You'll see dragons everywhere, but the best dragons guard the popular Dragon Bridge.
Triple Bridge – Three bridges cross the Ljubljanica River at Preseren Square in the city's historic centre. It's the hub of the old town, bustling with buskers, food carts and visitors enjoying the view. The bridge was designed by Slovenia's most famous architect, Jože Plečnik.
The Central Market – Also designed by Jože Plečnik, the Central Market is the home of Ljubljana's best fresh food and organic products. It's the perfect place to pick up picnic supplies if you're heading out on a day trip.
Preseren Square – The main centre square in Ljubljana, unmissable for the pink Franciscan Church, which dominates the square. This is the location of Ljubljana's main Christmas market.
Ljubljana Town Hall – The baroque Town Hall is central to one of Ljubljana's most picturesque streets, lined with pastel-coloured buildings and baroque fountains.
Tivoli Park – If the weather is sunny, take a walk through Tivoli Park to see the outdoor photography exhibition and green open space.
Art Nouveau Ljubljana – In the historic centre of Ljubljana, you'll spot a number of impressive art nouveau buildings, including Hauptmann House in Preseren Square, bold Vernik House and Urbanc House, the location of Ljbuljana's high-end department store.
Visit Ljubljana has more information on things to do in Ljubljana in December, including a list of free events and festivals.
Sustainability in Ljubljana
Our choices as tourists have social and environmental consequences for the places we visit, including Ljubljana's Christmas markets. Here are some responsible travel measures you can implement during your visit:
Shop mindfully at the Christmas markets in Ljubljana. Consider purchasing only what you need or opt for souvenirs made from sustainable materials or support local artisans.
Walk, cycle or use public transport to get around Ljubljana instead of renting a car. Ljubljana has a very walkable city centre and offers an extensive bike-sharing system. Additionally, the city has a well-developed public transportation network, which includes buses and a funicular railway to Ljubljana Castle.
Stay in a sustainable hotel during your stay in Ljubljana. Several hotels in Ljubljana are powered by renewable energy sources, such as hydropower and geothermal power.
Avoid short-stay apartment accommodation in Ljubljana as it can lead to a lack of affordable housing for locals. Instead, consider staying in eco-friendly hotels or bed and breakfasts that support sustainable tourism.
Refrain from using plastic or buying items made or packaged with plastic while visiting Ljubljana's Christmas markets. You can also bring your reusable water bottle, shopping bags, and utensils to reduce your plastic footprint.
Try to eat locally sourced organic food while visiting Ljubljana. Many restaurants in Ljubljana offer farm-to-table menus featuring organic produce and ingredients from local farms.
Limit your consumption of meat and dairy while in Ljubljana. The city offers many vegetarian and vegan options, and eating plant-based meals can help reduce your carbon footprint.
Be open to diverse cultures and experiences while in Ljubljana. The city has a vibrant arts scene and hosts numerous festivals and events throughout the year, such as the Ljubljana Jazz Festival and the Ana Desetnica Street Theatre Festival.
Explore more than just the main tourist areas in Ljubljana. Take a walking tour of the city's lesser-known neighbourhoods and parks, or explore the Ljubljana Marshes Nature Park just outside the city centre.
Support the arts and attend local events while visiting Ljubljana. Check out the Ljubljana City Museum or the National Gallery of Slovenia, or catch a concert at the Cankarjev dom Cultural and Congress Centre.
Visit fewer places but stay longer at each destination in Ljubljana. Immersing yourself in the local culture and community can help reduce your environmental impact while supporting the local economy.
FAQ
Is there a Christmas market in Ljubljana?
Yes, there is a Christmas market in Ljubljana. It's one of the most festive destinations in Europe, and the city has several wonderful Christmas markets.
When is Ljubljana Christmas Market?
Ljubljana Christmas Market dates are from 1st December 2023 to 2nd January 2024.
Where is Ljubljana Christmas Market?
The Christmas market is held in Prešeren Square, Congress Square, along the Ljubljanica River.
If you have visited Ljubljana in winter or want to leave a review of the Xmas market, please comment below. This helps others interested in visiting and trying to plan their holiday.
—
Recommendations are independently chosen based on personal travel experiences and extensive research. This post contains affiliate links to hotels and tours in Ljubljana, Slovenia. This means I get a small commission from any bookings at no extra cost to you.