If you're interested in sustainable travel during Christmas and want to avoid the mass consumerism common at more visited destinations, the Ljubljana Christmas Market is easily the best choice in Europe. Slovenia is one of the most eco-friendly destinations all year round and in December the city focuses on supporting small, local businesses, zero waste products and organic Slovenian cuisine.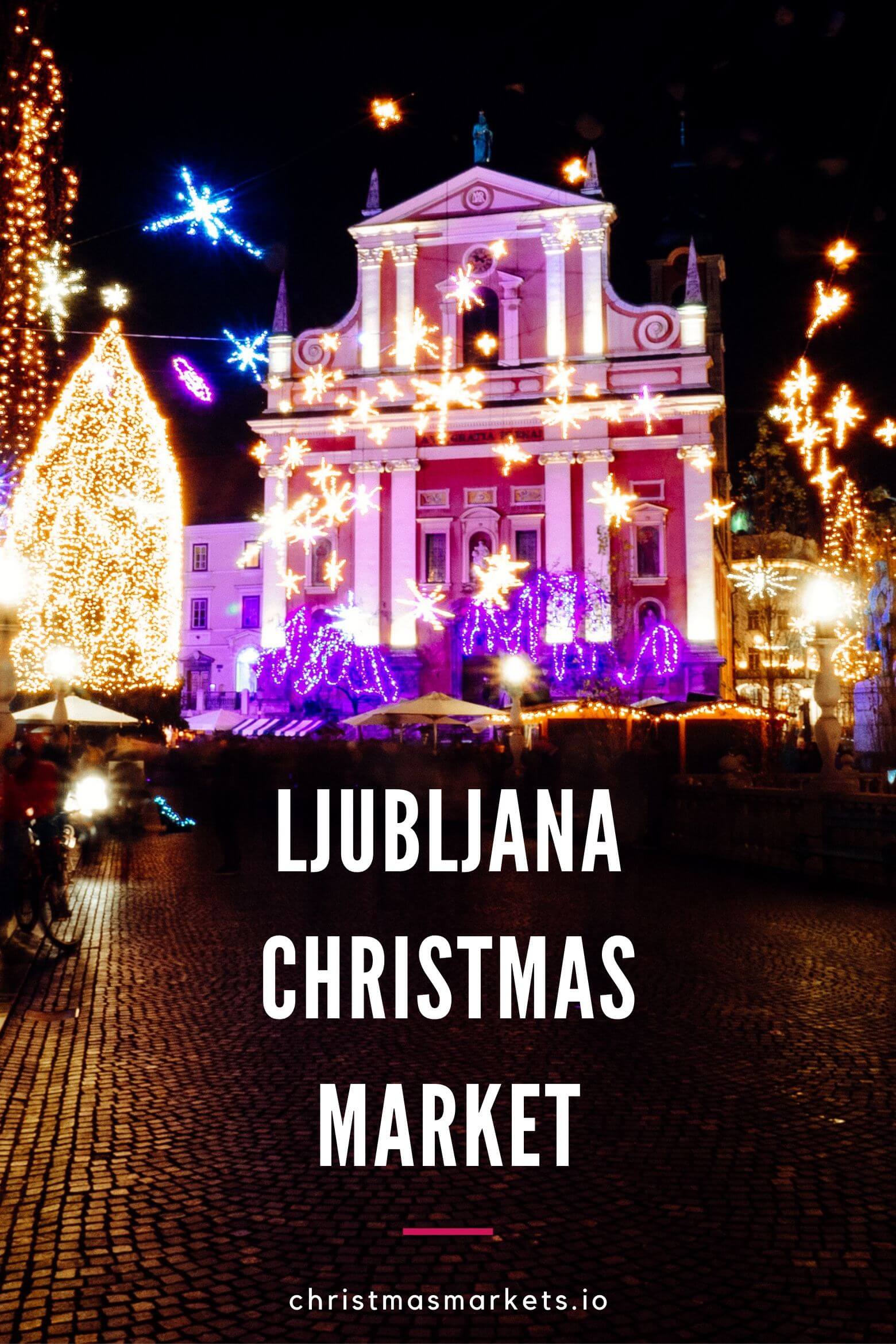 Ljubljana Christmas Market 2021
Christmas in Ljubljana in 2021 will include Christmas trees and other Christmas decorations and lights around the city centre.
Ljubljana Christmas Market dates: Dates TBA.
Opening times: TBA
Location: Preseren Square, along the Ljubljanica River embankment and four other locations.
Reason to visit: One of the prettiest capitals in Europe. Strong focus on sustainability.
Specialties: Sustainable travel and products. Clothes by Slovenian designers.
Travel tip: Include a day trip to Lake Bled.
Winter events: Free music concerts. The Magical Forest.
Plan your trip: Resources to plan your Christmas holiday or winter break.
Ljubljana weather in winter: Temperatures average 4°C / -2°C (high / low) in December.
Hotels near Ljubljana Christmas Market: Hotel Cubo or search our preferred Christmas hotels.
Hotels near Ljubljana Christmas Market
The Christmas markets in Ljubljana are located in Preseren Square and along the river. You may also find some festivities in Congress Square (Kongresni Trg). All of these locations are in the historic old town of Ljubljana. Our guide to hotels near Ljubljana Christmas Market lists places to stay that are conveniently located to all the main sights and attractions in the city centre.
Ljubljana Christmas Market Specialities
Ljubljana, and Slovenia in general, is one of the most sustainable travel destinations in the world and this is reflected in the Christmas markets in Ljubljana.
The Land of Ice – A Christmas event showcasing ice and snow sculptures by Slovenian and international artists.
Magical Forest – Includes creative workshops where you can learn to make your own eco-friendly Christmas decorations.
Organ Grinders – A familiar sight around the streets of Ljubljana over the winter months.
Free Music Concerts – Held in Novi Square from the 14th to 25th December. There are other free concerts in Ljubljana too.
Honey Schnapps – Delicious but strong. A Slovenian classic.
Christmas Decorations – Unique abstract Christmas lights and decorations line the streets of Ljubljana at Christmas.
Things to Do in Ljubljana in Winter
For a small city, Ljubljana has plenty to offer from incredible food, stunning castles and pristine nature. Start with the most popular things to do in Ljubljana and then venture out for a day trip to Lake Bled and the mountains. In the evenings, enjoy the atmosphere of the Ljubljana Christmas markets and Slovenian seasonal cuisine.
Ljubljana Castle – The modern funicular is the quickest way to reach Ljubljana Castle and its wonderful views of the city and the mountains in the distance.
Ljubljana Dragon – The symbol of Ljubljana is the fiery green dragon. You'll see dragons everywhere but the best dragons guard the popular Dragon Bridge.
Triple Bridge – Three bridges cross the Ljubljanica River at Preseren Square in the historic centre of the city. It's the hub of the old town, bustling with buskers, food carts and visitors enjoying the view. The bridge was designed by Slovenia's most famous architect, Jože Plečnik.
The Central Market – Also designed by Jože Plečnik, the Central Market is the home of Ljubljana's best fresh food and organic products. It's the perfect place to pick up picnic supplies if you're heading out on a day trip.
Preseren Square – The main centre square in Ljubljana, unmissable for the pink Franciscan Church which dominates the square. This is the location of Ljubljana's main Christmas market.
Ljubljana Town Hall – The baroque Town Hall is central to one of Ljubljana's most picturesque streets, lined with pastel-coloured buildings and baroque fountains.
Tivoli Park – If the weather is sunny, take a walk through Tivoli Park to see the outdoor photography exhibition and green open space.
Art Nouveau Ljubljana – In the historic centre of Ljubljana you'll spot a number of impressive art nouveau buildings including Hauptmann House in Preseren Square, bold Vernik House and Urbanc House, the location of Ljbuljana's high-end department store.
Visit Ljubljana has more information on things to do in Ljubljana in December including a list of free events and festivals.
Map of Ljubljana
If you have visited Ljubljana in December or Christmas in Slovenia and would like to share your experience, leave a comment or review below.
This post contains affiliate links to hotels in Ljubljana and recommended Christmas market tours. This means we get a small commission from any bookings at no extra cost to you.