If you're looking for a quiet but beautiful winter holiday destination, Lithuania in December is chilly but busy with events. There are many things to do but the city isn't overcrowded and there is just enough Christmas spirit to make things interesting.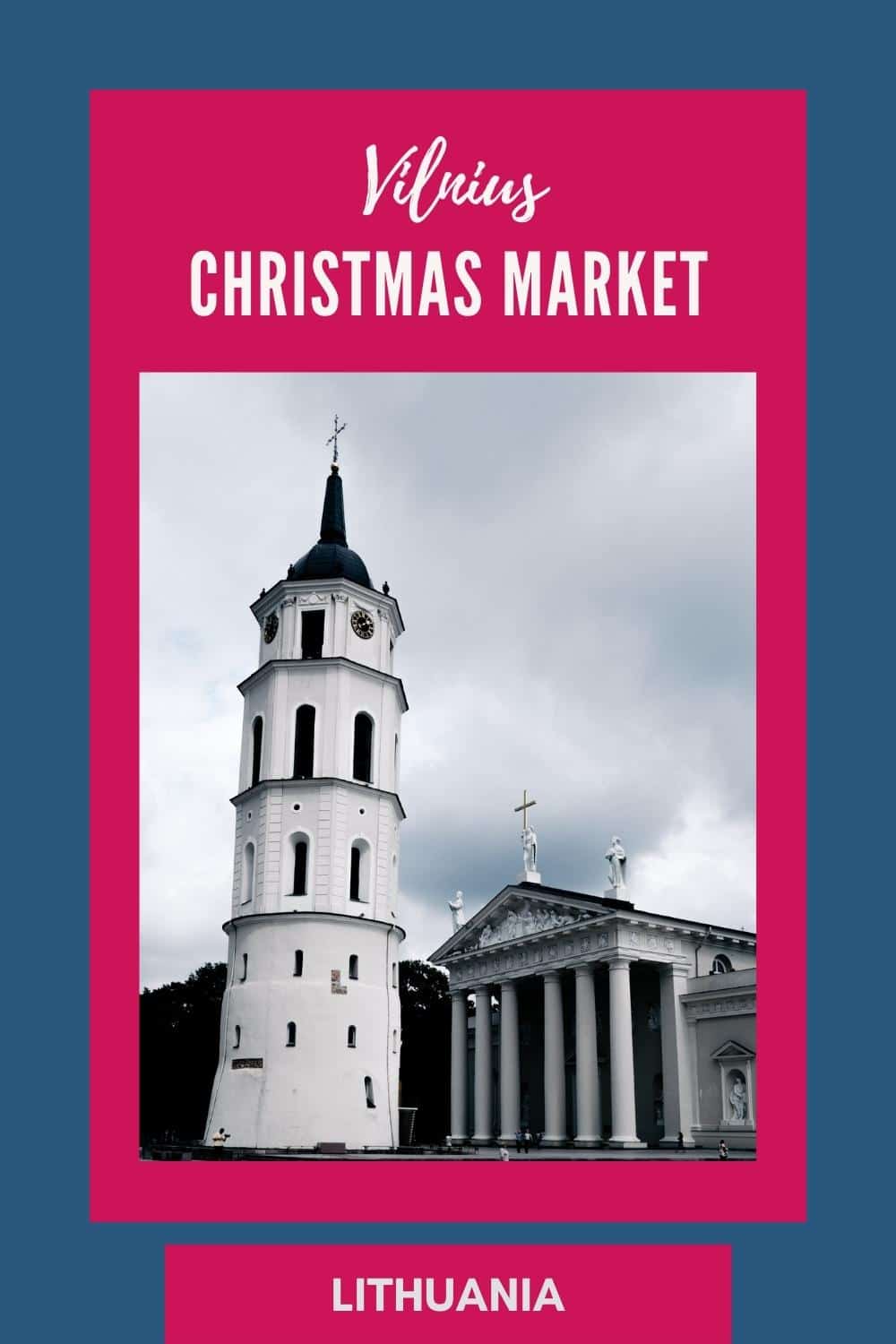 Vilnius Christmas Market 2022
The Vilnius Christmas Market (known as Christmas Town) is the highlight of winter in Lithuania with Cathedral Square being home to one of the most stunning Christmas trees in the world.
Two other Christmas markets are located at Vinco Kudirkos Square and Odminių Square. These end on the 1st January 2023.
Vilnius Christmas Market dates: 26th November 2022 to 8th January 2023.
Location: Cathedral Square, Vinco Kudirkos Square and Odminių Square.
Reason to visit: The incredible modern Christmas tree and decorations in Cathedral Square.
Specialties: Vilnius Christmas train takes you around the city to see the decorations and markets.
Travel tip: Walk up the Cathedral Belfry for great photos of Vilnius Christmas market.
Winter events: Visit the Christmas Design Square for something unique to Vilnius.
Vilnius weather in winter: Temperatures average 0°C / -5°C (high / low) in December.
Where to stay: Artagonist Art Hotel is the most well-located hotel in Vilnius.
Hotels near Vilnius Christmas Market
Cathedral Square is located on the edge of the Old Town in Vilnius. It's a nice area with several sights and attractions but you might prefer to stay closer to the Town Hall and City Gate where there are more places to eat out and lots of museums.
I suggest staying at Artagonist Art Hotel as it's exactly halfway between Cathedral Square and the Town Hall.
For more ideas on where to day, my guide to hotels near Vilnius Christmas Market list several hotels in a range of budgets.
Vilnius Christmas Market Traditions
To get an overview of Vilnius's holiday traditions, I suggest starting with a city tour that focuses on the history and culture of both Vilnius and Lithuania.
This tour starts at Cathedral Square so you'll get an introduction to the Christmas markets and the significance of the unique Christmas tree.
At the Christmas fair, of course, you will want to try Lithuanian Christmas food or purchase locally made Lithuanian Christmas ornaments which you can take with you to decorate your Christmas tree at home.
Lithuanian Christmas Food
It's not only Christmas food but unique Lithuanian food available at the Christmas market and in surrounding cafes and restaurants.
Vilnius restaurants have seen a resurgence in traditional Lithuanian food which incorporates local ingredients and old traditions with a new, modern viewpoint.
Visit one of these restaurants for some of the best food in Vilnius.
Things to Do in Vilnius in Winter
Vilnius Christmas Tree – In the centre of Cathedral Square, in Vilnius's historic World Heritage-listed old town, is one of the most stunning Christmas trees, decorated in white ornaments in Lithuanian style.
Cathedral Belfry – For a small fee you can walk up the cathedral belfry for the best views of Vilnius from above.
Gediminas Tower – A different but equally wonderful view of Vilnius is available at Gediminas Tower (€5 euro entrance fee). The view is particularly special at sunset.
Town Hall Square – Another Christmas tree and unique decorations are on show in front of Vilnius Town Hall. This smaller Christmas market is a little quieter although it can get busy on the weekends.
Vilnius Train Station – A little unexpected is a Christmas market at Vilnius Train Station. This is a more contemporary market with modern music, food trucks (actually they are train carriages serving food) and Lithuanian art.
Vilnius Tourism has information regarding events and the best ways to experience the city at Christmas.
While Vilnius is a relaxing city break getaway, if you're planning a longer trip, consider adding the other Baltic States to your itinerary. Riga in Latvia and Tallinn in Estonia are close by yet very different cities both aesthetically and culturally.
Location of Vilnius Christmas Market
Sustainable Travel Tips
The choices we make have an environmental and social impact on the places we visit. When visiting the Christmas markets, it's important to keep sustainability in mind.
Implement some or all of these responsible travel measures during your visit.
Shop mindfully. Only purchase what you really need.
Walk, cycle and use public transport to get around.
Stay in a sustainable hotel powered by renewable energy.
Stay in hotels. Short-stay apartment accommodation can lead to a lack of affordable housing for locals.
Avoid using plastic or buying items made or packaged with plastic.
Try to eat locally sourced organic food where possible.
Limit your consumption of meat and dairy.
Be open to diverse cultures and experiences.
Explore more than just the main tourist areas.
Support the arts and attend local events.
Visit fewer places but stay longer at each destination.
FAQ
Does Vilnius have a Christmas market?
Yes! There is are 3 Christmas markets in Vilnius.
Where are the Vilnius Christmas markets?
Cathedral Square, Vinco Kudirkos Square and Odminių Square.
When is Vilnius Christmas Market?
26th November 2022 to 8th January 2023.
If you have visited Vilnius in winter or would like to leave a review of the Christmas market, feel free to comment below. This helps others who are interested in visiting and are trying to plan their holiday.
—
Recommendations are independently chosen based on personal travel experiences and extensive research. This post contains affiliate links to hotels and tours in Vilnius, Lithuania. This means I get a small commission from any bookings at no extra cost to you.