Unlike elsewhere in the UK, Birmingham Christmas Market is a special kind of market as it is aligned with the Frankfurt Christmas market in Germany. Known officially as Birmingham Frankfurt Christmas Market it is the largest Christmas market outside of Germany and Austria. Many of the traditional events and experiences are set to return in 2021, although fewer stalls are expected compared to previous years.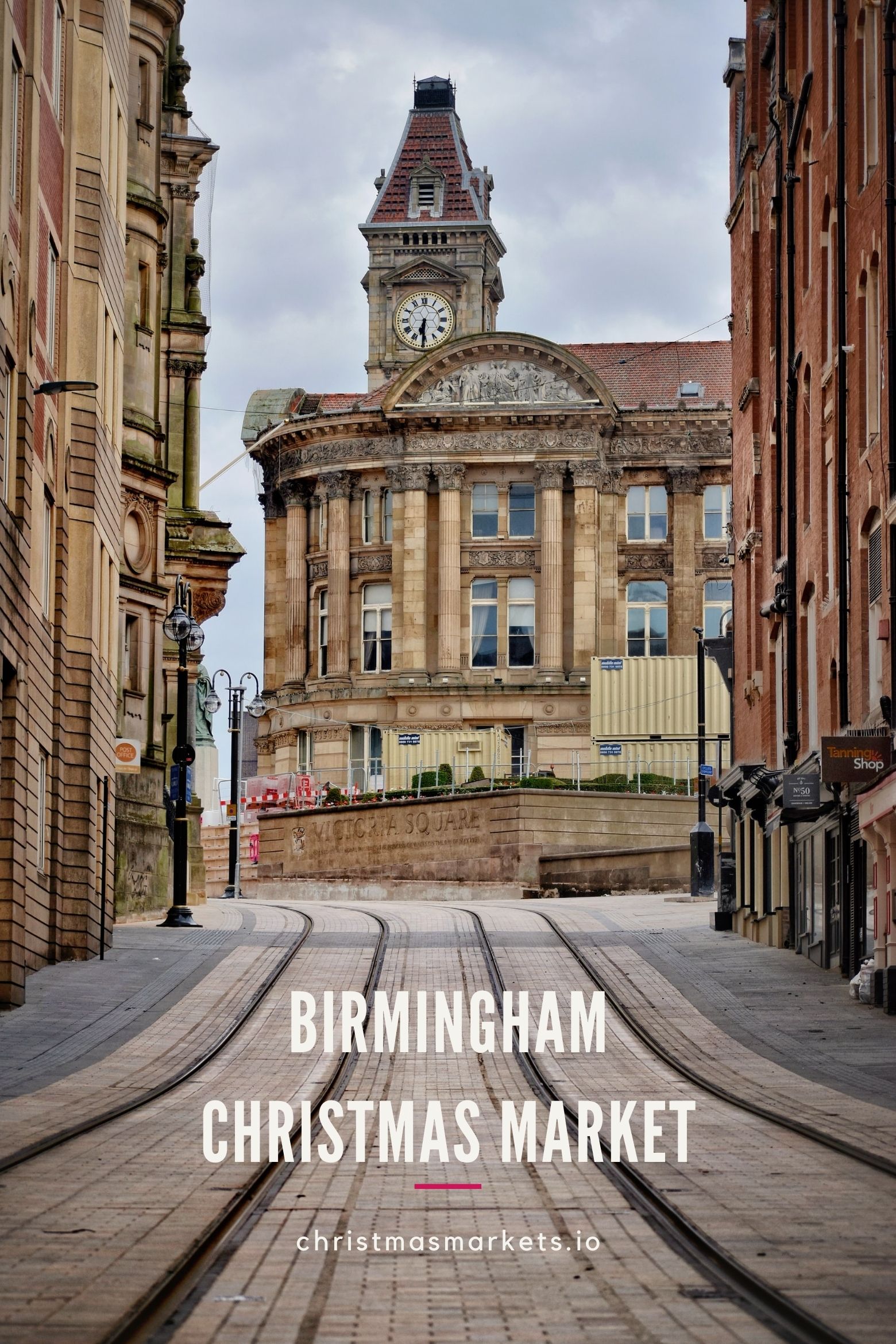 Birmingham Christmas Market 2021
Birmingham's Frankfurt Christmas Market will take place over seven weeks from early November until just before Christmas Day. This is the most traditional German Christmas market in the UK and is by far the most popular. Follow the Frankfurt tradition and meet your friends after work for a mug of mulled wine or visit during the day for relaxed Christmas shopping for the kids.
Birmingham Christmas market dates: 4th November to 23rd December 2021 (dates are subject to change).
Opening times: 10am to 9pm daily. Except Remembrance Sunday (14th November) when the market will be open from 1pm – 9pm.
Location: Victoria Square and New Street, Birmingham.
Reason to visit: A traditional German Christmas market in the UK.
Specialities: German style bratwurst, pretzels, schnitzels, glühwein and weissbeer. Stollen, a dense German Christmas cake with dried fruit.
Tips: Visit during the week or early in the day to avoid the Friday and Saturday evening crowds.
Hotels near Birmingham Christmas market: The Grand Hotel – an incredible historic hotel in Birmingham or alternatively The Birmingham Manhattan is an affordable apartment near Victoria Square.
Note that Birmingham Ice Skate and the Big Wheel are due to return to Centenary Square and will run from the 4th November 2021 until 9th January 2022 (except on Christmas Day). Opening hours are from 10am and 10pm and you can either book online or at the venue.
Hotels near Birmingham Christmas Market
There are a number of excellent hotels near Birmingham Christmas market as well as highly-rated apartments. Book one of our recommended hotels to ensure you're only a short walk from New Street and Victoria Square.
Frankfurt Christmas Market
The Christmas Market and Craft Fair is located at Victoria Square and New Street in the centre of Birmingham. It is the largest Christmas fair, or German market as it is sometimes called, outside Germany and Austria. This Christmas event attracted around 3.1 million visitors in 2010, 5 million visitors in 2011 and 2013 and more than 5.5 million visitors in 2014.
The Birmingham Christmas market is known as the Frankfurt Christmas market as it is based on the historic market in Germany. It is seen as a 'twin' to the official Frankfurt market. The Birmingham market is so popular it typically attracts more than 1 million visitors per week.
If you're looking to visit other Christmas cities, read our list of the best Christmas markets UK.
Map of Locations
If you have any questions or comments about visiting the Birmingham Xmas market in 2021 or Birmingham at Christmas more generally, please leave a comment below. Please note that dates for 2021 are subject to charge with respect to government guidelines. Check for updates before booking or making plans.
This post contains affiliate links to hotels in Birmingham, UK. This means we get a small commission from any bookings at no extra cost to you.