As the chill of winter cloaks Paris, the city embraces the season with a sophisticated charm that few can resist. Iconic landmarks adorned with festive lights perfectly complement the bustling Christmas markets that illuminate the city's grand boulevards and neighbourhood squares.
This guide provides you with all the necessary details to help plan your visit to the best Paris Christmas markets, including 2023 dates, opening times, market locations and local specialties.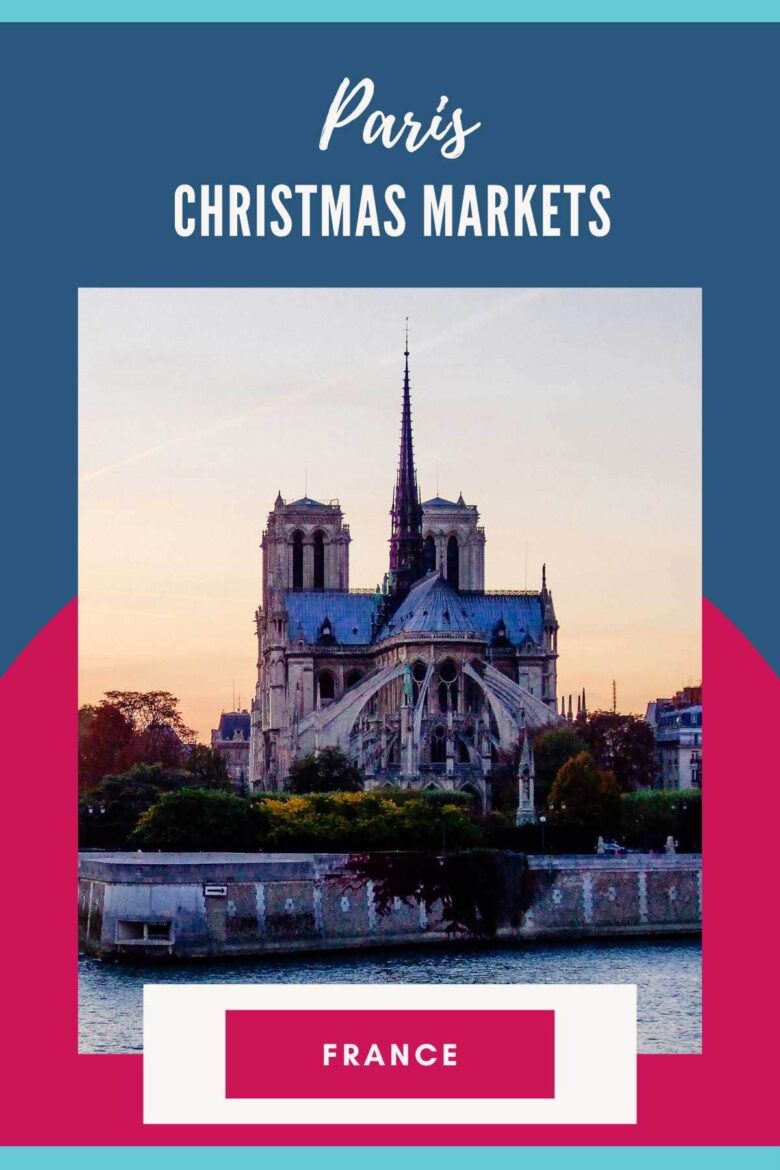 Paris Christmas Markets 2023
The Christmas markets in Paris add a distinctive touch of seasonal fun amid the classic Parisian charm.
Among the highlights, the market at the Tuileries Garden shines, showcasing an impressive array of stalls nestled under a display of glittering lights. You're able to wander among wooden chalets offering handmade crafts, French delicacies and warm Christmas drinks.
The smaller but equally pretty market at Notre Dame Cathedral is not to be missed, known for its artisan goods and a quaint setting that reflects the city's rich history.
Almost every Parisian neighbourhood or arrondissement has its own Christmas market. These are 14 of the best Paris Christmas markets in 2023.
1. Tuileries Christmas Market
Paris Christmas Market dates: Likely dates: 18th November 2023 to 7th January 2024.
Location: Jardin des Tuileries and Place de la Concorde.
District: 1st arrondissement.
Opening times: 10am to 9pm.
Christmas Day: Closed.
Admission: Free, no tickets required.
Santa: No.
Ice skating: No.
Vegetarian: Yes, plenty of options.
Vegan: Yes, plenty of options.
Gluten-free: Yes, but limited.
Accessible: Yes.
Pet-friendly: Yes, dogs are allowed on a lead.
Parking: Please take public transport to help limit congestion.
Reason to visit: Iconic locations, diversity of markets, exceptional French crafts and cuisine.
Recommended tour: This popular food tour in Montmartre is one of the best in Paris.
Specialities: Vin chaud, pain d'épices; roasted chestnuts; raclette on baguette; traditional Bûche de Noël.
Where to stay: Hôtel Molière is a popular, affordable hotel near the Tuileries Christmas Market.
Hotels near Paris Christmas Market
Staying in the 1st arrondissement places you right in the heart of Paris, with easy access to many of the city's sights, including the Louvre Museum, Tuilieries Garden and the Garnier Opera House.
For a comfortable stay in this neighbourhood, I recommend the Hôtel Molière, known for its excellent location, high ratings and value for money.
Location of Paris Christmas Market
City and Christmas Tours
Paris is a city steeped in a rich history and diverse culture. It's a wonderful city for exploring on foot, with so much to see in every neighbourhood. But before you head out on your own, you might like to take a tour to give you an overview of the city.
This vintage sidecar tour is a great way to see the highlights of Paris, particularly if you're making your first trip to the city. It's a unique tour that's exceptionally well rated.
You might also consider this popular bike tour that takes you through the incredible Latin Quarter and Marais districts. Even in winter, this a great option.
There's also an alternative to consider: a food tour. Increasing in popularity, these tours allow you to delve deeper into Parisian culture through its delicious cuisine.
This is the food tour I recommend in Paris as it takes place in the historic Montmartre district. But if you're staying more central, around the popular Saint Germain des Prés area, then this food tour might be a better option.
2. Notre Dame Christmas Market
As you wander through the Marché de Noël Notre Dame de Paris, the Notre Dame Christmas Market, you'll be greeted with a lively festive spirit. Santa Claus makes an appearance, setting the stage for a magical experience for both young and old.
There are numerous engaging activities designed for children, such as drawing competitions and storytelling sessions, sure to capture their imagination.
Indulgence is a core part of the experience here. I recommend you sample the various specialties available, from local sausages and cheeses to the irresistible macaroons. Warm up with a cup of mulled wine, a staple at European Christmas markets.
The Notre Dame Christmas Market also serves as a showcase for the finest French artistry and craftsmanship. Among the various stalls, you'll find artisans and designers offering a myriad of unique creations.
These range from exquisite jewellery pieces and ceramics to a variety of objects fashioned from textiles, leather, and metal. The market is also home to stunning examples of calligraphy and painting, perfect for art enthusiasts.
Lastly, the regional gastronomy on offer is not to be missed. Foie gras, a French delicacy, features prominently, complementing the wide selection of local sausages, cheeses and macaroons.
Notre Dame Christmas Market dates: Likely dates: 8th to 26th December 2023.
Location: Quai Montebello and Square Viviani.
District: 5th arrondissement.
Opening times: Monday to Friday: 10am to 8pm. Saturday and Sunday: 10am to 9pm.
Santa: Yes, you can take a photo with Santa.
Location of Notre Dame Christmas Market
3. St Germain des Prés Christmas Market
This market takes place on the Place Saint-Germain-des-Prés and extends along the church garden, with an average of forty to fifty wooden Christmas stalls and chalets.
As you explore the market, you'll find yourself within close proximity to some of Paris's most iconic cultural landmarks. The thousand-year-old Abbey of St-Germain-des-Prés is nearby, alongside famous brasseries and literary cafes like Cafe Flore, Brasserie Lipp and Procope, providing an opportunity for exploration and relaxation.
For an even grander experience, venture to the Place Saint-Sulpice. This expansive area has room for even more stalls, along with stages, tents and even unique yurts. This area is popular for its high-end boutiques, making it an ideal spot for shopping.
Known for hosting art and design fairs, the Place Saint-Sulpice has a rich cultural significance and draws intellectuals, art lovers and fans of the Left Bank, providing a multifaceted experience for every visitor.
Christmas Village dates: Likely dates: 2nd December 2023 to 7th January 2024.
Location: Place St-Sulpice and Place Saint-Germain-des-Prés.
District: 6th arrondissement, Left Bank.
Opening times: 10am to 9pm.
Location of Christmas Village
4. La Defense Christmas Market
The La Defense Christmas Market is a unique holiday spectacle in the most modern district of Paris. As one of the largest Christmas markets in the city, it hosts hundreds of stalls brimming with artisan gifts, local and international food specialties and festive decorations.
Set against the backdrop of La Defense's striking modern architecture, it offers a unique blend of traditional holiday cheer and contemporary Parisian style.
La Defense Christmas Market dates: Likely dates: 22nd November to 24th December 2023.
Location: Parvis de la Défense.
District: La Defense.
Opening times: Monday to Friday: 10am to 8pm. Saturday and Sunday: 10am to 9pm.
Location of La Defense Christmas Market
5. Montmartre Christmas Market
In the heart of Montmartre, at Place des Abbesses, you'll find the charming Montmartre Christmas Market.
Steeped in the distinctive atmosphere that Montmartre is known for, you can explore this artistic market in the shadow of the Sacre-Coeur Basilica.
Montmartre Christmas Market dates: Likely dates: 23rd November 2023 to 2nd January 2024.
Location: Place des Abbesses.
District: 18th arrondissement, Montmartre.
Opening times: Monday to Friday: 10am to 8pm. Saturday and Sunday: 10am to 9pm.
Location of Montmartre Christmas Market
6. Hôtel de Ville Christmas Market
Set in the Marais district, the Hôtel de Ville Christmas Market resides just by the Seine, in front of the renowned Hôtel de Ville, the Town Hall of Paris.
While you're there, it's almost impossible to ignore the antique carousel, a feature that adds a touch of vintage charm to the festive setting.
The market itself hosts an array of stalls where vendors sell everything from Christmas gifts to gastronomical delights, all set against the historic backdrop.
Hôtel de Ville Christmas Market dates: Likely dates: 1st December 2023 to 1st January 2024.
Location: Hôtel de Ville de Paris.
District: 4th arrondissement, Marais.
Opening times: Monday to Friday: 10am to 8pm. Saturday and Sunday: 10am to 9pm.
Location of Hôtel de Ville Christmas Market
7. Alsatian Christmas Market
Positioned conveniently in front of Gare de l'Est in the 10th district of Paris, the Alsatian Christmas Market serves as a hub for holiday merriment and regional delicacies.
Visiting this market, you can expect to immerse yourself in the traditional culture of Alsace, a region known for its unique culinary contributions.
The stalls here teem with Alsatian specialties, allowing you to sample and purchase a variety of regional foods and drinks.
Alsatian Christmas Market dates: Likely dates: 29th November to 15th December 2023.
Location: Gare de l'Est Train Station.
District: 10th arrondissement.
Opening times: Monday to Friday: 10am to 8pm. Saturday and Sunday: 10am to 9pm.
Location of Alsatian Christmas Market
8. Saint-Michel Christmas Market
Saint-Michel Christmas Market dates: Likely dates: 27th November 2023 to 4th January 2024.
Location: Place Saint-Michel.
District: 5th arrondissement, Left Bank.
Opening times: Monday to Friday: 10am to 8pm. Saturday and Sunday: 10am to 9pm.
Location of Saint-Michel Christmas Market
9. Marais Christmas Market
Marais Christmas Market dates: Likely dates: 8th to 10th December 2023.
Location: Halle des Blancs Manteaux, 48 rue Vieille du Temple.
District: 4th arrondissement, Marais.
Opening times: 11am to 6pm.
Location of Marais Christmas Market
10. Caumartin Christmas Market
Caumartin Christmas Market dates: Likely dates: 8th November to 24th December 2023.
Location: Rue de Caumartin, near Galeries Lafayette.
District: 9th arrondissement, Opera.
Opening times: Monday to Friday: 10am to 8pm. Saturday and Sunday: 10am to 9pm.
Location of Caumartin Christmas Market
11. Wecandoo Artisan Market
A trip to the Wecandoo Christmas Market in Paris offers an experience quite unlike the usual holiday markets, with displays from 15 local makers.
This market is well known for its focus on traditional crafts makers, allowing visitors to shop for unique handmade gifts and learn about the artisans behind the products.
The emphasis is on understanding the value of artisanal work, with many stalls offering interactive demonstrations and workshops.
Wecandoo Artisan Market dates: Likely date: 9th December 2023.
Location: 111 avenue Daumesnil.
District: 12th arrondissement.
Opening times: 11am to 7pm.
Location of Wecandoo Artisan Market
12. Alesia-Leclerc Christmas Market
Alesia-Leclerc Christmas Market dates: Likely dates: 8th to 18th December 2023.
Location: Place Victor et Hélène Basch.
District: 14 arrondissement.
Opening times: 10am to 6pm.
Location of Alesia-Leclerc Christmas Market
13. Japanese Christmas Market
The Idees Japon is a Japanese Christmas Market in Paris. It's a fusion of the French holiday spirit and Japanese culture. This unique market offers a variety of Japanese crafts, food and gifts, offering a different perspective on the traditional Christmas market experience.
Japanese Christmas Market dates: Likely dates: 16th to 18th November 2023.
Location: 12-18 Passage Choiseul.
District: 2nd arrondissement, Opera.
Opening times: 11am to 4pm.
Location of Japanese Christmas Market
14. English Christmas Market
The English Christmas in Paris is a unique event that brings a taste of British holiday tradition to the French capital. Stalls offer quintessential English festive treats and gifts while Christmas carols fill the air.
English Christmas Market dates: Likely date: 25th November 2023.
Location: Saint George's Anglican Church, 7 rue Auguste Vacquerie.
District: 16th arrondissement, Trocadero.
Opening times: 11am to 6pm.
Location of English Christmas Market
Christmas in Paris
This video gives you a glimpse into the enchanting world of the Paris Christmas Market in the Tuileries Garden. Watch it to get a sense of the festive atmosphere, vibrant stalls and local delicacies that await your visit.
Christmas Specialties in Paris
Oysters: Parisians have a long-standing tradition of including oysters in their holiday feast. Harvested from France's coastal regions, these fresh, briny bivalves are typically served raw on the half shell, often with a squeeze of lemon or a dab of shallot vinaigrette.
Bûche de Noël: Known in English as the Yule Log, Bûche de Noël is a classic French Christmas dessert. Made from a light sponge cake rolled around a cream filling, it's then covered in chocolate ganache to mimic the look of a log. Some variations may include different types of cream or even ice cream.
Chapon: Chapon, a roasted capon, is a traditional Christmas dish in France. Essentially a large rooster that has been castrated to improve the quality of its flesh, it's often stuffed and roasted, resulting in a tender and flavourful meat that pairs perfectly with festive side dishes.
Gratin Dauphinois: This hearty dish is made by layering thinly sliced potatoes in a baking dish, drenching them in a mixture of cream and milk, and then baking until the potatoes are tender and the top has a nice, golden crust. A gratifying treat for vegetarians and a comforting side dish.
Chestnut Stuffing: A festive favourite, chestnut stuffing incorporates roasted chestnuts, bread, onions, herbs and often a bit of cognac. The stuffing is then typically used to fill the cavity of the roast bird (like Chapon), or it can be baked on its own as a vegetarian alternative.
Ratatouille: Ratatouille is a traditional Provençal dish for those seeking vegetarian options. A vibrant melange of aubergines, courgettes, bell peppers, tomatoes, onions and garlic, slowly stewed together in olive oil, can be a hearty side or a meal.
Raclette: Although not exclusive to Christmas, raclette is a comforting winter dish. Originating from the mountainous regions of Savoie and Switzerland, this semi-hard cheese is melted and scraped onto potatoes, pickles, and onions. It's indulgent and sure to warm you up on a cold winter day.
Food at the Christmas Market
Vin Chaud: A Christmas market favourite, vin chaud, or hot mulled wine, warms you from the inside out. It's a combination of red wine heated with spices like cloves, nutmeg, and cinnamon, along with a bit of sugar and slices of citrus fruit. It's a warming treat to sip as you wander the market.
Gaufres: Otherwise known as waffles, gaufres are a street food favourite. These are made fresh at the market, served hot and often generously dusted with icing sugar. They can be topped with everything from whipped cream to hot chocolate sauce or fresh fruit for an indulgent treat.
Crêpes: Another classic French treat you can expect to find at the Christmas market is crêpes. Thin and delicate, they can be filled with sweet or savoury fillings. The Nutella-filled crepe is a favourite, but don't miss trying one filled with melted cheese or ham.
Pain d'épices: This honey-spice bread is a seasonal favourite in France. Made with rye flour, honey and a mix of spices, pain d'épices often includes flavours like anise, nutmeg, cinnamon and cloves. You can find it sliced and used in a sandwich or, more often, enjoyed as a sweet treat on its own.
Churros: Although of Spanish origin, Churros have become popular at Christmas markets across Europe. These deep-fried dough pastries are typically dusted with sugar and served with a cup of thick, rich chocolate sauce for dipping.
Chestnuts: Roasted chestnuts are a classic Christmas market snack, and Paris is no exception. The aroma of chestnut roasting is a sure sign of the holiday season. They are served in paper cones, perfect for warming your hands while you nibble.
Raclette Sandwiches: A portable version of the beloved mountain dish, these sandwiches are made with a thick layer of melted raclette cheese scraped onto a baguette, usually with some cured ham, pickles and onions. They are the ultimate cheesy comfort food for a chilly day at the market.
German Sausages: Although not a French specialty, these bratwurst sausages have found a home in Christmas markets around the world. They're usually served in a bun with a variety of condiments and are a satisfying street food staple to enjoy while browsing the market stalls.
What to Buy
French Linens: Stalls often sell high-quality French linens at the Christmas markets in Paris. These could include items such as tablecloths, tea towels and aprons, often made in traditional Provencal patterns. They make for a beautiful and functional gift that's easy to pack.
Artisanal Soaps: Handmade soaps, crafted following the traditional methods of soap making, are a common sight at these markets. These soaps come in a myriad of scents, from lavender and rose to honey and verbena, often using locally sourced ingredients.
Local Art: Local artists showcase their work in the Christmas markets. You may find a range of items, including handmade jewellery, ceramics, unique prints, or even small sculptures. Purchasing these supports local artisans and provides a one-of-a-kind souvenir or gift.
French Wine and Spirits: France is renowned for its wines, and the Christmas market is a good place to find a curated selection of French wine and spirits. From the full-bodied reds of Bordeaux to the sparkling whites of Champagne, these make for excellent holiday gifts.
Handcrafted Ornaments: Handcrafted Christmas ornaments are a delight to discover. These might be made from a variety of materials, such as glass, wood, ceramic, or fabric. Each stall typically has its unique style, making ornament shopping a real adventure.
Regional Specialities: Many stalls at the Paris Christmas Markets sell regional French delicacies that can make wonderful gifts. These could include items like Calissons from Aix-en-Provence, pink biscuits from Reims, or Brittany's famous salted caramel.
French Perfume: Small-scale French perfumeries often set up shop at Christmas markets. These stalls offer a range of uniquely scented perfumes, room sprays, and candles. Shopping at these stalls gives you a chance to find a distinctive fragrance as a gift or a treat for yourself.
Handmade Toys: Handmade toys, often carved from wood, are another delightful find. These toys, whether small figurines, puzzles, or dolls, have an old-world charm that makes them a standout gift for children.
For a broader view of the festive season in France and to help plan your trip, I've compiled an extensive guide to the best Christmas markets across the country.
For trip planning specifically for Paris, the local tourist office, Paris je T'aime, has several excellent guides to the city. For example, this list of the top 10 things to do in Paris is a great place to start planning your trip.
Sustainable Travel in Paris
Many of us are increasingly concerned about climate change and sustainability. Here are a few tips on how we can travel more responsibly in Paris at Christmas.
Choosing Renewable Energy: One way to reduce your carbon footprint is by staying in a hotel that prioritises renewable energy. Several hotels in Paris are committed to sustainable practices, including using renewable energy sources like solar power.
Reducing Food Waste: As you enjoy the culinary delights of Paris, be mindful of your food consumption to limit waste. Order only what you know you can eat at the Christmas markets and consider sharing larger dishes.
Ethical Consumption: When shopping, especially at the Christmas markets, be mindful of the sustainability of the products you buy. Many stalls feature local artisans selling eco-friendly and ethically produced goods. For instance, you'll find locally-made soaps and crafts at the Saint Germain des Prés Christmas Market. Also, consider if you really need to buy an item and will it be used. Don't feel compelled to buy anything!
Sustainable Diets: Opt for plant-based meals or dishes with locally-sourced ingredients to minimise your carbon footprint. Plenty of plant-based snacks and meals are available at the best Christmas markets in Paris.
Sustainable Transport: Navigate the city using its excellent public transportation system, including the metro, buses and trams, to reduce carbon emissions. For shorter distances, consider walking or using the Velib bike-sharing system, allowing you to take in the beauty of Paris at a slower pace while being environmentally friendly. Paris has made enormous progress in recent years to provide safe cycling paths. Take advantage of them!
FAQ
When is Paris Christmas Market?
The Paris Christmas Market dates start from 19th November 2023 to 7th January 2024.
Where is Paris Christmas Market?
Paris hosts multiple Christmas markets throughout the city. Two of the most famous are the Tuileries Christmas Market in the 1st arrondissement (the central district) and Saint Germain des Prés Christmas Market in the 6th arrondissement on the Left Bank.
What time does Paris Christmas Market open?
Typically, the Christmas markets in Paris open around 10 or 11 in the morning and close around 8 or 9 in the evening, although times can vary depending on the specific market and day of the week. Read this guide for detailed opening times.
Is Paris busy at Christmas?
Paris can be quite busy during Christmas, especially around the Christmas markets and major shopping districts. However, many of the usual tourist attractions may be less crowded than during the summer months.
What is the weather like in Paris during winter?
Winter in Paris is usually quite cold, with temperatures often dropping to near freezing at night. It can also be rainy, so bringing warm and waterproof clothing is a good idea.
Is it safe to visit Paris during winter?
Visiting Paris during winter is generally safe, just as it is at any other time of the year. Be mindful of your belongings in crowded areas such as the Christmas markets.
Are the Christmas Markets in Paris good for children?
Yes, children will likely enjoy the Christmas markets in Paris. Many markets feature child-friendly attractions such as carousels, Santa's grottos, stalls and festive decorations.
Paris in winter has a unique charm that's different from any other time of the year. The light-covered trees along the Champs-Élysées are truly special, and the crisp air and the cosy atmosphere at the markets make Paris a special destination.
If you would like to leave a review of Paris Xmas Market, comment below.
—
Recommendations are independently chosen based on personal travel experiences and extensive research. This post contains affiliate links to hotels and tours in Paris, France. This means I get a small commission from any bookings at no extra cost to you.