New York City is an amazing place to visit any time of year, but there's something especially magical about experiencing it during the winter. One of the best events to check out is Union Square Holiday Market, which is known for its festive atmosphere and beautiful decorations. In this guide, find the dates, opening times and what to expect in 2022.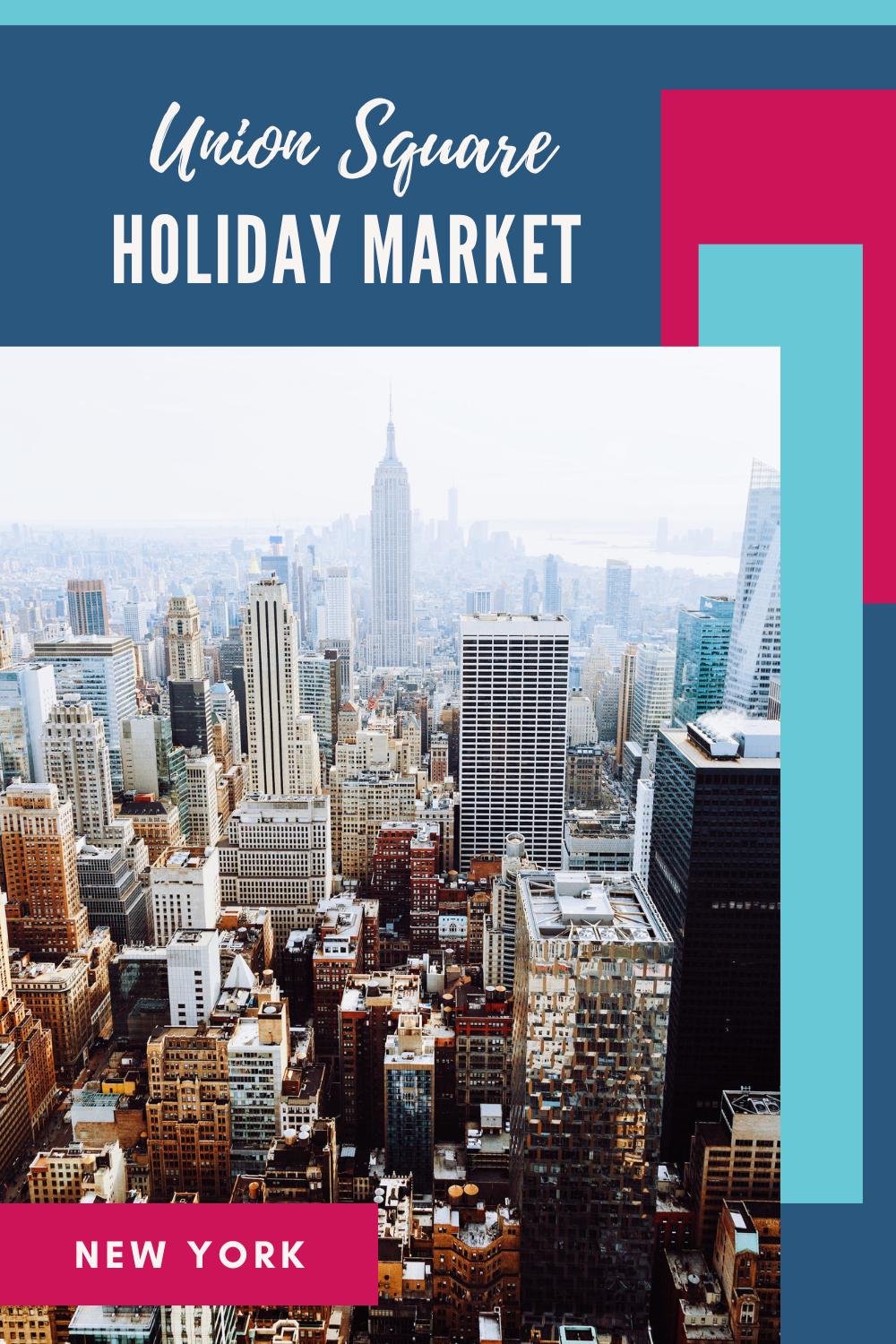 No matter where you go in the city, you'll find plenty of opportunities to get into the holiday spirit, whether it's by checking out the elaborate department store window displays or by taking a spin on the ice at Rockefeller Center.
Union Square Holiday Market 2022
Christmas in NYC is a truly magical experience. The streets are decorated with twinkling lights, festive displays and delicious food.
The Union Square Holiday Market is a must-see winter village for anyone visiting the city during the holiday season, as well as locals, of course.
The market features over 185 holiday chalets, selling a wide variety of holiday gifts, decorations, homewares and food.
You can find everything from handmade crafts and artisanal products to delicious holiday treats. This year, there is a particularly great range of organic, sustainable, zero-waste and other eco-friendly products.
Some interesting vendors at this year's event include:
Raw Spirit – Jewelry handcrafted in Brooklyn.
Soap and Paper Factory – Scented candles and other lovely gifts. Made just outside of NYC.
Salted Baked Goods – Incredible cookies, brownies and other sweet treats. Made in NYC.
Macaron Parlour – Delicious handmade, naturally gluten-free sweet macarons.
Science Seeds – Fun STEM projects for kids. Based in NJ.
Esthetic Living – Swedish dishcloths and homewares. Based in CT.
Gone to the Dogs – Ethical and sustainable dog accessories. Based in Brooklyn.
Palenque – Colombian specialties.
Oh, K-dog – Korean special hot dogs.
Whether you're looking to do some last-minute shopping or just want to take in the festive atmosphere with friends and family, the NYC Christmas Market and Holiday Market at Union Square is the place to be.
Dates and Location
Union Square Holiday Market dates: 17th November to 24th December 2022.
Opening times: 11am to 8pm. Opens at 10am on Saturdays. Closes at 7pm on Sundays.
Christmas Day: Closed Thanksgiving Day and from 4pm on Christmas Eve.
Location: Union Square Park, 14th Street, NYC.
Admission: Free, no tickets required.
Ice skating: Yes. Find an ice skating rink near you.
Vegetarian: Yes, many options.
Vegan: Yes, there is a vegan stand and options throughout the market.
Gluten free: Yes, but check with individual vendors regarding potential contamination.
Accessible: Yes.
Pet-friendly: Yes. Dogs are allowed on a lead.
Parking: Please take public transport to help limit congestion.
Reason to visit: The biggest and most beautiful Christmas market in New York.
Recommended tour: Get into the holiday spirit with this holiday lights bus tour.
Specialities: Independent makers and bakers from NYC and nearby.
Where to stay: Walker Hotel in Greenwich Village is a stylish hotel, located 2 blocks from the holiday market.
Hotels near Union Square NYC
There are a ton of cool neighborhoods in NYC, but Greenwich Village is definitely one of the best. It's got a laid-back, bohemian vibe and is home to some of the city's best bars, restaurants, and shops. This is a great area to stay if you'd like to be near Union Square Holiday Market.
I suggest staying at Walker Hotel as it's in a great Greenwich Village location and is less than a 10-minute walk to the holiday market.
Map Location of Union Square Holiday Market
If you're looking to get into the holiday spirit, check out my guide to the best Christmas markets in the United States!
NYC tourism is a helpful resource if you're planning a trip to the city. They can provide you with maps, brochures, and other helpful information about things to do and see in the area. Their website is also packed with helpful tips and advice for visitors, so it's worth checking out.
Sustainable Christmas Tips
Many of us are increasingly concerned about climate change and sustainability.
Switch to renewable energy sources for heating and lighting your home during the holidays
Use energy-efficient light bulbs and appliances to reduce your energy consumption
Plan your holiday meals carefully to reduce food waste, and consider composting any food scraps
Limit your consumerism by giving experiences or homemade gifts instead of buying new things
Consider eating a more sustainable diet by choosing locally-sourced, organic, and plant-based foods
Use sustainable forms of transportation to get to holiday events, such as walking, biking, or using public transit.
Please share your Christmas sustainability tips in the comments.
FAQ
When is Union Square Holiday Market?
Union Square Holiday Market starts on 17th November and ends on 24th December 2022.
Where is Union Square Holiday Market?
The holiday markets in Union Square are held at Union Square Park, 14th Street, NYC.
What time does Union Square Holiday Market open?
The holiday markets are open from 11am to 8pm. Opens at 10am on Saturdays. Closes at 7pm on Sundays.
If you would like to leave a review of Union Square Xmas Market, feel free to comment below.
—
Recommendations are independently chosen based on personal travel experiences and extensive research. This post contains affiliate links to hotels and tours in NYC, USA. This means I get a small commission from any bookings at no extra cost to you.