Germany has so many wonderful Christmas markets, but if I had to choose the very best, it would be Dresden Christmas Market. You can't beat the incredible beauty of Dresden's baroque Old Town (Altstadt) with the rebuilt Frauenkirche, Brühl's Terraces, the Opera and the incredible Zwinger.
In this guide, I share the confirmed Christmas market dates and opening times for 2023.
As you walk around the Christmas markets in Dresden, the scent of mulled wine and gingerbread is strong and inviting, tempting you to linger and explore the chalets.
The fairy lights and (occasionally) snow-dusted stalls create a magical atmosphere that envelops you in a winter wonderland.
The warm smiles of the vendors and the sound of live music echoing through the cobblestone streets truly make you feel the spirit of the season in this charming German city.
Dresden Christmas Market 2023
Stepping into Dresden's Christmas markets, you'll find yourself immersed in centuries of tradition, as Striezelmarkt is the oldest in Europe and possibly the largest in Germany.
Exploring the variety of markets, you'll encounter the enchanting Frauenkirche Christmas Market steeped in tradition and the more intimate Romantic Christmas Market, perfect for a more relaxing experience.
With such a rich history and diverse selection, Dresden's Christmas markets provide the perfect setting for you to discover the true essence of a European Christmas.
Dates and Location
Dresden Christmas Market dates: 29th November to 24th December 2023.
Location: Striezelmarkt is located at Altmarkt but there are 11 Christmas markets in Dresden.
Opening times: 10am to 9pm.
Christmas Day: Closed.
After Christmas: Christmas market in Dresden's Neumarkt, Augustusmarkt and in the Stallhof continue until the beginning of January 2024.
Admission: Free.
Christmas lights: Yes, switch on date: 29th November 2023.
Santa: No.
Ice skating: No.
Vegetarian: Yes, plenty of options.
Vegan: Yes, plenty of options.
Gluten free: Yes, but limited.
Accessible: Yes.
Pet-friendly: Yes, dogs are allowed on a lead.
Reason to visit: The Striezelmarkt is the oldest Christmas market in Germany. Dresden is one of the most affordable cities in Germany and great value at Christmas.
Recommended tour: Dresden Advent tour is a city tour with stops at three Christmas markets plus you get to try the famous Dresden stollen and drink mulled wine.
Specialties: Dresden stollen sweet bread, hot cider instead of mulled wine and Dresden rahmklecks, a local bread topped with savoury fillings.
Dresden weather in winter: Temperatures average 5°C / 0°C (high / low) in December.
Where to stay: Townhouse Dresden, located in the absolute heart of the Altstadt next to the Frauenkirche.
Hotels near Dresden Christmas Market
In Dresden, you'll want to stay in the Altstadt to be within easy access to the Christmas markets and the most interesting city sights.
This is why I suggest staying at Townhouse Dresden. This hotel is located in the absolute centre of Altstadt, directly on Neumarkt, which is the location of one of the Christmas markets and a short walk to Striezelmarkt.
If you'd prefer to stay elsewhere, this guide to hotels near Dresden Christmas Market lists the city's best places to stay for all budgets.
Location of Striezelmarkt Christmas Market
City and Christmas Tours
A city tour of Dresden is an excellent opportunity to explore the city's abundant history and culture. With its picturesque old town, vibrant buildings, and remarkable architecture, Dresden is a destination that appeals to all tastes.
I suggest this city tour of Dresden to see the highlights or perhaps choose a food tour to delve into the local culture through their culinary delights.
This dedicated Christmas market tour might be a good choice if you're particularly interested in the history and food in Dresden.
On a typical city tour, you'll visit Dresden's iconic landmarks and attractions, such as the historic Procession of Princes, the elegant Semperoper, and the impressive Frauenkirche.
Christmas in Dresden
I believe Dresden deserves a spot on the list of the best Christmas markets in Germany 2023, but there are many other places to go. Read the guide to find out where.
11 Christmas Markets in Dresden in 2023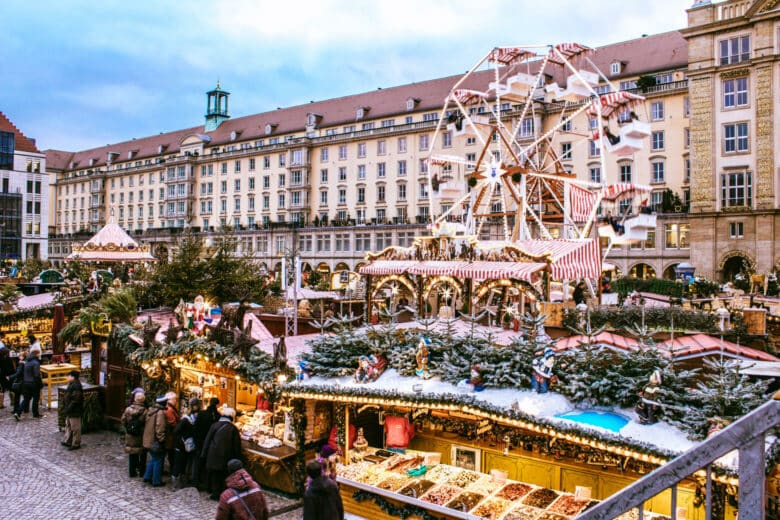 The Christmas season is huge in Dresden and the surrounding areas in Saxony. The most popular Christmas events and markets are in Altstadt, but it's worth spending time to get away from the centre for a few hours to experience other areas.
Striezelmarkt – As Germany's oldest and most popular Christmas market, the Striezelmarkt entices visitors with an array of gift options and an interesting blend of traditional and contemporary food. With kid-friendly rides and adult attractions, this market has something for everyone to enjoy.
Frauenkirche Christmas Market – Set against the stunning backdrop of the pale-domed Frauenkirche, this traditional market lines the narrow Münzgasse from late November until Christmas Eve, offering a picturesque setting to explore festive treats and treasures.
Advent at Neumarkt – Located in front of the Frauenkirche, Advent at Neumarkt fills the entire pedestrian square until 23rd December 2023. This market showcases artisanal crafts and delicious culinary specialties for visitors to enjoy.
Augustus Market – Venture across the river to the modern Neustadt district, where the Augustus Christmas Market takes place at Albertplatz. Cross the historic Augustus Bridge and head towards the Ferris wheel to discover this vibrant market scene.
Stallhof Advent Festival – Nestled within the walls of the Dresden Royal Palace at Schlossplatz, this market has a stunning array of traditional artisan crafts, truly celebrating craftsmanship and the Christmas spirit.
Postplatz Alpine Huts – This 18+ evening market exudes an après-ski atmosphere, specialising in hot drinks, mulled wine, and hot cider. It offers a unique, adults-only take on the traditional Christmas market experience.
Neustädter Gelichter – Situated across the river in Neustadt, this alternative Christmas market features local handmade gifts, jewellery, and an array of vegan and vegetarian food options, appealing to diverse tastes.
Romantic Christmas Market – Less focused on tradition and more on festive decorations, this market is held in the courtyard of the Taschenbergpalais, providing a charming atmosphere for visitors to enjoy.
St Nicholas Market – Located in Outer Neustadt, Dresden's trendy neighbourhood, this modern alternative to the city's classic Christmas markets offers a contemporary twist on festive celebrations and shopping.
Christmas Specialties in Dresden
Dresdner Stollen: A rich, fruity cake made with candied fruits, nuts, and spices, this traditional Dresden specialty is a must-try during the holiday season.
Christstollen: Similar to Dresdner Stollen, this German Christmas cake is laden with dried fruits, nuts, and marzipan and then dusted with powdered sugar.
Lebkuchen: These German gingerbread cookies come in various shapes and flavours, often adorned with icing or chocolate, and make for a delicious vegetarian treat.
Spekulatius: Aromatic spiced biscuits, traditionally shaped with images of Christmas or winter scenes, these delights add a touch of whimsy to your holiday snacking.
Kartoffelsalat: This potato salad, typically made with a vinegar-based dressing, is a favourite side dish and a great vegetarian option at German Christmas celebrations.
Quarkkeulchen: These sweet, fried dumplings are made from quark, a type of fresh cheese, and are often served with fruit compote or cinnamon sugar for a delicious vegetarian dessert.
Food at the Christmas Market
Glühwein: Warm up with this spiced mulled wine, a quintessential drink found at German Christmas markets, served hot to fend off the winter chill.
Bratwurst: Sizzling on the grill, these juicy German sausages are a popular savoury snack, enjoyed with a dollop of mustard and a crusty bread roll.
Pulsnitzer Pfefferkuchen: Discover these gingerbread-like cookies from the nearby town of Pulsnitz, known for their delicious spice blend and unique texture.
Eierschecke: Treat yourself to this traditional Saxon cheesecake, made with layers of quark, eggs, and a buttery base, often sprinkled with raisins and dusted with powdered sugar.
Schokoladen-Früchte: Indulge in fruits, such as strawberries or bananas, dipped in rich, melted chocolate, adding a touch of luxury to your Christmas market experience.
Flammkuchen: Sample this thin, crispy flatbread topped with crème fraîche, onions, and bacon, or try a vegetarian version with cheese and vegetables.
Roasted chestnuts: Enjoy the simple pleasure of warm, roasted chestnuts, a classic Christmas market snack that evokes feelings of nostalgia and festive cheer.
What to Buy
Handcrafted ornaments: Adorn your tree with unique, locally-made Christmas ornaments showcasing the artisanal skills of Dresden craftsmen.
Wooden toys: Gift your loved ones traditional wooden toys, such as nutcrackers and figurines, made with love and care by local artisans.
Pottery: Browse through the stalls featuring Saxon pottery, perfect for adding a touch of regional charm to your home or as a thoughtful gift.
Dresden lace: Known for its intricate design and fine quality, Dresden lace makes for an elegant keepsake or a beautiful present.
Saxon wines: Bring home a taste of the region with local Saxon wines, reflecting the area's unique terroir and winemaking traditions.
German confections: Delight friends and family with a selection of sweet treats, like marzipan and stollen, which capture the essence of German Christmas flavours.
Handmade candles: Illuminate your home with the warm glow of handmade candles, available in a variety of shapes, sizes, and scents, reflecting the spirit of the season.
Visit Dresden is the city's official website, where you can find information on Christmas events and the latest updates for visitors.
Sustainable Travel Tips
The choices we make have an environmental and social impact on the places we visit. When visiting the Christmas markets, keeping sustainability in mind is important.
Implement some or all of these responsible travel measures during your visit to Dresden.
Use public transport: Make use of Dresden's extensive public transport network, including trams, buses, and S-Bahn trains, to reduce your carbon footprint while exploring the city.
Rent a bike or walk: Discover Dresden at a leisurely pace by renting a bike or simply walking, both eco-friendly options for sightseeing and getting around. Even in winter, this is generally possible.
Choose renewable energy-powered accommodations: Opt for hotels or B&Bs that use renewable energy sources, such as solar or wind power, to reduce your environmental impact.
Consume local and seasonal foods: Savour the flavours of the region by choosing local and seasonal produce, supporting Dresden's farmers and reducing the carbon emissions associated with transporting food long distances.
Reduce food waste: Be mindful of portion sizes and order only what you can eat, or consider sharing dishes with your travel companions to minimise food waste.
Carry reusable items: Bring your own reusable water bottle, shopping bag, and cutlery to cut down on single-use plastics during your visit. You might notice that some of the plates and bowls at the Christmas markets are edible, which is interesting.
Support ethical businesses: Seek out local artisans and vendors who follow ethical practices, promoting fair wages and sustainable materials in their products.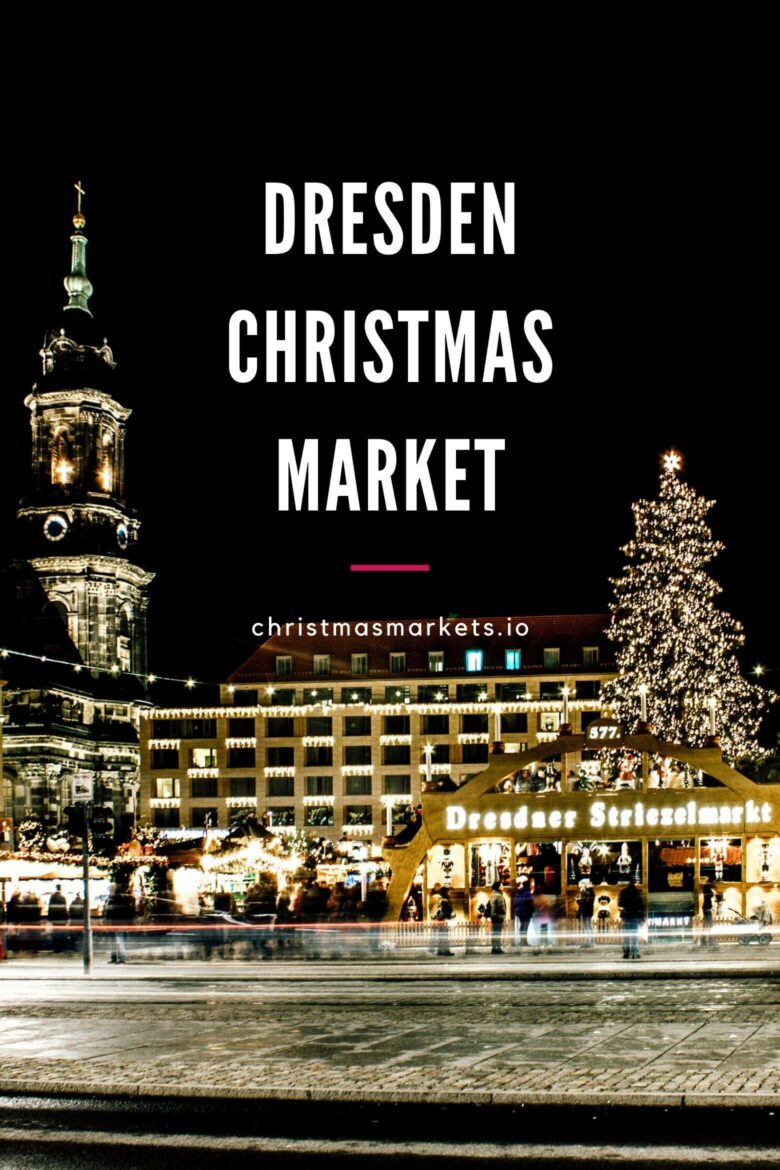 FAQ
Does Dresden have a Christmas market?
Yes! Dresden Christmas Market is the oldest in the world.
How long does Dresden Christmas Market last?
The Christmas market lasts for 26 days, from 29th November to 24th December 2023.
Which city is best for Christmas in Germany?
Dresden is the best city in Germany for Christmas! Striezelmarkt is the oldest Christmas market in Germany. You can't beat the incredible beauty of Dresden's baroque Old Town (Altstadt) with the rebuilt Frauenkirche, Brühl's Terraces, the Opera and the incredible Zwinger. Dresden is one of the most affordable cities in Germany and is of great value at Christmas.
How many Christmas markets are there in Dresden?
There are 11 Christmas markets in Dresden in 2023, with Striezelmarkt being the main Christmas market. The region has several additional Christmas markets, including in the market square in Meißen and Pirna.
Embrace the magic of the season as you explore the enchanting streets of Dresden this winter. The city's rich history, stunning architecture, and vibrant Christmas markets make it a destination that warms the heart and sparks the imagination.
If you have visited Dresden in winter or want to leave a review of Dresden Xmas Market, please comment below. This helps others interested in visiting and trying to plan their holiday.
—
Recommendations are independently chosen based on personal travel experiences and extensive research. This post contains affiliate links to hotels and tours in Dresden, Germany. This means I get a small commission from any bookings at no extra cost to you.