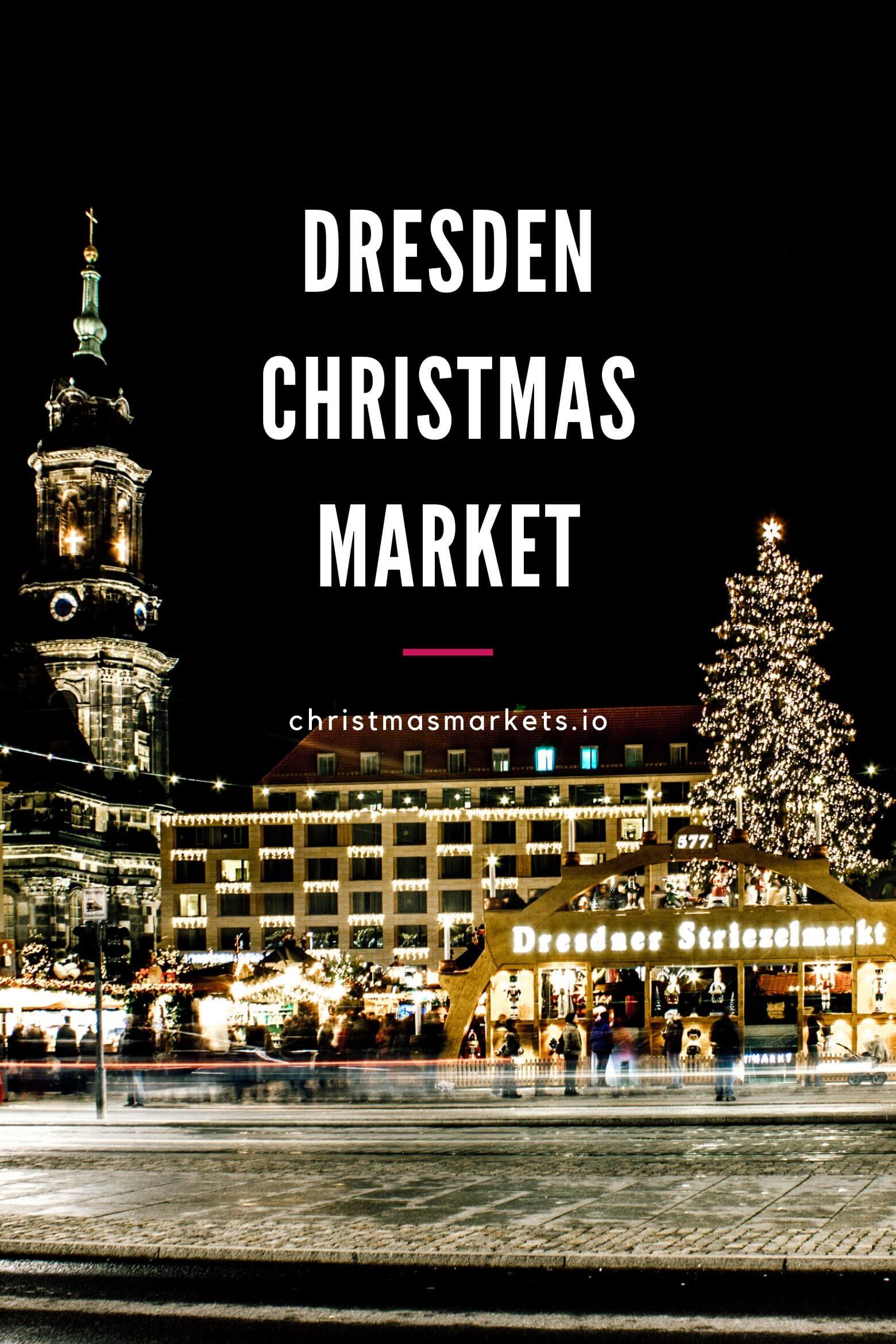 Germany has so many incredible Christmas markets but if I had to choose the best, Dresden Christmas market would be my pick. You can't beat the incredible beauty of Dresden's baroque old town. There is nowhere like it in Germany. Of course, most of the city was destroyed during WWII but it the Altstadt was rebuilt in its original style, so to the untrained eye, the buildings look hundreds of years old.
The other reason to rate Dresden's Christmas markets so highly is the history and quality of the markets. Dresden's markets are the oldest in Europe, the long history of the Striezelmarkt is unmatched and today you have a huge variety of Christmas markets from the traditional Frauenkirche Christmas market to the quieter Romantic Christmas Market.
Dresden Christmas Market 2019
Dresden Christmas Market dates: 27th November to 24th December 2019.
Location: The main Striezelmarkt is located at Altmarkt Square but there are many other Advent markets in Dresden.
Reason to visit: The Striezelmarkt is the oldest Christmas market in Germany. Dresden is one of the most affordable cities in Germany and great value at Christmas.
Specialties: Dresden stollen sweet bread, hot cider instead of mulled wine and Dresden rahmklecks, a local bread topped with savoury fillings.
Travel tip: Sadly the famous New Green Vault museum lost many of its treasures in a recent heist. Even so, the museum is still one of the best in the world.
Recommended tour: Dresden Advent tour. A city tour with stops at three Christmas markets in Dresden plus you get to try the famous Dresden stollen.
Where to stay: Vienna House QF, located in the absolute heart of the Altstadt next to the Frauenkirche.
Winter events: Dresden has a huge line up of winter events including concerts, dancing and free events for all ages.
Dresden weather in winter: Temperatures average 5°C / 0°C (high / low) in December.
Plan your trip: Resources to plan your Christmas holiday or winter break.
Dresden Christmas Markets and Specialities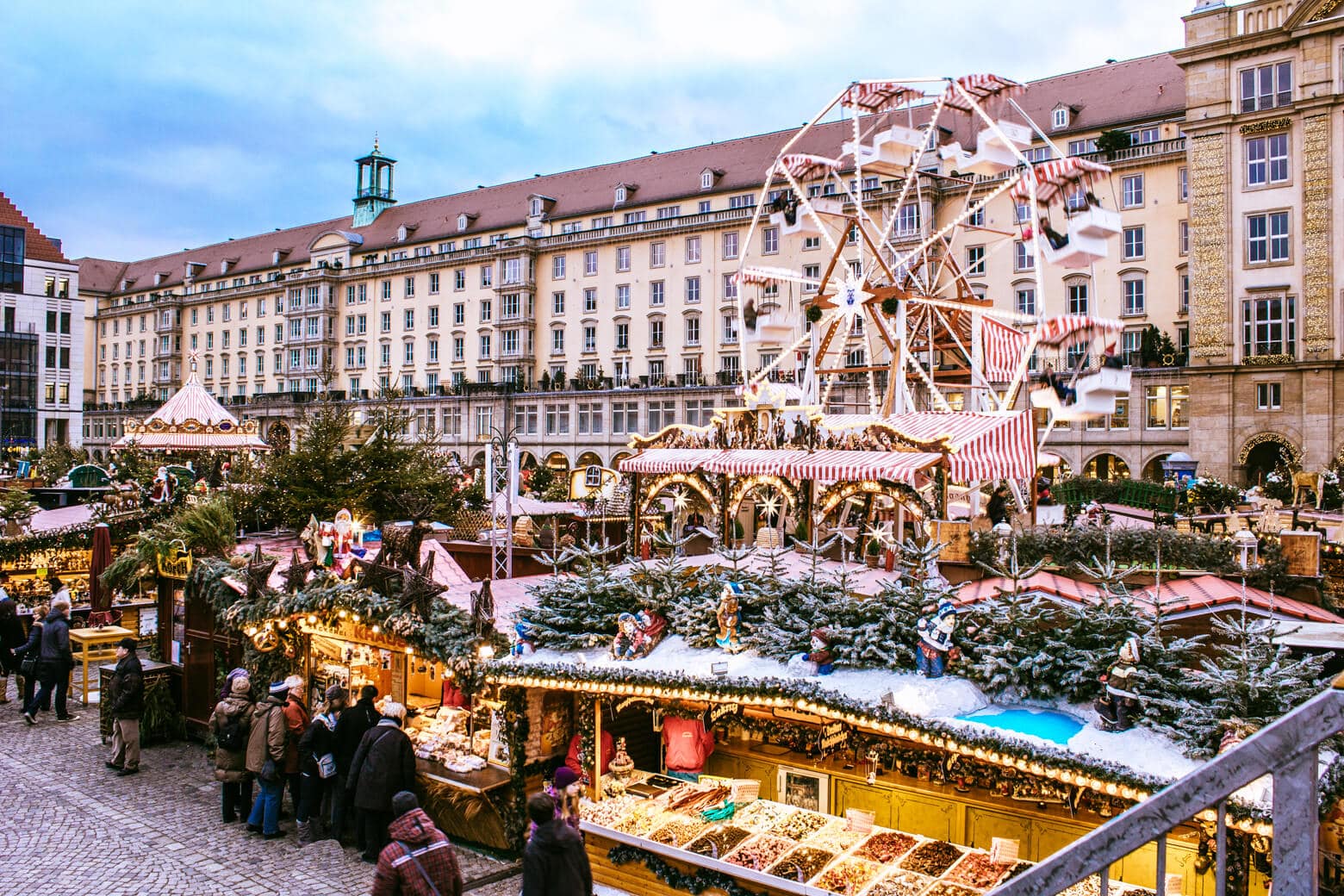 The Christmas season is huge in Dresden along with the surrounding areas in Saxony. The most popular Christmas events and markets are in the Altstadt but it's worth spending time to get away from the centre for a few hours to experience other areas.
Striezelmarkt – The oldest and most popular Christmas market in Dresden with Christmas stalls selling all kinds of gifts and traditional and modern food. There are popular Christmas rides for the kids and a few for adults to enjoy too.
Frauenkirche – The traditional Christmas markets in front of the stunning pale domed Frauenkirche is one not to be missed. It takes place from late November to Christmas Eve, along narrow Münzgasse.
Advent at Neumarkt – Also in front of the Frauenkirche, the Advent at Neumarkt takes over the entire pedestrian square until the 23rd December. This market is focused on artisanal crafts and delicious culinary classics.
Augustus Market – Across the river at the more modern Neustadt neighbourhood is the Augustus Christmas market on Albertplatz. Cross the historic Augustus Bridge towards to Ferris wheel to start exploring the markets.
Stallhof Advent Festival – Within the walls of the Dresden Royal Palace at Schlossplatz is a true craftsperson and traditional artisan Christmas market.
Postplatz Alpine Huts – An evening market with an apres-ski vibe specialising in hot drinks, mulled wine and hot cider. A very different Christmas market for over 18s.
Neustädter Gelichter – Also across the river in Neustadt is an alternative take on the Christmas market with local handmade gifts, jewellery and vegan and vegetarian Christmas food.
Romantic Christmas Market – A less traditional and more decoration focused Christmas market in the courtyard of the Taschenbergpalais.
St Nicholas Market – Located in Outer Neustadt, Dresden's hipster neighbourhood, this is a modern alternative to Dresden's traditional, classic Christmas markets.
For more details on Christmas events in Dresden, visit the official Striezelmarkt website or visit Dresden.
Map of Dresden
If you have visited Dresden in December or Christmas in Germany and would like to share your experience, leave a comment below.
This post contains affiliate links to hotels in Dresden and recommended tours. This means we get a small commission from any bookings at no extra cost to you.