Germany has so many wonderful Christmas markets but if I had to choose the very best, it would be Dresden Christmas Market. You can't beat the incredible beauty of Dresden's baroque Old Town (Altstadt) with the rebuilt Frauenkirche, Brühl's Terraces, the Opera and the incredible Zwinger.
The Christmas markets in Dresden are the oldest in Europe and probably the biggest in Germany.
Dresden Christmas Market 2022
The long history of the Striezelmarkt is unmatched and today you have a huge variety of Christmas markets from the traditional Frauenkirche Christmas market to the quieter Romantic Christmas Market.
Dresden Christmas Market dates: 23rd November to 24th December 2022.
Location: Striezelmarkt is located at Altmarkt but there are several other Advent markets in Dresden.
Reason to visit: The Striezelmarkt is the oldest Christmas market in Germany. Dresden is one of the most affordable cities in Germany and great value at Christmas.
Specialties: Dresden stollen sweet bread, hot cider instead of mulled wine and Dresden rahmklecks, a local bread topped with savoury fillings.
Recommended tour: Dresden Advent tour is a city tour with stops at three Christmas markets plus you get to try the famous Dresden stollen and drink mulled wine.
Dresden weather in winter: Temperatures average 5°C / 0°C (high / low) in December.
Where to stay: Townhouse Dresden, located in the absolute heart of the Altstadt next to the Frauenkirche.
Hotels near Dresden Christmas Market
In Dresden, you'll want to stay in the Altstadt to be within easy access to the Christmas markets and the most interesting city sights.
This is why I suggest staying at Townhouse Dresden. This hotel is located in the absolute centre of Altstadt, directly on Neumarkt which is the location of one of the Christmas markets and a short walk to Striezelmarkt.
If you'd prefer to stay elsewhere, this guide to hotels near Dresden Christmas Market lists the city's best places to stay for all budgets.
Dresden Christmas Markets and Specialities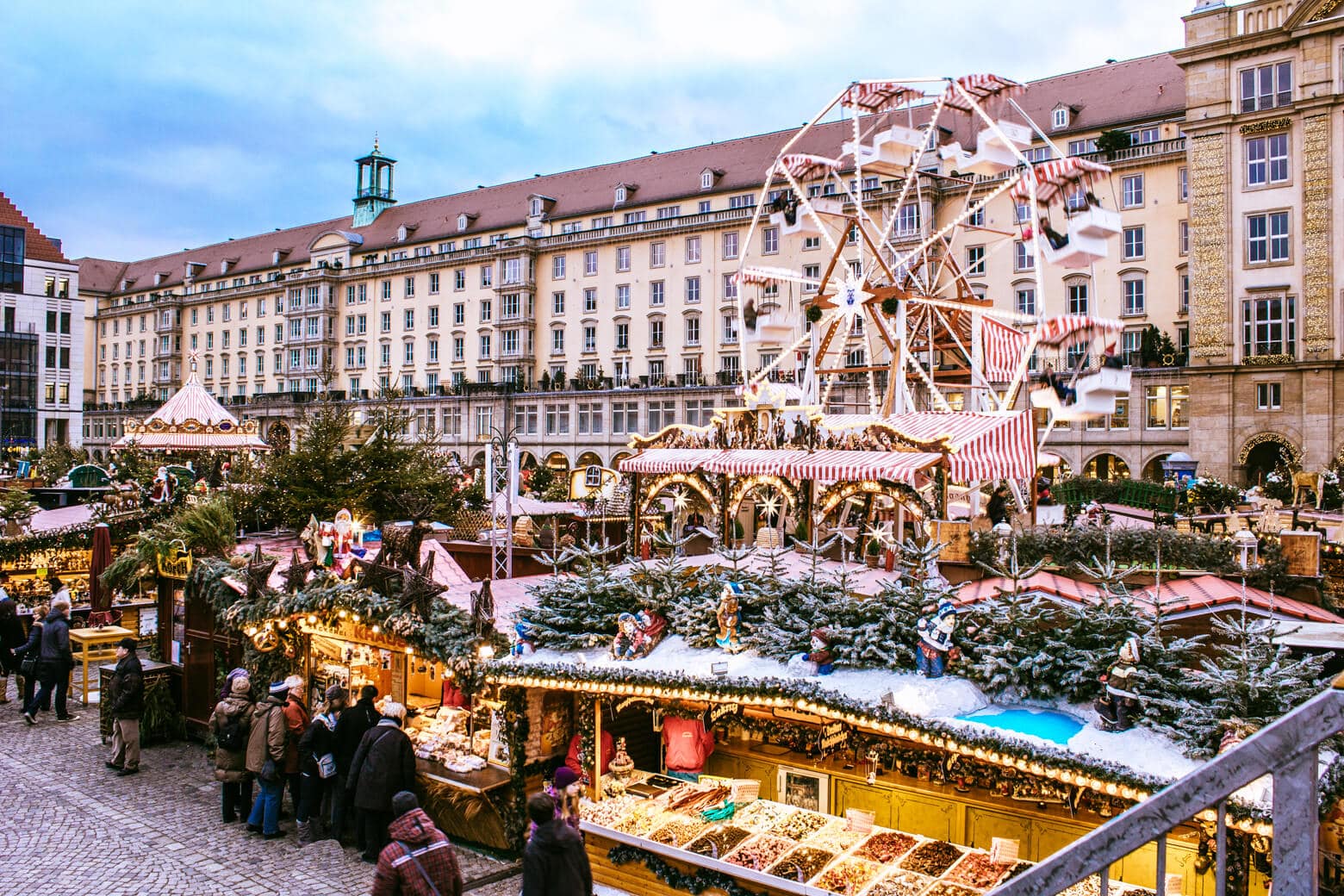 The Christmas season is huge in Dresden along with the surrounding areas in Saxony. The most popular Christmas events and markets are in Altstadt but it's worth spending time to get away from the centre for a few hours to experience other areas.
Striezelmarkt – The most popular and oldest Christmas market in Germany with Christmas stalls selling all kinds of gifts and traditional and modern food. There are popular Christmas rides for the kids and a few for adults to enjoy too.
Frauenkirche – The traditional Christmas market in front of the stunning pale domed Frauenkirche is one not to be missed. It takes place from late November to Christmas Eve, along narrow Münzgasse.
Advent at Neumarkt – Also in front of the Frauenkirche, the Advent at Neumarkt takes over the entire pedestrian square until 23rd December 2022. This market is focused on artisanal crafts and delicious culinary classics.
Augustus Market – Across the river at the more modern Neustadt neighbourhood is the Augustus Christmas market on Albertplatz. Cross the historic Augustus Bridge towards to Ferris wheel to start exploring the markets.
Stallhof Advent Festival – Within the walls of the Dresden Royal Palace at Schlossplatz is a true craftsperson and traditional artisan Christmas market.
Postplatz Alpine Huts – An evening market with an apres-ski vibe specialising in hot drinks, mulled wine and hot cider. A very different Christmas market for over 18s only.
Neustädter Gelichter – Also across the river in Neustadt is an alternative take on the Christmas market with local handmade gifts, jewellery and vegan and vegetarian Christmas food.
Romantic Christmas Market – A less traditional and more decoration-focused Christmas market in the courtyard of the Taschenbergpalais.
St Nicholas Market – Located in Outer Neustadt, Dresden's hipster neighbourhood, this is a modern alternative to Dresden's traditional, classic Christmas markets.
Visit Dresden has information on Xmas events and the latest updates for visitors.
Location of Dresden Christmas Market
I've always believed Dresden to be one of the best Christmas markets in Germany but there are many other places to go. Read the guide to find out where.
Sustainable Travel Tips
The choices we make have an environmental and social impact on the places we visit. When visiting the Christmas markets, it's important to keep sustainability in mind.
Implement some or all of these responsible travel measures during your visit.
Shop mindfully. Only purchase what you really need.
Walk, cycle and use public transport to get around.
Stay in a sustainable hotel powered by renewable energy.
Stay in hotels. Short-stay apartment accommodation can lead to a lack of affordable housing for locals.
Avoid using plastic or buying items made or packaged with plastic.
Try to eat locally sourced organic food where possible.
Limit your consumption of meat and dairy.
Be open to diverse cultures and experiences.
Explore more than just the main tourist areas.
Support the arts and attend local events.
Visit fewer places but stay longer at each destination.
FAQ
Does Dresden have a Christmas market?
Yes! Dresden Christmas Market is the oldest in the world.
How long does Dresden Christmas Market last?
The Christmas market lasts for 33 days from 23rd November to 24th December 2022.
Which city is best for Christmas in Germany?
Dresden! Striezelmarkt is the oldest Christmas market in Germany. You can't beat the incredible beauty of Dresden's baroque Old Town (Altstadt) with the rebuilt Frauenkirche, Brühl's Terraces, the Opera and the incredible Zwinger. Dresden is one of the most affordable cities in Germany and great value at Christmas.
How many Christmas markets are there in Dresden?
There are 9 Christmas markets in Dresden.
If you have visited Dresden in winter or would like to leave a review of the Christmas market, feel free to comment below. This helps others who are interested in visiting and are trying to plan their holiday.