While you might not make a special trip to Italy to visit the Bologna Christmas Market, it is definitely worth visiting if you happened to be in the area or want to incorporate it into your winter holiday. Bologna's Christmas market is known as Fiera di Santa Lucia and is one of the oldest Christmas markets in Italy.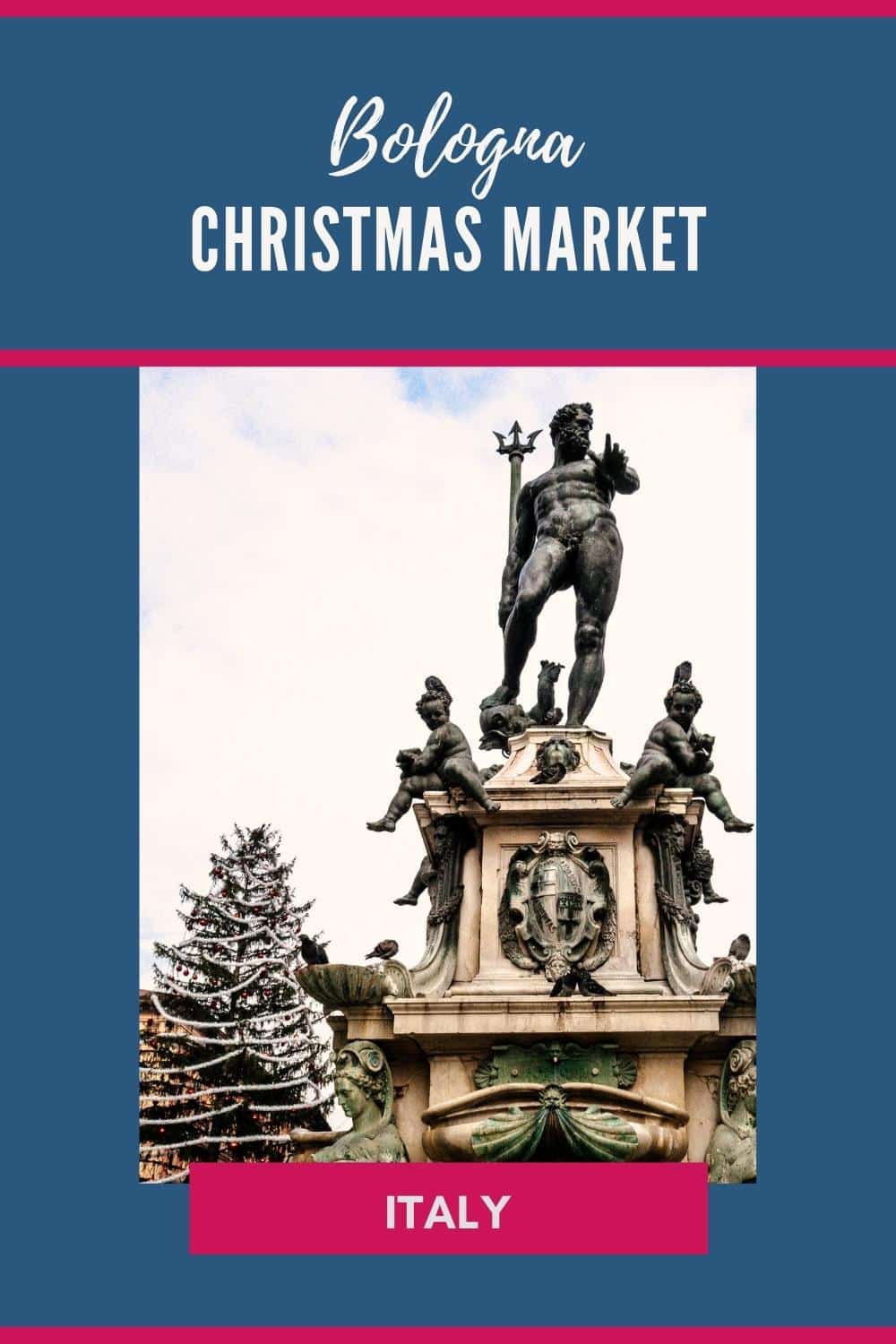 Bologna is one of Italy's finest foodie cities. It's worth visiting at any time of the year, including in winter when you can focus on eating out, visiting museums and trying different foods at the Christmas market.
Bologna in December celebrates the festive season by decorating much of the historic city centre with festive lights, decorations and the Bologna Christmas tree that is located opposite the Fountain of Neptune.
Bologna Christmas Market 2022
As the gourmet capital of the Emilia-Romagna region, and quite possibly all of Italy, the Christmas market in Bologna adds to incredible foodie options and events available during the festive season.
If you love Italian food, you must visit Bologna if you can and Christmas in Bologna is particularly special.
Bologna Christmas Market dates: 17th November – 26th December 2022.
Opening hours: 9am to 8pm.
Location: Strada Maggiore (Portico dei Servi) but also at Piazza Maggiore, Via Altabella and Corte Isolani.
Reason to visit: Bologna is all about the food.
Specialties: All the regional cuisine like tagliatelle with ragù, tortellini en brodo, parmigiano reggiano, balsamico di Modena, piadina, parma ham and mortadella.
Christmas tours: A food tour is highly recommended in Bologna or search our other tours.
Winter events: The French Christmas Village and the International Nativity Fair.
Bologna weather in winter: Temperatures average 7°C / 2°C (high / low) in December.
Hotels near Bologna Christmas Market
The most convenient area to stay in Bologna is in the historic city centre near Piazza Maggiore, the main square and location of many events including the Christmas markets.
Read my guide to hotels near Bologna Christmas Market to find a hotel that suits your needs for your trip this winter.
My top recommendation is Art Hotel Commercianti as it's located just steps from the Christmas market, opposite the famous basilica.
If you're visiting more destinations on this trip, this list of Christmas hotels might help with your planning.
Bologna Christmas Market Specialities
At the Christmas market in Bologna, you can find all the typical market specialities. But what you really should try are foods that are local to the Emilia-Romagna region.
Especially look out for local products that are protected under European law. These products are restricted in their labelling and must be from the originating city or region and produced according to strict guidelines.
All of these are from Emilia-Romagna and you'll discover much more when you arrive. A few examples for you to look out for:
Balsamic vinegar from Modena.
Prosciutto di Parma.
Mortadella from Bologna.
Grana padano from Piacenza.
Tagliatelle a ragu.
Parmigiano-reggiano.
Tortellini.
Zuppa inglese.
Lambrusco sparkling wine.
Places where you might want to eat out or put on your list for another time:
La Sorbetteria Castiglione – May as well start with the most important. The best gelato in Bologna. Via Castiglione, 44.
Osteria dell'Orsa – Affordable lunch specials but be prepared to queue on the weekends. Via Mentana 1.
Trattoria da Leonida – Also hugely popular on the weekends. Vitolo Allemagne, 2.
Trattoria Anna Maria – Apparently the best zuppa inglese in the world but also great for local specialities. Via delle Belle Arti, 17.
Drogheda della Rosa – High-end specials of the day. Via Cartoleria.
10 Berbere – Top quality gourmet pizza with organic ingredients. Via Giuseppe Petroni, 9.
Alce Nero – Sister restaurant to Berbere, all seasonal, local and organic. Via Giuseppe Petroni, 9.
Le Stanze – The most beautiful location for an aperitivo. Borgo di San Pietro, 1.
Cafe Zamboni – Incredible hot chocolate fondant. Via Zamboni, 6.
Camera a Sud – A quirky cafe popular with students. Via Valdonica, 5.
Eataly – Gourmet food, cookware and cookbooks. Via degli Orefici, 19.
Mercato delle Erbe – Fruit and veggie market. Via Ugo Bassi, 25.
Food market and shops behind Piazza Maggiore Via Pescheria Vecchie.
Bologna Food Market
If you are visiting Bologna at Christmas but find the Christmas markets to be closed or cancelled, you can be thankful there are still plenty of opportunities to enjoy the incredible specialties and cuisine from the Emilia-Romagna region.
The Bologna food market isn't just one market but a number of excellent fresh food markets located in the old town around Piazza Maggiore (the main square).
Walking around the famous arcades you'll discover several wonderful food shops and little markets. Take your time and enjoy each place.
Take the opportunity to chat with the store owners to find out what is fresh and in-season and how to cook or prepare what you're buying.
Bologna is a great city for eating out but if you stay in an apartment, you can prepare your own meals after shopping locally, a wonderful experience for those who love to cook with the best ingredients. This is a great option if you're staying longer in the city.
Location of Fiera di Santa Lucia
Sustainable Travel Tips
The choices we make have an environmental and social impact on the places we visit. When visiting the Christmas markets, it's important to keep sustainability in mind.
Implement some or all of these simple measures to create a positive impact.
Shop mindfully. Only purchase what you really need.
Walk, cycle and use public transport to get around.
Stay in a sustainable hotel powered by renewable energy.
Stay in hotels. Short-stay apartment accommodation can lead to a lack of affordable housing for locals.
Avoid using plastic or buying items made or packaged with plastic.
Try to eat locally sourced organic food where possible.
Limit your consumption of meat and dairy.
Be open to diverse cultures and experiences.
Explore more than just the main tourist areas.
Support the arts and attend local events.
Visit fewer places but stay longer at each destination.
FAQ
Does Bologna have a Christmas market?
Yes, the Christmas market in Bologna is known as Fiera di Santa Lucia.
Is Bologna worth visiting in December?
Bologna is a fun city that's worth visiting all year round, including in December. It's Italy's top foodie city and has a festive Christmas market in the city centre.
When is Bologna Christmas Market?
17th November to 26th December 2022.
Emilia-Romagna Tourism is the regional tourism website where you can find things to do in Bologna, get the latest Christmas market dates, times and locations and read reviews on all the amazing foodie spots.
If you have visited Bologna in winter or would like to review the Christmas market, leave a comment below. This helps others who are planning on visiting this year.
—
Recommendations are independently chosen based on personal travel experiences and extensive research. This post contains affiliate links to hotels and tours in Bologna, Italy. This means I get a small commission from any bookings at no extra cost to you.