While you might not make a special trip to Italy to visit the Bologna Christmas Market, it's worth visiting if you happen to be in the area or want to incorporate it into your winter holiday.
Bologna has at least three Christmas markets. Fiera di Santa Lucia is one of the oldest Christmas markets in Italy. The smaller Fiera di Natale is not far from Piazza Maggiore, while the French Christmas Village highlights French produce. There's also the Epiphany Festival that stretches along via dell'Indipendenza.
Read on for all the confirmed 2023 dates, locations and opening times.
Bologna is one of Italy's finest foodie cities. Often referred to as Italy's culinary capital, the city is renowned for its rich gastronomic heritage and vibrant food scene.
It's worth visiting at any time of the year, including in winter, when you can focus on eating out, visiting museums and trying different foods at the Christmas market.
Bologna in December celebrates the festive season by decorating much of the historic city centre with festive lights, decorations and the Bologna Christmas tree that is located opposite the Fountain of Neptune.
Bologna Christmas Market 2023
The Christmas market in Bologna, known as Fiera di Natale or Mercato di Natale, is set up throughout the historic city centre near Piazza Maggiore and at Portico dei Servi on Strada Maggiore.
You'll know you've reached the right place as the delicious aroma of seasonal treats fills the air.
Rows of charming wooden chalets adorned with twinkling lights offer a wide range of traditional Italian food, handmade crafts, and unique gifts.
Bologna Christmas Market dates (Fiera di Santa Lucia): 10th November to 26th December 2023.
Location: Strada Maggiore at Portico dei Servi.
Opening times: 9am to 8pm.
Christmas Day: Possibly open.

Christmas Fair dates (Fiera di Natale): 23rd November 2023 to 7th January 2024.
Location: Via Altabella at St Peter's Cathedral, near Piazza Maggiore.

French Christmas Village dates: 24th November to 24th December 2023.
Location: Piazza Minghetti.

Antiques Fair dates: 11th to 24th December 2023.
Location: Piazza Maggiore.

Epiphany Festival dates: 2nd to 8th January 2024.
Location: Via dell'Indipendenza, via Rizzoli and via Ugo Bassi.

Admission: All markets are free to enter.
Christmas lights: No announced switch on date.
Santa: No.
Ice skating: Not at the Christmas market, but at the FICO food theme park.
Vegetarian: Yes, plenty of options.
Vegan: Yes, plenty of options.
Gluten free: Yes, but limited.
Accessible: Yes.
Pet-friendly: Yes, dogs are allowed on a lead.
Reason to visit: Bologna is all about the food.
Specialties: All the regional cuisine like tagliatelle with ragù, tortellini en brodo, parmigiano reggiano, balsamico di Modena, piadina, parma ham and mortadella.
Christmas tours: A food tour is highly recommended in Bologna or search our other Christmas tours.
Winter events: The French Christmas Village and the International Nativity Fair.
Bologna weather in winter: Temperatures average 7°C / 2°C (high / low) in December.
Where to stay: Art Hotel Commercianti is a highly-rated hotel, 1 minute from the Christmas market.
Hotels near Bologna Christmas Market
The most convenient area to stay in Bologna is, of course, in the historic city centre near Piazza Maggiore, the main square and location of many events, including some markets.
My top recommendation is Art Hotel Commercianti, located directly opposite the famous basilica.
Read my guide to hotels near Bologna Christmas Market to find a hotel that suits your needs for your trip this winter.
If you're visiting more destinations on this trip, this list of Christmas hotels might help with your planning.
Location of Fiera di Santa Lucia
Recommended Tours
A city tour of Bologna is an excellent way to immerse yourself in the city's rich history and culture. With its captivating old town, vibrant red-brick facades, and stunning architecture, Bologna is a city that truly offers something for everyone.
I recommend this city tour of Bologna as you get to see all the highlights of the city, or maybe take a food tour where you can learn about the local culture through their exquisite cuisine.
There are many food tours in Bologna, but this immensely popular food tour is a great choice.
On a city tour, you'll visit Bologna's most iconic landmarks and attractions, including the historic Piazza Maggiore, the magnificent Fountain of Neptune, and the awe-inspiring Basilica di San Petronio.
Find more places to visit this year with my Italy Christmas Markets 2023 guide.
Bologna Christmas Specialities
You can find all the typical market specialities at the Christmas market in Bologna. But what you really should try are foods that are local to the Emilia-Romagna region.
Especially look out for local products that are protected under European law. These products are restricted in their labelling and must be from the originating city or region and produced according to strict guidelines.
As you wander through the market, you'll find various interesting food options to satisfy your cravings. Some of the regional specialties you can expect to encounter include:
Balsamic vinegar from Modena: Aged for several years in wooden barrels, this thick, dark, and sweet vinegar originates from Modena and is a staple in Italian cuisine. This is the most famous vinegar in the world, and it's produced not far from Bologna.
Prosciutto di Parma: This world-famous, air-dried, cured ham comes from the Parma region. It has a delicate flavour and a velvety texture. Enjoy it on its own, with melon, or as an ingredient in various Italian dishes. You can find Parma ham at almost every deli in the centre of Bologna.
Mortadella from Bologna: Mortadella is a smooth, pink sausage made from finely ground pork and studded with fat cubes. It is seasoned with spices and sometimes includes pistachios. Typically served thinly sliced as an antipasto or in sandwiches.
Grana Padano from Piacenza: Similar to Parmigiano-Reggiano, Grana Padano is a hard, granular cheese with a slightly milder flavour. It is produced in the Piacenza area and is used for grating over pasta, risotto, or salads.
Tagliatelle a ragu: A traditional Bolognese dish, tagliatelle a ragu consists of long, flat pasta ribbons served with a rich, slow-cooked meat sauce made from ground beef, pork, or veal, along with tomatoes, onions, carrots, and celery.
Parmigiano-Reggiano: The most famous cheese in all of Italy, this hard, granular cheese is produced in the Emilia-Romagna region. It is aged for at least 12 months and has an almost nutty flavour. Often grated over pasta or risotto, it can also be enjoyed in chunks as a snack or appetizer.
Zuppa Inglese: A traditional Italian dessert, Zuppa Inglese is a layered trifle made with sponge cake, custard, and Alchermes liqueur, which gives it a distinctive red hue. The dessert is often garnished with whipped cream, chocolate shavings, or fruit.
Lambrusco sparkling wine: Hailing from the Emilia-Romagna region, Lambrusco is a fruity, fizzy red wine with a slight sweetness. It is served chilled and pairs well with the region's rich dishes like cured meats, pasta, and cheese.
Tortellini – A signature dish of Bologna, these small, ring-shaped pasta are traditionally filled with a mixture of pork, prosciutto, mortadella, and Parmigiano Reggiano cheese.
Lasagna alla Bolognese – A classic Italian comfort food, this hearty dish consists of layers of pasta sheets, meaty Bolognese sauce, béchamel sauce, and grated Parmesan cheese.
Tigelle – These small, round flatbreads are cooked on a griddle and filled with savoury ingredients like prosciutto, cheese, and pesto.
Panettone – A sweet, dome-shaped bread filled with dried fruit and nuts, this festive treat is a must-try during Christmas. Typically from around Milan, but you'll find it's popular in Bologna too.
Places where you might want to eat out or put on your list for another time:
La Sorbetteria Castiglione: Start with the essentials and indulge in the best gelato in Bologna. Located at Via Castiglione, 44.
Osteria dell'Orsa: Offering affordable lunch specials, this popular spot is located at Via Mentana 1. Expect queues on weekends.
Trattoria da Leonida: A crowd favourite on weekends, this trattoria is situated at Vitolo Allemagne, 2.
Trattoria Anna Maria: Famous for its world-class Zuppa Inglese, this spot also serves local specialties. Find it at Via delle Belle Arti, 17.
Drogheria della Rosa: For high-end daily specials, head to this restaurant on Via Cartoleria.
10 Berbere: Enjoy top-quality gourmet pizza made with organic ingredients at Via Giuseppe Petroni, 9.
Alce Nero: A sister restaurant to Berbere, this eatery focuses on seasonal, local, and organic dishes. Also located at Via Giuseppe Petroni, 9.
Le Stanze: Experience the most beautiful location for an aperitivo at Borgo di San Pietro, 1.
Cafe Zamboni: Treat yourself to incredible hot chocolate fondant at Via Zamboni, 6.
Camera a Sud: A quirky, student-favourite cafe at Via Valdonica, 5.
Eataly: For gourmet food, cookware, and cookbooks, visit this store at Via degli Orefici, 19.
Mercato delle Erbe: A fruit and vegetable market located at Via Ugo Bassi, 25.
Food Market and Shops: Discover various food options and shops behind Piazza Maggiore at Via Pescheria Vecchie.
Bologna Food Market
Aside from the mouthwatering food at the Christmas market, Bologna's culinary scene is further improved by various food-related events and experiences during the festive period.
You can participate in cooking classes to uncover the secrets of traditional Italian dishes, attend wine tastings at local enotecas, or explore the numerous gourmet food shops offering regional products and delicacies.
Even if the Christmas markets happen to be closed or cancelled during your visit, Bologna still presents ample opportunities to savour the incredible specialties and cuisine of the Emilia-Romagna region.
The city's food market scene extends beyond a single location and comprises several excellent fresh food markets scattered around the old town near Piazza Maggiore, the main square.
As you wander through the renowned arcades, you'll come across a variety of tempting food shops and small markets. Take the time to appreciate each spot and converse with the store owners to learn about fresh, in-season produce and how to cook or prepare your purchases.
Food at the Christmas Market
You'll find an enticing variety of local and international street foods at the Bologna Christmas Market. Here are some of the typical offerings you can expect to find:
Local Specialties:
Piadina: A thin Italian flatbread, often filled with various ingredients like cold cuts, cheeses, or vegetables, making it an easy-to-eat, handheld treat.
Frittelle: Small, deep-fried dough balls which can be sweet or savoury. Sweet variations are often dusted with powdered sugar or drizzled with chocolate or honey, while savoury versions can be filled with cheese or vegetables.
Arrosticini: Skewers of grilled meat, typically lamb or mutton, that are easy to eat on the go.
Bomboloni: Italian doughnuts filled with custard, chocolate, or fruit preserves, which make for a tasty handheld dessert option.
Polenta: This cornmeal dish can be served in a variety of forms, including grilled or fried, making it a more portable option for street food. It is often topped with cheese, meats, or vegetables.
Supplì: Fried rice balls with a gooey, cheesy centre, often served with a marinara dipping sauce. They are similar to Sicilian arancini but usually have a more elongated shape.
Castagnaccio: A chestnut flour cake with a slightly dense texture, typically with rosemary, pine nuts, and raisins. It can be easily sliced and eaten while walking around the market.
International Specialties:
Bratwurst: A type of German sausage, usually served with sauerkraut or mustard in a bun.
Churros: A Spanish treat, these fried dough pastries are often served with hot chocolate for dipping.
Mulled wine: Known as Glühwein in German, this warm, spiced wine is a Christmas market staple across Europe.
Raclette: A Swiss dish with melted cheese scraped onto potatoes, bread, or charcuterie.
Poffertjes: Mini Dutch pancakes, typically served with powdered sugar and a knob of butter.
The Christmas market mixes local and international street foods, meaning there are loads of different things to choose from.
What to Buy
At the Christmas market in Bologna, you'll find traditional and unique gifts and products that capture the essence of Christmas and the local culture. Some typical items to look for include:
Handmade ornaments: Artisan-crafted Christmas ornaments in various shapes and designs, often made from materials such as glass, wood, or ceramics.
Nativity scenes: Intricate and beautiful nativity scenes or individual figurines, which may be hand-painted or carved from wood or other materials.
Italian food products: Gourmet items such as those discussed above.
Panettone and Pandoro: Traditional Italian Christmas cakes that make for excellent gifts or a tasty treat to share with loved ones.
Local crafts: Handcrafted items such as pottery, leather goods, textiles, and jewellery that highlight the talents of local artisans.
Toys and games: Wooden toys, puzzles, and games for children, often featuring traditional or nostalgic designs. These make nice sustainable gifts for children.
Seasonal clothing and accessories: Warm scarves, gloves, hats, and socks made from high-quality materials like wool or cashmere, perfect for the winter season.
Handmade candles: Festively scented or decorated candles that add warmth and ambience to any home.
Christmas sweets and treats: A variety of festive sweets, such as torrone (nougat), chocolate, and assorted cookies, perfect for gifting or enjoying yourself.
Exploring the market's charming wooden chalets, you'll discover unique items that make for perfect presents or souvenirs of your festive Italian experience. Take your time walking around and enjoy the atmosphere.
Christmas in Bologna
Christmas in Bologna offers a magical atmosphere that goes beyond the city's exceptional culinary scene. During the festive season, Bologna's renowned architecture and historic sites are beautifully decorated, creating a stunning visual experience for visitors.
The Basilica di San Petronio, one of the largest churches in the world, the iconic Two Towers that dominate Bologna's skyline, and the Archiginnasio, the city's first permanent seat of the University of Bologna, are just a few examples of the remarkable landmarks that receive a holiday makeover.
These illuminated and ornamented structures are an enchanting backdrop for your Christmas memories and photographs.
Also, the streets and squares of Bologna come to life with a vibrant range of activities and events throughout the holiday season.
Live music, theatre performances, and dance shows can be found in various public spaces, creating a lively and spirited atmosphere.
Cultural events, such as art exhibitions, workshops, and lectures, enrich the visitor experience by showcasing the city's history and artistic heritage.
As you wander through the charming cobblestone streets, you'll also encounter beautifully adorned Christmas trees, twinkling lights, and festive window displays, all contributing to the city's captivating ambience.
With their wooden chalets and bustling crowds, Bologna's Christmas markets add to the festive cheer, offering unique gifts, seasonal treats, and heartwarming experiences for all ages.
In short, Christmas in Bologna is a wonderful blend of food, culture, and beauty. The city's historic sites, adorned with holiday decorations, and the diverse events and activities create a truly memorable and enchanting experience for all who visit during this time of year.
How to Travel Responsibly in Bologna
When visiting Bologna, especially during the Christmas markets, it's essential to consider your choices' environmental and social impacts. Implementing the following responsible travel practices can help create a positive impact:
Shop mindfully: Purchase only what you genuinely need and consider buying local, handmade products to support Bologna's artisans and economy.
Walk, cycle, and use public transport: Bologna is a compact, walkable city with a well-connected public transportation system. Consider walking or renting a bike to explore the city and utilize buses and trains for longer distances.
Stay in sustainable hotels: Choose a hotel prioritising sustainability by using renewable energy sources, implementing waste reduction practices, and promoting eco-friendly initiatives.
Stay in hotels: Avoid short-stay apartment accommodations, as they can contribute to a lack of affordable housing for locals. Opt for hotels or locally-owned bed and breakfasts.
Reduce plastic usage: Carry reusable bags, bottles, and containers to minimise single-use plastic waste. Avoid purchasing items made or packaged with plastic.
Eat locally sourced organic food: Support local producers and reduce your carbon footprint by dining at restaurants and cafes that use locally sourced, organic ingredients.
Limit meat and dairy consumption: Adopt a more plant-based diet during your visit to reduce your environmental impact and support more sustainable food systems.
Be open to diverse cultures and experiences: Embrace Bologna's rich history, culture, and traditions by participating in local events and engaging with the community.
Explore beyond tourist areas: Venture into lesser-known neighbourhoods and attractions to gain a more authentic experience of Bologna while distributing tourism's economic benefits more evenly.
Support the arts: Attend local performances, exhibitions, and workshops to support Bologna's vibrant artistic community.
Visit fewer places but stay longer: Opt for a slower-paced travel experience by spending more time in each destination, allowing for a deeper connection to the local community and reducing frequent transportation's environmental impact.
By incorporating these responsible travel practices during your visit to Bologna, you can help preserve the city's unique charm, protect its natural environment, and contribute positively to the local community.
FAQ
Does Bologna have a Christmas market?
Yes, the oldest Christmas market in Bologna is known as Fiera di Santa Lucia. There is also the smaller Fiera di Natale and several other markets.
Is Bologna worth visiting in December?
Bologna is a fun city worth visiting all year round, including in December. It's Italy's top foodie city and has a festive Christmas market in the city centre.
When is Bologna Christmas Market?
Bologna Christmas Market starts on the 10th November to the 26th December in 2023.
Emilia-Romagna Tourism is the regional tourism official website where you can find things to do in Bologna, get the latest Christmas market dates, times and locations and read reviews on all the amazing foodie spots.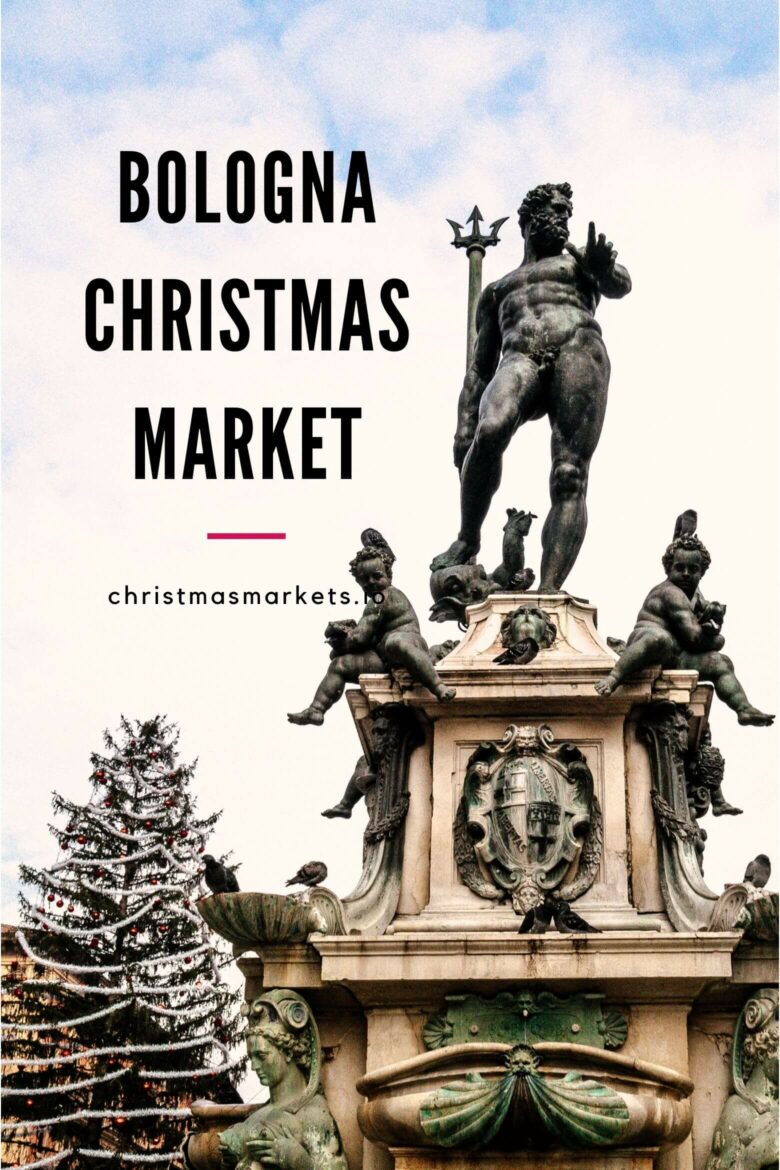 If you visited Bologna in winter or would like to review the Xmas market, comment below. This helps others who are planning on visiting this year.
—
Recommendations are independently chosen based on personal travel experiences and extensive research. This post contains affiliate links to hotels and tours in Bologna, Italy. This means I get a small commission from any bookings at no extra cost to you.