Poland has many beautiful cities that light up during Christmas, including the northern city of Gdansk. Thanks to its Baltic Sea location, the Gdansk Christmas Market is a stunning and unique market.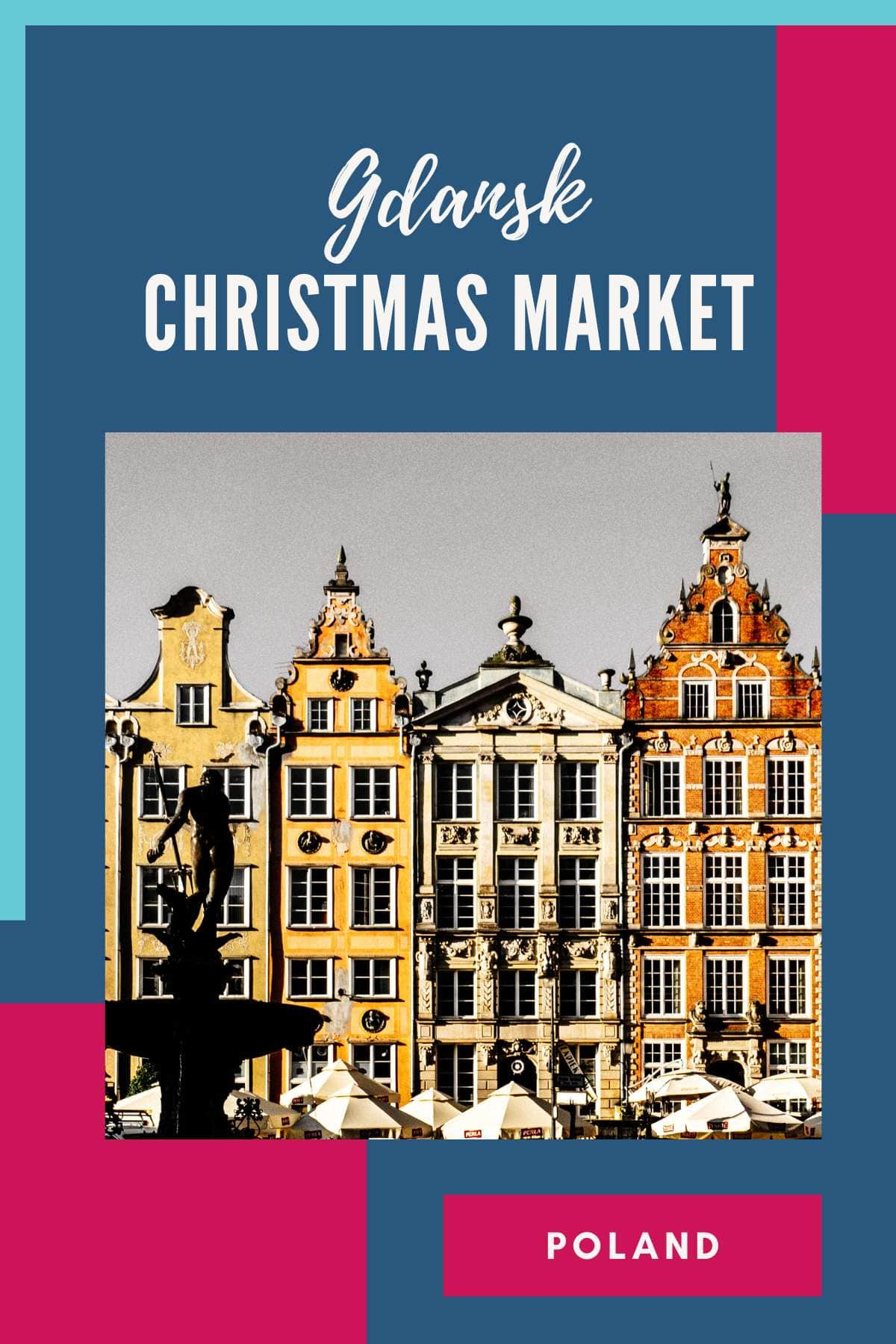 Gdansk is an attractive winter holiday destination for a number of reasons. It's relatively cheap to get to and affordable once you arrive.
Unlike traditional Christmas holiday destinations in Germany and Austria, Gdansk is not overcrowded with tourists or booked out months in advance.
Forming part of Poland's Tricity region alongside Sopot and Gdynia, its Hanseatic history adds to the city's cultural appeal.
Gdansk Christmas Market 2023
The locals embrace visitors and put on a number of great winter events, with Christmas markets being a mix of the traditional and modern.
The historic old town and market streets are lined with beautifully restored architecture filled with cosy cafes, boutique shops and interesting sights.
Gdansk Christmas market dates: Likely dates: 17th November to 23rd December 2023.
Location: Christmas Fair at Targ Węglowy. Christmas tree next to Neptune's Fountain at Long Market (Długi Targ). Ferris wheel on Granary Island (Wyspa Spichrzów).
Opening times: From around lunch time to early evening.
Christmas Day: Closed.
Admission: Free, no tickets required.
Santa: Maybe.
Ice skating: Yes.
Vegetarian: Yes, plenty of vegetarian pierogies, soup, cheese and desserts.
Vegan: Yes, but limited.
Gluten free: Ask individual vendors but beware of cross-contamination.
Accessible: Yes, if you can manage cobblestones.
Reason to visit: For its stunning Baltic Sea location and historic Hanseatic architecture. Gdansk is relatively affordable. It's an interesting alternative to the classic German and Austrian markets.
Specialities: Hot chocolate, Polish cakes, giant baubles, illuminated city gates a Venetian carousel.
Christmas market tours: While there aren't tours in Gdansk specifically geared towards the Christmas markets, a city tour of Gdansk will take you by the markets in December giving you some insights into Polish customs and traditions.
Gdansk weather in winter: Temperatures average 3°C / -1°C (high / low) in December.
Where to stay in Gdansk: You can't go wrong with Puro Hotel Gdansk for location and facilities.

Hotels near Gdansk Christmas Market
In my guide to hotels near Gdansk Christmas Market, I recommend staying near the historic Long Market or on Granary Island. These convenient locations are within walking distance to the Christmas market, other festive events and many of the sights and attractions in Gdansk.
The hotel I recommend over all others is the Puro Hotel Gdansk. This is a boutique hotel that is ideally located on Granary Island. This is the area where I stayed on my visit to Gdansk and it's great because it's close to everything but very quiet in the evenings.
Travel Insurance
Unfortunately, things can and do go wrong when you travel. World Nomads offers coverage for more than 150 activities as well as emergency medical, lost luggage, trip cancellation and more.
World Nomads provides travel insurance for travellers in over 100 countries. As an affiliate, we receive a fee when you get a quote from World Nomads using this link. We do not represent World Nomads. This is information only and not a recommendation to buy travel insurance.
City and Christmas Tours
During the holiday season, Gdansk transforms into a winter wonderland with stunning decorations, twinkling lights, and bustling Christmas markets.
A city tour of Gdansk is a fantastic way to experience the city's rich history and culture. With its charming old town, colourful facades, and stunning architecture, Gdansk is a city that truly has something for everyone.
I recommend this city tour of Gdansk as you get to see all the highlights of the city in 2 hours and it includes entrance to Gdansk's famous Amber Altar.
On a city tour, you'll visit the city's most iconic landmarks and attractions, including the historic Royal Way, the beautiful Neptune Fountain, and the towering St. Mary's Basilica.
Gdansk Christmas Market Specialties
Lights and decorations are in abundance around Long Market, including a Christmas tree and giant baubles.
The Angels' Mill is featured in the centre of the Christmas Fair, it's a windmill topped with figures of saints and angels.
At Gdansk's old town Christmas market, you can expect to see a Venetian carousel, an ice skating rink, Christmas trees from around the world, handmade Christmas ornaments, toys, scarves, candles and festive gourmet food.
Gourmet specialties include Polish festive cakes, pretzels, chocolate-covered fruit, chocolate 'tools', roasted nuts, smoked cheese, grilled sausages and hot chocolate and spiced mulled wine.
Things to Do in Gdansk in Winter
Tourism in Gdansk revolves around the waterfront and port area and all the narrow streets and squares of the old town.
The historic precinct is compact and bustling with jewellery shops selling local amber, designer homeware stores, delicious bakeries, seafood restaurants and a few museums.
The restoration of Gdansk's old town resulted in a massive increase in holidays and city breaks in the Tricity region, even during winter.
Most people will spend a few days in Gdansk plus a day trip to Sopot and Gdynia or maybe to the most famous castle in this region of Poland, Malbork Castle.
Gdansk doesn't have the longest-running Christmas market, it only runs for a few weeks in December, but it's such a fantastic city it's worth visiting any time of the year.
Here's a quick roundup of things to see in Gdansk and surrounding areas.
Discover the different towns; the Main Town, Old Town, Osiek and Young Town.
Walk through the various city gates; the Upland Gate, Golden Gate and Green Gate.
Join the crowds on Dlugi Targ (Long Market), where you'll see the Fountain of Neptune, Arts Court and one of the Town Halls (there are multiple town halls!).
Shop for Baltic Sea amber on Mariacka Street, where you'll also find great coffee and the best cakes I've ever had in my life.
Walk along the embankment of the Motlawa River to the Medieval Crane, one of the symbols of Gdansk.
Take the 400 steps up St Mary's Church for views of the area.
See the Baltic dunes seen from Rowokol and maybe snow on the beach if you're lucky.
Visit the European Solidarity Centre – a tribute to Poland's Solidarity Movement, which helped put an end to communist rule in Poland.
Go for lunch in the elegant resort town of Sopot.
Visit Malbork Castle, a medieval red-bricked castle one hour south of Gdansk.
If you have time, take a day trip to Sobieszewo Island.
We're here to help you experience the best of winter in Poland in 2023. Plan your trip with our Poland Christmas markets guide. Discover where to go, things to do and the best ways to experience Polish food, history and culture.
Visit Gdansk has more detailed travel information, including Christmas events.
Location of Gdansk Christmas Market
Sustainable Travel Tips
The choices we make have an environmental and social impact on the places we visit. When visiting the Christmas markets, keeping sustainability in mind is important.
Implement some or all of these simple measures to create a positive impact.
Shop mindfully. Only purchase what you really need.
Walk, cycle and use public transport to get around.
Stay in a sustainable hotel powered by renewable energy.
Stay in hotels. Short-stay apartment accommodation can lead to a lack of affordable housing for locals.
Avoid using plastic or buying items made or packaged with plastic.
Try to eat locally sourced organic food where possible.
Limit your consumption of meat and dairy.
Be open to diverse cultures and experiences.
Explore more than just the main tourist areas.
Support the arts and attend local events.
Visit fewer places but stay longer at each destination.
FAQ
Where is Gdansk Christmas Market?
The Christmas market is located at Targ Węglowy, along Tkacka and Bogusławskiego Streets and in the tunnel from Targ Węglowy to Forum Gdańsk.
Does Gdansk have a Christmas market?
Yes, Gdansk has a small Christmas fair and many Christmas events.
Is Gdansk worth visiting in December?
Yes, Gdansk is a beautiful coastal city with great cafes, bars, live music, museums, the Christmas Fair and winter events.
If you have visited Gdansk in winter or would like to review the Xmas market, leave a comment below.
—
Recommendations are independently chosen based on personal travel experiences and extensive research. This post contains affiliate links to hotels and tours in Gdansk, Poland. This means I get a small commission from any bookings at no extra cost to you.