Lille is often overlooked as a Christmas holiday destination, probably because the Lille Christmas Market is quite small, but this actually one of the best reasons to go. The market is small, charming and not overcrowded. It's a casual event that is popular with locals and visitors from the surrounding region.
In this guide, I share confirmed dates for 2023, opening times and the two locations for the 34th Edition of this pretty Christmas festival.
Christmas in Lille is a feast for the senses, especially your taste buds. As you explore the city's charming, cobblestone streets, adorned with lights and festive decorations, you'll be drawn in by the tantalising scent of local dishes wafting from bustling bistros and cosy cafes.
Lille Christmas Market 2023
The Christmas market in Lille transforms the heart of the city into a festive spectacle. As you wander through the market, you're greeted with the irresistible scent of local specialties, the warmth of mulled wine and the sound of Christmas music.
The centrepiece of the market, a towering Ferris wheel in the Grand Place, illuminates the winter nights and provides stunning views across the festive cityscape.
The numerous stalls offer unique gifts and products, all handcrafted with care. It's more than a market; it's an authentic, local experience that immerses you in the warmth and charm of a Lille Christmas.
Dates and Location
Lille Christmas Market dates: 22nd November to 31st December 2023.
Location: There are 85 stalls at Place Rihour and a fair and events at the adjoining Grand Place.
Opening times: Sunday to Thursday: 11am to 8:30pm. Friday and Saturday: 11am to 10pm.
Christmas Eve: 11am to 6pm.
Christmas Day: Closed.
New Year's Eve: 11am to 6pm.
Admission: Free.
Santa: No.
Ice skating: No.
The Big Wheel: At Grand Place from 10am to midnight.
Carousel: The vintage carousel is located at Place du Théâtre.
The Christmas Train: Located at Place Richebé from 2pm daily.
Vegetarian: Yes, plenty of options.
Vegan: Yes, plenty of options.
Gluten free: Yes, but limited.
Accessible: Yes.
Pet-friendly: Yes, but not recommended during busy periods.
Reason to visit: Incredible international cuisine. Less crowded and warmer weather compared to Central Europe.
Recommended tour: Lille vintage Citroen city tour.
Specialities: Carbonade flamande, potjevleesch, tarte au Maroilles, Merveilleux dessert and Meert gaufres.
Lille weather in winter: Temperatures average 7°C / 2°C (high / low) in December.
Plan your trip: Resources to plan your Christmas holiday or winter break.
Travel tip: Ride the Christmas Ferris wheel at dusk for beautiful views of Lille's historic old town.
Where to stay: The OKKO Hotel is an excellent value hotel, located only 4-minutes from the market.
Hotels near Lille Christmas Market
Staying in the city centre is the place to be on any visit to Lille. Any hotels near Place Rihour or Grand Place should be suitable.
I recommend staying at OKKO Hotel as it's a relatively new, reasonably priced hotel and only a short walk from the markets.
Lille has a reputation for cloudy and wet weather that is typical in the north of France. For this reason, you might prefer to look at hotels near Lille Christmas market that allow you easy access to the markets and main sights in Lille.
For a broader perspective on where to go in France, I've put together a detailed guide to the best Christmas markets in France, which will help you plan your trip and ensure you don't miss out on any of the exceptional winter wonderlands waiting to be explored.
Location Map of Lille Christmas Market
Christmas in Lille
Lille Food Specialties
Lille is a foodie hub at the best of times, but during Christmas, you can sample cuisines and specialties from around Europe, not just Lillois specialties.
Many of the highlights of a trip to this part of France is Lille food, at least in my opinion. Be sure to look out for these regional specialties and Christmas foods.
Carbonade Flamande: A warming stew typical of the region. This dish pairs beef with a rich, sweet-sour sauce made from beer, onions and brown sugar. It may not fit the bill for vegetarians but it's a winter favourite, often served with fries or bread to mop up the enticing sauce.
Flamiche: Originating from Picardy, it's often enjoyed around the holiday season. This delicious tart is traditionally filled with leeks and cream, creating a rich and hearty flavour. Vegetarians will delight in this dish as the ingredients are purely plant-based.
Tarte au Maroilles: Cheese lovers, get ready for the tarte au maroilles. This is a tart made with Maroilles cheese, a strong-smelling but mild-tasting cheese from the region. The dish can be savoured hot out of the oven or cooled down, with the creamy and slightly tangy notes of the cheese melding perfectly with the crispy pastry. As it contains no meat, it's another fine option for vegetarians.
Potjevleesch: Traditionally served cold, potjevleesch is a terrine of different white meats like rabbit, chicken and veal, which are set in gelatine. Historically, it was a way to preserve meat in the absence of refrigeration, but now it's seen as a local delicacy, served as an appetiser or main course with a side of chips.
Rabbit in Prune Sauce: A dish that takes centre stage during the holiday season is rabbit in prune sauce. This delicacy involves a slow-cooked rabbit with prunes soaked in beer or cider, culminating in a sweet and tender dish that encapsulates the comfort of the season.
Speculoos: Now, who wouldn't want to end a meal on a sweet note? Speculoos, a type of spiced shortcrust biscuit, is very popular in Northern France and Belgium. The biscuits are usually thin, very crunchy, and browned with a slightly caramelised flavour, typically spiced with cinnamon, nutmeg, cloves, ginger and cardamom.
Vin Chaud: No Christmas market experience is complete without the heady aroma of vin chaud wafting through the crisp winter air. It's a hot, spiced red wine, sometimes sweetened with a touch of honey and enriched with a medley of spices, including cloves, cinnamon and nutmeg.
Roasted Chestnuts: As you meander through the Lille Christmas market, you'll find vendors roasting chestnuts over open fires. These treats' warm, nutty flavour provides an inviting comfort on a chilly day.
Churros: Originating from Spain, churros have become an international favourite at Christmas markets. These deep-fried dough pastries are typically coated in sugar and served hot, often with a side of thick chocolate sauce for dipping.
Gaufres Lilloises: An absolute delight of the Christmas market in Lille is Gaufres Lilloises. These are traditional waffles from Lille, typically served warm and dusted with powdered sugar or smeared with a generous spread of Nutella. They're crisp on the outside and tender inside, creating a delightful contrast of textures with each bite.
Saucisson: Meat lovers will find a vast selection of saucisson, or French dry-cured sausage. They come in a variety of flavours, from those made with garlic and wine to those featuring nuts or even blue cheese.
Maroilles Cheese Fondue: Warm, creamy and oh-so comforting, the Maroilles cheese fondue is a typical indulgence of the region. Maroilles cheese is melted until it's smooth and creamy, ready to envelop pieces of bread that are dipped into it. This warming dish provides a much-needed respite from the winter chill.
Bratwurst: You'll also find the German staple, bratwurst, at the Christmas markets in Lille. This is a type of German sausage made from pork, beef, or veal, and it's usually served in a bread roll with mustard or ketchup.
Pain d'épices: Another market favourite is pain d'épices, a honey and spice bread that's akin to gingerbread. It's a sweet treat that often contains a variety of spices such as cloves, cinnamon and nutmeg, making it the quintessential Christmas snack. The bread is typically soft and fragrant, perfect for a sweet pick-me-up while browsing the market stalls.
Merveilleux: Lille is known for the Merveilleux, a dessert that is sure to enchant any sweet-toothed visitor. It's a delicate confection comprising two light meringues joined by a layer of whipped cream, then fully covered in more whipped cream and rolled in chocolate shavings. It's a sweet surprise to find in a Christmas market and is known for its contrasting textures and melt-in-the-mouth indulgence.
Meert Gaufres: Not to be confused with Gaufres Lilloises, Meert Gaufres is a signature biscuit from the famous Meert patisserie in Lille. These thin waffles are filled with a delicious Madagascar vanilla cream, offering a delightful burst of flavour. They're a long-standing tradition in Lille and an exquisite treat you shouldn't miss.
Cider: As you wander the market, you may want to switch from the traditional vin chaud and try some local cider. Normandy and Brittany, neighbouring regions to the North, are famous for their apple ciders. Usually available both as still or sparkling and ranging from dry to sweet, the apple cider is a refreshing and slightly tangy alternative to keep you warm.
Raclette: Originally from Switzerland but equally adored in France, raclette is a quintessential winter dish often found at Christmas markets. The raclette cheese is heated, often right before your eyes, then scraped onto boiled potatoes, pickles and charcuterie.
Estaminet Fare: An Estaminet is a traditional pub in Lille, offering not just drinks but also local comfort food. The fare at an Estaminet often includes dishes like carbonade flamande, potjevleesch and tarte au Maroilles, which I mentioned earlier. In addition, they might serve hearty dishes like Waterzoï, a creamy chicken or fish stew, or Flammenkueche, a thin crust pizza topped with crème fraîche, onions and lardons. These are ideal choices for a sit-down meal amidst the vibrant and bustling Christmas market.
What to Buy
Artisanal Cheese: Start your shopping spree at the Lille Christmas Market with a selection of artisanal cheese. From the local Maroilles to other regional favourites like Munster and Brie, cheese enthusiasts have ample choices. Wrapped in rustic paper, these make a delightful gift for the foodies back home.
Handcrafted Jewellery: Among the 85 stalls, vendors sell unique, handcrafted jewellery. Often inspired by local designs and materials, these pieces make for a personal and thoughtful gift. Each piece has a story to tell, a story of the artist who created it and the culture it represents.
French Linens: The region around Lille is renowned for its textile industry. Therefore, you'll find a beautiful selection of French linens at the Christmas market. Whether you're after tablecloths, napkins, or kitchen towels, these items are practical and add French elegance to any home.
Local Artwork: Immerse yourself in the local culture by purchasing some local artwork. The market stalls often feature paintings and prints from regional artists, offering a glimpse into the artistic landscape of Lille and the surrounding area.
Ceramics and Pottery: The Christmas market in Lille is a perfect place to shop for ceramics and pottery. Often hand-painted with intricate designs, these pieces are functional and works of art in their own right.
Regional Wines and Spirits: For those with a taste for the finer things in life, you can find a variety of regional wines and spirits. From the hearty reds of Bordeaux to the crisp whites of Loire Valley or perhaps some Calvados from Normandy, these make the perfect gift for wine and spirit connoisseurs.
Handmade Toys: If you're shopping for younger family members, don't miss the stalls selling handmade toys. From wooden puzzles to plush animals, these toys are lovingly made and often reflect simplicity and craftsmanship not found in mass-produced items.
Spices and Condiments: An assortment of spices and condiments can be found in the market. Traditional herbs de Provence, fragrant lavender, mustards, honey and more make a fine addition to any pantry and are a wonderful way to bring French flavours into the kitchen.
Christmas Ornaments: It wouldn't be a Christmas market without a plethora of Christmas ornaments. From hand-painted baubles to carved wooden decorations, these adornments encapsulate the festive spirit and add a touch of Lille's Christmas charm to any tree.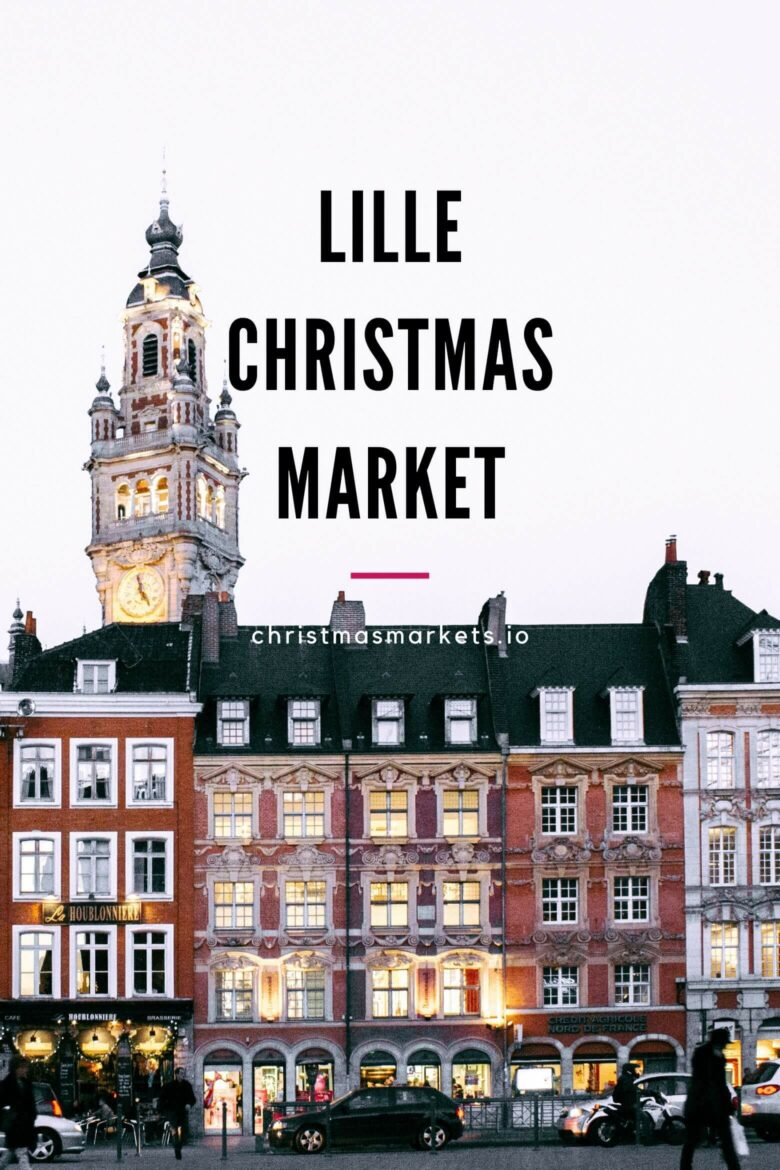 For more information on experiencing Christmas in Lille, including winter events, where to stay and how to buy the city pass, visit Lille Tourism.
Sustainable Travel in Lille
When visiting the Christmas markets, keeping sustainability in mind is important. Simple changes to the way we travel can make all the difference for the environment and local communities.
Use Public Transport or Walk: Consider leaving your car at home and using Lille's efficient public transport system. The city has an extensive network of trams, buses, and a driverless metro system which is one of the first of its kind in the world. During the festive season, the city centre is beautifully lit up, and a stroll through the streets offers a wonderful way to absorb the festive atmosphere, reducing your carbon footprint at the same time.
Choose Accommodations that Use Renewable Energy: When selecting a place to stay, look for accommodations that use renewable energy sources. Numerous hotels in Lille have committed to greener operations, such as using solar power for heating or wind energy for electricity.
Eat Local and Seasonal Food: In order to maintain a sustainable diet, aim to eat locally sourced and seasonal food. The Christmas markets in Lille are a great opportunity to do this. Many of the food vendors use local ingredients, which not only reduces the food miles but also supports local farmers and producers. Additionally, you can decrease your carbon footprint by choosing vegetarian or vegan options.
Minimise Food Waste: Be mindful of food waste when indulging in the delicacies offered at the Christmas markets. Try to only buy what you can finish and consider sharing portions, especially since the food at Christmas markets can often be quite rich and filling. If your hotel room has a fridge, consider taking leftovers back with you for later.
Support Local Artisans: When buying gifts or souvenirs, aim for ethical consumption. Look out for stalls at the Christmas market selling local crafts and products. By doing so, you support local artisans and small businesses and reduce the carbon footprint associated with shipping goods from abroad.
Opt for Reusable Shopping Bags: Lille's Christmas market will leave you spoilt for choice with various foods, gifts and crafts on offer. Bring your own reusable shopping bags to carry your purchases instead of relying on plastic or paper bags from the vendors. This simple change can significantly cut down on waste.
Drink Tap Water: In France, tap water is safe to drink. Instead of buying bottled water, bring a reusable water bottle that you can refill. This not only saves you money but also reduces plastic waste.
Responsible Disposal of Waste: Finally, be conscious of how you dispose of your waste. Lille has an excellent waste management system with designated bins for recycling. Ensure you use these correctly to aid the city's recycling efforts.
FAQ
When is Lille Christmas Market?
Lille's Christmas Market dates start on the 22nd November to 31st December 2023.
Where is the Christmas market in Lille?
The Lille Christmas Market is held in Place Rihour, right in the heart of the city.
What time does Lille Christmas Market open?
Lille's Christmas Market Opening times are Sunday to Thursday: 11am to 8:30pm. Friday and Saturday: 11am to 10pm. Christmas Eve: 11am to 6pm. Christmas Day: Closed. New Year's Eve: 11am to 6pm.
Is Lille Christmas Market open on Christmas Day?
Lille Christmas Market is closed on Christmas Day.
Is Lille worth visiting in the winter?
Absolutely. While it can be quite cold, the city comes alive during the Christmas season with the Christmas market, beautiful lights, and festive decorations. It's a great opportunity to experience local winter dishes and shop for unique gifts. Lille is an incredible foodie city with excellent museums, history and architecture. It's well worth visiting in winter.
What's the weather like in Lille at Christmas?
Winter in Lille is typically cold, with temperatures Temperatures average 2°C / 7°C (low / high) in December. It's also quite rainy, so it's a good idea to dress warmly and carry an umbrella.
If you previously visited Lille in December or Christmas in France and would like to share your experience, leave a comment or Lille Xmas Market review below.
—
Recommendations are independently chosen based on personal travel experiences and extensive research. This post contains affiliate links to hotels and tours in Lille, France. This means I get a small commission from any bookings at no extra cost to you.