Lille is often overlooked as a Christmas holiday destination, probably because the Lille Christmas market is quite small, but this actually one of the best reasons to go. The market is small, charming and not overcrowded. It's a casual event, popular with locals and visitors from the surrounding region.
Lille is known for its beautiful Flemish architecture and world-class museums. I'd suggest taking a tour of Lille to start your visit, especially if this is your first time in Lille. If you can, take a food tour to discover the city's culinary specialities.
This will give you an overview of the city and an idea of what there is to see in Lille, particularly if this is your first time in the city.
Lille Christmas Market 2022
Lille Christmas Market dates: 24th November to 30th December 2022.
Location: There are 90 stalls at Place Rihour and a fair and events on Grand Place.
Reason to visit: Incredible international cuisine. Warmer weather compared to Central Europe.
Travel tip: Ride the Christmas Ferris wheel at dusk for beautiful views of Lille's historic old town.
Where to stay: The OKKO Hotel is only 4-minutes from the market.
Lille weather in winter: Temperatures average 7°C / 2°C (high / low) in December.
Plan your trip: Resources to plan your Christmas holiday or winter break.
Hotels near Lille Christmas Market
Lille has a reputation for cloudy and wet weather that is typical in the north of France. For this reason, you might prefer to look at hotels near Lille Christmas market that allow you easy access to the markets and main sights in Lille.
Staying in the city centre will help you to avoid much of the miserable weather although you might be lucky enough to have clear skies, as I did.
Any hotels near Place Rihour or Grand Place should be suitable. I recommend staying at OKKO Hotel as it's only a short walk from the markets.
Lille Christmas Food Markets
Lille is a foodie hub at the best of times but during Christmas, you can sample cuisines and specialties from around Europe, not just Lillois specialties.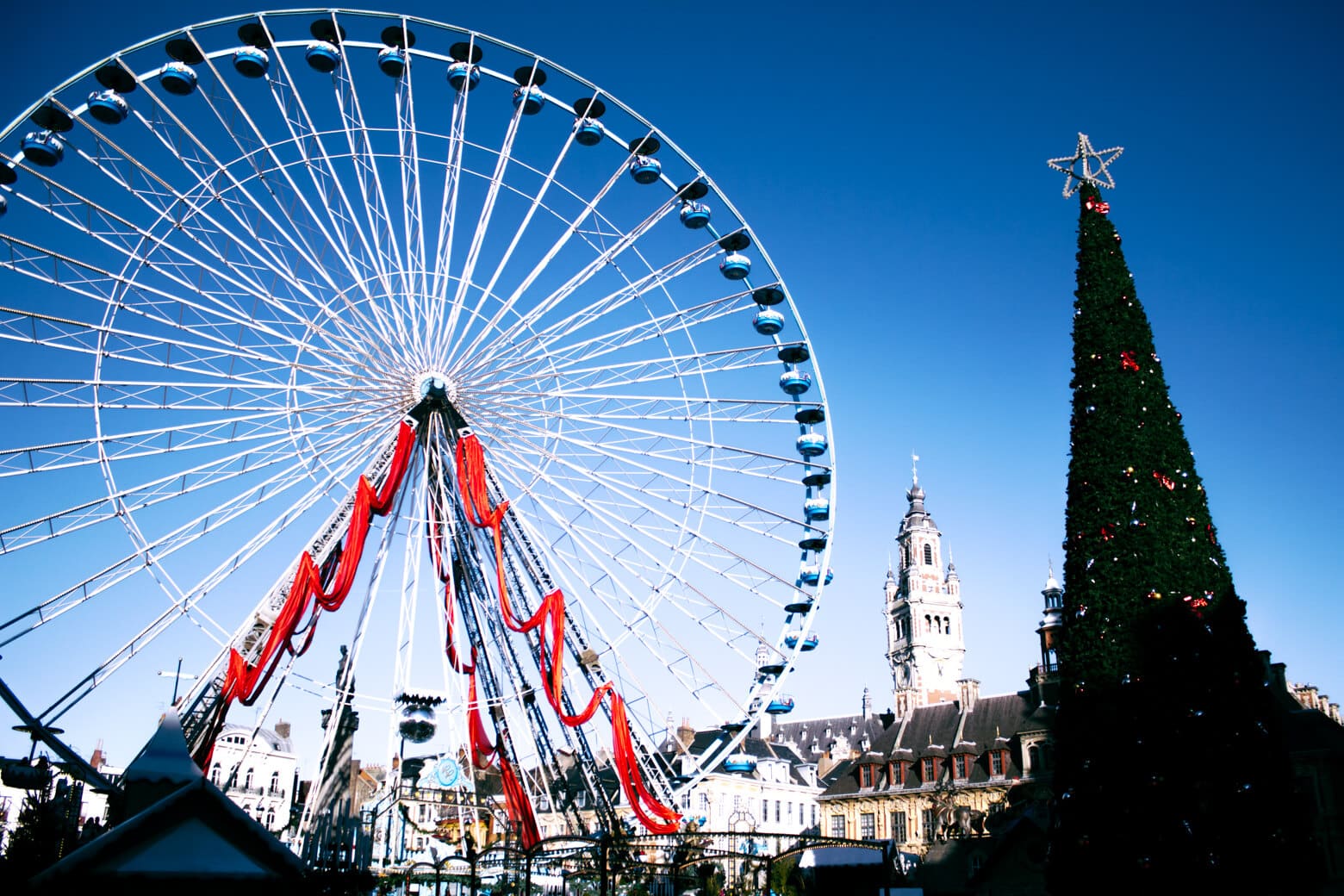 Many of the highlights of a trip to this part of France is Lille food, at least in my opinion. Be sure to look out for these regional specialties and Christmas foods.
Merveilleux – One of the lightest and most delicious desserts in the world, the Merveilleux is a meringue and cream-based dessert topped with shaved chocolate. Lille is the home of the original Merveilleux.
Meert – An historic cafe with a long history in Lille, this is where you'll find their famous stuffed waffles, chocolates, cakes and boiled sweets. You can buy items from their shop but it's worth having coffee or tea and waffles in the cafe to experience the traditional atmosphere.
Estaminet – A traditional Flemish pub is known as Estaminet and even though Lille is in France, the culture is predominately Flemish. Have a classic pub meal at an Estaminet with a local beer brewed on the premises.
Cider – It's not just Alsace that is famous for cider, you can get locally produced cider in Lille too. At the Christmas markets, you can drink hot cider or stick to traditional mulled wine if you prefer a more festive hot drink.
Raclette – While raclette is a Swiss dish, you'll find it at the Christmas market in Lille and typically there will be a long queue for this delicious cheese dish. It's basically melted Swiss cheese served on top of a baguette (sometimes with ham). It's worth queuing for.
Visiting Lille
Lille Xmas market is one of the few markets in France that continues after Christmas Eve.
It's nice having a few extra days to relax, especially when things can get pretty hectic in the weeks leading up to Christmas Day.
Note however that the market does close early on Christmas Eve (at 6pm) and is closed on Christmas Day.
The Christmas market reopens on Boxing Day until the 29th of December.
Location Map of Lille Christmas Market
Sustainable Travel
When visiting the Christmas markets, it's important to keep sustainability in mind. Simple changes to the way we travel can make all the difference for the environment and local communities.
Shop mindfully. Only purchase what you really need. Wooden toys and Christmas decorations might be a good option if that's what you need.
Walk, cycle and use public transport to get around. Lille's historic centre is relatively small so if you're physically able, you should be able to walk to most places. The city also has an affordable public transport system that is easy to use.
Stay in a sustainable hotel powered by renewable energy.
Avoid using plastic or buying items made or packaged with plastic as these are made using fossil fuels. Take your own reusable bags for your purchases.
Try to eat locally sourced organic food where possible. This supports the local community that works in this sector.
Limit your consumption of meat and dairy. You might not associate France with low-carbon food but Lille is a big city with a diverse range of foods available.
Be open to diverse cultures and experiences.
Explore more than just the main tourist areas. If you step away from the city centre you might find some cool bars with live music for example.
Support the arts and attend local events.
Visit fewer places but stay longer at each destination. I highly recommend spending 5 days in Lille if you can, there's a lot to see in the city centre and nearby.
FAQ
Where is the Christmas market in Lille?
Place Rihour.
Is Lille Christmas Market open on Christmas Day?
No.
Is Lille worth visiting?
Yes! Lille is an incredible foodie city with excellent museums, history and architecture.
For more information on experiencing Christmas in Lille including winter events, where to stay and how to buy the city pass, visit Lille Tourism.
If you previously visited Lille in December or Christmas in France and would like to share your experience, leave a comment or Lille Christmas market review below.
—
Recommendations are independently chosen based on personal travel experiences and extensive research. This post contains affiliate links to hotels and tours in Lille, France. This means I get a small commission from any bookings at no extra cost to you.