Lille is often overlooked as a Christmas holiday destination, probably because the Lille Christmas market is quite small, but this actually one of the best reasons to go. The market is small, charming and not overcrowded. It's a casual event, popular with locals and visitors from the surrounding region.
Lille is a foodie hub at the best of times but during Christmas, you can sample cuisines and specialties from around Europe, not just Lillois specialties. Lille is also known for its beautiful Flemish architecture and world-class museums. I'd suggest taking a tour of Lille to start your visit, especially if this is your first time in Lille and if you can, take a food tour to discover the city's culinary specialities.
I recommend booking a hotel near the Christmas market in Place Rihour and then taking a tour with a local guide. You can organise this with your hotel upon your arrival or by visiting the tourist office which is located just off the main square. This will give you an overview of the city and an idea of what there is to see in Lille, particularly if this is your first time in the city.
Lille Christmas Market 2021
Lille Christmas Market dates: unconfirmed 22nd November to 29th December 2021 (may be cancelled, please check back).
Location: There are 90 stalls at Place Rihour and a fair and events on Grand Place.
Reason to visit: Incredible international cuisine. Warmer weather compared to Central Europe.
Travel tip: Ride the Christmas Ferris wheel at dusk for beautiful views of Lille's historic old town.
Where to stay: Madame Reve is a private boutique apartment with all the services you would need on a short on long stay in Lille.
Lille weather in winter: Temperatures average 7°C / 2°C (high / low) in December.
Plan your trip: Resources to plan your Christmas holiday or winter break.
Hotels near Lille Christmas Market
Lille has a reputation for cloudy and wet weather that is typical in the north of France. We have published a guide to hotels near Lille Christmas market that allow you easy access to the markets and main sights in Lille. Staying in the city centre will help you to avoid much of the miserable weather although you might be lucky enough to have clear skies, as I did.
Lille Christmas Food Markets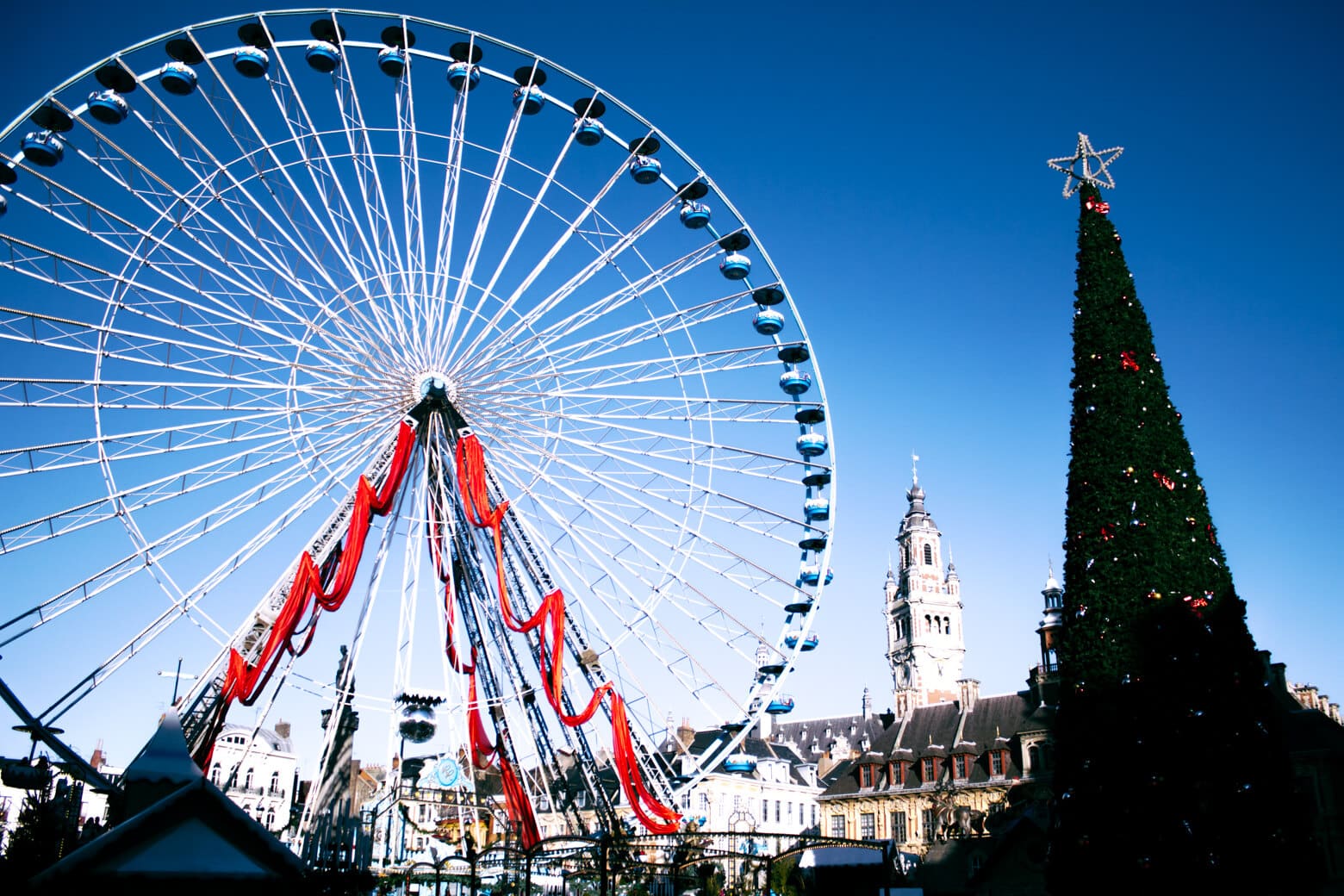 Lille Xmas market is one of the few markets in France that continues after Christmas Eve. It's nice having a few extra days to relax, especially when things can get pretty hectic in the weeks leading up to Christmas Day. Note however that the market does close early on Christmas Eve (at 6pm) and is closed on Christmas Day. These times are generally spent with family which explains the closure. The Christmas market reopens on Boxing Day until the 29th of December.
I wouldn't expect too much of the Christmas markets in Lille this year (if it happens at all) but I still recommend visiting. It's a great walkable city with excellent museums, galleries, restaurants and cafes.
Many of the highlights of a trip to this part of France is Lille food, at least in my opinion. Be sure to look out for these regional specialties and Christmas foods.
Merveilleux – One of the lightest and most delicious desserts in the world, the Merveilleux is a meringue and cream-based dessert topped with shaved chocolate. Lille is the home of the original Merveilleux.
Meert – An historic cafe with a long history in Lille, this is where you'll find their famous stuffed waffles, chocolates, cakes and boiled sweets. You can buy items from their shop but it's worth having coffee or tea and waffles in the cafe to experience the traditional atmosphere.
Estaminet – A traditional Flemish pub is known as Estaminet and even though Lille is in France, the culture is predominately Flemish. Have a classic pub meal at an Estaminet with a local beer brewed on the premises.
Cider – It's not just Alsace that is famous for cider, you can get locally produced cider in Lille too. At the Christmas markets, you can drink hot cider or stick to traditional mulled wine if you prefer a more festive hot drink.
Raclette – While raclette is a Swiss dish, you'll find it at the Christmas market in Lille and typically there will be a long queue for this delicious cheese dish. It's basically melted Swiss cheese served on top of a baguette (sometimes with ham). It's worth queuing for.
For more information on experiencing Christmas in Lille including winter events, where to stay and how to buy the city pass, visit Lille Tourism. Note that a health pass (pass sanitaire) is compulsory to enter many buildings and access services in France. You must follow all travel and health advice and restrictions for entering and while in travelling in France.
Map of Lille
If you have visited Lille in December or Christmas in France and would like to share your experience, leave a comment or Lille Christmas market review below.
This post contains affiliate links to hotels in Lille. This means we get a small commission from any bookings at no extra cost to you.