Frankfurter Römer is Frankfurt's Town Hall. In contrast to Frankfurt's contemporary skyscrapers, it's a beautiful old gabled building on a cobblestone square. This kind of architecture is typical of the city's historic centre and makes an incredible backdrop to Frankfurt Christmas Market.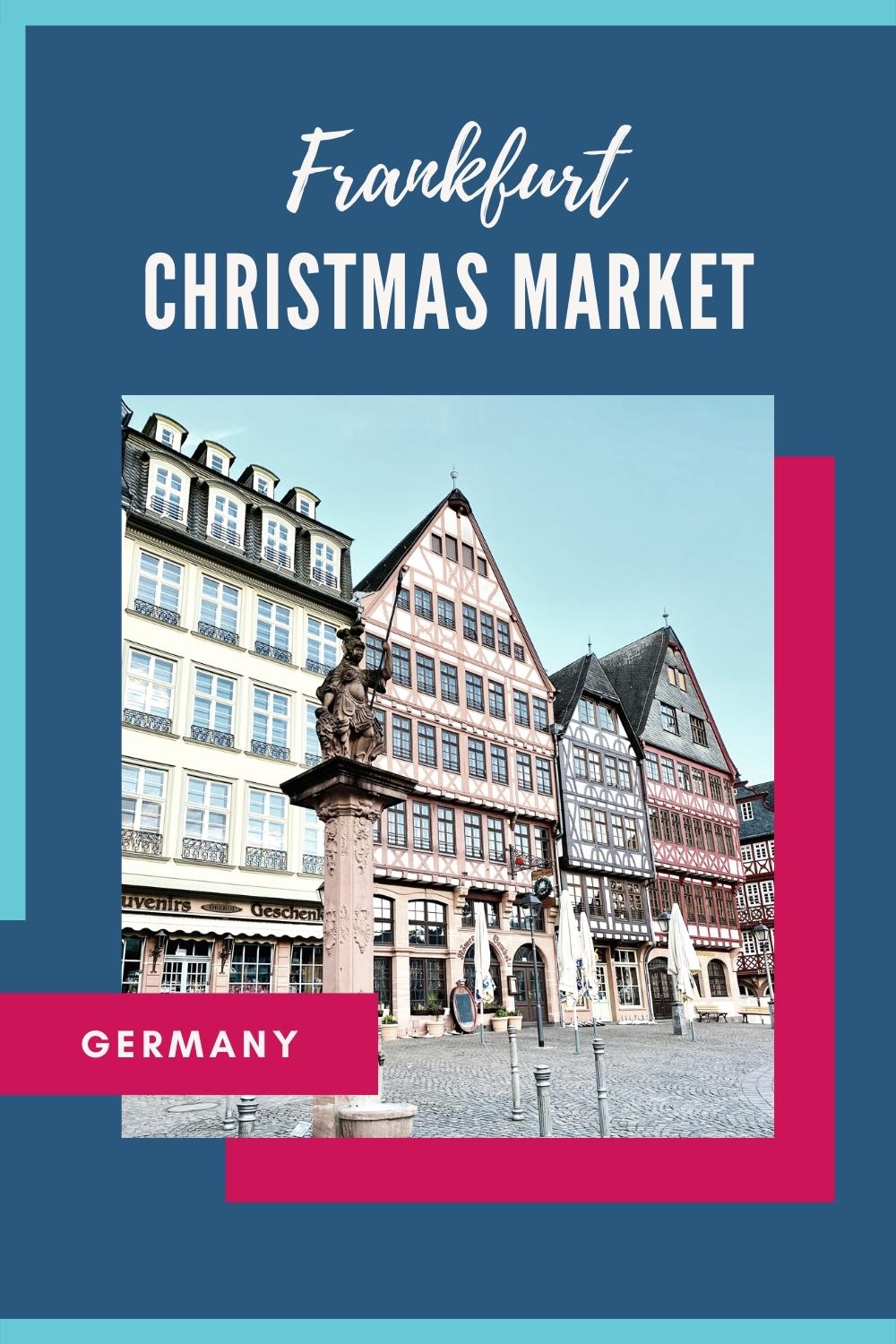 Unlike other German cities, where almost every square holds a Christmas market, the Christmas markets in Frankfurt are more or less in one location. Everything is centred around Römerberg and the adjacent streets.
The Christmas stalls start at Mainkai on the waterfront, pass through Römerberg, Paulsplatz and Friedrich-Stoltze-Platz, before ending a short distance away at Hauptwache.
This one long stretch of festivities makes it a cosy, accessible experience for visitors.
Frankfurt Christmas Market 2022
A huge Christmas tree and decorated chalets add to the atmosphere of this huge social occasion. You'll find an eclectic mix of traditional and contemporary gifts and culinary delights.
But the highlight, whether with friends, family or solo, is sipping on a classic mulled wine while eating freshly grilled bratwurst.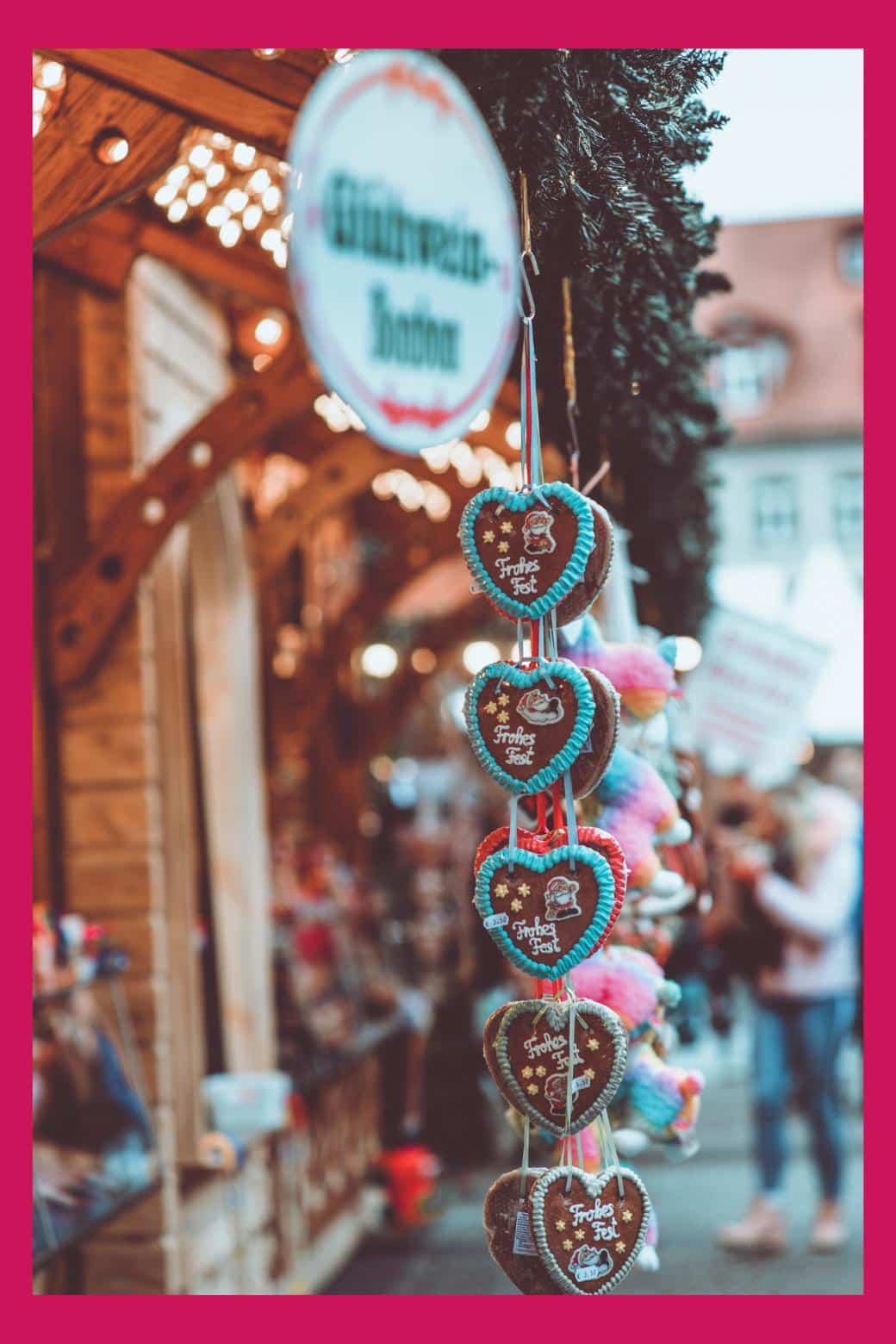 Dates and Locations
Frankfurt Christmas Market dates: 21st November to 22nd December 2022.
Opening times: 10am to 9pm. Opens at 11am on Sunday.
Location: Römerberg and adjacent streets.
Reason to visit: The mix of historic architecture and modern Frankfurt.
Recommended tour: Walking tour of Frankfurt Altstadt, the streets that surround the Christmas market.
Specialities: The huge range of international food.
Where to stay: Motel One is a great, affordable hotel that gets great reviews and is 2 minutes from the Christmas market.
Where to Stay in Frankfurt for the Christmas Market
I've stayed at several Motel One hotels in Germany and Austria, which are great value for money. In Frankfurt, Motel One is located in the historic Römer district, around 2 minutes from the Christmas markets.
Read the reviews here and book well in advance if you're looking for somewhere to stay in Frankfurt for the Christmas market.
Location of Frankfurt Christmas Market
This guide to the best Christmas markets in Germany might inspire you to visit further destinations this winter.

Discover where to go, things to do and the best ways to experience German food, history and culture.
Frankfurt Tourism has information regarding events and the best ways to experience Frankfurt at Christmas. This can be useful if you're interested in making a restaurant reservation for Christmas or New Year's.
Sustainable Travel Tips
The choices we make have an environmental and social impact on the places we visit. Try to implement these responsible travel measures when visiting the Christmas markets.
Shop mindfully. Only purchase what you really need.
Walk, cycle and use public transport to get around.
Stay in a sustainable hotel powered by renewable energy.
Avoid using plastic or buying items made or packaged with plastic.
Try to eat locally sourced organic food where possible.
Limit your consumption of meat and dairy.
Explore more than just the main tourist areas.
Support the arts and attend local events.
If possible, avoid flying to your destination.
FAQ
Where is the Frankfurt Christmas Market located?
The Christmas markets in Frankfurt are located at Römerberg and adjacent streets.
When do Frankfurt Christmas markets start?
Frankfurt Christmas Market starts on 21st November and ends on 22nd December 2022.
What time does Frankfurt Christmas Market open?
The Christmas markets open at 10am daily, except Sundays when it opens at 11am.
What time does Frankfurt Christmas Market close?
The Christmas markets close at 9pm daily.
If you would like to leave a review of Frankfurt Xmas Market, feel free to comment below.
—
Recommendations are independently chosen based on personal travel experiences and extensive research. This post contains affiliate links to hotels and tours in Frankfurt, Germany. This means I get a small commission from any bookings at no extra cost to you.