Located amidst Frankfurt's skyline of modern skyscrapers, the Frankfurter Römer serves as the city's Town Hall and stands as an enduring emblem of Frankfurt's rich history.
With its distinctive gabled façade and cobblestone square, Römer anchors the historic centre and provides a stunning counterpoint to the city's contemporary structures. Against this striking backdrop, the Frankfurt Christmas Market comes to life.
In this comprehensive guide, I provide up-to-date information for the 2023 season, including the confirmed dates for the Christmas market, its opening hours and a look into the delicious local specialities you can anticipate in Frankfurt.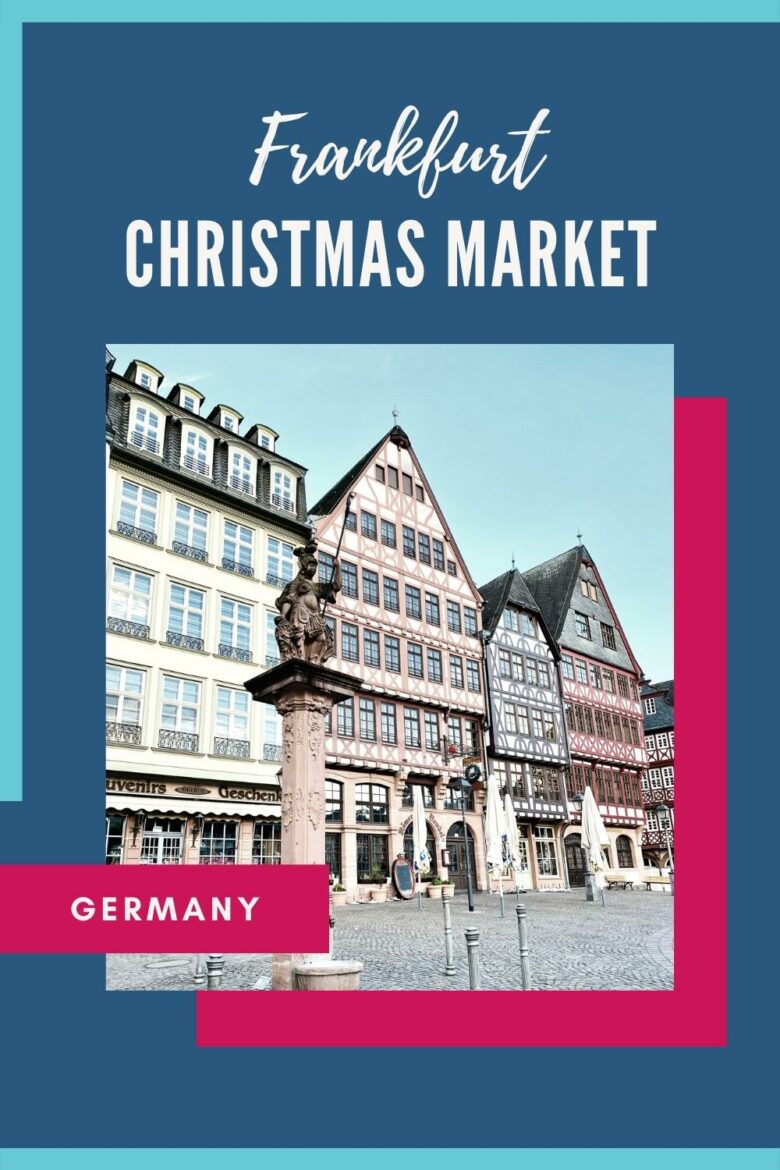 In Frankfurt, the festivities unfurl along a lively route that begins at Mainkai on the waterfront and meanders through the atmospheric squares of Römerberg, Paulsplatz and Friedrich-Stoltze-Platz, culminating a stone's throw away at Hauptwache.
This continuous thread of Christmas decorations creates an intimate, easy-to-navigate experience for visitors.
Frankfurt Christmas Market 2023
A towering Christmas tree and charmingly adorned chalets inject further festive spirit into this major social event, offering an appealing blend of traditional and modern gifts and a tantalising array of food.
Yet, the highlight of a visit to the Christmas market in Frankfurt lies in the simple pleasure of holding a warming cup of classic mulled wine, a freshly grilled bratwurst in hand, savouring the bustling ambience, whether you're enjoying the experience solo, or in the company of friends and family.
Dates and Locations
Frankfurt Christmas Market dates: 27th November to 21st December 2023.
Location: Römerberg and adjacent streets.
Opening times: 10am to 9pm. Opens at 11am on Sunday.
Christmas Day: Closed.
Admission: Free, no tickets required.
Santa: No.
Ice skating: No.
Vegetarian: Yes, plenty of options.
Vegan: Yes, plenty of options.
Gluten free: Yes, but limited.
Accessible: Yes.
Pet-friendly: Yes, but not recommended during busy periods.
Reason to visit: The mix of historic architecture and modern Frankfurt.
Recommended tour: Walking tour of Frankfurt Altstadt, the streets that surround the Christmas market.
Specialities: The huge range of international food that suits the diverse international visitors.
Where to stay: Motel One is a great, affordable hotel that gets great reviews and is 2 minutes from the Christmas market.
Where to Stay in Frankfurt for the Christmas Market
Choosing the perfect place to stay in Frankfurt during the Christmas market season can enhance your festive experience. I've stayed at various Motel One hotels in Germany and Austria, finding them to provide excellent value for money.
In Frankfurt, Motel One is located within the historic charm of the Römer district, a mere two-minute stroll from the Christmas markets.
Remember, it's a popular time of year, so make sure to secure your booking well in advance to avoid missing out on this ideally located accommodation for your Christmas market visit.
If you need more help finding a place to stay, read my guide to hotels near Frankfurt Christmas Market.
Location of Frankfurt Christmas Market
Christmas in Frankfurt
Christmas Specialties in Frankfurt
Frankfurter Kranz: Not exclusively a Christmas treat but certainly enjoyed over the festive period, Frankfurter Kranz is a cake that mirrors the city's crown-shaped coat of arms. It's a ring-shaped sponge cake filled with a layer of jam and buttercream, then covered with more buttercream and sprinkled with brittle nuts for crunch.
Handkäse mit Musik: Venturing into savoury territory, Handkäse mit Musik is a traditional dish often enjoyed during winter in Frankfurt. It's a fermented cheese served with chopped onions, caraway seeds, and a vinaigrette. The name 'mit Musik' (with music) refers to the after-effects of consuming the onions, adding a touch of humour to this hearty, vegetarian-friendly dish.
Sauerbraten: This one is a classic German dish traditionally made with marinated pot roast, usually beef but sometimes venison or lamb. The meat is slow-cooked until it's meltingly tender and served with a rich, sweet-sour gravy. Sauerbraten is a hearty, comforting dish perfect for a chilly winter's day at the Frankfurt Christmas market.
Marzipanbrot: An enticing treat, Marzipanbrot is a marzipan loaf made with almonds and sugar. It's shaped like a small loaf of bread and often covered with dark chocolate. A perfect festive sweet that embodies the spirit of Christmas indulgence.
Food at the Christmas Market
Apfelwein: Synonymous with Frankfurt, Apfelwein, or apple wine, is a popular drink you'll find at the Christmas market stalls. It's similar to hard cider and is often served hot during the festive season, providing a warming respite from the winter chill.
Bethmännchen: Considered a holiday highlight in Frankfurt, Bethmännchen are small, sweet marzipan cookies often decorated with three almond halves. Their creation is attributed to the Bethmann family, a prominent banking dynasty in Frankfurt during the 19th century.
Bratwurst: Traditional German sausage, or Bratwurst, is a staple at the Frankfurt Christmas market. It's typically grilled to perfection and served in a fresh roll, creating a quick and satisfying meal for visitors as they browse the festive stalls.
Flammkuchen: A delightful dish that's similar to pizza, Flammkuchen is an Alsatian and South German dish composed of thin bread dough spread with fromage blanc or crème fraîche, thinly sliced onions, and lardons. It's cooked in a very hot oven, so the edges get nice and crispy while the topping stays creamy and soft.
Lebkuchen: A festive favourite, Lebkuchen is a traditional German baked Christmas treat, somewhat resembling gingerbread. Originating from medieval times, it's made with a variety of spices and honey and has a slightly nutty taste.
Pretzels: Delicious and chewy with a distinctive twisted shape, pretzels are a classic German snack. You'll find them fresh and warm at the Christmas market, sometimes even innovatively filled with various ingredients like cheese or ham.
Roasted Chestnuts: An international Christmas market favourite, roasted chestnuts are enjoyed by many. The nuts are scored and then heated on a special perforated pan over an open fire. This gives them a unique, smoky, sweet flavour that's instantly recognisable and utterly delicious.
Stollen: A festive treat that hails from Dresden but is enjoyed throughout Germany, Stollen is a fruit bread made with dried fruit, nuts, spices, and often marzipan, all coated with a dusting of icing sugar. It's a dense, sweet loaf that's traditionally eaten during the Christmas season.
What to Buy
Bembel: Synonymous with Frankfurt is the Bembel, a traditional German jug used for serving Apfelwein. They're usually made of stoneware and painted with a blue-grey glaze adorned with decorative patterns. It's the perfect souvenir for someone who appreciates traditional crafts and local culture.
Christmas Ornaments: Frankfurt Christmas Market teems with beautifully crafted Christmas ornaments. From intricate glass baubles to carved wooden figures, these items reflect the high quality of German craftsmanship. They make perfect gifts to adorn your tree with a touch of Frankfurt charm.
Ebbelwoi Glass: As a city renowned for its Apfelwein, a traditional Ebbelwoi glass is a great gift to bring back. This distinctive glass, ribbed on the upper half and smooth on the bottom, is specifically designed for enjoying Frankfurt's famous apple wine.
Frankfurt Honey: If you fancy a sweet treat, look out for locally-produced honey. Beekeepers in and around Frankfurt produce a variety of delicious honey, with distinct flavours depending on the flowers the bees have visited. It's a tasty souvenir that also supports local businesses.
Handmade Crafts: Talented local artisans display their work at the Christmas markets in Frankfurt. You'll find handmade jewellery, wooden toys, leather goods, and other beautifully crafted items here. These make for unique gifts that come with a personal touch.
Laternen: Traditional German Christmas lanterns, or Laternen, are a staple at Frankfurt's Christmas market. These colourful, often beautifully hand-painted lights bring a unique festive atmosphere to any home.
Traditional German Toys: The Christmas markets showcase a variety of traditional German toys. Wooden puzzles, handcrafted dolls and intricate model trains are just some of the toys that'll remind you of a bygone era and make wonderful presents for children.
This guide to the best Christmas markets in Germany 2023 might inspire you to visit further destinations this winter.

Discover where to go, things to do and the best ways to experience German food, history and culture.
Frankfurt Tourism has information regarding events and the best ways to experience Frankfurt at Christmas. This can be useful if you're interested in making a restaurant reservation for Christmas or New Year's.
Sustainable Travel Tips
The choices we make have an environmental and social impact on the places we visit. Try to implement these responsible travel measures when visiting Frankfurt at Christmas.
Opt for public transport: Frankfurt's extensive public transportation network makes getting around the city easy. Trams, buses and the U-Bahn cover nearly every corner of the city, reducing the need for personal vehicles. By choosing these modes of transport, you'll cut down on carbon emissions and contribute to a cleaner environment.
Choose green hotels: Frankfurt has an increasing number of hotels committed to sustainability, employing energy-saving technologies such as solar panels and LED lighting. Many also have rigorous recycling and water-saving initiatives in place. Staying at these places supports their efforts to reduce the carbon footprint.
Mind your food waste: Enjoy the treats at the Christmas market but remain mindful of food waste. I recommend ordering smaller portions if you're not sure you can finish the larger ones. Some stalls may even provide compostable plates and cutlery. Look out for recycling bins to dispose of any waste correctly.
Shop consciously: The market is a hive of activity with a range of beautiful products on offer. Remember to shop responsibly by selecting items made by local artisans to support the local economy and reduce carbon emissions associated with long-distance shipping.
Adopt a plant-based diet: Frankfurt has a burgeoning vegetarian and vegan scene. Opting for a plant-based meal, even just once during your visit, can significantly reduce your carbon footprint.
Refill, don't buy: Frankfurt has numerous public water fountains where you can refill your bottle. By doing so, you'll reduce plastic waste and save money.
Walk when you can: Frankfurt's city centre is highly walkable, and strolling through the charming streets gives you a chance to appreciate the city's blend of traditional and modern architecture. Walking cuts carbon emissions and allows you to discover hidden corners of the city that you might miss when using public transport.
FAQ
Where is the Frankfurt Christmas Market located?
The Christmas markets in Frankfurt are located at Römerberg and adjacent streets.
When do Frankfurt Christmas markets start?
Frankfurt Christmas Market starts on 27th November and ends on 21st December 2023.
What time does Frankfurt Christmas Market open?
The Christmas markets open at 10am daily, except Sundays when it opens at 11am.
What time does Frankfurt Christmas Market close?
The Christmas markets close at 9pm daily.
If you want to leave a review of Frankfurt Xmas Market, please comment below.
—
Recommendations are independently chosen based on personal travel experiences and extensive research. This post contains affiliate links to hotels and tours in Frankfurt, Germany. This means I get a small commission from any bookings at no extra cost to you.