Manchester Christmas markets are set to return in 2022 for another fun festive season. The Manchester market began in 1998 and has developed into one of the UK's largest and most popular markets, attracting thousands of visitors each day over the festive period.
Here you'll find the dates, locations, opening times and what to expect during your visit.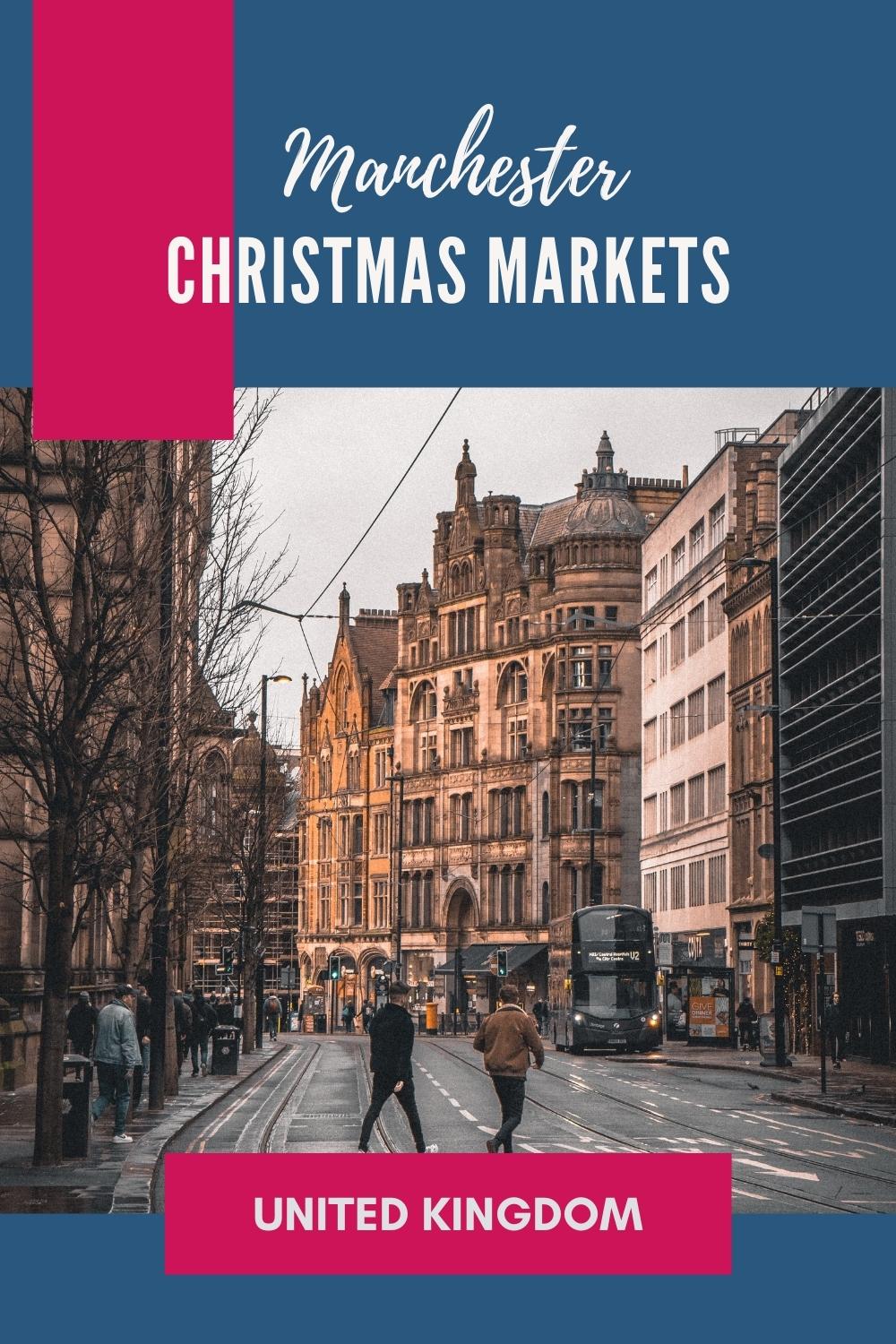 There is a lot going on in Manchester this year with Christmas festivities, decorations, events, themed bars, rides and attractions.
Choose from family-friendly carousels and gift markets, or maybe you're heading out for a drink and some Christmas food.
Manchester Christmas Markets 2022
The Christmas markets in Manchester take place in seven locations around the city. It's one of the busiest events in December, with new events and attractions being added each year.
Dates and Locations
Christmas Market Manchester dates: 11th November to 22nd December 2022.
The Winter Gardens Christmas market at Piccadilly Gardens and the Cathedral Gardens market will continue until the 3rd January 2023.
Christmas Day: Closed.
Opening times: 10am to 9pm.
Location: Piccadilly Gardens and 6 other locations listed below.
Reason to visit: Giant Santa and the Christmas light trail.
Specialities: Yorkshire pudding wraps, fried chicken, hot cookie dough, a gin bar and of course, gluhwein.
Travel tips: Each of the Christmas markets are within walking distance of each other. However, for those with mobility issues or if the weather is bad, you can take the free city bus that passes by most of the Christmas markets.
Where to stay: BrewDog Doghouse Manchester as it's only 3 minutes walk from Piccadilly Gardens.
Note that all of the Christmas markets are closed on Christmas Day.
Hotels near Manchester Christmas Market
If you would like to stay near the Christmas markets, there are several hotels near Piccadilly Gardens or you can stay in the popular Northern Quarter, which is only a few minutes away.
The 7 Manchester Christmas markets are located in a loop that covers the city's cultural centre.
In the centre of this loop is the BrewDog Doghouse Manchester, where I recommend staying for its location and sustainability measures. This hotel is only 3 minute's walk from Piccadilly Gardens.
Alternatively, my guide to hotels near Manchester Christmas markets lists several well-located hotels for all budgets.
7 Christmas Markets in Manchester
There are 7 Christmas markets in Manchester this year. Each has its own unique theme and atmosphere but you can find gifts, Christmas decorations, baubles, mulled wine and hot chocolate at each location.
Piccadilly Gardens – Known as Winter Gardens, this is the main Christmas market in Manchester that will replace the Albert Square Christmas Market in 2022.
Cathedral Gardens – Stays open until after the New Year. You'll find a huge range of handmade craft stalls here. This is also the location of the Skate Manchester ice rink.
Exchange Square – Look out for the famous Yorkshire pudding wraps at Porky Pig.
New Cathedral Street – A great spot for vegan products and food as well as cocktails and gin.
St Ann's Square – Expect to find Christmas craft stalls, Northern Quarter's Yard and Coop, Lakeland Burger Company and hand-pulled pizzas.
King Street – French-themed Christmas stalls and the famous gin bar with 100 varieties of gin.
Market Street – The place for local and regional artisan makers and traders.
St Peter's Square – This is not a Christmas market location, instead, it's where you'll find the Giant Santa that will be illuminated from the 17th November 2022.
If you are visiting from further afield, consider spending 3 or 4 nights in Manchester to experience the city's sights, attractions and cultural events.
Location of Manchester Christmas Market
Get ideas for your next travel destintion with this guide to Christmas markets in the UK.
Sustainable Travel Tips
The choices we make have an environmental and social impact on the places we visit. When visiting the Christmas markets, keeping sustainability in mind is important.
Implement some or all of these simple measures to create a positive impact.
Shop mindfully. Only purchase what you really need.
Walk, cycle and use public transport to get around.
Stay in a sustainable hotel powered by renewable energy.
Stay in hotels. Short-stay apartment accommodation can lead to a lack of affordable housing for locals.
Avoid using plastic or buying items made or packaged with plastic.
Try to eat locally sourced organic food where possible.
Limit your consumption of meat and dairy.
Be open to diverse cultures and experiences.
Explore more than just the main tourist areas.
Support the arts and attend local events.
Visit fewer places but stay longer at each destination.
Visit Manchester has information regarding events and the best ways to experience the city at Christmas.
FAQ
What date is Manchester Christmas Market 2022?
11th November to 22nd December 2022.
Where are the Manchester Christmas markets?
The Christmas markets are located at Piccadilly Gardens, Cathedral Gardens, Exchange Square, New Cathedral Street, St Ann's Square, King Street and Market Street.
What time does Manchester Christmas market open?
The Christmas markets open at 10am daily.
What time does Manchester Christmas market close?
The Christmas markets close at 9pm.
Can I go ice skating in Manchester?
Yes, the Skate Manchester ice rink at Cathedral Gardens is open from the 31st October until the 3rd January.
Do you have to book to go to Manchester Christmas markets?
No, you don't need to book; they are free to enter.
If you have any questions or comments about visiting the Manchester Xmas market in 2022, please leave a review or comment below.
—
Recommendations are independently chosen based on personal travel experiences and extensive research. This post contains affiliate links to hotels and tours in Manchester, England. This means I get a small commission from any bookings at no extra cost to you.