The Manchester Christmas markets are back, continuing a tradition that started in 1998. They've grown to become some of the busiest markets in the UK, drawing a big crowd daily.
In 2023, you'll find several markets scattered around the city centre. Keep reading to get all the details you'll need for this year's festivities.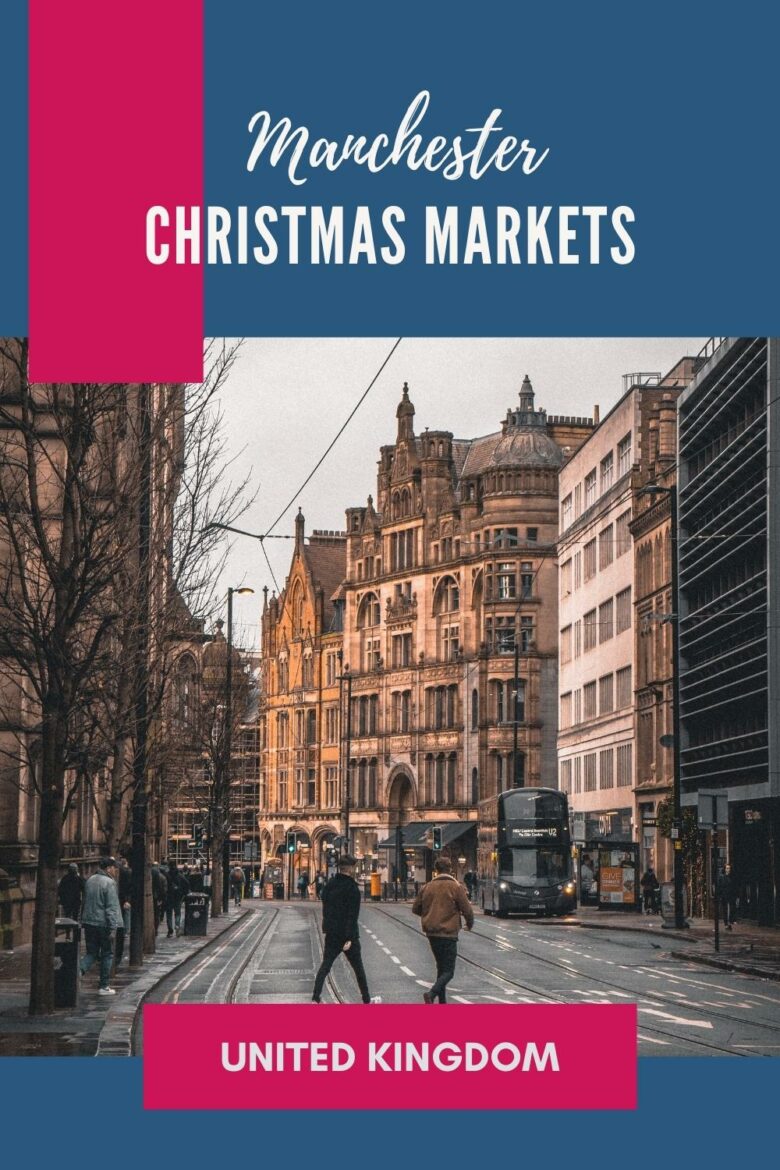 Manchester Christmas Markets 2023
The holiday markets are a staple of Manchester's winter celebrations. Covering multiple squares in the city, they provide 225 stalls plus themed bars, rides and other activities.
You can shop for unique gifts and stocking fillers and sample different foods. Amidst the ski chalet stalls, you'll find the Skate Manchester ice rink that adds to the market atmosphere.
1. Piccadilly Gardens
Winter Gardens takes over Piccadilly Gardens from mid-November. New to the scene this year are fresh food stalls, DJs, and live musical performances that brighten the setting.
A unique element is the adult-only Nordic-themed double tipi bar. This is where traditional log fires keep you warm, and live entertainment takes the stage each evening. To combat Manchester's notorious weather, there's plenty of undercover seating.
And let's not forget the iconic Manchester Windmill, standing tall at 4 metres high.
Manchester Christmas Market dates: 10th November to 21st December 2023.
Location: Piccadilly Gardens and other locations listed below.
Opening times: 10am to 9pm.
Street food stalls: 10am to 6pm.
Craft stalls: 10am to 8pm.
Christmas Day: Closed.
Admission: Free.
Christmas Parade: Sunday, 3rd December 2023.
Christmas Lights Trail: Central Library on St Peter's Square.
Santa: You can meet Father Christmas at Santa's Grotto at St Peter's Square.
Ice skating: Skate Manchester at Cathedral Gardens: 27th October 2023 to 2nd January 2024. Closed Christmas Day. Find prices and book online.
Vegetarian: Yes, plenty of options.
Vegan: Yes, plenty of options, including vegan bratwurst and five bean chilli.
Gluten free: Yes, but limited.
Accessible: Yes.
Pet-friendly: It's advisable to leave your dog at home, except for assistance dogs.
Public transport: Blue, Purple and Yellow line trams stop at Piccadilly Gardens and the Blue, Green and Navy lines stop at Market Street.
Parking: Please take public transport to help limit congestion.
Reason to visit: Big Santa, the Christmas light trail, great gift shopping, loads of events.
Recommended tour: Northern Quarter walking tour.
Specialities: Yorkshire pudding wraps, fried chicken, hot cookie dough, a gin bar and of course, gluhwein.
Travel tips: Each of the market locations are within walking distance of each other. However, if you need to, you can take the free city bus that loops by most events.
Where to stay: BrewDog Hotel is only a 3-minute walk from Piccadilly Gardens.
Where to Stay
If you are visiting from afar, consider spending 3 or 4 nights in Manchester to experience the city's sights, attractions and cultural events.
The markets are located in a loop that covers the city's cultural centre. In the centre of this loop is the BrewDog Hotel, where I recommend staying for its location and sustainability measures. This hotel is only a 3-minute walk from Piccadilly Gardens.
Alternatively, my guide to hotels near Manchester Christmas markets lists several well-located hotels for all budgets.
Get ideas for your next travel break with this Christmas markets UK guide. It lists places to go across the country.
Location
2. Cathedral Gardens
Cathedral Gardens dates: 26th October to 31st December 2023.
Cathedral Gardens is widely considered the most family-friendly among Manchester's Christmas markets, staying vibrant until New Year's Eve to attract families and late-season celebrants long after other markets have closed.
While many markets close shortly before Christmas, Cathedral Gardens stays open until New Year's Eve, drawing families and late-season celebrants long after most other markets have closed.
Unique handmade crafts dominate the scene, with artisans presenting diverse items like pottery, wooden toys and jewellery.
Among Manchester's various markets, Cathedral Gardens stands out as the most family-friendly, with its popular Skate Manchester ice rink setting it apart.
Open from 27th October to 2nd January, the rink is initially set up for a Halloween-themed skate before shifting to a Christmas setting.
3. Exchange Square
In Exchange Square, food takes centre stage, with Yorkshire pudding wraps drawing large crowds. This isn't just a place to eat; it's a culinary adventure featuring international dishes, hot curries and gourmet pizzas.
As for drinks, the Mill Exchange bar specialises in a Mancunian version of mulled wine crafted from local ingredients.
Beyond food and drink, the market expands into the Corn Exchange area, showcasing a wide range of goods.
4. New Cathedral Street
New Cathedral Street provides a distinct focus on sustainability and vegan options. It's a hub for eco-conscious shopping, featuring cruelty-free beauty products and vegan food options, including five-bean chillis and plant-based bratwursts.
The drink selection here sets it apart, with an inventive cocktail list and a variety of local gins. This includes locally distilled options, perfect for a refreshing Christmas gin and tonic or a winter-warming hot gin punch.
But it's not just about food and drink; high-end gift stalls offer a range of unique items such as fine cast ornaments and old-fashioned liquorice.
5. St Ann's Square
St Ann's Square is a focal point in Manchester's winter festivities. Local artisans sell bespoke jewellery, unique decorations, and handmade toys, adding a personal touch to your gift shopping.
The Square also excels in culinary options, where you can get comforting, home-style chicken dishes, high-quality burgers and wood-fired pizzas.
There's a strong German influence, with stalls pouring German beers and warm cherry gluhwein, each providing a unique tasting experience.
The market also celebrates Manchester's culinary heritage with Mancunian-themed foods.
6. King Street
King Street stands out for its French-themed Christmas market in central Manchester. Freshly baked croissants and classic French desserts like macarons and crème brûlée are inviting.
Beyond food, the market features decorative stalls that bring a touch of Gallic style to the city, selling artisan cheeses, cured meats, and traditional French holiday ornaments.
One distinct feature is the gin bar, stocked with 100 different varieties. It becomes a gathering spot for gin enthusiasts who get to sample gins from around the world, each with its unique set of botanicals.
7. Market Street
With over 40 stalls, Market Street provides a diverse selection of gifts and stocking fillers. This area stands out for its focus on artisan makers and traders.
Unlike typical mass-produced ornaments, here you'll find unique, handcrafted Christmas decorations ranging from wooden reindeer to glass baubles.
Another popular item is the range of candles, fragranced with traditional and unique scents, often hand-poured and made from natural ingredients like soy wax.
Bonus Event: Big Santa
St Peter's Square doesn't host a traditional market but still plays a significant role in the city's festive celebrations.
The square is home to Manchester's Big Santa, a colossal figure that has been part of local Christmas traditions for years.
This enormous Santa is set to light up on 16th November 2023, providing excellent photo opportunities and adding a warm glow to the Manchester skyline.
Visit Manchester has additional information regarding events and activities on a city break. For example, they have a page dedicated to interesting experiences.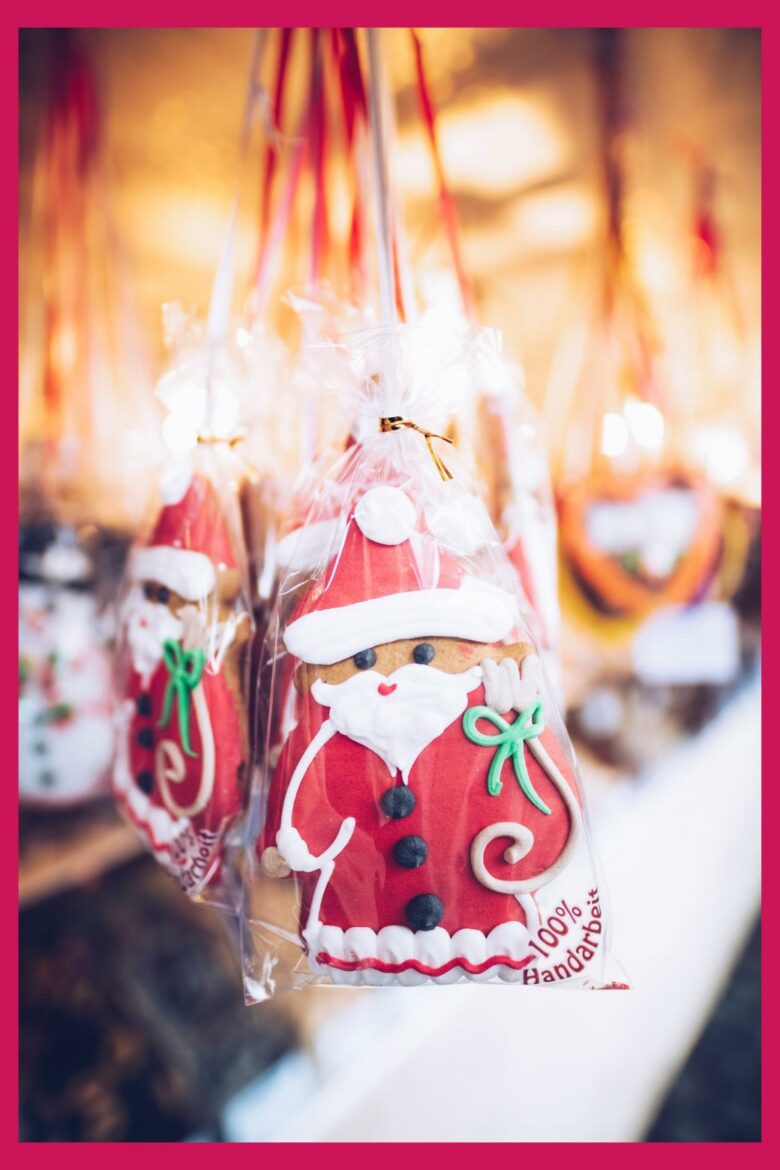 Food Stalls
Ballaro Cannelloni: Found on King Street, the Italian deli Ballaro serves fresh cannelloni filled with various ingredients. The pasta is house-made, and the fillings range from ricotta to spinach. It's a delicious option if you're in the mood for authentic Italian food.
El Gato Negro Tapas: This Mediterranean spot on King Street serves a range of tapas. Enjoy a small plate of patatas bravas, calamari or chorizo, adding some Mediterranean flavours to your market experience.
German Beers: You'll find an assortment of German beers served at various points in the market. These beers pair well with other German specialties you might pick up.
Salt and Pepper Chicken Fries: From Yard and Coop, these fries combine the classic comfort of fried chicken with salt and pepper seasoning, creating a snack that's both satisfying and flavourful.
Bratwurst: Traditional German sausage cooked on large swing grills. A staple of Christmas markets, you can get these with or without a bun and a selection of mustards or tomato sause.
Vegan Bratwursts: For those preferring plant-based options, vegan bratwursts are available.
Old-Fashioned Liquorice: For the sweet-toothed, old-fashioned liquorice can be found at various stalls.
Currywurst: This is a popular German street food consisting of sliced bratwurst covered in curry ketchup. The dish is usually served with a side of bread or fries.
Vegan Five-Bean Chilli: This plant-based chilli dish consists of five types of beans and is a hearty option for those avoiding animal products.
New York Bagels: Freshly baked bagels with fillings like cream cheese, smoked salmon or roast vegetables are available at some stalls.
Yorkshire Pudding Wrap from Porky Pig: This is a unique take on the classic Sunday roast. Meat, vegetables, and gravy are all wrapped up in a large Yorkshire pudding, making it easier to eat on the go.
Hot Curries: Various stalls offer hot, spiced curries, usually served with naan or rice.
Mini Pancakes: These small, fluffy pancakes are often topped with sugar or syrup. They're cooked on a grill and served hot, providing a sweet bite between other savoury options.
Fresh Fudge: Handmade fudge in various flavours like chocolate, vanilla, and walnut can be found at some stalls. They're often sold in small blocks, making them an easy gift option.
Crepes: Thin French pancakes filled with toppings like Nutella, strawberries or bananas. Made to order, they offer another sweet option at the market.
Gourmet Hotdogs: These aren't your average hotdogs. Often made from quality meats and served with a range of creative toppings, they provide a gourmet twist on the classic.
Amsterdam Frites: Dutch-style fries served in a cone and topped with various sauces like mayonnaise, ketchup, or even satay. They offer a different take on the typical chips.
Craft Stalls
Fine-Cast Ornaments: These are available from crafters who make intricate decorations using fine-cast materials and typically showcase traditional Christmas themes like snowflakes, reindeer, or angels.
Light-Up Decorations: Various stalls feature decorations with integrated lights. The designs often incorporate traditional motifs, and they add a glowing element to both indoor and outdoor spaces.
Handmade Wooden Furniture: Several vendors specialise in crafting furniture from local woods. Sturdy and functional, these pieces range from chairs and tables to smaller items like wooden stools.
Personalised Tree Decorations: Customisation services are available for Christmas tree ornaments. These decorations can be personalised with names, dates, or short messages.
French Soap Stall: Imported soaps from France offer a variety of fragrances and textures. These soaps are often made with natural ingredients like lavender, olive oil, or honey and come in simple yet elegant packaging.
Nepalese Woollen Jumpers: These jumpers are knitted with wool from Nepal and feature traditional designs. They're known for their durability and warmth, making them a functional yet unique gift.
Artisan Chocolates: Local chocolatiers showcase a variety of handmade chocolates. These can range from traditional pralines to more experimental flavours like chilli or lavender.
Coconut Macaroons: Freshly baked coconut macaroons make for a sweet gift. They're often sold in decorative boxes or tins, making them easy to give as a present.
Cheese Truckle Gift Sets: These sets feature small cheese wheels, known as truckles, in different flavours. The cheeses are usually locally produced and can include options like cheddar and Stilton.
High-End Gift Stalls: On New Cathedral Street, these stalls feature luxurious items such as fine leather goods, silk scarves, and designer accessories.
Sustainable Travel Tips
Our choices have an environmental and social impact on the places we visit. When visiting Manchester, keeping sustainability in mind is important. Implement some or all of these simple measures to create a positive impact.
Eco-Friendly Hotels: Many hotels and guesthouses in Manchester commit to sustainability by implementing renewable energy sources for their electricity. The Brewdog is a good example. This is probably the most important aspect of sustainable hotels.
Public Transport: With an extensive network of trams, buses and cycle lanes, Manchester's transport system is a practical and green alternative to hiring a car or taking taxis. For instance, travelling by Metrolink, Manchester's tram system, can significantly reduce carbon emissions. If you fancy a more active means of transport, the city's Bee Network is an extensive cycling and walking network.
Food and Drinks: Manchester has a burgeoning scene of restaurants and cafes serving sustainably sourced and plant-based meals, perfect for those looking to maintain a sustainable diet while on holiday.
Food Waste: Be mindful of food waste when eating out in Manchester. Order what you can finish, and ask for a doggy bag if you've got leftovers. Remember that food stalls often serve generous portions, so consider sharing a meal to avoid waste.
Support Local: Buying from local and ethical businesses supports the local community and keeps them around. When shopping, watch for the Made in Manchester label, which signals locally-made, ethical products.
Green Events: Many events in Manchester are working towards being more environmentally friendly, often by recycling waste and using renewable energy. For example, Lightwaves, the annual digital light festival, uses LED lights to reduce energy consumption. Look out for other green events you can support.
Donate: If you've bought too many souvenirs or gifts and can't fit everything in your suitcase, consider donating to a local charity shop. Charities like Barnardo's have numerous locations across Manchester and will happily accept good-quality items. You could also buy items specifically to donate, which could be shared with those in need.
FAQ
Can I go ice skating in Manchester?
Yes, Manchester has ice skating. The Skate Manchester ice rink at Cathedral Gardens is open from the 27th October until the 2nd January 2024.
Do you have to book to go to Manchester Christmas markets?
No, you don't need to book to visit Manchester's Christmas markets; they are free to enter and don't require tickets.
Where is the Big Santa?
Manchester's Big Santa is located at St Peter's Square.
If you have any questions or comments about visiting the Manchester Xmas Market, please leave a review or comment below.
—
Recommendations are independently chosen based on personal travel experiences and extensive research. This post contains affiliate links to hotels and tours in Manchester, England. This means I get a small commission from any bookings at no extra cost to you.