Known as Münchner Christkindlmarkt in German, Munich Christmas Market is one of the best in Germany. But Munich doesn't just have one Christmas market. The main market is held on Marienplatz, but there are several others around the historic city centre. This guide provides updated dates, locations and opening times for each market.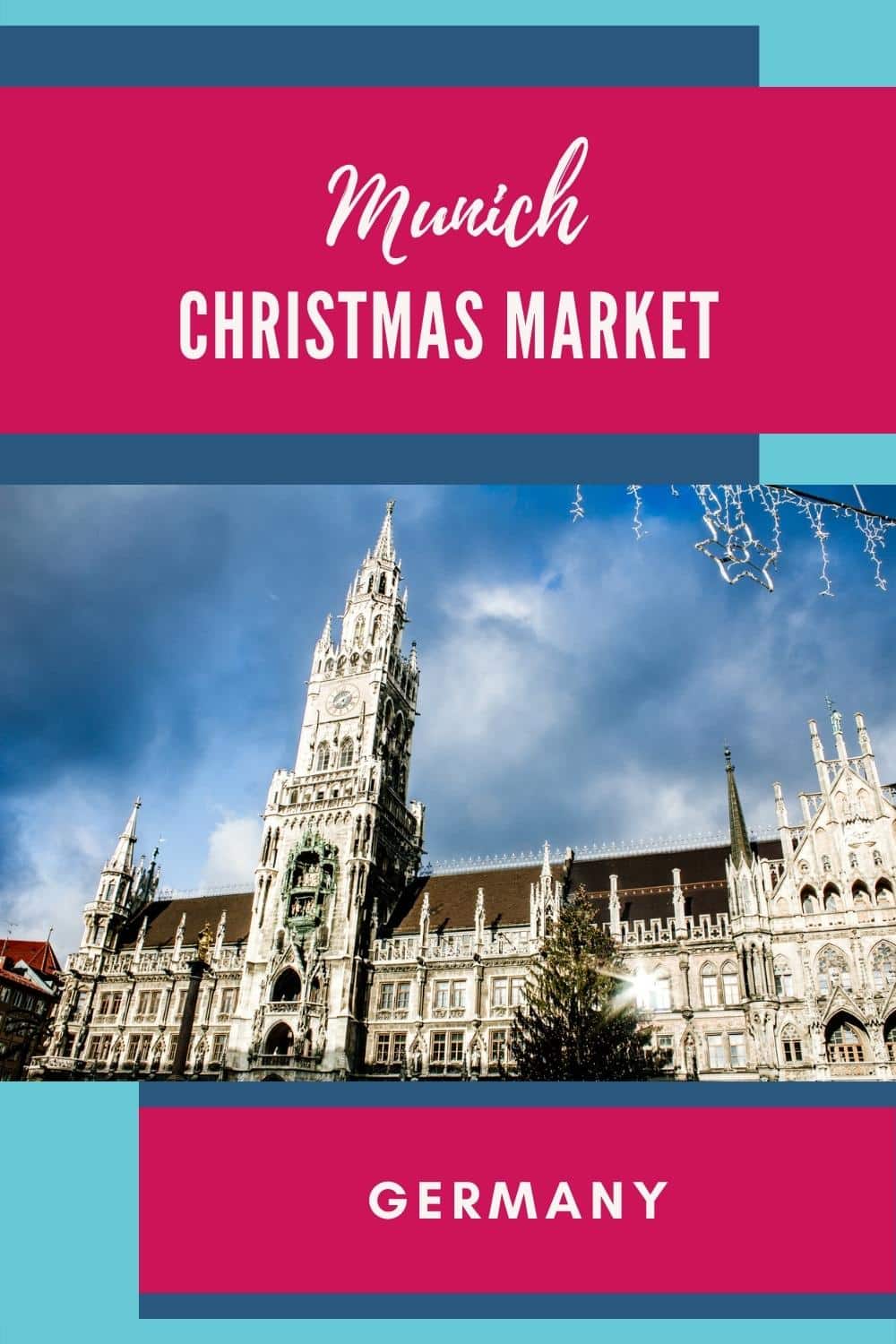 In Munich, you'll also find a small market off Odeonsplatz and the medieval-style Christmas market at Wittelsbacherplatz. An alternative experience takes place at the Tollwood Winter Festival, with themed tents and art performances.
Munich Christmas Market 2022
As the most traditional and historical of the Christmas markets in Munich, Marienplatz is hard to beat. The location is extraordinary, with the stunning neo-Gothic New Town Hall and the rest of the entire square decorated with lights and baubles.
The Christmas tree is the centrepiece of the market, surrounded by Bavarian chalets and festive scents. Start your exploration of Munich at Christmas in Marienplatz.
Munich Christmas Market dates: 21st November to 24th December 2022.
Opening times: 10am to 9pm, except Sundays when it closes at 8pm and on Christmas Eve when it closes at 2pm.
Location: Marienplatz.
Reason to visit: The largest Nativity scene in Germany and the 30-metre Christmas tree.
Recommended tour: If this is your first time in Munich, take a guided city tour to get an overview of the city, including a visit to the famous Viktualienmarkt food market. The City of Munich runs guided tours of the Christmas Market. Tickets are available from the tourist office on Marienplatz.
Neuschwanstein Castle: Munich is the gateway to Germany's fairytale castle. This is the most popular day trip to Neuschwanstein and Linderhof Castle.
Specialities: Pommes, traditional bratwurst, doughnuts, cake and of course, gluwein.
Where to stay: Beyond by Geisel is located directly on Marienplatz.
Hotels near Munich Christmas Market
I've been fortunate to have visited Munich on several occasions. I often stayed near the main train station as there are many hotels in this area. However, it's a bit of a walk to the old town from there, but I think it's better to stay somewhere more central if you can.
I suggest staying at Beyond by Geisel it's located directly on Marienplatz, the location of the main Christmas market. If you're lucky, you'll have a view of the New Town Hall from your room.
Location of Munich Christmas Market
Residenz Christmas Village
Residenz is Munich's city palace. At any time of the year, Residenz is one of the most interesting places to visit in Munich. But at Christmas, the courtyard holds a Bavarian village-style market.
Residenz Christmas Village dates: 17th November to 23rd December 2022.
Opening times: 11am to 9pm.
Location: Access via Odeonsplatz.
Location of Residenz Christmas Village
Medieval Christmas Market
I loved this smaller market and the medieval-style half-timbered Christmas chalets at Wittelsbacherplatz. This is a small square near Odeonplatz and the Hofgarten. Be sure to try the tarte flambée and the wild drachenglut hot drink.
Medieval Christmas Market dates: 21st November to 23rd December 2022.
Opening times: 11am to 9pm.
Location: Wittelsbacherplatz.
Location of Medieval Christmas Market
Tollwood Winter Festival
Tollwood is a unique, alternative Christmas market held at the huge Theresienwiese fairground. The event itself isn't that large, it's a series of tents highlighting different music or theatrical performances and alternative culture. You'll find organic and vegan food here; sustainability is a key theme.
Tollwood Christmas Market dates: 24th November to 23rd December 2022.
Festival Dates: 24th November to 31st December including a New Year's Eve party.
Opening times: 11am to 9pm.
Location: Theresienwiese.
Admission: Free.
How to get there: Underground U4 or U5 to Theresienwiese.
Tollwood Events: Find out more.
Location of Tollwood Winter Festival
Plan your Christmas holiday with my Germany Christmas markets guide. Discover where to go, things to do and the best ways to experience German food, history and culture.
Visit Munich is an excellent resource for visitors. They have an especially useful series that covers the city's diverse neighbourhoods, of which there are many. It's well worth getting outside of the Altstadt (Old Town) to experience a different side of Munich.
Sustainable Travel Tips
The choices we make have an environmental and social impact on the places we visit. Try to implement these responsible travel measures when visiting the Christmas markets.
Shop mindfully. Only purchase what you really need.
Walk, cycle and use public transport to get around.
Stay in a sustainable hotel powered by renewable energy.
Avoid using plastic or buying items made or packaged with plastic.
Try to eat locally sourced organic food where possible.
Limit your consumption of meat and dairy.
Explore more than just the main tourist areas.
Support the arts and attend local events.
If possible, avoid flying to your destination.
FAQ
When does the Munich Christmas Market start?
Munich Christmas Market starts on 21st November and ends on 24th December 2022.
Where is the Christmas market in Munich?
Munich Christmas Market is located on Marienplatz.
What time does Munich Christmas Market open?
The Christmas market opens at 10am daily.
What time does Munich Christmas Market close?
The Christmas market closes at 9pm daily, except Sundays when it closes at 8pm and on Christmas Eve when it closes at 2pm.
If you would like to leave a review of Munich Xmas Market, feel free to comment below.
—
Recommendations are independently chosen based on personal travel experiences and extensive research. This post contains affiliate links to hotels and tours in Munich, Germany. This means I get a small commission from any bookings at no extra cost to you.