Silverton is a great place to visit in the winter, especially if you love the holiday season and outdoor events. The annual Silverton Christmas Market is a highlight for both locals and visitors. And if you're looking for some outdoor fun, Silverton is close to the Cascade Mountains, where you can go skiing, snowshoeing, or snowboarding. All in all, it's a festive and fun destination for the whole family.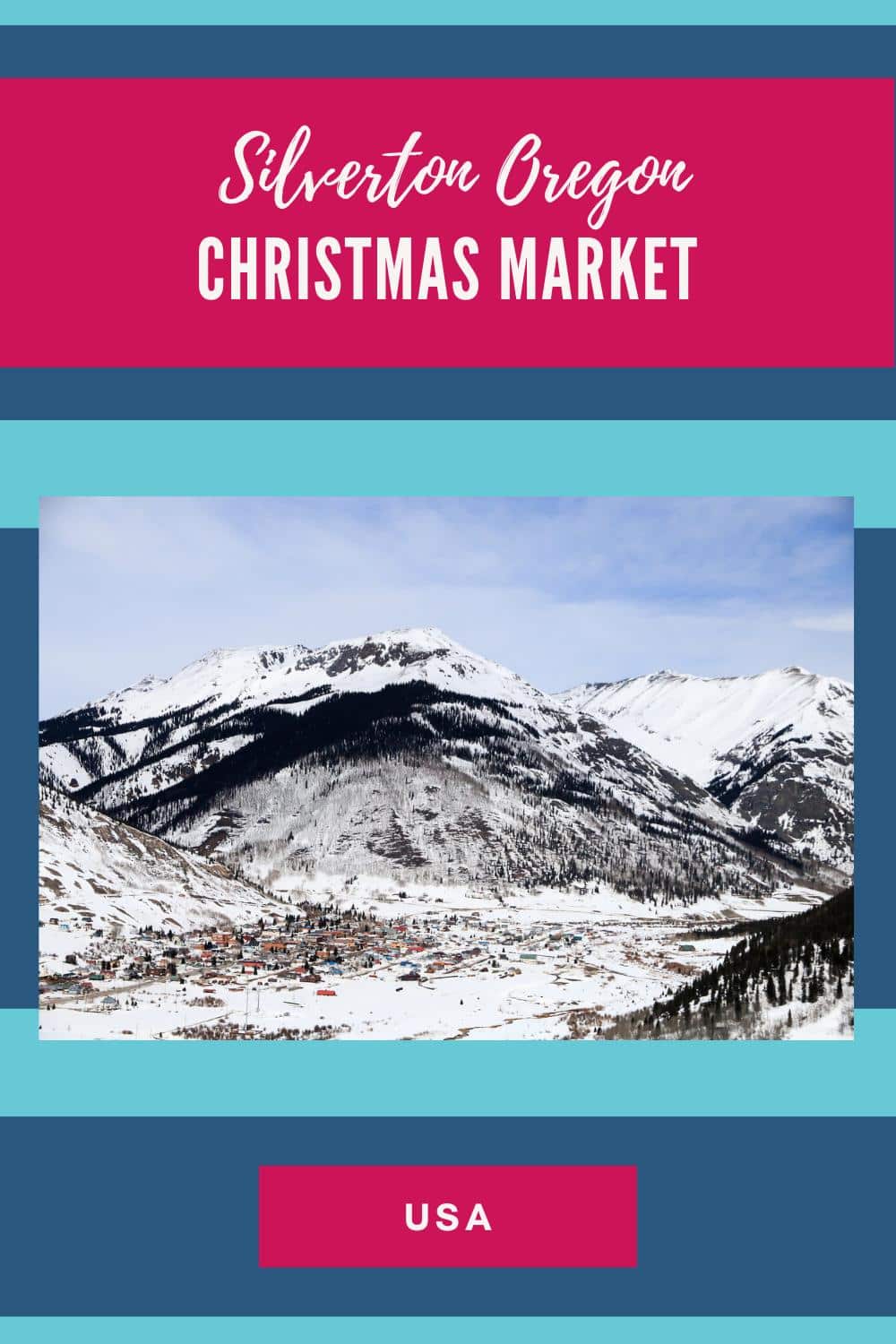 Silverton Christmas Market 2022
The Christmas market in Silverton is a must-see for anyone visiting the area during the holiday season.
The market features a huge array of handmade crafts, gifts, and delicious food and drinks.
You can find everything from cozy scarves and hats to one-of-a-kind jewelry and pottery.
Be sure to check out the tubing and pay a visit to Santa.
And don't forget to grab a cup of spiked hot cocoa or mulled wine to keep warm!
Dates and Location
Silverton Christmas Market dates: 25th November 2022 to 1st January 2023.
Opening times: 5pm to 9pm.
Christmas Day: Closed Christmas Eve and Christmas Day.
Location: Oregon Garden Resort, 895 West Main Street, Silverton.
Admission: $5 – $18. Tickets must be purchased online in advance. No tickets at the door. Book here.
*Please note, this is a cashless event.
Christmas lights: Access to the lights is included in the admission price.
Santa: Yes, until 23rd December.
Ice skating: No.
Snowless tubing: Yes.
Accessible: Yes. Pathways have course gravel but are suitable for wheelchairs and strollers.
Pet-friendly: Yes. Dogs are allowed on a lead. However, they are not allowed on the shuttle buses.
Parking: VIP parking at the event is $20. Other parking is $10 and includes the free shuttle bus.
Reason to visit: Snowless tubing, Biergarten, carolers, music, Santa and the mountain view location.
Specialities: German sausages, soft pretzels, schnitzel sandwiches, and more along with alcoholic (hot cocoa with a shot, craft beer, and gluhwein) and non-alcoholic beverages.
Where to stay: Rooms are available at Oregon Garden Resort, the location of the event. Alternatives are listed below if it's fully booked.
Hotels near Silverton Christmas Market
Silverton is a small city to the east of Salem, Oregon. It's popular thanks to its position as a gateway to Silver Falls State Park. If you're visiting Silverton for this reason, then you'll likely want to stay in the city.
In this case, I suggest staying at Oregon Garden Resort unless it's fully booked, then I recommend Silverton Inn, which is located in the city centre.
If you're visiting the region more broadly, then you'd be better off staying in Salem, where you'll have access to a wider range of restaurants and attractions. Home2 Suites By Hilton Salem is a great option in Salem while still being close to the Christmas market.
Location of Silverton Christmas Market
Experience the magic of Christmas in the USA with my comprehensive guide to the best Christmas markets across the country!
Oregon tourism is a useful resource for travelers looking to explore the state of Oregon. It provides information on popular attractions, events, and activities, as well as helpful tips on planning your trip and finding accommodations.
Sustainable Travel Tips
Many of us are increasingly concerned about climate change and sustainability. Here are some ideas for how people can be more sustainable this Christmas:
Use renewable energy sources, such as solar or wind power, to light up your home or Christmas tree.
Make sure your home is energy efficient by insulating your walls and windows and using energy-efficient appliances and light bulbs.
Reduce food waste by planning your meals carefully and only buying the amount of food you need. Use leftovers creatively, such as turning them into soups or casseroles.
Limit consumerism by thinking carefully about the gifts you give and buying only what is truly needed and wanted. Consider giving experiences, such as tickets to a concert or a membership to a museum, instead of physical items.
Follow a sustainable diet by choosing foods grown or raised in environmentally friendly and humane ways. This may mean choosing locally-grown, organic, or plant-based foods.
Use sustainable transportation, such as walking, biking, or taking public transit, instead of driving whenever possible. This will help reduce greenhouse gas emissions and air pollution.
FAQ
When is Silverton Christmas Market?
Silverton Christmas Market starts on 25th November and ends on 1st January.
Where is Silverton Christmas Market?
The Christmas markets in Silverton are held at the Oregon Garden Resort, 895 West Main Street, Silverton.
What time does Silverton Christmas Market open?
The Christmas markets are open from 5pm to 9pm.
If you would like to leave a review of Silverton Xmas Market, feel free to comment below.
—
Recommendations are independently chosen based on personal travel experiences and extensive research. This post contains affiliate links to hotels and tours in Silverton, Oregon, USA. This means I get a small commission from any bookings at no extra cost to you.