The further north you travel, the more chance you'll have of experiencing a white Christmas. If that's what you're looking for, the Stockholm Christmas Market in Gamla Stan (Stockholm's historic centre) is an ideal destination for a winter wonderland holiday.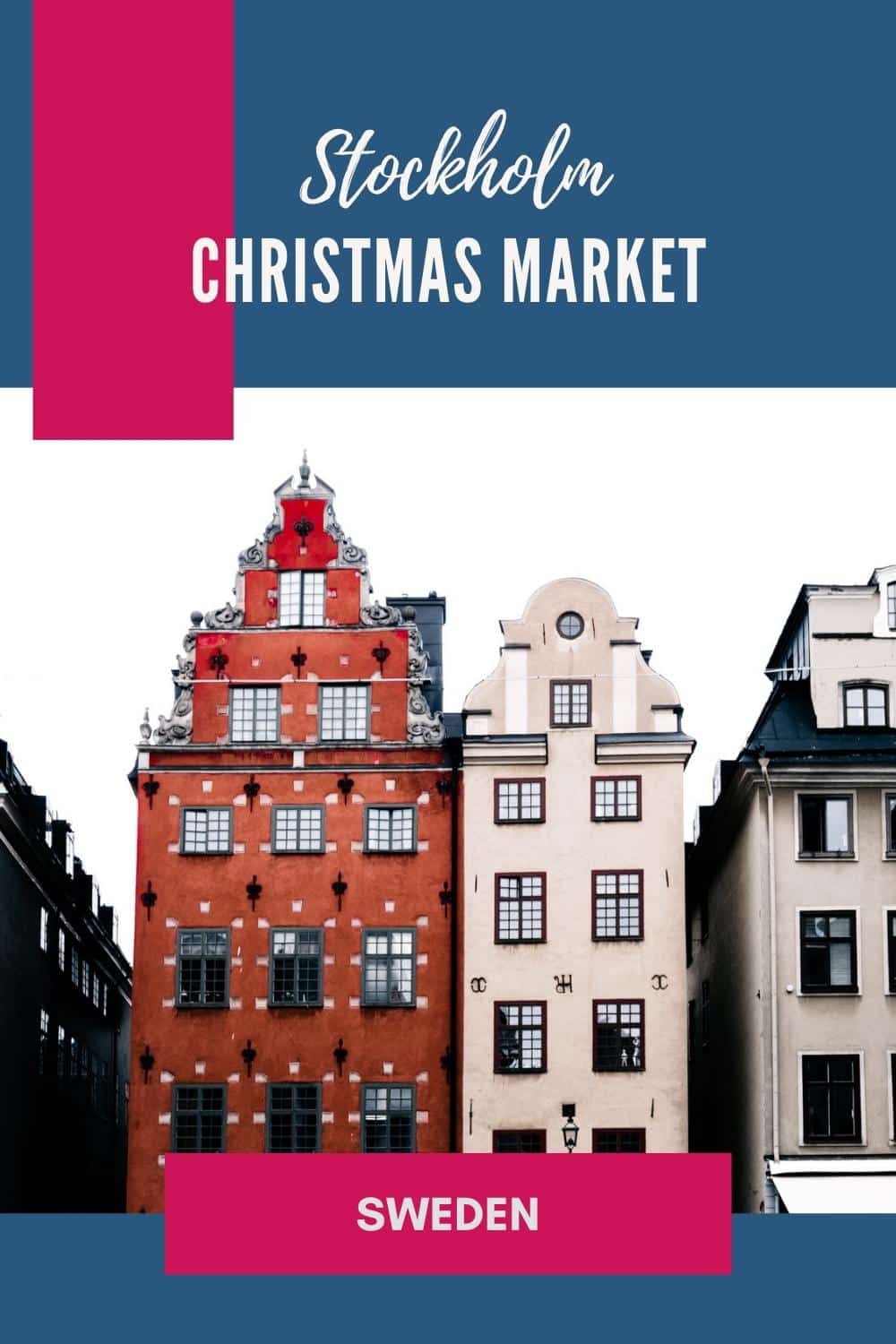 Although the market in Gamla Stan is the oldest and most traditional in Stockholm (and Sweden), there are many other Christmas markets around the city and in the surrounding areas.
With a weekend in Stockholm, you could easily visit five different Christmas markets and still have time for sightseeing in Stockholm, visiting museums, eating Sweden specialties on a food tour and exploring the archipelago.
Stockholm Christmas Market 2022
Stortorget Christmas Market is the most popular market in Stockholm and where you'll most likely wish to spend your time when visiting the city.
It's a lovely place to experience with friends (or solo!), try Swedish food and meet the local vendors.
Stockholm Christmas Market dates: 19th November to 23rd December 2022.
Opening times: The market is open between 11am and 6pm.
Location: Stortorget, Gamla Stan is the location of the main market in Stockholm but there are several others around the city.
Reason to visit: Visit for a white Christmas, beautiful natural landscapes and Swedish food.
Specialties: Glögg, Christmas dinner buffet, reindeer sausages, Swedish handicrafts.
Travel tip: Stockholm is a spread out city. Take a city tour when you first arrive to get your bearings.
Winter events: Christmas carols or build your own gingerbread house.
Plan your trip: Resources to plan your Christmas holiday or winter break.
Stockholm weather in winter: Temperatures average 2°C / -1°C (high / low) in December.
Where to stay: At Six or search our recommended Christmas hotels for a budget option.
Hotels near Stockholm Christmas Market
The city of Stockholm is spread out over several islands. Gamla Stan is the beautiful old town area and the location of the Christmas market.
But it's not necessary to stay here, in fact, you'll most likely stay elsewhere as this district is small, often crowded and expensive.
I suggest staying at Hotel At Six which is in a great area of the city for sightseeing and only 10 minutes from the Christmas market.
Read my guide to hotels near Stockholm Christmas Market that gives an overview of the different districts and the best areas to stay.
Christmas Food in Sweden
Swedish Christmas markets are very different to the classic German Christmas markets. It's a nice chance to experience Scandinavian delicacies as well as specifically Swedish Christmas food and specialties.
Meatballs – Of course, you must try the most classic of all Swedish dishes, meatballs. These are nothing like what you might have tried in your home country. In Stockholm, you can get vegetarian and vegan meatballs along with traditional meat varieties.
Julbord – Look out for julbord, a classic Swedish buffet with Christmas food. Many restaurants offer a Christmas buffet for dinner during the Christmas holiday period.
Hot glögg – Glögg is the Swedish version of mulled wine of gluhwein as they call it in Germany. An old-fashioned glögg recipe typically includes port, bourbon and white rum which is seasoned with cinnamon, cardamom and cloves plus the addition of dried orange peel, raisins and sugar.
Swedish fika – Fika is not a Christmas tradition but it is a Swedish tradition definitely worth enjoying on a daily basis in my opinion! Fika basically means meeting with friends or family for an afternoon coffee and cake or pastry. You would typically have it at a bakery but you can have it at most cafes too. Swedish pastries are incredible and Stockholm has countless bakeries with the most amazing sweets you'll ever see.
Gingerbread – Like in Germany, Stockholm is famous for its gingerbread and you can find this in most Christmas markets in Stockholm.
Sweets and candy – Stortorget, the main Christmas market in Stockholm, is famous for its sweets including caramel, marzipan, chocolate wheels, waffles, cotton candy as well as local honey.
Things to Do in Stockholm in Winter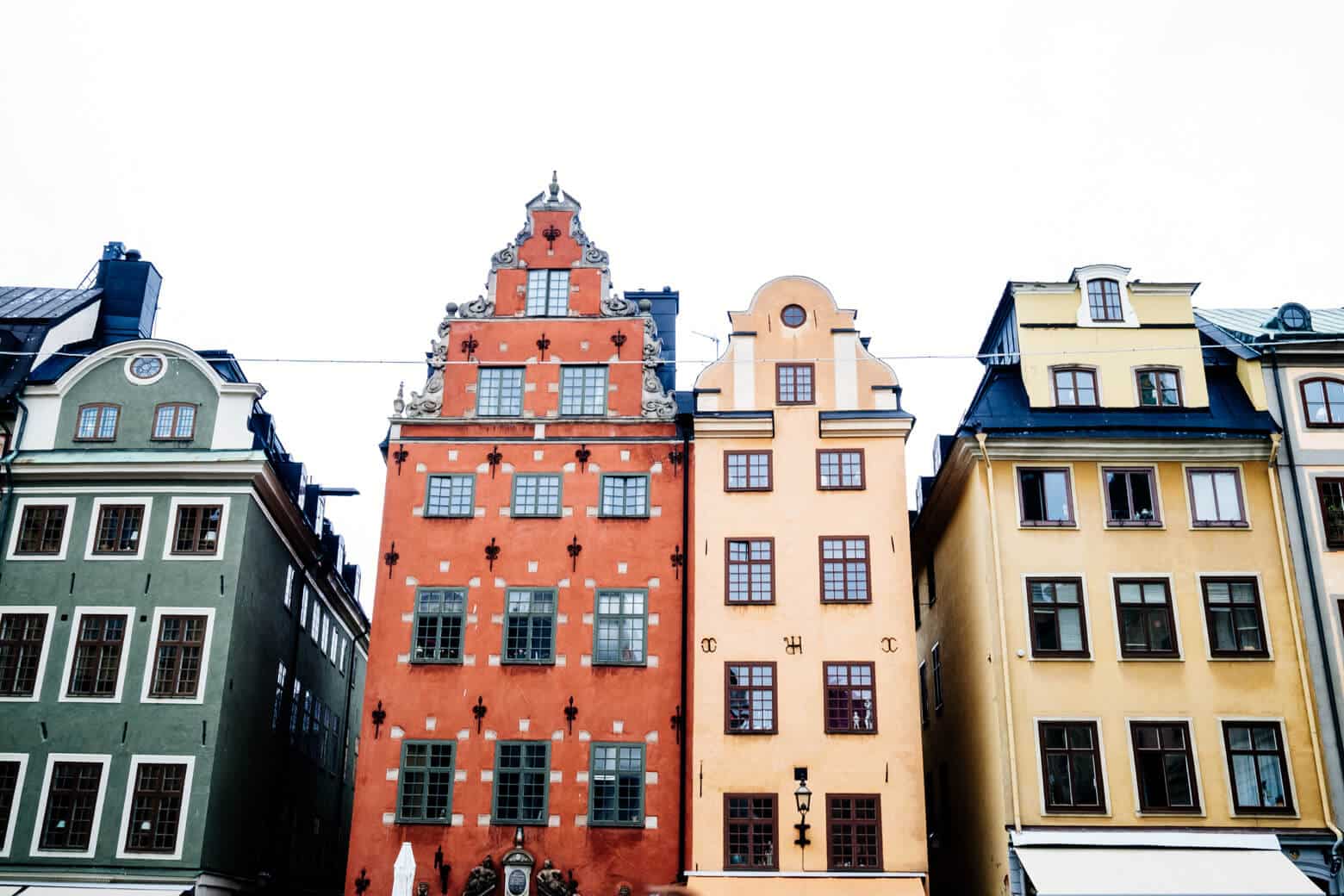 Stockholm is busy with visitors in December as many of the sights and things to do and perfect for cold winter days.
The Royal Palace – One of the largest palaces in Europe with more than 600 rooms. The palace is open to the public and has five museums inside.
City Hall and Tower – Visit the tower of Stockholm's City Hall to get stunning views of Stockholm's islands and historic old town.
Fotografiska – A brilliant photography museum with regular and temporary exhibitions. One of the highlights of a visit to Stockholm.
ABBA Museum – Yes, ABBA has its own museum in Stockholm. If you have even the slightest interest in their music, this museum is worth visiting. It's hugely popular.
Drottningholm Palace – If you plan on taking a day trip from Stockholm, Drottningholm Palace is the permanent residence of the Swedish royal family and a World Heritage Site. The palace and gardens are open all year round.
The Vasa Museum – The most visited museum in Scandinavia and home to Vasa, a perfectly preserved 17th-century ship including its art treasures.
For more things to do in Stockholm in December, go to Visit Stockholm, the official tourist site for Stockholm.
Location of Stockholm Christmas Market
Sustainable Travel Tips
The choices we make have an environmental and social impact on the places we visit. When visiting the Christmas markets, it's important to keep sustainability in mind.
Implement some or all of these simple measures to create a positive impact.
Shop mindfully. Only purchase what you really need.
Walk, cycle and use public transport to get around.
Stay in a sustainable hotel powered by renewable energy.
Stay in hotels. Short-stay apartment accommodation can lead to a lack of affordable housing for locals.
Avoid using plastic or buying items made or packaged with plastic.
Try to eat locally sourced organic food where possible.
Limit your consumption of meat and dairy.
Be open to diverse cultures and experiences.
Explore more than just the main tourist areas.
Support the arts and attend local events.
Visit fewer places but stay longer at each destination.
FAQ
What to do in Stockholm during Christmas?
Given that it can get very cold during the Christmas period, this is a great time to visit Stockholm's many excellent museums, palaces, galleries and exhibitions. The Christmas markets are well worth visiting at this time too.
Does Stockholm have Christmas markets?
Yes! The main market is Stortorget Christmas Market in Gamla Stan.
Is Stockholm good at Christmas?
If you're happy to find entertainment indoors, Stockholm is great at Christmas. There are several excellent events including Stockholm Christmas Market which is held in the beautiful Gamla Stan district.
When is Stockholm Christmas Market?
19th November to 23rd December 2022.
When does Stockholm Christmas Market open?
The Christmas markets open at 11am.
When does Stockholm Christmas Market close?
The Christmas markets close at 6pm.
If you visited Stockholm in December or Christmas in Sweden and would like to share your experience, leave a comment below.
—
Recommendations are independently chosen based on personal travel experiences and extensive research. This post contains affiliate links to hotels and tours in Stockholm, Sweden. This means I get a small commission from any bookings at no extra cost to you.