The further north you travel, the more chance you'll have of experiencing a white Christmas. If that's what you're looking for, the Stockholm Christmas Market in Gamla Stan (Stockholm's historic Old Town) is an ideal destination for a winter wonderland holiday.
Full details, including confirmed 2023 dates and what to expect, are below.
While the Christmas market in Gamla Stan is recognised as the oldest and most beautiful in Stockholm and all of Sweden, the city and its surroundings boast numerous other festive markets.
In just one weekend in Stockholm, you could explore up to five distinct Christmas markets and still have ample time for sightseeing, museum-hopping, savouring Swedish delicacies on a food tour, and discovering the stunning archipelago.
Stockholm Christmas Market 2023
If you're planning a winter trip to Stockholm, the Gamla Stan Christmas Market should undoubtedly be at the top of your list. As the most popular market in Stockholm, it's a must-visit destination for any holiday enthusiast.
Whether you're travelling with friends or exploring the city solo, this market is an ideal place to experience the city's festive spirit.
Located in the heart of Stockholm's Old Town, Gamla Stan Christmas Market is a hub of activity during the holiday season. The market offers a wide range of Swedish handicrafts, artisanal goods, and traditional holiday treats.
You'll find all kinds of gifts and Christmas decorations, handcrafted ornaments, candles, Nordic knitwear and stocking fillers.
The market's atmosphere is cosy and inviting, with cheerful holiday music, sparkling lights, and the fragrance of glögg (mulled wine) and gingerbread filling the air.
You can grab a cup of glögg and wander through the market, sampling Swedish delicacies such as pepparkakor (ginger snaps), lussekatter (saffron buns), and julbord (Christmas smorgasbord).
One of the best things about the Gamla Stan Christmas Market is meeting local vendors and learning about Swedish holiday traditions. If they're not too busy, you can chat with the friendly sellers, ask about their products, and get a glimpse into the customs and rituals that make the holiday season in Sweden so special.
Dates and Location
Stockholm Christmas Market dates: 20th November to 23rd December 2023.
Location: Gamla Stan.
Opening times: 11am to 6pm.
Christmas Day: Closed.
Admission: Free.
Santa: No.
Ice skating: Yes, in Stockholm but not in Gamla Stan.
Vegetarian: Yes, plenty of options.
Vegan: Yes, plenty of options.
Gluten free: Yes, but limited.
Accessible: Yes.
Pet-friendly: Yes, dogs are allowed on a lead.
Reason to visit: Visit for a white Christmas, beautiful natural landscapes and Swedish food.
Specialties: Glögg, Christmas dinner buffet, reindeer sausages, Swedish handicrafts.
Recommended tour: Stockholm is a spread out city. Take a city tour when you first arrive to get your bearings.
Winter events: Christmas carols or build your own gingerbread house.
Plan your trip: Resources to plan your Christmas holiday or winter break.
Stockholm weather in winter: Temperatures average 2°C / -1°C (high / low) in December.
Where to stay: At Six is an excellent hotel near Gamla Stan.
Hotels near Stockholm Christmas Market
The city of Stockholm is spread out over several islands. Gamla Stan is a beautiful old town area and the location of the Christmas market.
But it's not necessary to stay here; you'll most likely stay elsewhere as this district is small, often crowded and expensive.
I suggest staying at Hotel At Six, which is in a great area of the city for sightseeing and only 10 minutes from the Christmas market.
Read my guide to hotels near Stockholm Christmas Market which gives an overview of the different districts and the best areas to stay.
Location of Stockholm Christmas Market
City and Christmas Tours
Stockholm is a city with a rich history and culture that can best be explored through a comprehensive city tour. With its picturesque old town, vibrant facades, and magnificent architecture, Stockholm has a multitude of attractions that will appeal to every visitor.
If you're planning a trip to Stockholm, I highly recommend taking a city tour to experience all the city offers.
Alternatively, you could opt for a food tour, where you can immerse yourself in the local culture by trying traditional Swedish cuisine. You'll also learn about Swedish history and culture on a food tour, which can often be more informative than a regular walking tour.
During a city tour of Stockholm, you'll have the chance to visit the city's most iconic landmarks and attractions. These include the historic Royal Palace, the impressive City Hall, and the stunning Vasa Museum, which houses a remarkably preserved 17th-century warship.
As you explore the city, you'll also encounter charming old streets, picturesque squares, and vibrant markets. You can admire the colourful facades of the houses and buildings that line the streets and learn about the city's fascinating history and culture from your knowledgeable guide.
What to Expect
If you're curious about what Stockholm Christmas Market looks like, this video will give you an idea. You can see the festive atmosphere, twinkling lights, and traditional Swedish treats that make this market such a popular destination during the holiday season.
Christmas Food in Sweden
Swedish Christmas markets are very different to the classic German Christmas markets. It's a nice chance to experience Scandinavian delicacies, specifically Swedish Christmas food and specialties.
Meatballs – You must try the most classic of all Swedish dishes, meatballs. These are nothing like what you might have tried in your home country. In Stockholm, you can get vegetarian and vegan meatballs along with traditional meat varieties.
Julbord – Look out for julbord, a classic Swedish buffet with Christmas food. Many restaurants offer a Christmas buffet for dinner during the Christmas holiday period.
Hot glögg – Glögg is the Swedish version of mulled wine of gluhwein, as they call it in Germany. An old-fashioned glögg recipe typically includes port, bourbon and white rum, seasoned with cinnamon, cardamom and cloves, and dried orange peel, raisins and sugar.
Swedish fika – Fika is not a Christmas tradition, but it is a Swedish tradition definitely worth enjoying on a daily basis, in my opinion! Fika basically means meeting with friends or family for an afternoon coffee and cake or pastry. You would typically have it at a bakery, but you can have it at most cafes too. Swedish pastries are incredible, and Stockholm has countless bakeries with the most amazing sweets you'll ever see.
Gingerbread – Like in Germany, Stockholm is famous for its gingerbread; you can find this in most Christmas markets in Stockholm.
Sweets and candy – Stortorget, the main Xmas market in Stockholm, is famous for its sweets, including caramel, marzipan, chocolate wheels, waffles, cotton candy, and local honey.
Things to Do in Stockholm in Winter
December is a busy time of year for Stockholm, and plenty of sights and activities are perfect for cold winter days. The city is buzzing with holiday cheer, and many things to see and do will make your trip memorable.
One of the must-see attractions in Stockholm is the Royal Palace. This magnificent building is one of the largest palaces in Europe, with more than 600 rooms. The palace is open to the public and houses five museums inside, including the Royal Armory, the Treasury, and the Royal Apartments.
Another highlight of Stockholm is the City Hall and Tower. Take a trip up to the tower to get stunning views of Stockholm's islands and historic old town. The tower offers a breathtaking panoramic view of the city and is a perfect spot for taking in the beauty of Stockholm from above.
Art enthusiasts should visit Fotografiska, a brilliant photography museum with regular and temporary exhibitions. One of the highlights of a visit to Stockholm, Fotografiska showcases a diverse range of works from both established and emerging photographers.
For fans of the iconic Swedish pop group ABBA, the ABBA Museum is a must-see destination. This museum is entirely dedicated to the band and their music, and it's hugely popular with visitors. Even if you have only a slight interest in ABBA's music, this museum is worth a visit.
If you plan on taking a day trip from Stockholm, the Drottningholm Palace is an excellent option. It is the permanent residence of the Swedish royal family and is a designated World Heritage Site. The palace and gardens are open all year round, and a visit here is an excellent opportunity to explore Swedish history and culture.
Finally, the Vasa Museum is another must-see destination in Stockholm. It is the most visited museum in Scandinavia and home to Vasa, a perfectly preserved 17th-century ship. The ship, including its art treasures, provides a unique glimpse into Sweden's maritime history and is sure to leave a lasting impression on visitors.
For more things to do in Stockholm in December, go to Visit Stockholm, the official website for tourism in Stockholm.
Sustainable Travel Tips
When visiting the Christmas markets in Stockholm, it's essential to consider our choices' impact on the environment and local communities. Implementing some or all of these simple measures can help create a positive impact while enjoying your visit.
Shop mindfully at the markets, and only purchase what you need. This will help reduce waste and limit the environmental impact of your visit.
Consider walking, cycling, or using public transportation to get around Stockholm. This will help reduce your carbon footprint and limit traffic congestion.
Stay in a sustainable hotel powered by renewable energy. Stockholm has many eco-friendly accommodation options that are both comfortable and environmentally conscious.
When choosing your accommodation, consider staying in a hotel instead of a short-stay apartment. This can help alleviate the affordable housing crisis for locals and support the local economy.
Avoid using plastic or buying items made or packaged with plastic. Opt for reusable bags, water bottles, and containers to help reduce waste and minimize your environmental impact.
Try to eat locally sourced organic food where possible. Stockholm is known for its vibrant food scene, and choosing locally sourced organic food helps support the local economy and reduce your carbon footprint.
Consider limiting your consumption of meat and dairy products. This can help reduce the carbon emissions associated with animal agriculture and support more sustainable food systems.
Be open to diverse cultures and experiences. Stockholm is a multicultural city, and embracing diversity is essential to sustainable tourism.
Explore more than just the main tourist areas. There are many hidden gems in Stockholm that are worth discovering. Visiting less popular areas helps alleviate overcrowding and support local businesses.
Support the arts and attend local events. Stockholm has a thriving arts and culture scene, and attending local events is an excellent way to support the local community.
Consider visiting fewer places but staying longer at each destination. This can help reduce your carbon footprint and allow you to experience Stockholm more deeply while supporting the local economy.
FAQ
When is Stockholm Christmas Market?
Stockholm Christmas Market 2023 dates are from 20th November to 23rd December 2023.
What to do in Stockholm during Christmas?
Stockholm offers plenty of things to do during Christmas, especially since it can get quite chilly outside. It's the perfect time to explore the city's impressive museums, palaces, galleries, and exhibitions, many of which are indoors and heated. In addition, the city's charming Christmas markets are a must-visit attraction during this time of year. With their festive decorations, twinkling lights, and delicious seasonal treats, they offer a delightful way to immerse yourself in the holiday spirit while exploring the city.
Does Stockholm have Christmas markets?
Yes! The main Christmas Market in Stockholm is Gamla Stan Christmas Market, known as Stortorget.
Is Stockholm good at Christmas?
Stockholm is a great choice if you're looking for a cosy and festive atmosphere during the winter months. While it can get chilly outside, the city comes to life during Christmas with a range of indoor events and activities. The Stockholm Christmas Market, held in the historic Gamla Stan district, is a highlight of the season. Its charming stalls selling traditional handicrafts, festive food and drink, and seasonal entertainment make it a must-visit destination for anyone looking to soak up the holiday spirit.
When does Stockholm Christmas Market open?
The Christmas markets in Stockholm are open from 11am to 6pm.
When does Stockholm Christmas Market close?
The Christmas markets in Stockholm typically close at 6pm.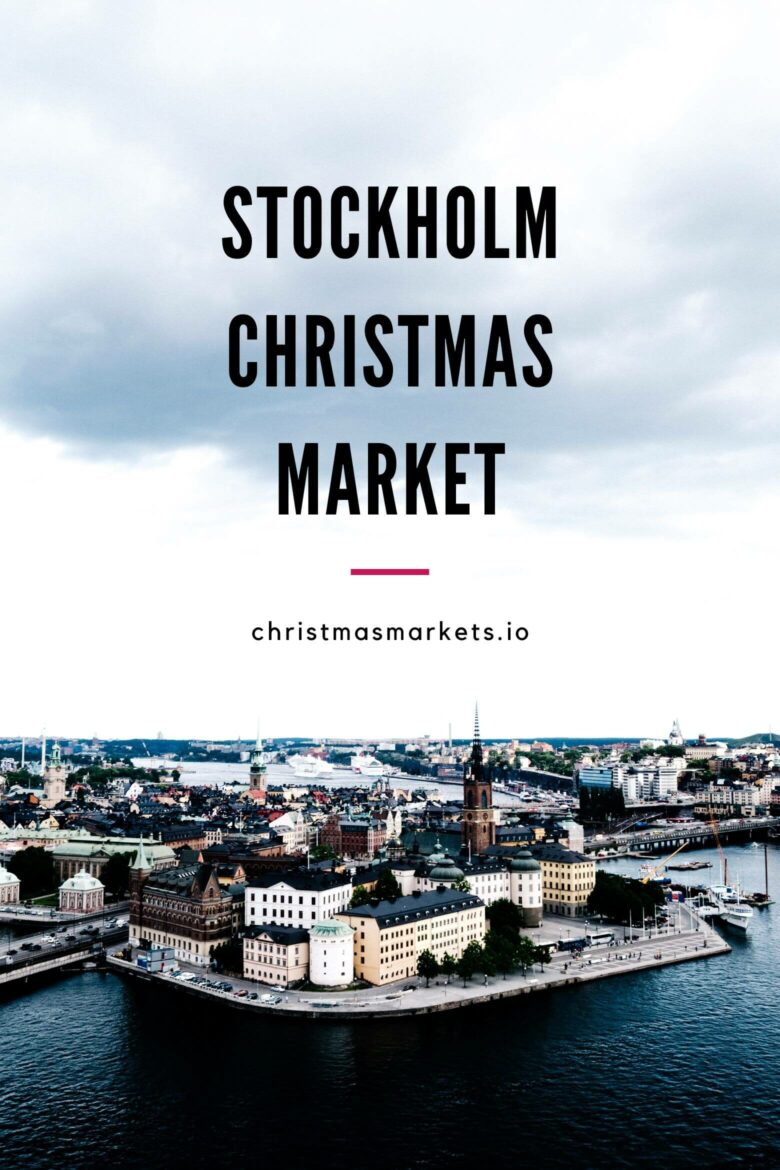 If you're considering visiting Stockholm or Sweden during the winter months, it's important to remember that it can get quite cold.
However, the country's unique winter landscapes, combined with the charm of its Christmas markets and festivities, make it a worthwhile experience for those who are prepared for the weather.
The Christmas markets in Stockholm and throughout Sweden offer an opportunity to experience local culture and tradition and are a great way to find unique gifts and souvenirs.
Remember, there are other holiday markets in Stockholm, including the Skansen Christmas Market.
If you visited Stockholm in December or Christmas in Sweden and would like to share your experience, leave a comment below.
—
Recommendations are independently chosen based on personal travel experiences and extensive research. This post contains affiliate links to hotels and tours in Stockholm, Sweden. This means I get a small commission from any bookings at no extra cost to you.