Krakow Christmas Market is the most popular and the best Christmas market in Poland. It's located on Rynek Glowny, the 13th-century square in the centre of the old town. You can't miss the stalls as they sit between the famous Cloth Hall and the imposing St Mary's Basilica.
The market and old town location is a popular meeting place for locals and tourists alike. Many people visit after work and during the weekends leading up to Christmas day.
Krakow Christmas Market 2022
The Christmas market in Krakow is lined with timber huts where they prepare delicious grilled and smoked specialties and slow-cooked hearty soups and goulash.
You can also find handcrafted toys and Christmas decorations to take home or give as gifts.
Krakow Christmas Market dates: 25th November – 26th December 2022 with some stalls continuing into January for the Epiphany festival (until 1st January 2023).
Location: Rynek Glowny – the main old town square.
Reason to visit: It's a cool city with a younger crowd than in Germany and Austria, it's more affordable, there's a good chance of a white Christmas and there is always delicious cheap vodka.
Specialties: Oscypek smoked cheese from Zakopane served with cranberry preserve. Pretty crystal baubles. Sweet vodka based hot drinks.
Recommended tour: 4-hour Polish food tour or check our other recommended tours in Krakow.
Krakow weather in winter: Temperatures average 3°C / -4°C (high / low) in December. You might see snow if you're lucky.
Plan your trip: A list of resources to plan your Christmas holiday or winter break.
Travel tip: If you have time take a day trip to the Wieliczka Salt Mine, Auschwitz or to the mountains at Zakopane.
Hotels Near Krakow Christmas Market
Krakow in winter can be very cold, even in November and December. It's advisable to look for hotels near Krakow Christmas market to avoid spending too much time walking outdoors when the weather is poor.
However, once you arrive at the market you can warm up with mulled wine, hot soup or by standing around one of the heated areas.
I've visited Krakow several times and recommend visitors stay at the Puro Hotel. Alternatively, book one of my recommended Christmas hotels.
Krakow Christmas Market Specialities
Krakow's market is heavy on food which is a great thing. There's so much to try!
These are just a sample of what is on offer and it changes every year but you can expect to see most of the following during the Krakow Christmas market period or even into January.
You can do your Xmas shopping at the market or browse the boutique shops in Kazimierz.
Smoked cheese – A good option for vegetarians although it's sometimes wrapped and cooked in bacon!
Pierogi stalls – Savoury stuffed dumplings with cheese, sauerkraut or various types of meat and sweet pierogies stuffed with berries and sweetened cheese.
Grilled meat stations – Meat lovers can choose from local sausages, roasted pork knuckle, chicken kebab and loads of other grilled meats. You might want to avoid these if you're trying to travel more sustainably.
Soup – There are a few vegetarian soups at the Krakow market; mushroom, tomato and cabbage. Plus you can get traditional goulash soup.
Mulled wine from the huge barrels dotted around the market. Look out for signs saying grzane wino, hot wine in Polish.
Polish dolls seem to be popular at the Christmas markets.
Wooden toys and for some reason a lot of wooden kitchen gadgets.
Other attractions at the Christmas market include artisans working on their craft, singing, dancing and free concerts and the occasional appearance of Santa Claus for the kids.
Things to Do in Krakow in December
Krakow in December is vibrant and bustling with shoppers and visitors from around the world.
There is so much to see and do, visit museums or the countless churches, take a day trip to sombre Auschwitz or see the underground cathedral carved into a salt mine.
Krakow is also known for its religious history thanks to the strong presence of the Catholic church and with Krakow being the hometown of Pope John Paul II.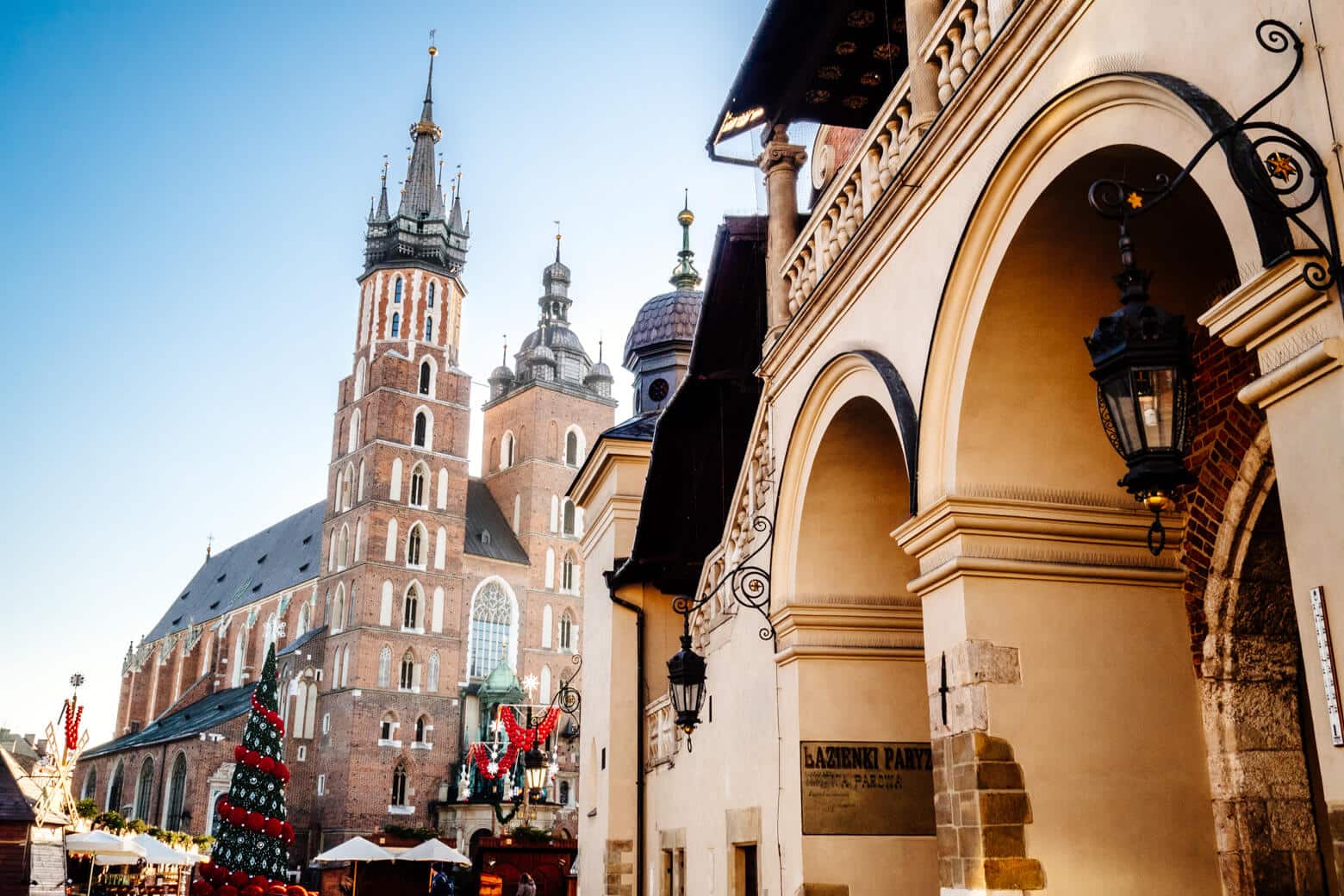 Krakow is a popular summer destination but it's becoming more well known as a great break destination during the Christmas and New Year period.
It's a fun, young city, with so much history, great nightlife and laid-back cafe culture. While you're in Krakow, be sure to check out these things to do.
Wawel Hill and Castle – Medieval royal castle and museum area. Try to see to visit at least one of the buildings in the museum complex.
Cloth Hall – The huge building on the main square is home to little shops with handmade goods and unique gifts. It's free to walk through and have a look around.
Kazimierz – The old Jewish Quarter is filled with cool cafes and bars. This is a great place to stay in Krakow if you want to be in a lively hipster neighbourhood.
Zapiekanka – Eat a traditional Polish baguette/pizza topped with grilled mushrooms and cheese. Head to Plac Nowy in Kazimierz for the best. This is the best fast food in Poland!
Pierogies – Don't miss out on eating some of the tastiest dumplings in Poland. Sweet or savoury, pierogies are a must-try.
Sweet fruit flavoured vodka – Poland is famous for all kinds of vodka (obviously) but in cafes around the main square like Cafe Camelot you can try some deliciously sweet, hot vodka, perfect for warming up in winter. They aren't as strong as you might imagine and vodka is inexpensive in Poland.
Brunch – You might want to recover from a night of vodka drinking and eating with a delicious late breakfast at Bistro Charlotte. This modern cafe has fresh bread and baked items and excellent coffee.
Auschwitz – If you have time, take a day trip to visit the former concentration camps at Auschwitz – Birkenau. Take a tour or get the bus from central Krakow (going by train is more complicated).
We're here to help you experience the best of winter in Poland in 2022. Plan your trip with our Poland Christmas markets guide. Discover where to go, things to do and the best ways to experience Polish food, history and culture.
Krakow Tourism has information and more details about visiting Krakow on a Christmas break or winter holiday.
You can find out about museums, public transport, religious routes, Jewish heritage, Pope John Paul II, walking the Royal Route and many other attractions. They can also help with further questions regarding the Krakow Xmas market in 2022.
Map of Rynek Glowny in Krakow
Sustainable Travel Tips
When visiting the Christmas markets, it's important to keep sustainability in mind. Simple changes to the way we travel can make all the difference for the environment and local communities.
Shop mindfully. Only purchase what you really need. Wooden toys and Christmas decorations might be a good option if that's what you need.
Walk, cycle and use public transport to get around. Krakow's historic centre is relatively small so if you're physically able, you should be able to walk to most places.
Stay in a sustainable hotel powered by renewable energy.
Avoid using plastic or buying items made or packaged with plastic. Take your own reusable bags for your purchases.
Try to eat locally sourced organic food where possible. This is very achievable in Poland
Limit your consumption of meat and dairy. Vegetarian pierogies are delicious and an easy meat-free swap.
Be open to diverse cultures and experiences.
Explore more than just the main tourist areas. If you step away from the city centre you might find some cool bars with live music for example.
Support the arts and attend local events. Krakow has many great galleries where artists display their works. Speak to the owners and learn about what they're doing.
Visit fewer places but stay longer at each destination. I highly recommend spending 5 days in Krakow if you can, there's a lot to see.
FAQ
When does Krakow Christmas Market start?
25th November 2022.
Where is Krakow Christmas Market?
Rynek Glowny, the medieval main square in Krakow.
What to buy at Krakow Christmas Market?
Polish dolls are a particularly popular gift at the Christmas markets in Krakow. You'll also find handmade wooden items including children's toys, kitchen gadgets and Christmas decorations.
Where to stay in Krakow for the Christmas markets?
Stay in Stare Miasto, Krakow's old town, if you would like to be near the Christmas markets.
If you have visited Krakow in winter or would like to leave a review of the Christmas market, comment below. This helps others who are interested in visiting and trying to plan their holiday.
—
Recommendations are independently chosen based on personal travel experiences and extensive research. This post contains affiliate links to hotels and tours in Krakow, Poland. This means I get a small commission from any bookings at no extra cost to you.