As you would expect to find in the largest city in Italy, there are multiple Christmas markets in Milan, seasonal celebrations and winter events over the holiday period.
Milan is a busy city all year round, but in December, the city becomes busier and more festive than anywhere else in the country. It's one of Italy's best winter city breaks and perfect for a long weekend away.
Centred around the iconic Duomo, the heart of Milan is an excellent starting point for any journey to this magnificent city, particularly if you are a first-time visitor.
The historic square, adorned with dazzling Christmas lights, offers a breathtaking sight during the holidays as the area comes alive with festive shoppers bustling about.
Be sure to take a moment to appreciate the beauty of your surroundings before diving into the lively Christmas market, as experiencing Milan during this magical time of year is truly a remarkable sight to behold.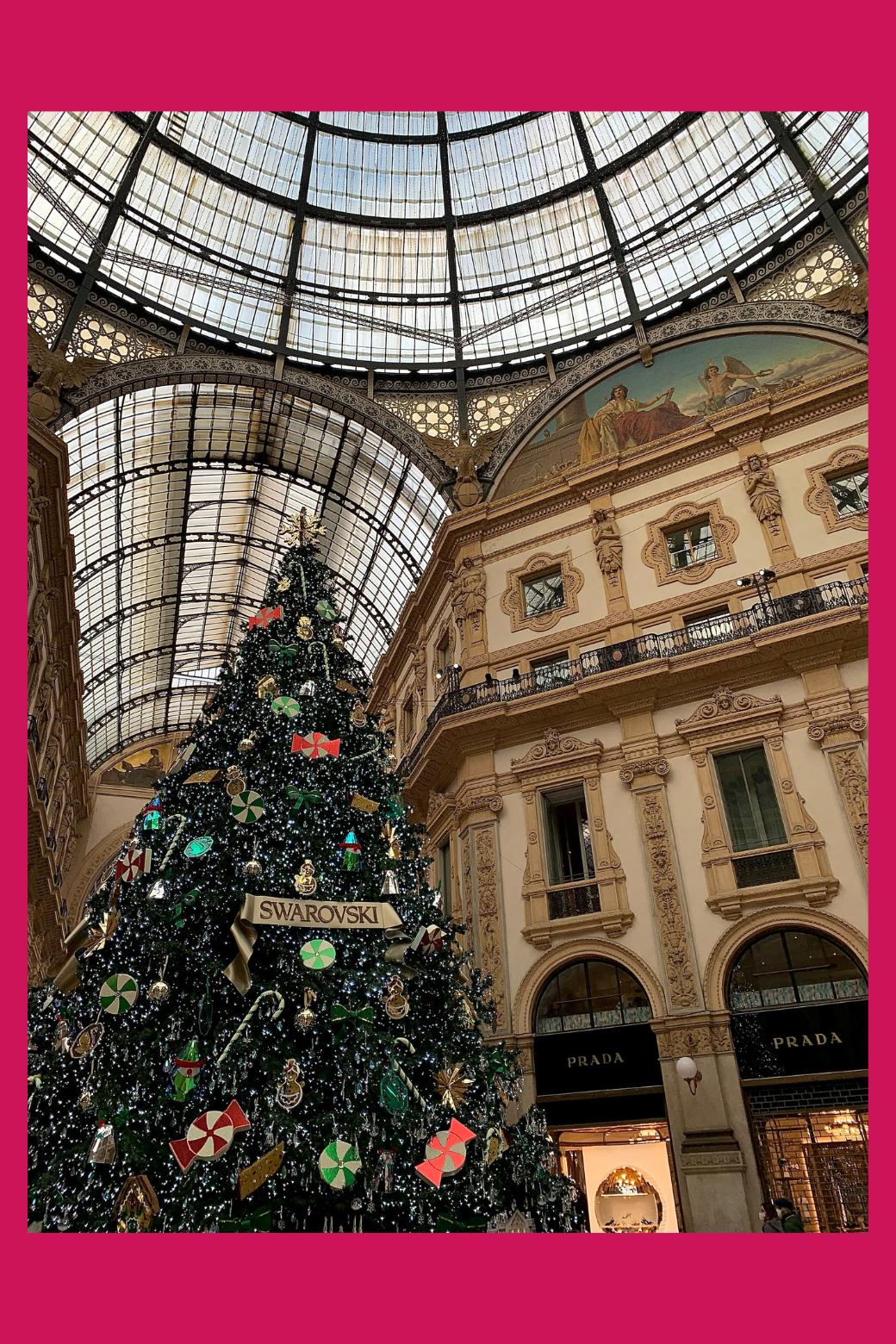 Milan Christmas Market 2023
It comes as no surprise that Italian cuisine takes centre stage at Milan's Christmas market, given the integral role food plays in the country's culture and way of life.
Across Italy, dining out is a cherished pastime, with an array of dining options to suit every taste—from casual hole-in-the-wall pizza joints offering scrumptious slices to exquisite, world-renowned restaurants catering to the most discerning palates.
Milan, in particular, is a haven for both foodies and shoppers alike. The city is globally renowned for its contributions to the worlds of fashion and design, making it an ideal destination for ticking off your Christmas shopping list while on holiday.
As you explore the bustling market and beyond, you'll find a vast array of boutiques and designer stores offering the latest trends and unique gift ideas, ensuring a delightful and memorable experience during your Milanese getaway.
Here's all the essential information you'll need for your 2023 visit to Milan's Christmas markets, including key dates, venues, opening hours, and other pertinent details to ensure a seamless and enjoyable experience during your festive adventure.
Dates and Locations
Milan Christmas Market dates:
Winter Wonderland: Likely dates: 24th November 2023 to 5th January 2024.
Oh Bej! Oh Bej!: Likely dates: 6th December to 9th December 2023.
Location: The main Christmas market is at Piazza Duomo, Oh Bej! Oh Bej! is located at Castello Sforzesco. There is also the Darsena Christmas Village and many more locations across Milan.
Opening times: 11am to 8pm.
Christmas Day: Closed.
Admission: Free, no tickets required.
Christmas lights: No official switch on date.
Santa: No.
Ice skating: Yes.
Vegetarian: Yes, plenty of options.
Vegan: Yes, plenty of options.
Gluten free: Yes, but limited.
Accessible: Yes. There are cobblestones in some areas at the Castle.
Pet-friendly: Yes, dogs are allowed on a lead.
Reason to visit: Big city vibe, great shopping, incridble food.
Recommended tour: I suggest this city tour of Milan a for first-time visitors.
Specialties: Panettone, saffron risotto, barbajada hot mocha.
Travel tip: You'll find cheaper hotels by Milano Centrale train station but the area can be a little grungy at night.
Winter events: Ice skating or stay warm at a museum.
Milan weather in winter: Temperatures average 7°C / 2°C (high / low) in December.
Where to stay: Room Mate Giulia or search our recommended list of the best Christmas hotels.
Hotels near Milan Christmas Market
Even though Milan is a relatively expensive destination, all budgets are catered to so you can easily stick to a low budget or spoil yourself with a little luxury.
In general, I recommend staying at Room Mate Giulia. Not only is this hotel steps from the Piazza del Duomo, but it's one of the most sustainable hotels in Milan. They use renewable energy, avoid single-use plastic and invest in their local community.
Read my full guide to hotels near Milan Christmas Market to find a hotel in Milan that suits your budget and travel style.
Location of Milan Christmas Market
City and Christmas Tours
Taking a city tour of Milan is an exceptional way to immerse yourself in the city's rich history and vibrant culture. With its enchanting city centre, striking facades, and awe-inspiring architecture, Milan is a destination that offers something captivating for everyone.
I highly recommend this city tour of Milan, as it allows you to explore the city's most prominent highlights while also including an entry ticket to see the Last Supper.
Alternatively, you might consider a food tour, which provides an opportunity to learn about the local culture through its delicious cuisine. Several food tours are available in Milan, but this tour is the most highly rated.
During a city tour, you'll visit Milan's most iconic landmarks and attractions, such as the magnificent Duomo, the historic Galleria Vittorio Emanuele II, and the renowned La Scala opera house.
Travel Insurance
Unfortunately, things can and do go wrong when you travel. World Nomads offers coverage for more than 150 activities as well as emergency medical, lost luggage, trip cancellation and more.
World Nomads provides travel insurance for travellers in over 100 countries. As an affiliate, we receive a fee when you get a quote from World Nomads using this link. We do not represent World Nomads. This is information only and not a recommendation to buy travel insurance.
What to Expect in Milan
As you watch the following video from a fellow travel blogger, you'll be transported to Piazza Duomo and the Christmas market to get a glimpse of its festive charm.
Soak in the sights and sounds, and imagine yourself strolling through this magical marketplace during the holiday season.
Christmas Specialties in Milan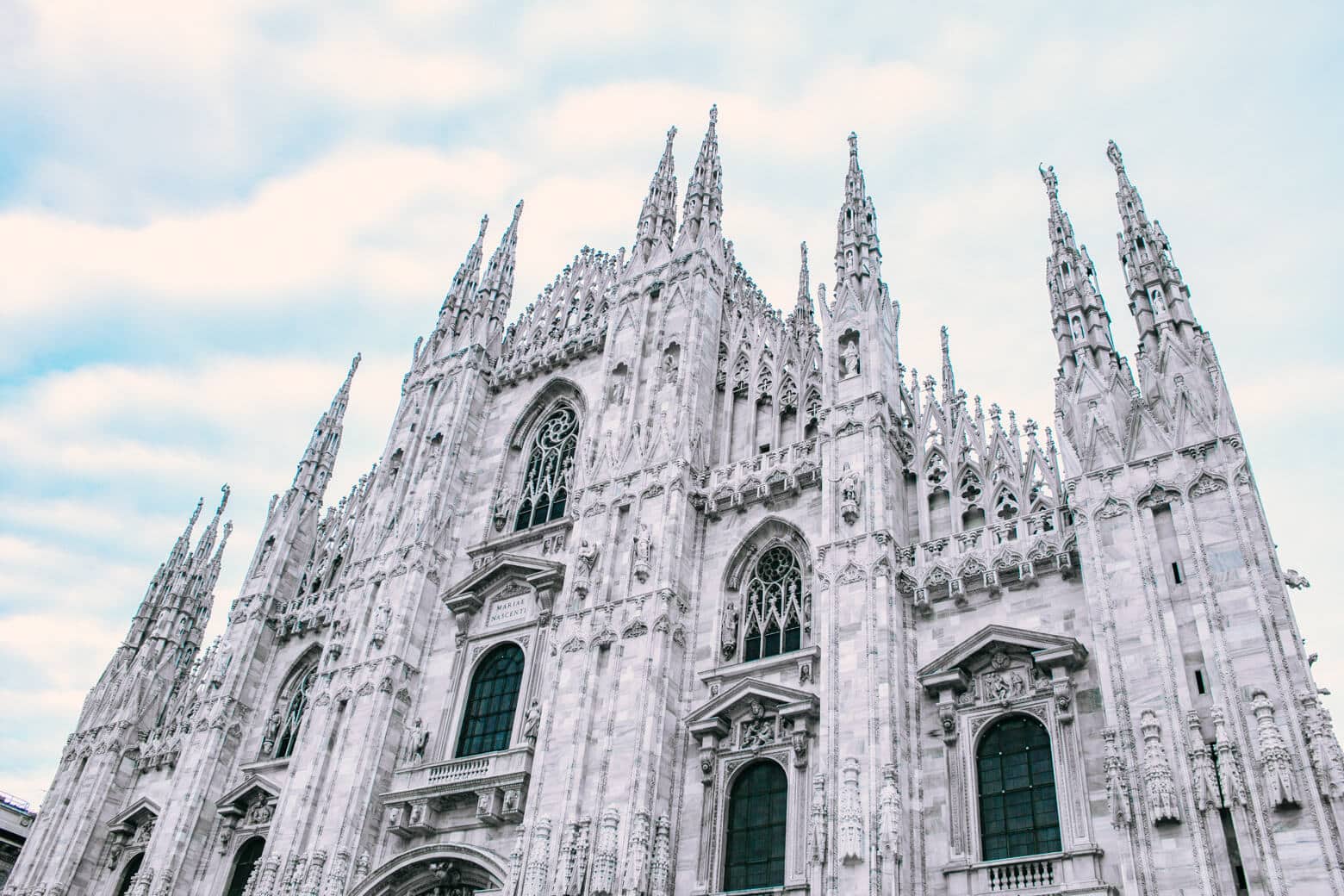 Milan is renowned for its mouthwatering culinary specialties, and with so many delectable options to choose from, you'll find yourself satiated in no time as you explore these local delights.
To help you navigate the city's gastronomic offerings, here are a few must-try dishes to begin your culinary journey:
Panettone – Milan's quintessential Christmas treat, this world-famous sweet bread-like cake, dates back to the 15th century. Traditionally made with candied fruit, panettone is best enjoyed slathered in butter or Nutella, accompanied by a shot of espresso or a glass of sparkling wine.
Risotto alla Milanese – This delightful Milanese risotto features rice delicately flavoured with saffron and cheese, resulting in a simple yet scrumptious dish.
Casserole – Ideal for cosy winter evenings, Milan's slow-cooked specialties include ossobuco, hearty minestrone (vegetarian), and savoury cassoeula.
Cotoletta alla Milanese – A Milanese classic, this dish features a generously-sized breaded veal chop cooked in clarified butter and often served with a refreshing tomato salad.
Michetta – A delight for carb enthusiasts, michetta is a star-shaped panini filled with either sweet or savoury ingredients, making for a satisfying snack or light meal.
Barbajada – When taking a break in a traditional Milanese cafe, be sure to order a barbajada, a warm and indulgent beverage made with coffee, chocolate, and a generous dollop of whipped cream.
Food at the Christmas Market
At Milan's Christmas markets, you'll find an assortment of both local and international street food specialties to tempt your taste buds. Here are some typical options you can expect to encounter:
Panzerotti – These deep-fried or baked dough pockets are filled with mozzarella and tomato sauce, making for a delicious and satisfying snack.
Arancini – These crispy, deep-fried rice balls are stuffed with various fillings like ragù, mozzarella, and peas, offering a delightful taste of Sicilian cuisine.
Grilled Polenta – A popular Northern Italian staple, polenta is a cornmeal dish that can be grilled and topped with cheese, mushrooms, or various sauces.
Chestnuts – Roasted chestnuts are a classic street food found at Christmas markets across Europe, and Milan is no exception. Their warm, earthy aroma and comforting taste make them a holiday favourite.
Crepes – Originating from France, crepes are thin, delicate pancakes that can be filled with sweet or savoury ingredients, such as Nutella, fruit, cheese, or ham. You'll definitely find crepes in Milan.
Bratwurst – A nod to German Christmas markets, bratwurst sausages are often found sizzling on grills, served with sauerkraut or in a bun with mustard.
Churros – Originally from Spain, these deep-fried dough pastries are sprinkled with sugar and often served with a side of warm, thick chocolate sauce for dipping.
Mulled Wine – Known as vin brulé in Italy, this spiced, warm red wine is a popular beverage at Christmas markets and offers a delightful way to stay warm while browsing the festive stalls.
As you explore the Christmas markets, you'll discover diverse street foods to suit every palate, allowing you to taste local and international flavours during your festive adventure.
As a large, diverse city, you'll find plenty of vegetarian, vegan and gluten-free options. Always ask if you're unsure about ingredients and allergies.
What to Buy at the Markets
The Christmas markets in Milan have an interesting selection of gifts and products catering to various interests and preferences.
Here are some typical items you can expect to find while browsing the festive stalls:
Handcrafted ornaments – Beautifully crafted Christmas ornaments and decorations made from various materials like wood, glass, and ceramics make for unique souvenirs or gifts.
Italian food specialties – Local delicacies such as panettone, torrone (nougat), olive oil, truffle products, and artisanal pasta are perfect for foodies.
Leather goods – High-quality Italian leather products, such as wallets, belts, and handbags, are popular gift items that showcase the country's renowned craftsmanship. You might find these come from ateliers in Milan or Florence.
Fashion accessories – Milan is famous for its fashion scene, and the Christmas market is an ideal place to find stylish scarves, gloves, hats, and jewellery.
Artisanal crafts – Handmade items, including pottery, wood carvings, and glassware, make for one-of-a-kind gifts that showcase the talents of local artisans.
Toys and games – Traditional Italian toys and games and more contemporary options are available for children of all ages.
Local artwork – Local artists' paintings, prints, and photographs provide a unique memento of your time in Milan or a thoughtful gift for art enthusiasts.
Scented candles and home fragrances – High-quality scented candles, diffusers, and other home fragrance products make for lovely, fragrant gifts. Ask at the Christmas stalls if you're curious about where in Milan these are made.
As you explore Milan's markets, you'll find an abundance of gift options and products that capture the spirit of the city and its rich culture, ensuring a memorable shopping experience for all.
Things to Do in Milan in Winter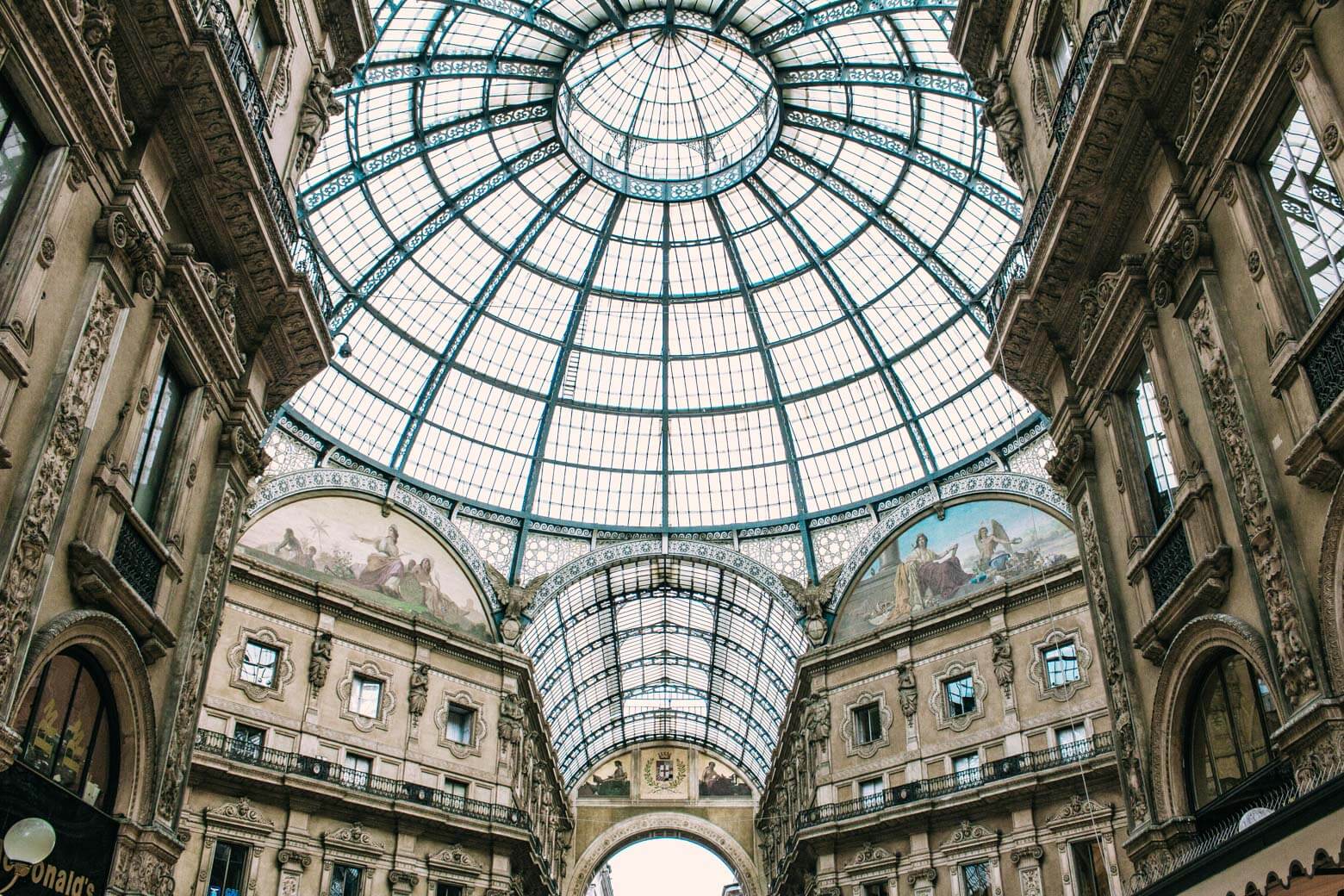 Milan is a busy city for business and shopping, but it shouldn't be overlooked for its cultural and historical sights, of which there are many of interest.
In Milan in December, you'll most likely want to start your visit to the city with a stop in Piazza del Duomo, the historic heart of Milan. Here are a few ideas for your Christmas trip.
Piazza del Duomo – Begin your visit to Milan by stopping at Piazza del Duomo, the city's historic heart, which comes alive with festive cheer in December.
Duomo di Milano (Milan Cathedral) – The breathtaking pale marble façade of the Duomo is a must-see landmark in Milan's main square. Take the time to admire the intricate sculptures on the doors before stepping inside to marvel at the stunning statues and captivating lighting.
Galleria Vittorio Emanuele II – Just steps away from the Duomo, the world's first shopping centre is an opulent spectacle. Indulge in some window shopping, gaze up at the magnificent glass dome, and enjoy a leisurely coffee or snack.
Castello Sforzesco – Stroll through the bustling shopping streets towards Milan's central castle. Here, you can view incredible works of art or simply wander around the courtyards and gardens of this 15th-century fortress.
La Scala – Experience an unforgettable opera or ballet performance at the renowned Teatro alla Scala, or take a guided tour to uncover its history, which dates back to 1778.
Canals – Milan's picturesque canals may come as a surprise to many visitors. Head to the Navigli district to walk along the charming waterways or relax at one of the numerous cafes and restaurants lining the canals.
Shopping – Milan offers exceptional shopping opportunities throughout the city. For those particularly interested in Italian fashion, venture to the Fashion District – Quadrilatero della Moda. This upscale neighbourhood is nestled in a compact area bordered by Via della Spiga, Montenapoleone, Manzoni, and Corso Venezia.
Milan is host to one of the best Christmas markets in Italy, and it's particularly worth visiting for the Duomo market on the square. For more things to do in Milan, visit the official tourism site or find them on social media.
How to Travel Responsibly in Milan
While visiting Milan, particularly during the Christmas market season, it's crucial to keep sustainability in mind, as our choices can have a significant environmental and social impact on the places we explore.
By implementing some or all of these simple measures, you can create a positive impact on the city and its residents:
Shop mindfully – Be conscious of your purchases and only buy items you genuinely need, especially when shopping at Milan's markets. It can be tempting to over-purchase. Keep a list of what you need to help limit overconsumption.
Sustainable transportation – Opt for walking, cycling, or using public transport, like the city's metro and tram systems, to minimise your carbon footprint. Milan has exceptional public transport, so take advantage of it.
Choose eco-friendly accommodations – Stay in a sustainable hotel powered by renewable energy and implement environmentally friendly practices. There are several sustainable hotels in Milan.
Support local housing – By choosing hotels over short-stay apartment accommodations, you can help ensure the availability of affordable housing for Milan's residents.
Reduce plastic use – Avoid using plastic items or purchasing products made from or packaged in plastic. Milan is making an effort to reduce plastic waste at the Christmas markets. You can support this by taking your own bags and by shopping mindfully.
Eat local and organic – Whenever possible, choose to eat locally-sourced, organic food from restaurants and markets in Milan. This helps promote food security within the greater Milan region.
Limit meat and dairy consumption – Opt for plant-based meals to minimise your environmental impact and enjoy the diverse flavours of Milanese cuisine.
Embrace cultural diversity – Be open to experiencing and learning from the diverse cultures and traditions that make Milan unique.
Explore beyond tourist hotspots – Discover lesser-known neighbourhoods like Brera, Isola, or Porta Venezia to further understand Milanese culture.
Support local arts and events – Attend concerts, exhibitions, and performances by local artists to enrich your cultural experience and contribute to the city's creative community. There are countless opportunities to do this in Milan.
Slow travel – Instead of rushing through multiple destinations, consider spending more time in each place to truly immerse yourself in Milan's atmosphere and reduce the environmental impact of frequent travel.
By embracing responsible travel practices in Milan, you can contribute to the city's sustainability while enjoying a memorable and enriching Christmas experience.
FAQ
What is open on Christmas Day in Milan?
The 25th December is Natale (Christmas Day) and is a public holiday in Milan, as is Boxing Day (26th December), celebrated as Santo Stefano in Italy. Most shops, events and attractions are closed on these days. Some smaller shops, cafes and restaurants are open. Make a reservation before you go and prepare well in advance for closures. Public transport runs every day of the year.
Is there a Christmas market in Milan?
Yes, there are several Christmas markets in Milan. The most popular is on Piazza del Duomo, the square in front of the famous cathedral.
When is Milan Christmas Market?
Milan Christmas market runs from 2rth November 2023 to 5th January 2024.
When is the illumination of the Christmas tree in Milan?
Milan's illumination of the Christmas Tree takes place on 6th December 2023 to celebrate the feast of Milan's patron saint, Sant'Ambrogio.
Is Milan worth visiting for Christmas?
Yes, of course, Milan is worth visiting for Christmas! Milan is a big city with international events that take place all year round. The city is great for Christmas shopping, eating out, drinking at cool bars, visiting museums and galleries and going to concerts and the opera.
As you plan your winter trip to Milan, embrace the city's festive atmosphere and remarkable sights. The Christmas markets, illuminated streets, and lively events will undoubtedly create lasting memories.
Don't forget to indulge in delicious Italian cuisine and take the time to explore Milan's rich history and culture, from the iconic Duomo di Milano to the charming Navigli district.
Remember to dress warmly, as the winter weather can be chilly, but rest assured that the warmth of Milan's hospitality will make you feel right at home.
If you visited Milan Xmas markets or Milan in December more generally and would like to share your experience, leave a comment below.
—
Recommendations are independently chosen based on personal travel experiences and extensive research. This post contains affiliate links to hotels and tours in Milan, Italy. This means I get a small commission from any bookings at no extra cost to you.