If you're planning your first trip to Romania or are looking to return for a winter holiday, Sibiu is Romania's most popular Christmas destination. Sibiu Christmas Market is the highlight of a December visit to the region, with the city bustling with winter events, Christmas stalls, children's playgrounds and a cosy atmosphere.
This Transylvanian winter celebration is known as The Christmas Fair in Sibiu (Târgul de Crăciun in Romanian).
While it attracts an international audience, the majority of visitors come from all over Romania.
The main city square is lit up from November to December with light shows projected onto the historic buildings and Christmas decorations hung on every corner.
Sibiu Christmas Market 2022
For more than 500 years, ethnic German people settled in Transylvania. In combination with Hungarians and Romanians, Transylvanian Saxons contributed to the rich culture found in Sibiu and elsewhere in Transylvania.
This is what makes Christmas in Sibiu such a unique experience, one you won't find anywhere else. There is a fascinating mix of diverse cultures that made Sibiu what it is today.
Sibiu Christmas Market dates: 11th November 2022 to 8th January 2023.
Location: Piața Mare, Sibiu old town.
Opening times: 10am to 10pm daily.
Reason to visit: For a unique Christmas experience in the heart of Transylvania, Romania.
Travel tip: Take a day trip to the stunning town of Sighisoara or a road trip to include Brasov and Peles Castle.
Recommended tours: Sibiu sightseeing tour or take a day trip to Sighisoara.
Winter events: Sibiu Show – Festival opening in mid-November 2022.
Sibiu weather in winter: Temperatures average 3°C / -5°C (high / low) in December.
Hotels near Sibiu Christmas Market
The closest hotel to the Christmas market that I recommend is the Art Hotel. It's a 3-minute walk to Piața Mare and most of the city's sights.
There are several other independently owned hotels near Sibiu Christmas Market that I recommend for a Christmas break in Sibiu. Check the list for more information.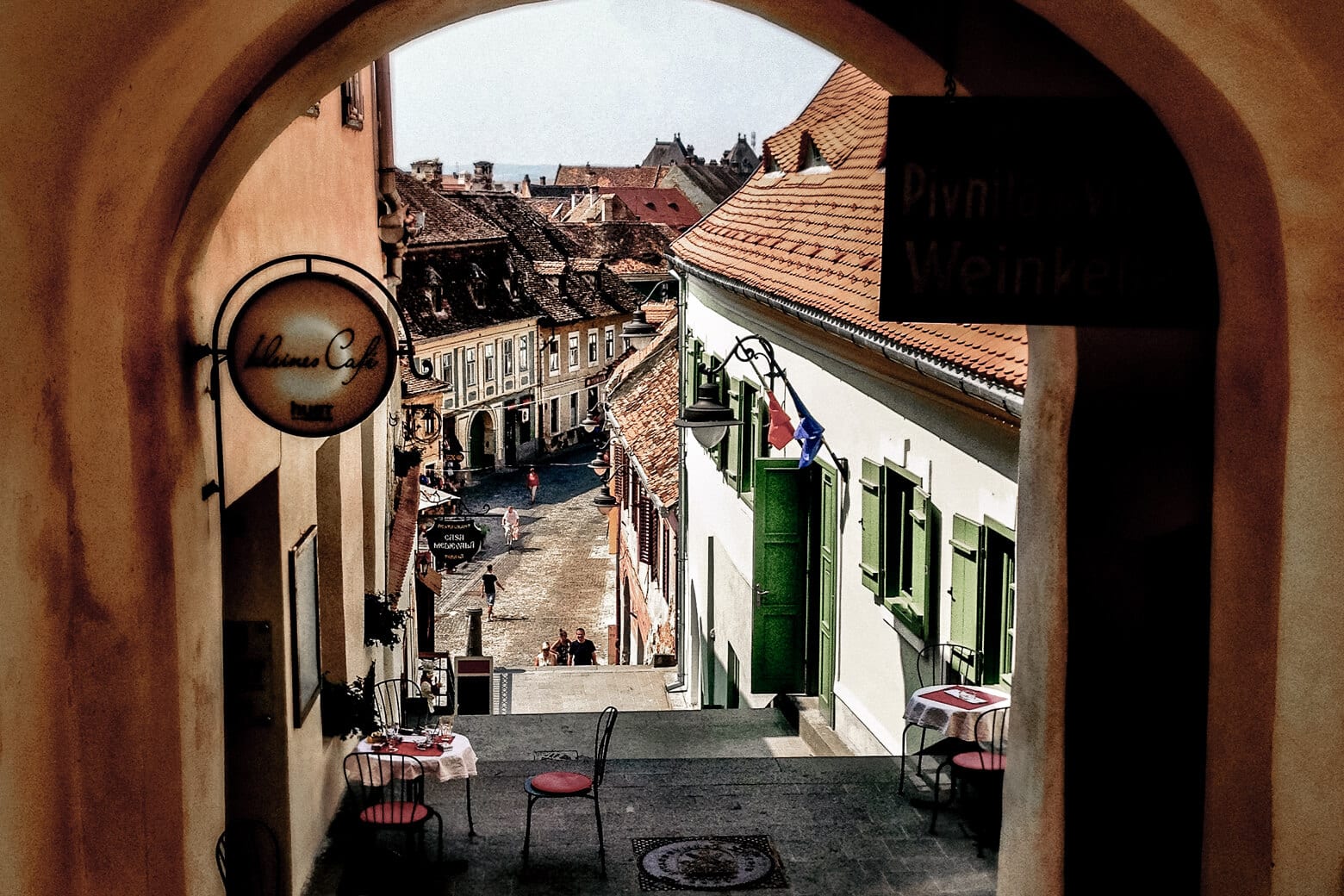 Things to Do in Sibiu in Winter
Sibiu is a rapidly growing city with a current population of 425,000. It's a compact city and easily walkable for those able, meaning the best way to see the sights is to get out and walk.
These are the top things to do in Sibiu, along with the Christmas markets of course.
Start your visit to Sibiu in the main square, Piața Mare with a visit to the Council Tower, a historic tower from the 14th century.
The Bridge of Lies. The legend says that the bridge will collapse if someone sits on the bridge and tells a lie. Try it to see for yourself. The Bridge of Lies is a small pedestrian bridge connecting Upper Town and Lower Town.
The City Walls. The beautiful red bricks of the city walls are a lovely sight as you walk around the old town.
Visit Romania Tourism for more things to do in Sibiu and the latest events.
Location of Sibiu Christmas Market
Sustainable Travel Tips
The choices we make have an environmental and social impact on the places we visit. When visiting the Christmas markets, it's important to keep sustainability in mind.
Implement some or all of these simple measures to create a positive impact.
Shop mindfully. Only purchase what you really need.
Walk, cycle and use public transport to get around.
Stay in a sustainable hotel powered by renewable energy.
Stay in hotels. Short-stay apartment accommodation can lead to a lack of affordable housing for locals.
Avoid using plastic or buying items made or packaged with plastic.
Try to eat locally sourced organic food where possible.
Limit your consumption of meat and dairy.
Be open to diverse cultures and experiences.
Explore more than just the main tourist areas.
Support the arts and attend local events.
Visit fewer places but stay longer at each destination.
FAQ
Does Sibiu have a Christmas market?
Yes, there is a small Christmas market in the centre square, Piața Mare.
When is Sibiu Christmas Market?
11th November 2022 to 8th January 2023.
Is Sibiu worth visiting?
Yes! Sibiu and the rest of Transylvania are worth visiting for their fascinating history, culture, food and beautiful historic city streets and squares.
Does it snow in Sibiu?
Snow is not uncommon in Sibiu and it's often cloudy in winter.
If you have visited Sibiu in winter or would like to review the Christmas market, leave a comment below.
—
Recommendations are independently chosen based on personal travel experiences and extensive research. This post contains affiliate links to hotels and tours in Sibiu, Romania. This means I get a small commission from any bookings at no extra cost to you.