If you're planning your first trip to Romania or are looking to return for a winter holiday, Sibiu is Romania's most popular Christmas destination. Sibiu Christmas Market is the highlight of a December visit to the region, with the city bustling with winter events, Christmas stalls, children's playgrounds and a cosy atmosphere.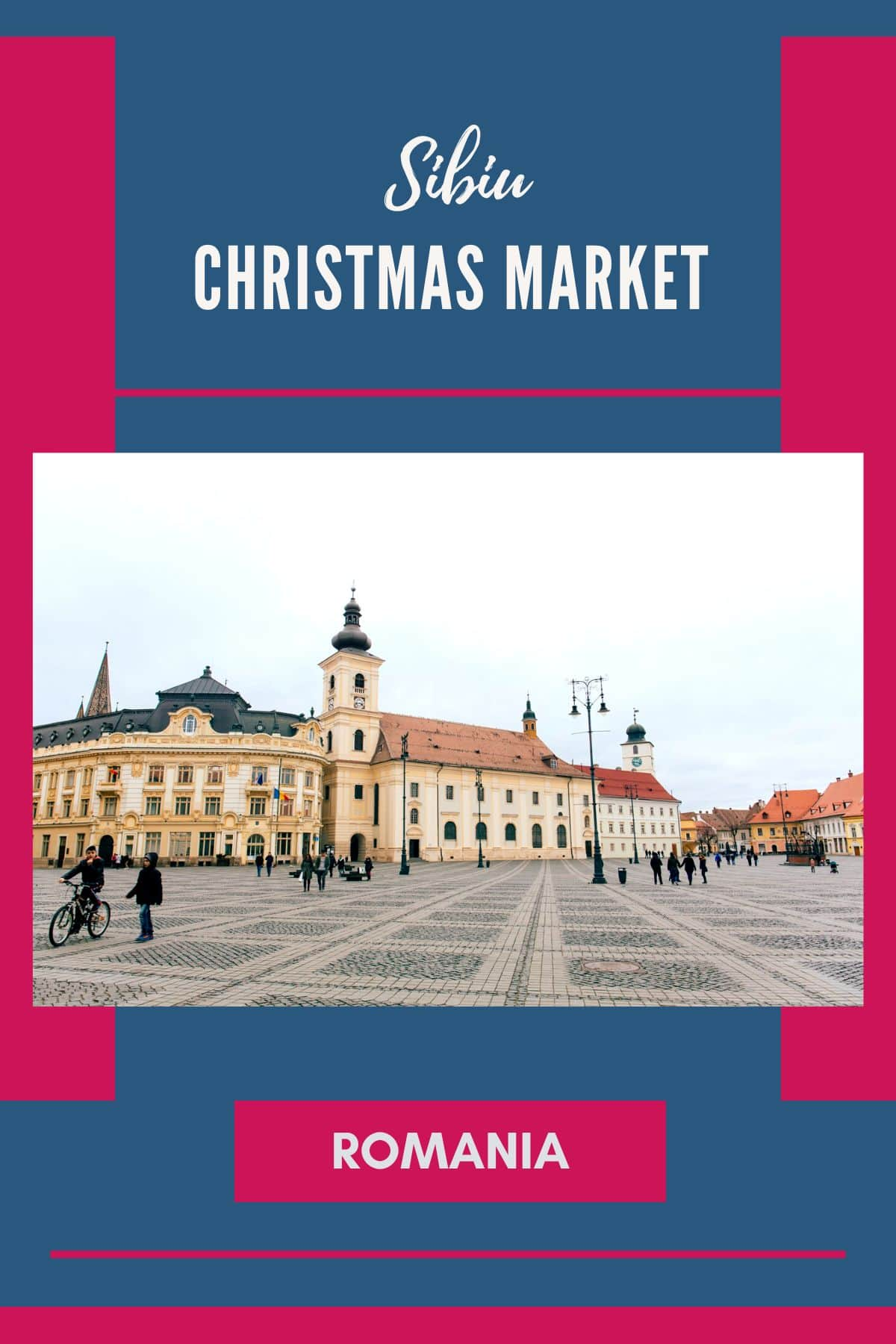 This Transylvanian winter celebration is known as The Christmas Fair in Sibiu (Târgul de Crăciun in Romanian).
While it attracts an international audience, the majority of visitors come from all over Romania.
The main city square is lit up from November to December, with light shows projected onto the historic buildings and Christmas decorations hung on every corner.
Sibiu Christmas Market 2023
For more than 500 years, ethnic German people settled in Transylvania. Combined with Hungarians and Romanians, Transylvanian Saxons contributed to the rich culture in Sibiu and elsewhere in Transylvania.
This is what makes Christmas in Sibiu such a unique experience, one you won't find anywhere else. A fascinating mix of diverse cultures made Sibiu what it is today.
Dates and Location
Sibiu Christmas Market dates: Potential dates: 10th November 2023 to 7th January 2024.
Location: Piața Mare, Sibiu old town.
Opening times: 10am to 10pm daily.
Christmas Day: Closed.
Admission: Free, no tickets required.
Christmas lights: Yes, but no announced switch on date.
Santa: No.
Ice skating: Yes at Patinoar Sibiu, but not directly at the Christmas market.
Vegetarian: Yes, some options.
Vegan: Yes, but very limited.
Gluten free: Yes, but very limited.
Accessible: Yes, but not all areas.
Pet-friendly: Yes, dogs are allowed on a lead.
Reason to visit: For a unique Christmas experience in the heart of Transylvania, Romania.
Travel tip: Take a day trip to the stunning town of Sighisoara or a road trip to include Brasov and Peles Castle.
Recommended tours: Sibiu sightseeing tour offers a great overview for visitors.
Winter events: Sibiu Show – Festival opening in mid-November 2023.
Sibiu weather in winter: Temperatures average 3°C / -5°C (high / low) in December.
Where to stay: Stat at the Art Hotel to be within minutes of the Christmas market.
Hotels near Sibiu Christmas Market
The closest hotel to the Christmas market that I recommend is the Art Hotel. It's a 3-minute walk to Piața Mare and most of the city's sights.
I recommend several other independently owned hotels near Sibiu Christmas Market for a Christmas break in Sibiu. Check the list for more information.
Location of Sibiu Christmas Market
City and Christmas Tours
A city tour of Sibiu is an excellent way to immerse yourself in the city's rich history and culture. The city's charming old town, stunning architecture, and colourful facades make it a destination that has something for everyone.
I highly recommend taking this city tour of Sibiu as it allows you to experience all the highlights of the city. You could also consider taking a food tour to learn about the local culture through their cuisine.
During a city tour, you'll visit some of Sibiu's most iconic landmarks and attractions, including the historic Council Tower, the legendary Bridge of Lies, and the beautiful red-bricked City Walls. These landmarks offer a glimpse into the city's medieval past and are a treat for history and architecture enthusiasts.
Travel Insurance
Unfortunately, things can and do go wrong when you travel. World Nomads offers coverage for more than 150 activities as well as emergency medical, lost luggage, trip cancellation and more.
World Nomads provides travel insurance for travellers in over 100 countries. As an affiliate, we receive a fee when you get a quote from World Nomads using this link. We do not represent World Nomads. This is information only and not a recommendation to buy travel insurance.
What to Expect
This video captures what Sibiu Christmas Market is like, complete with festive lights, mulled wine, and plenty of delicious food options.
Christmas Specialties in Sibiu
Romanian cuisine is a mix of traditional and modern culinary influences, especially during the holiday season.
Here are some traditional Christmas foods in Sibiu and Romania, including some vegetarian options:
Sarmale: a popular dish made of sour cabbage leaves stuffed with a mixture of rice, vegetables, and spices, served with sour cream or polenta. Vegetarian versions are available, made with mushroom or lentil filling.
Cozonac: a sweet bread that is a staple during the Christmas season, flavoured with vanilla, rum, and lemon zest, and filled with walnuts, poppy seeds, or raisins. It's typically served for breakfast or as a dessert with a cup of tea or mulled wine.
Fasole batuta: a hearty vegetarian dish made of mashed beans seasoned with onion, garlic, and paprika. It's often served as a side dish or a main course with a slice of polenta.
Tochitura: a meaty stew made of pork, bacon, and sausage, served with a fried egg on top and a side of polenta. Vegetarian versions can be made using seitan, a meat substitute.
Piftie: a cold meat jelly made of pork, beef, or chicken, served with mustard, horseradish, and pickles. Vegetarian versions can be made using agar-agar, a plant-based substitute for gelatin.
These are just a few of the many traditional Christmas foods you can try in Sibiu and Romania, and there are many more to explore!
Food at the Christmas Market
The Christmas markets are a fantastic place to sample a range of traditional Romanian street foods that are popular during the holiday season.
Here are some of the typical street foods that you can find in Sibiu:
Covrigi: A type of pretzel made with a soft dough, sprinkled with coarse salt, and often served warm. It's a popular snack that is easy to carry around while exploring the market.
Kurtos kalacs: A Transylvanian spiral-shaped pastry that is made by wrapping dough around a wooden spit and roasting it over an open flame until it is crispy on the outside and soft on the inside. It's often sprinkled with cinnamon or sugar and makes for a delicious dessert.
Langos: A Hungarian deep-fried dough that is similar to a flatbread and often topped with sour cream, cheese, garlic, and other savoury toppings.
Mici: a type of grilled sausage made with a mixture of beef, lamb, and pork, seasoned with garlic and paprika. It's typically served with mustard and bread and is a popular street food in Romania.
Gogosi: a type of Romanian doughnut that is deep-fried and often filled with jam or chocolate.
These street foods are just a few examples of the delicious snacks and treats that you can enjoy at the Sibiu Christmas Market.
Things to Do in Sibiu in Winter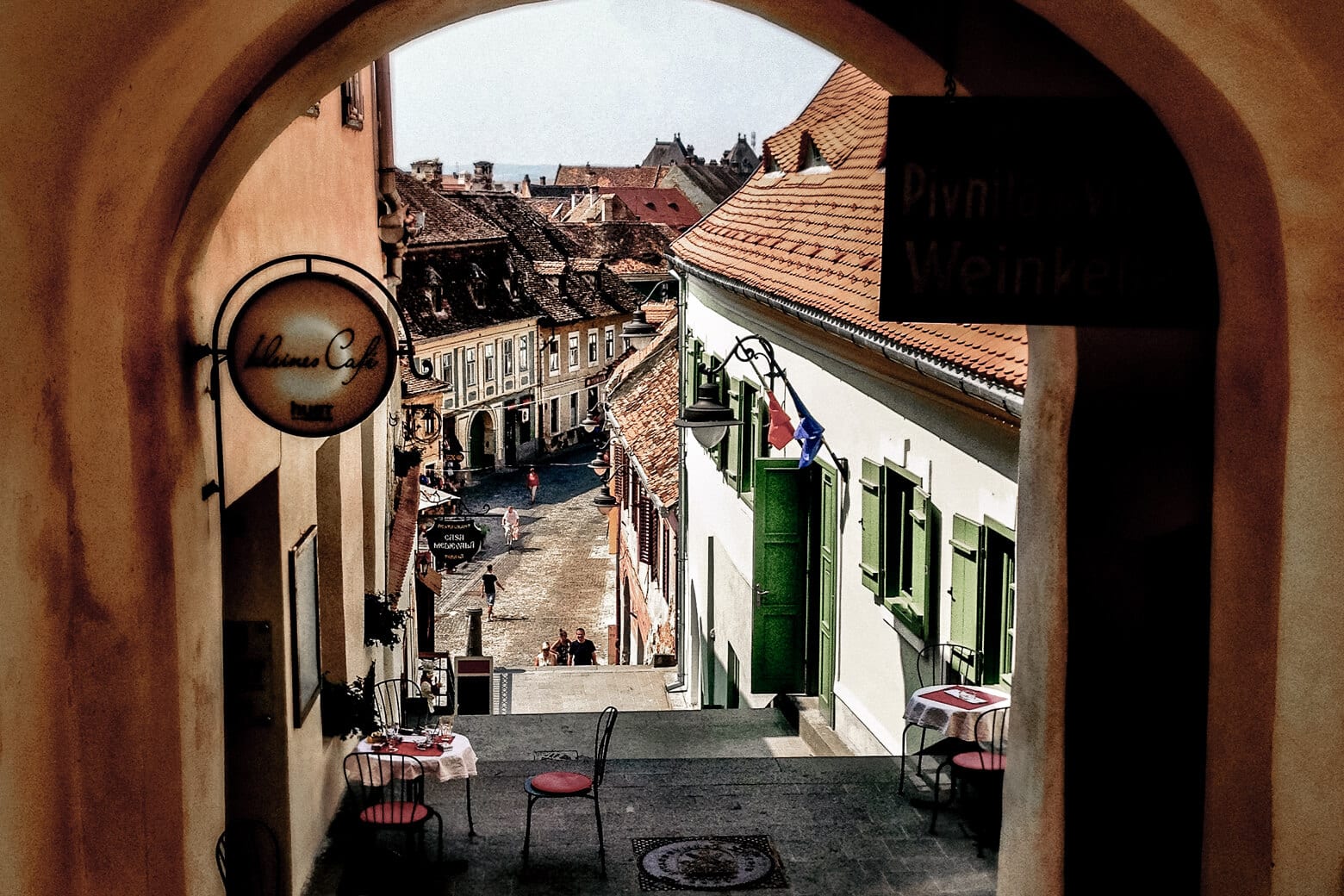 Sibiu is a rapidly growing city with a current population of 425,000. It's a compact city and easily walkable for those able, meaning the best way to see the sights is to get out and walk.
Sibiu, located in the heart of Transylvania, is a charming destination to visit during the winter season. The city is filled with historical landmarks and cultural attractions that will keep you engaged throughout your visit.
Starting your visit to Sibiu in the main square, Piața Mare, is a great way to get acquainted with the city's rich history.
One of the main attractions in the square is the Council Tower, a historic tower from the 14th century. The tower was used as a defensive fortification and watchtower; today it serves as a museum. Visitors can climb the tower and enjoy a stunning view of the city's skyline from the top.
Another must-see attraction in Sibiu is the Bridge of Lies. According to local legend, the bridge will collapse if someone tells a lie while standing on it. While the bridge is unlikely to collapse, walking across the bridge and testing the legend yourself is still a fun and unique experience. The Bridge of Lies is a small pedestrian bridge that connects the Upper Town and Lower Town, and it is one of the most photographed landmarks in the city.
As you explore the old town, you will come across the beautiful red bricks of the city walls. The walls were built in the 15th century to protect the city from invaders, and today they serve as a reminder of Sibiu's rich history. Walking along the city walls is a lovely way to enjoy the winter scenery, and you can even stop at various points along the way to take in the panoramic views of the city.
Visit Romania Tourism for more things to do in Sibiu and the latest events.
Sustainable Travel Tips
Sibiu and Romania are beautiful destinations with rich cultures and heritage that are worth exploring. However, as responsible travellers, keeping sustainability in mind while visiting the Christmas markets is important.
Here are some specific examples of how you can implement simple measures to create a positive impact:
Shop mindfully: At the Christmas market, you can find various unique and handmade items that make great souvenirs. However, it's important to only purchase what you really need and avoid buying disposable or single-use items.
Walk, cycle, and use public transport: Sibiu is a walkable city, and you can easily explore the old town on foot. However, if you need to travel further, consider using public transport or renting a bicycle to reduce your carbon footprint.
Stay in a sustainable hotel: Some hotels in Sibiu and Romania are powered by renewable energy and offer eco-friendly amenities. Consider staying in one of these hotels to reduce your impact on the environment.
Stay in hotels: Short-stay apartment accommodations can lead to a lack of affordable housing for locals. So, consider staying in a hotel to support the local economy.
Avoid using plastic: The markets in Sibiu are filled with delicious food and drinks. However, avoiding using plastic or buying items made or packaged with plastic is important. Bring your reusable water bottle and shopping bag to reduce your plastic waste.
Eat locally sourced organic food: Many restaurants in Sibiu and Romania offer locally sourced organic food that is both delicious and sustainable. Consider trying these dishes to support the local farmers and Romanian food security.
Limit your consumption of meat and dairy: Meat and dairy production significantly impact the environment. Consider trying some vegetarian or vegan options in Sibiu at Christmas to reduce your carbon footprint.
Be open to diverse cultures and experiences: Sibiu and Romania have a rich cultural heritage that is worth exploring. Be open to diverse cultures and experiences and engage with the locals to better understand the place you are visiting.
Explore more than just the main tourist areas: Sibiu has much more to offer than just the main tourist areas. Explore the lesser-known neighbourhoods and off-the-beaten-path destinations to get a true sense of the local culture and lifestyle.
Support the arts and attend local events: Sibiu is known for its vibrant arts and cultural scene. Attend local events, festivals, and concerts to support local artists and performers.
Visit fewer places but stay longer at each destination: Instead of rushing from one place to another, consider visiting fewer places but staying longer at each destination to reduce your carbon footprint and gain a deeper understanding of the local culture and lifestyle.
FAQ
Does Sibiu have a Christmas market?
Yes, Sibiu does have a cosy Christmas market in the centre square, Piața Mare.
When is Sibiu Christmas Market?
The Christmas market in Sibiu runs from 10th November 2023 to 7th January 2024.
Is Sibiu worth visiting in winter?
Sibiu is also known for its rich history and architecture. The city's old town is a UNESCO World Heritage site, with well-preserved Gothic, Renaissance, and Baroque buildings that are a sight to behold. The snow-covered roofs and streets add to the magical winter scenery. It's well worth visiting.
Does it snow in Sibiu?
Yes, it does snow in Sibiu during the winter season. Sibiu is located in the heart of Romania, and its climate is continental, which means that it experiences cold and snowy winters. The snowfall in Sibiu usually begins in November and lasts until March, with January and February being the coldest months. The amount of snowfall can vary each year, but it's not uncommon to see a blanket of snow covering the city and its surroundings during the winter months.
What are the temperatures like in Sibiu during winter?
The temperatures in Sibiu during the winter season are typically cold, with an average low of -5°C (23°F) and an average high of 4°C (39°F). However, the temperature can vary depending on the day, and it's not uncommon for the temperatures to drop below freezing.
If you have visited Sibiu in winter or want to review the Xmas market, comment below.
—
Recommendations are independently chosen based on personal travel experiences and extensive research. This post contains affiliate links to hotels and tours in Sibiu, Romania. This means I get a small commission from any bookings at no extra cost to you.