One of the best things to do in Copenhagen in December is to spend an evening wandering around Copenhagen Christmas Market. You can sample traditional Danish food and snacks, shop for handmade Scandi gifts and enjoy the historic sights of Copenhagen while you're under the Christmas lights.
In this guide, I share the confirmed dates, opening times and locations for 2023.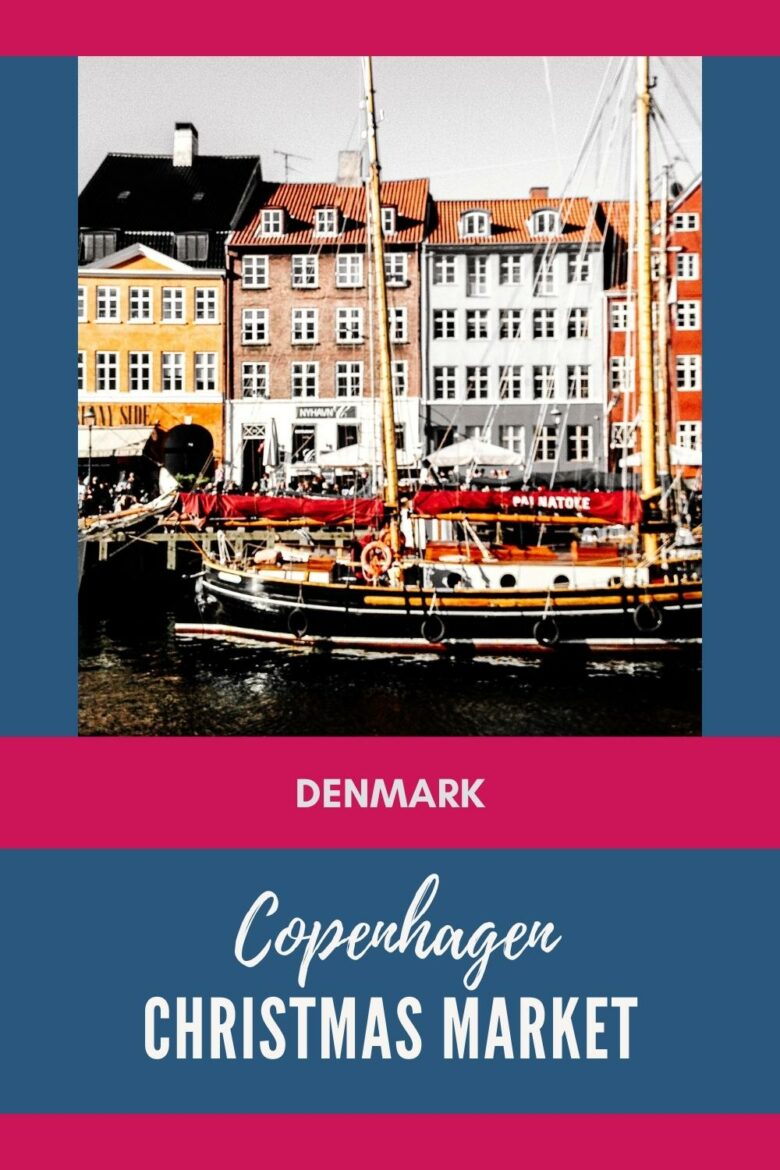 Not only can you experience the Christmas markets in Copenhagen during November, December and January, but it's also a wonderful time to experience Danish hygge.
This is a traditional Danish experience and way of life where locals (and visitors) live in the moment with their friends and family in a cosy setting.
The Christmas markets are a perfect time for hygge as you can appreciate the little things that make you happy while being a part of the Danish Christmas experience.
Copenhagen Christmas Market 2023
As you wander across the cobblestone streets of Copenhagen during the holiday season, you'll be greeted by the vibrant and festive atmosphere of the Christmas market.
You'll find yourself surrounded by rows of wooden huts selling everything from handcrafted ornaments and unique gifts to delicious Danish pastries and traditional hot mulled wine.
As the sun sets and the night grows colder, you'll find comfort in the warmth of the market and the live music performances that fill the air.
Note that the markets and stores in Copenhagen are generally closed from the 24th to the 26th of December.
But if you happen to be visiting on these dates, you'll still be able to enjoy the Christmas lights and decorations found throughout the old town.
If you have some free time in Copenhagen, consider exploring other districts besides the city centre. Vesterbro, Nørrebro, and Christianshavn all have their own Christmas events, each with its own character and charm.
And to really immerse yourself in the holiday spirit, consider renting a bike to ride through the streets, taking in the twinkling lights and decorations that adorn every corner.
Copenhagen's bike-friendly infrastructure makes it easy to navigate the city and take in all the Christmas cheer. But remember to rug up before you go!
Dates and Locations
Copenhagen Christmas Market dates: 3rd November to 21st December 2023.
Tivoli Christmas Market dates: 17th November to 31st December 2023.
Location: There are many Christmas markets in Copenhagen including at Højbro Plads, Kongens Nytorv, Tivoli Gardens and Nyhavn Christmas market on the waterfront.
Opening times:
Monday to Wednesday: 11am to 7pm.
Thursday to Saturday: 11am to 9pm.
Sunday: 12pm to 7pm.
Tivoli opening times: 11am to 10pm and until midnight on the weekends.
Christmas Day: Closed. The Tivoli market is closed on 24, 25 and 26 December.
Admission:
The main Christmas markets are free.
Tivoli requires purchasing a ticket.
Santa: Yes, Monday to Friday: 3pm to 6 pm at Højbro Plads and Kongens Nytorv. Photos are free.
Ice skating: Yes, at Tivoli Gardens and Frederiksberg Gardens.
Vegetarian: Yes, plenty of options.
Vegan: Yes, plenty of options.
Gluten free: Yes, but limited.
Accessible: Yes.
Pet-friendly: Yes, dogs are allowed on a lead.
Reason to visit: The beautiful white Christmas setting, unique Danish Christmas themes and the historic Tivoli Gardens.
Specialties: Cinnamon infused mulled wine, called gløgg in Danish and æbleskiver as a sweet treat.
Travel tip: Cross the bridge to Malmo to add a Swedish Christmas experience to your itinerary.
Recommended tour: Hygge and Happiness Culture Tour
Winter events: Ice skating, Christmas light events and see Santa's sleigh.
Copenhagen weather in winter: Temperatures average 5°C / 1°C (high / low) in December.
Where to stay: CitizenM is centrally located around the block from the Tivoli Gardens.
Hotels Near Copenhagen Christmas Market
Copenhagen has many beautiful design hotels and great places to stay in the city centre and inner suburbs.
CitizenM is the hotel I recommend as it's centrally located and sustainable due to its use of renewable energy and measures to limit food waste.
Read my guide to hotels near Copenhagen Christmas market for a full list of options for where to stay.
Location of Copenhagen Christmas Market
City and Christmas Tours
A city tour of Copenhagen is an incredible way to immerse yourself in the city's rich history and culture. With its charming canals, colourful facades, and stunning architecture, Copenhagen is a city that truly has something for everyone.
I highly recommend taking the Hygge and Happiness Culture Tour to see the highlights of the city and experience a touch of Danish culture.
Alternatively, consider a food tour of Copenhagen, where you can learn about the local culture through their cuisine.
On a city tour, you'll visit the city's most iconic landmarks and attractions, including the historic Nyhavn harbour, the impressive Christiansborg Palace, and the world-famous Little Mermaid statue.
What to Expect
Copenhagen Christmas Market Specialities
The following traditional Christmas dishes are essential to the Danish holiday season and offer a taste of Danish culture and tradition. Many of them can be enjoyed by vegetarians with a little adaptation, and you'll often find these at the Christmas markets.
Æbleskiver: these are small round pancakes typically served with jam and powdered sugar and are a Danish Christmas tradition.
Risalamande: a rice pudding dessert commonly eaten during Christmas in Denmark, typically topped with cherry sauce.
Flæskesteg is a traditional Danish Christmas dish consisting of roast pork with crispy skin, typically served with red cabbage and boiled potatoes.
Gløgg: a warm spiced wine that is a Danish Christmas classic, made with red wine, spices, and almonds.
Leverpostej is a Danish liver pate often served with pickled beets and rye bread on Christmas Eve. Vegetarian options include mushroom pate or tofu pate.
Rugbrød is a hearty Danish rye bread often served with cheese, pate, or cold cuts during the holidays.
Brunede kartofler: caramelized potatoes, a popular Danish Christmas side dish, typically made with sugar and butter.
Grønlangkål is a Danish Christmas dish of creamed kale, often served with boiled potatoes. Vegetarian options include using vegetable broth and plant-based cream.
Risengrød: a sweet rice porridge that is often served as a dessert during the holiday season in Denmark, similar to the Norwegian dish "Risgrøt". Vegan options include using plant-based milk instead of dairy milk.
Markets, Events and Christmas Lights
Each of the Copenhagen Xmas markets and districts has something different to offer. While you can always get a cup of hot gløgg or Danish sweets, there are unique Christmas food and specialties wherever you go.
Here are some of Copenhagen's most popular Christmas markets.
Højbro Square – This market in Copenhagen's historic city centre is free and the perfect way to end a day of sightseeing or shopping in Strøget.
Kongens Nytorv – A classic Danish Christmas market in the historic heart of Copenhagen. Stop by to see the beautiful Christmas lights and decorations at Hotel d'Angleterre and the Magasin department store.
Tivoli Gardens Christmas Market – For a true Nordic Christmas experience, there is nowhere better than the Tivoli Gardens Christmas market. Wooden Christmas stalls are decorated with lights and pine branches, leading to a cosy atmosphere amongst Tivoli's regular amusement park rides. You do have to pay the Tivoli entrance fee to visit the Christmas market, but it's a great experience once you're inside.
Christmas Carols and Kayaking – The Danish Santa Lucia parade takes place on the decorated canals of Copenhagen. Watch and listen to the kayakers as they sing Christmas carols as they paddle by.
Hans Christian Andersen Christmas Market – A unique market located on Nytorv Square where the stalls are named after the fairytales of the famous Danish author. This is a fun Christmas market for children where they can enjoy meeting Santa, making Christmas ornaments, and riding on a traditional carousel.
FLIDS Christmas Market – A hub for Scandinavian and Danish art and design. This is the place to go to see local exhibitions by talented local artists and the latest in Danish design. Located in Nørrebrohallen, Flids is a sustainable market that turns into a Christmas market for two days at the beginning of December. There is a small fee to enter.
Grønnessegaard Christmas Market – Located on Grønnessegaard Estate near Hundested, this exclusive market is held for two days over the weekend of the 26th and 27th November. Note there is a fee for entering.
Ice Skating in Copenhagen – As one of the few cities with multiple ice rinks in winter, you can effectively skate your way around Copenhagen at the ice rinks at Tivoli Gardens, Frederiksberg Gardens and also one at Toftegards Square in Valby.
Kronprinsengade – Look up to see the ceiling of lights on Copenhagen's busiest shopping street. The Christmas lights cover the street, creating a magical experience.
Sustainable shopping in Copenhagen – The city of Copenhagen is showing a strong movement towards sustainability. There are many ways to minimise your impact, which include reducing consumption. Copenhagen has many shops selling sustainable products when you need to buy something. Many of these boutique stores are in the Nørrebro or Østerbro districts. Take the time to walk around these shopping areas or hire a bike if the weather is good.
For more information on events and things to do in Copenhagen in winter and more details on Copenhagen Xmas markets, check out the Visit Copenhagen official tourism website.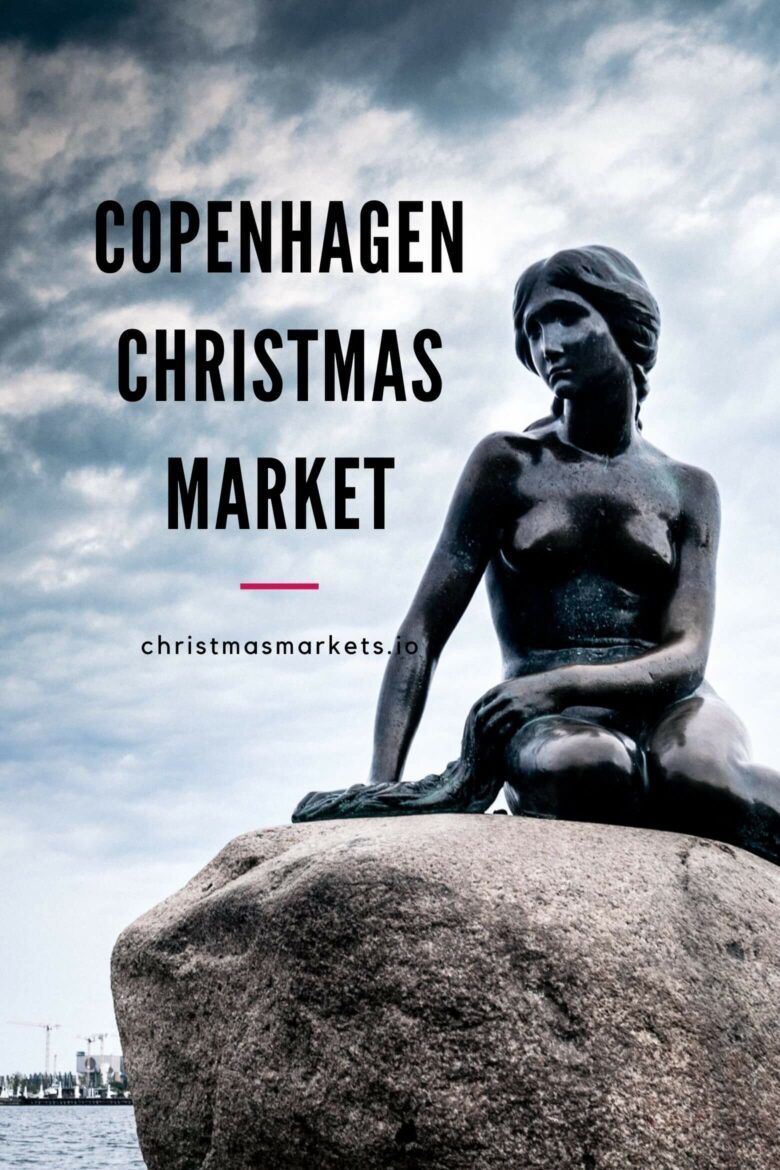 Sustainable Christmas Travel Tips
When visiting the Christmas markets in Copenhagen, it's important to remember our choices' environmental and social impact.
You can make a positive impact by implementing some or all of these simple measures.
Shop mindfully, only purchasing what you really need.
Use sustainable transport options such as walking, cycling or public transport to get around.
Choose a sustainable hotel that is powered by renewable energy.
Opt for hotels over short-stay apartments, which can lead to a lack of affordable housing for locals.
Avoid plastic and items made or packaged with plastic, and try to eat locally sourced organic food where possible.
Limit your meat and dairy consumption to reduce food-based emissions.
Explore more than just the main tourist areas, support the arts, attend local events, and visit fewer places but stay longer at each destination to make a positive impact.
FAQ
When do Christmas markets start in Copenhagen?
Copenhagen Christmas markets start on Friday the 17th November to 24th December with Tivoli opening until 31st December 2023.
Where are the Christmas markets in Copenhagen?
The Christmas markets continue until the 31st December 2023, but note that they're closed on the 24th, 25th, and 26th December.
What to do in Copenhagen at Christmas?
Go to an art exhibition, try a new restaurant, have cocktails in Vesterbro, visit the 6 museums in the museum district and get festive at the Christmas markets.
Is Copenhagen good for Christmas markets?
Copenhagen is a fun Christmas destination where you'll find many events, beautiful decorations, lights, and the wonderful atmosphere of Christmas markets.
Is Copenhagen Christmas market expensive?
Most of the Christmas markets in Copenhagen are free to visit. The Tivoli Gardens Christmas Market has a fee, but it provides access to more than just the Christmas market. Having said that, Copenhagen is considered to be an expensive city in general, so keep that in mind when planning your trip.
Where is Tivoli Christmas Market?
The Tivoli Christmas Market is located inside the Tivoli Gardens amusement park in the heart of Copenhagen, Denmark. Tivoli Christmas Market opening dates are 17th November to 31st December 2023.
If you have visited Copenhagen in December or Xmas in Denmark and would like to share your experience, leave a comment or tips for other travellers below.
—
Recommendations are independently chosen based on personal travel experiences and extensive research. This post contains affiliate links to hotels and tours in Copenhagen, Denmark. This means I get a small commission from any bookings at no extra cost to you.