One of the best things to do in Copenhagen in December is to spend an evening wandering around the Copenhagen Christmas market. You can sample traditional Danish food and snacks, shop for handmade Scandi gifts and enjoy the historic sights of Copenhagen while you're under the Christmas lights.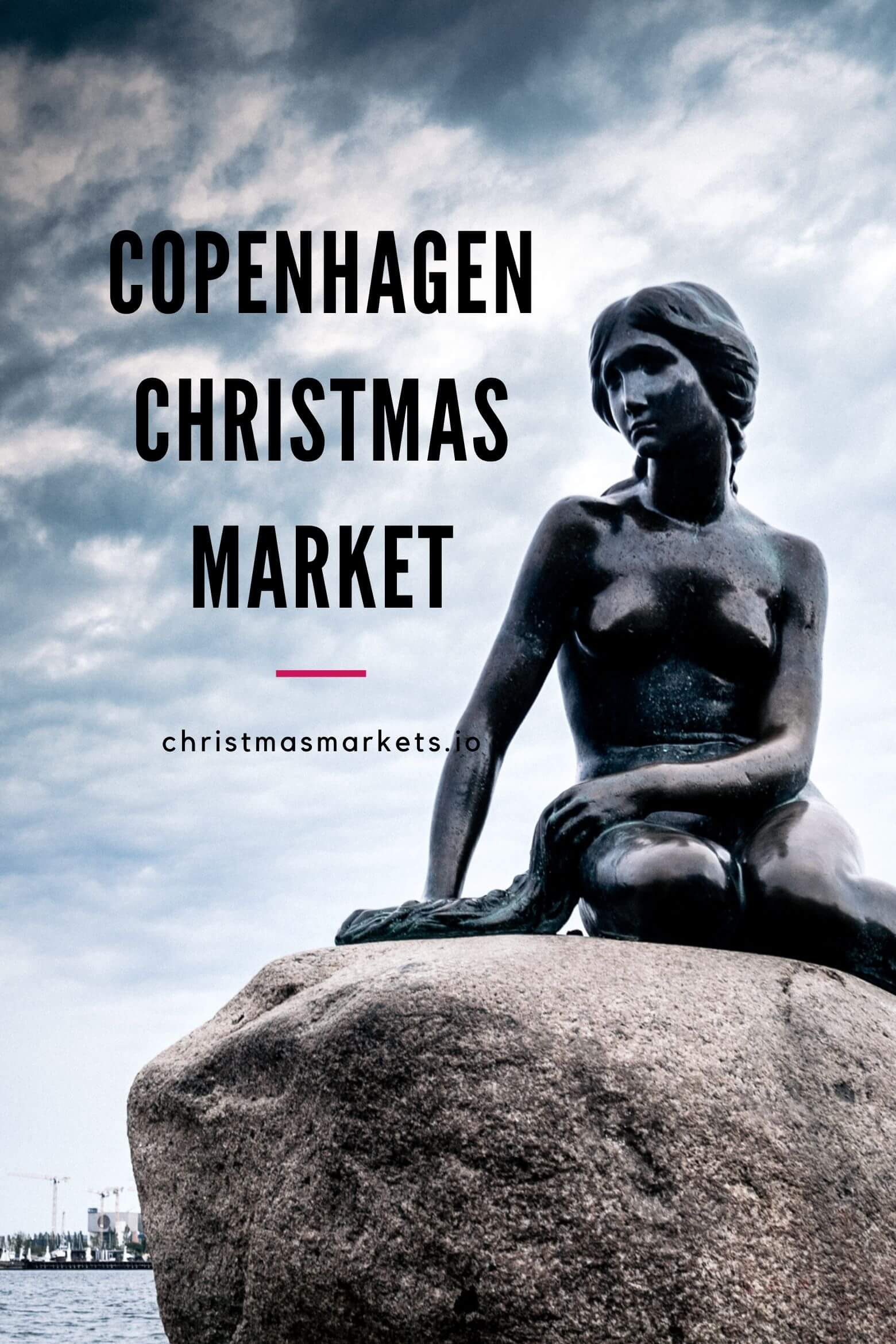 Not only can you experience the Christmas markets in Copenhagen during November, December and January but it's also a wonderful time to experience Danish hygge. This is a traditional Danish experience and way of life where locals (and visitors) live in the moment with their friends and family in a cosy setting. The Christmas markets are a perfect time for hygge as you can appreciate the little things that make you happy while surrounded by the warm Christmas decorations.
Copenhagen Christmas Market 2021
Copenhagen Christmas Market dates: 16th November 2021 to 5th January 2022 (to be confirmed). Note that stores in Copenhagen are closed from the 24th to the 26th December.
Location: There are many Christmas markets in Copenhagen including the ones at Højbro Square, Tivoli Gardens and Nyhavn Christmas market on the waterfront.
Reason to visit: The beautiful white Christmas setting and unique Danish Christmas themes.
Specialties: Cinnamon infused mulled wine, called gløgg in Danish.
Travel tip: Cross the bridge to Malmo to add a Swedish Christmas experience to your itinerary.
Recommended tour: Copenhagen Christmas Spirit
Where to stay: CitizenM or search our recommended list of Christmas hotels.
Winter events: Ice skating, Christmas light events and see Santa's sleigh.
Copenhagen weather in winter: Temperatures average 5°C / 1°C (high / low) in December.
Plan your trip: Resources to plan your Christmas holiday or winter break.
Hotels Near Copenhagen Christmas Market
Copenhagen has many beautiful design hotels and great places to stay in the city centre and inner suburbs. Read our guide to hotels near Copenhagen Christmas market to help you organise your trip with a convenient, highly-rated hotel.
Copenhagen Christmas Market Specialities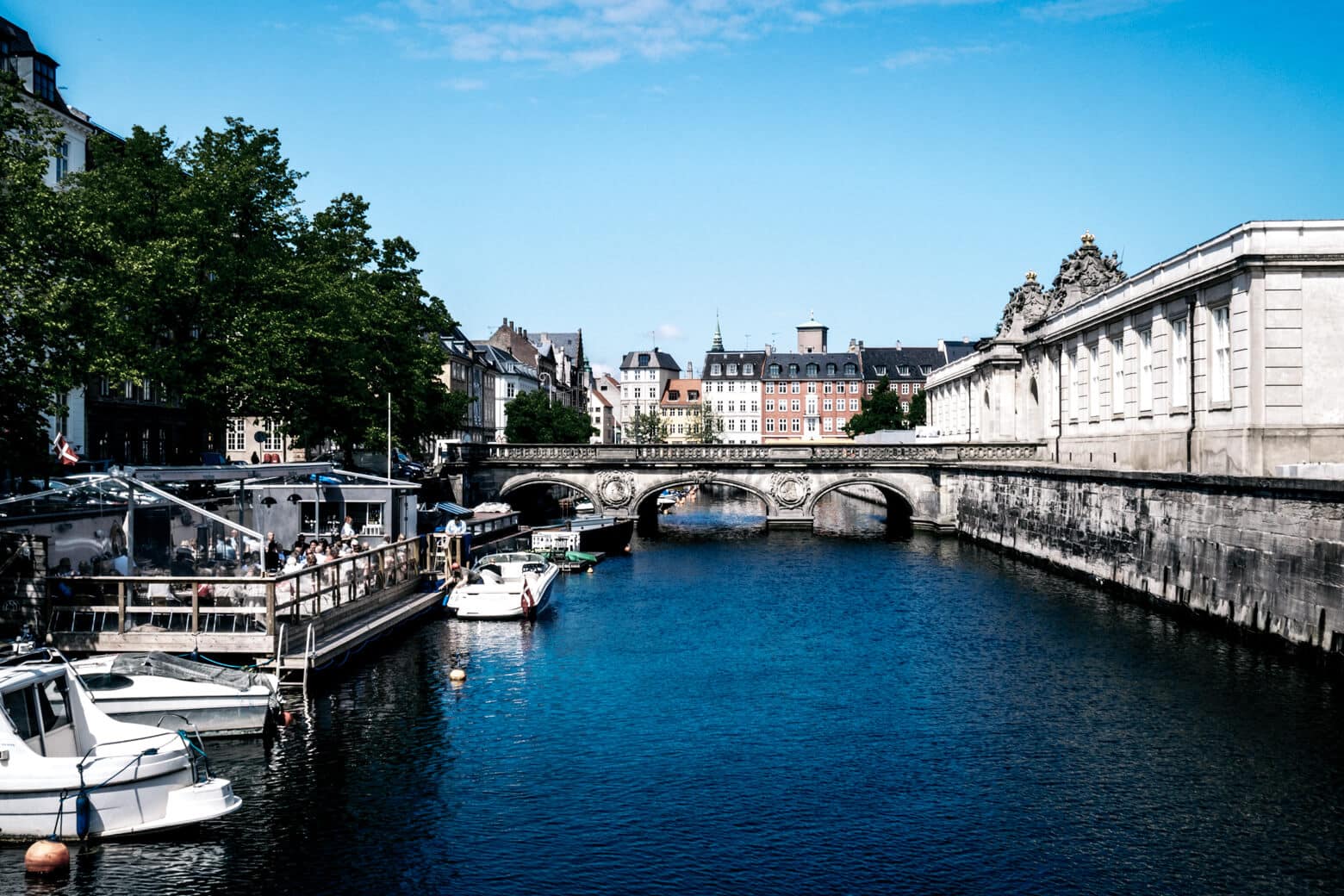 Each of the Copenhagen Xmas markets has something different to offer. While you can always get a cup of hot gløgg or Danish sweets, there are unique Christmas food and specialties wherever you go.
Højbro Square – This market in Copenhagen's historic city centre is free and the perfect way to end a day of sightseeing or shopping in Strøget.
Tivoli Gardens Christmas Market – For a true Nordic Christmas experience, there is nowhere better than the Tivoli Gardens Christmas market. Wooden Christmas stalls are decorated with lights and pine branches leading to a cosy atmosphere amongst Tivoli's regular amusement park rides. You do have to pay the regular Tivoli Gardens entrance fee to visit the Christmas market but it's a great experience once you're inside.
Christmas Carols and Kayaking – The Danish Santa Lucia parade takes place on the decorated canals of Copenhagen. Watch and listen to the kayakers as they sing Christmas carols as they paddle by.
Kongens Nytorv – A classic Danish Christmas market in the historic heart of Copenhagen. Stop by to see the beautiful Christmas lights and decorations on Hotel d'Angleterre and the Magasin department store.
Hans Christian Andersen Christmas Market – A unique market located on Nytorv Square where the stalls are named after the fairytales of the famous Danish author. This is a fun Christmas market for children where they can enjoy meeting Santa, making Christmas ornaments and taking a ride on a traditional carousel.
FLIDS Christmas Market – A hub for Scandinavian and Danish art and design. This is the place to go to see local exhibitions by talented local artists and the latest in Danish design. Located in Nørrebrohallen, Flids is a sustainable market that turns into a Christmas market for two days starting on the 5th December.
Grønnessegaard Christmas Market – Located on Grønnessegaard Estate near Hundested, this exclusive market is held for two days over the weekend of the 27th and 28th November. Note there is a fee for entering.
Ice Skating in Copenhagen – As one of the few cities with multiple ice rinks in winter, you can effectively skate your way around Copenhagen at the ice rinks at Tivoli Gardens, Frederiksberg Gardens and also one at Toftegards Square in Valby.
Kronprinsengade – Look up to see the ceiling of lights on Copenhagen's busiest shopping street. The Christmas lights cover the street creating a magical experience.
Sustainable shopping in Copenhagen – The city of Copenhagen is showing a strong movement towards sustainability. There are many ways to minimise your impact which includes reducing consumption. When you do need to buy something, Copenhagen has many shops that sell sustainable products. You can find many of these boutique stores in the Nørrebro or Østerbro districts. Take the time to walk around these shopping areas or hire a bike if the weather is good.
For more information on events and things to do in Copenhagen in winter and more details on Copenhagen Xmas markets, check out the Visit Copenhagen official tourism website.
Note that entering Denmark requires adhering to certain restrictions which may change at any time. Follow the rules closely and continue to check regulations up to the last minute of your trip to Denmark. Consider delaying or cancelling your trip if you are concerned about safety and take out travel insurance in case of cancellation.
Map of Copenhagen
If you have visited Copenhagen in December or Xmas in Denmark and would like to share your experience, leave a comment or tips for other travellers below.
This post contains affiliate links. This means we get a small commission from any bookings at no extra cost to you. Thanks for your support and we wish you a Merry Christmas.