The beautiful city of Bath is famous for its Roman baths, historic Bath Abbey, Pulteney Bridge and the Bath Christmas Market in winter. As a city teeming with historic attractions, green spaces, museums and galleries, Bath is one of the most desirable winter destinations in the UK.
In this guide, I list all the details you'll need to know to plan your visit to the Christmas market in Bath, including 2023 dates, opening times, where to go and what to expect from the Christmas chalets.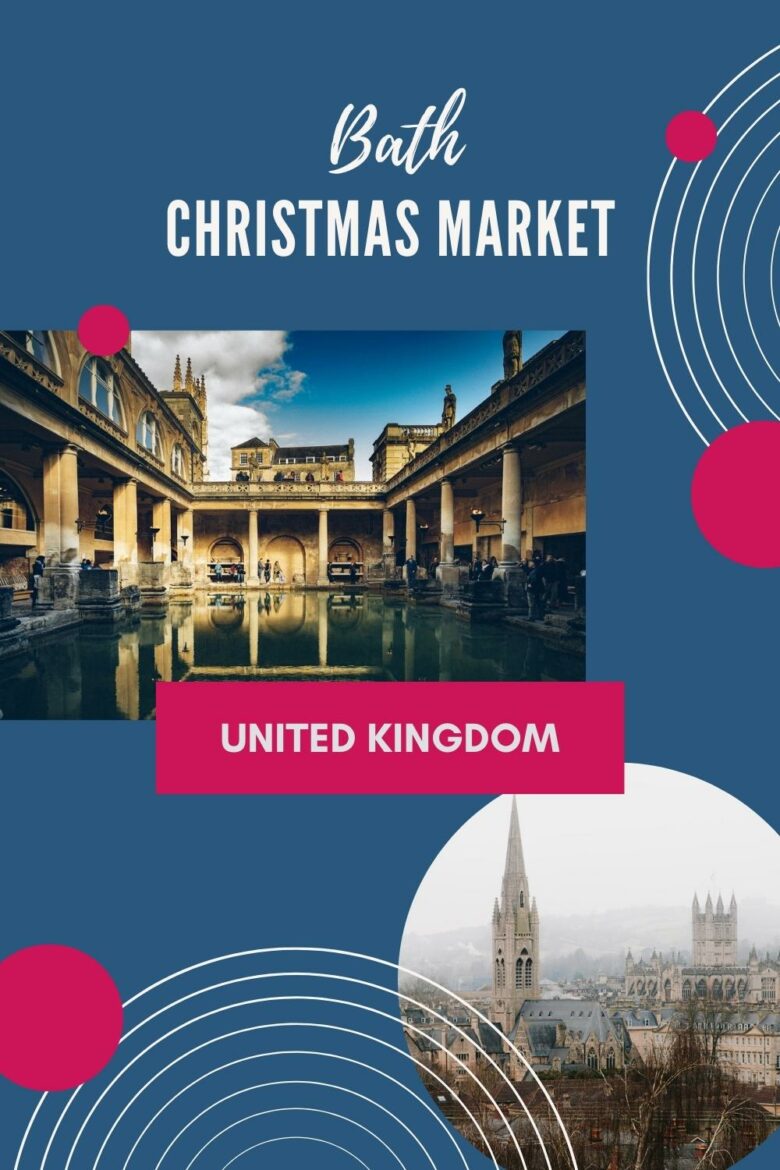 Bath Christmas Market 2023
The Christmas markets are back bigger than ever in 2023. Located between the iconic Roman Baths and the grandeur of Bath Abbey, the markets create a festive atmosphere.
At the Christmas markets, you'll find more than 170 chalets that sell a range of seasonal gifts, locally produced food and drinks, Christmas decorations and handmade gifts from local makers.
Dates and Location
Bath Christmas market dates: 23rd November to 10th December 2023.
Location: In the streets around Bath Abbey.
Opening times:
Monday to Wednesday: 10am to 7pm.
Thursday to Saturday: 10am to 8pm.
Sunday: 10am to 6pm.
Christmas Day: Closed.
Admission: Free, no tickets required.
Christmas lights: Yes, switch on date: 23rd November 2023.
Santa: Yes.
Ice skating: No.
Vegetarian: Yes, plenty of options.
Vegan: Yes, but limited.
Gluten free: Yes, but limited.
Accessible: Yes.
Pet-friendly: Yes, but not recommended.
Parking: Please take public transport to help limit congestion.
Reason to visit: Experience the Roman baths along with the festival Christmas experience at the markets.
Recommended tour: City Walking Tour with entry to the Roman Baths.
Specialities: Hot drinks (take your own resusable cup to help reduce single-use plastic), cheddar cheese, artisan plum pudding.
Where to stay: Hotel Eight is located directly across from the Christmas markets.
Hotels near Bath Christmas Market
Bath's Hotel Eight is an excellent choice as it's located steps from the Christmas market, Bath Abbey and the Roman Baths.
If you're looking for somewhere else to stay, my guide to hotels near Bath Christmas Market lists all of the well-located hotels and recommendations for where to stay at this time of year.
Whether you're going to experience Christmas in Bath or just a weekend getaway, there's something suitable for a range of budgets.
Location of Bath Christmas Market
Bath at Christmas
Bath is known as a wellbeing city and has been for centuries. You can bathe in the hot springs, relax at a day spa and enjoy exceptional food from local producers.
Experiencing Bath at Christmas means you can enjoy all the highlights of the city while soaking up the festive atmosphere with the Christmas markets, decorations, lights, events, delicious food and boutique shopping.
The markets are spread out around the Georgian streets of historic Bath, and there are events at several locations around the city.
You can meet the makers and support businesses at the Makers Markets at Milsom Place.
Some of the great foodie experiences in Bath often involve baked goods for breakfast, a classic afternoon tea and dinner at a gastropub with a craft beer or locally made gin.
Bath artisan market and the vintage carousel highlight the festive celebrations, and Christmas lights and decorations cover the city streets and square.
Festive Christmas food and drinks will be for sale in the centre of Bath, along with street performers and Christmas carol events.
If you're looking to visit other Christmas cities, read my Christmas markets 2023 UK guide. Almost every city now has its own Christmas market, each unique in its own way.
Christmas Specialties in Bath
Roast Turkey: Tradition takes a front seat with the classic English Christmas meal of roast turkey. Prized for its succulent meat, the turkey is typically seasoned with herbs, stuffed with a delicious filling of breadcrumbs, sage, onion and chestnuts, and roasted until it's golden brown. Cranberry sauce and gravy generously ladled over the top round out the savoury flavours.
Nut Roast: Nut roast is a splendid option on the vegetarian side. Involving a hearty combination of mixed nuts, bread crumbs, vegetables, and a variety of herbs and spices, the mix is baked until firm and golden. The result is a dish that is both nourishing and filled with warming winter flavours.
Mince Pies: Mince pies are a particular festive favourite in England, with a history dating back to the Middle Ages. These petite treats are filled with a sweet mix of dried fruits, sugar, spices and sometimes a touch of brandy or rum — encased in a crumbly, buttery shortcrust pastry.
Christmas Pudding: Another tradition firmly embedded in an English Christmas is Christmas Pudding. This rich, dense dessert is made weeks in advance and includes a concoction of dried fruits and treacle. Traditionally, it's steamed on Christmas Day, doused with brandy, and set alight for a brief, theatrical moment before being served with a dollop of brandy butter or cream.
Bath Buns: Unique to the city of Bath are the iconic Bath Buns. They are sweet, yeasty rolls studded with currants and topped with a sprinkling of crunchy sugar. While not strictly a Christmas food, they often make an appearance during the festive season due to their comforting, indulgent nature.
Food at the Christmas Market
Mulled Wine: An emblematic scent that wafts through the Bath Christmas Market is mulled wine's sweet and spicy aroma. Traditional to festive markets across Europe, this warming drink is made by simmering red wine with a melange of aromatic spices such as cloves, nutmeg, and cinnamon, often spiked with a splash of brandy. A cup of mulled wine in hand is sure to keep the winter chill at bay as you wander through the market.
Bratwurst: You're likely to spot many a food stall serving bratwurst. These hearty German sausages, a common sight at Christmas markets worldwide, are often grilled to perfection and served in a crunchy bread roll with a variety of condiments.
Bath Soft Cheese Toasties: As a city with a rich dairy heritage, the Christmas Market in Bath showcases the local specialty, Bath soft cheese. Vendors make toasties filled with this creamy, organic, brie-like cheese, often paired with locally sourced pickles or chutneys. The result is a gooey, warm delight that's hard to resist.
Mince Pie Fudge: Building on the popularity of mince pies, some ingenious Bath stalls create mince pie-flavoured fudge. This involves the usual creamy, melt-in-your-mouth fudge imbued with the festive flavours of mincemeat, namely mixed spice and dried fruits. It's an innovative twist on a classic Christmas treat.
Churros with Chocolate Sauce: An international sweet that is making waves at the Bath Christmas Market are churros, a sweet Spanish snack. Deep-fried until golden, these long, sugary doughnuts are often served with a rich, warm chocolate sauce for dipping.
What to Buy
Handmade Bath Soaps: Bath, known for its thermal springs and spa traditions, is synonymous with bath products. Amid the Christmas market chalets, you'll find an array of handmade soaps infused with essential oils, natural botanicals, and sometimes even local honey or Bath's famous thermal water. These soaps are beautifully packaged, making them a thoughtful gift for a loved one.
Bath Gin: Locally distilled Bath Gin is a favourite among market visitors. This craft spirit is made using 12 botanicals, including bitter orange, kaffir lime leaf, and English coriander, resulting in a smooth, unique gin. Available in beautifully designed bottles, Bath Gin is a standout choice for any gin enthusiast on your Christmas list.
Handcrafted Jewellery: Crafted by local artisans, these one-of-a-kind pieces range from minimalist silver designs to more intricate, gemstone-studded creations. These make for a truly special gift, embodying the spirit and creativity of Bath's local craftspeople.
Pottery and Ceramics: The Bath Christmas Market also hosts a variety of stalls featuring locally made pottery and ceramics. Whether it's a beautifully glazed mug, a decorative bowl, or a whimsical ceramic ornament, these creations represent the region's rich artistic heritage.
Knitted Goods: Nothing beats the warmth and comfort of knitted goods when the winter chill sets in. You'll come across a selection of stalls selling handmade scarves, hats, and mittens, often made from locally sourced wool.
Christmas Ornaments: A staple of any Christmas market are the myriad Christmas ornaments available for purchase. From hand-blown glass baubles to carved wooden decorations, these festive adornments often embody the quintessence of an English Christmas, making them a perfect memento of your visit to the Bath Christmas Market.
Christmas Events in Bath
Christmas Artisan Market – The Bishop's Palace & Gardens in Wells: On the 4th and 5th of November 2023, from 10am to 4pm, the historic Bishop's Palace & Gardens in Wells will host its annual Christmas Artisan Market. This two-day event brings together a diverse collection of talented artisans showcasing their handcrafted goods. From intricate ceramics and glassware to fine art and gourmet food items, this market is a treasure trove of unique, high-quality products perfect for festive gifting.
Christmas at Stourhead: Running from the 24th of November 2023 to the 1st of January 2024, from 4:30pm to 10pm, Stourhead opens its doors for a magical Christmas experience. As darkness descends, the world-renowned landscape garden is transformed into a spectacle of shimmering lights and enchanting colours, providing a visually stunning backdrop for festive celebrations. A walk around the illuminated lake offers a splendid opportunity to soak up the Christmas atmosphere.
Enchanted Christmas – Westonbirt Arboretum in Tetbury: This festive season, the renowned Westonbirt Arboretum in Tetbury hosts its spectacular Enchanted Christmas event. Known for its diverse collection of trees and shrubs, the Arboretum comes alive with a festive illuminated trail, guiding visitors through a magical woodland journey, bathed in an array of mesmerising lights and sounds. The event also features festive music and food stalls serving warming winter treats.
The Enchanted Garden of Light – The American Museum & Gardens in Claverton: From the 1st to the 31st of December 2023, The American Museum & Gardens in Claverton invites visitors to explore The Enchanted Garden of Light. As the name suggests, the gardens are transformed with a breathtaking light installation that illuminates the beautiful plants and structures, creating a captivating, otherworldly atmosphere. This festive light show is a must-visit for anyone looking for a dose of Christmas magic.
Visit Bath has information regarding events and things to do if you're looking to plan your itinerary this Christmas.
Sustainable Travel Tips
The choices we make have an environmental and social impact on the places we visit. When visiting the Christmas markets, it's important to keep sustainability in mind.
Implement some or all of these simple measures to create a positive impact.
Shop mindfully. Only purchase what you really need.
Walk, cycle and use public transport to get around.
Stay in a sustainable hotel powered by renewable energy.
Stay in hotels. Short-stay apartment accommodation can lead to a lack of affordable housing for locals.
Avoid using plastic or buying items made or packaged with plastic.
Try to eat locally sourced organic food where possible.
Limit your consumption of meat and dairy.
Be open to diverse cultures and experiences.
Explore more than just the main tourist areas.
Support the arts and attend local events.
FAQ
What date is Bath Christmas Market 2023?
Bath Christmas Market 2023 takes place from 23rd November to 10th December 2023.
Where is Bath Christmas Market held?
The Christmas market is held in Bath City Centre in the streets around Bath Abbey.
What time does Bath Christmas Market open?
The Christmas market opens at 10am every morning.
What time does Bath Christmas Market close?
The Christmas market closes at 7pm on Monday, Tuesday, Wednesday, 8pm on Thursday, Friday, Saturday and 6pm on Sundays.
Is Bath Christmas Market on this year?
Yes, the Bath Christmas Markets returns once again in 2023 from the 23rd November.
If you have any questions or comments about visiting Bath Xmas market in 2023 or Bath at Christmas more generally, please leave a comment below.
—
Recommendations are independently chosen based on personal travel experiences and extensive research. This post contains affiliate links to hotels and tours in Bath, UK. This means I get a small commission from any bookings at no extra cost to you.