The beautiful city of Bath is famous for its Roman baths, historic Bath Abbey, Pulteney Bridge and in winter, the Bath Christmas market. A city teeming with historic attractions, green spaces, museums and galleries, Bath is one of the most desirable winter destinations in the UK.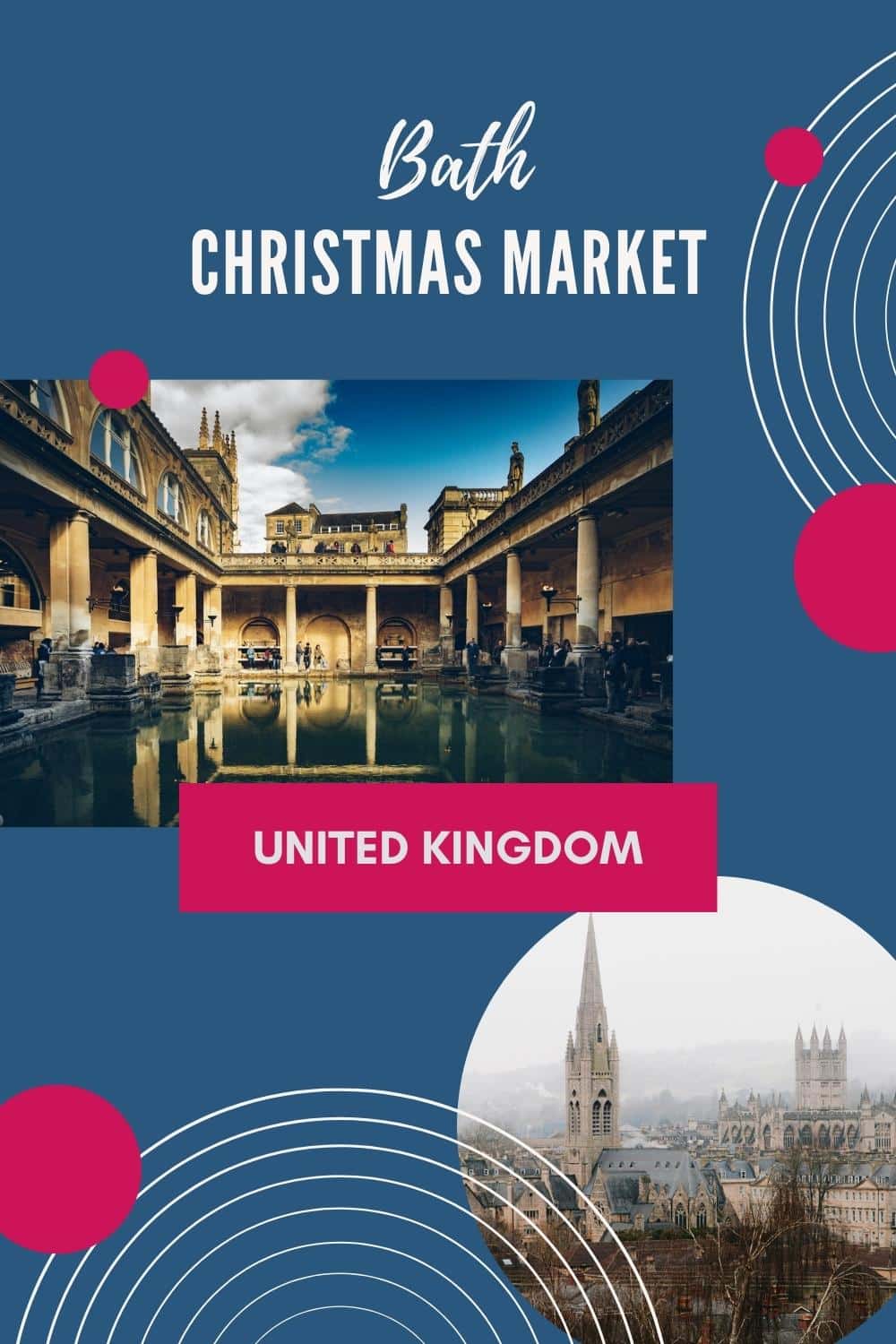 Bath Christmas Market 2022
The Christmas markets are finally back on in Bath this year. Here's a summary of the dates, opening times and location:
Bath Christmas market dates: 24th November to 11th December 2022.
Opening times: The markets open at 10am every morning and close at 7pm on Monday, Tuesday, Wednesday, 8pm on Thursday, Friday, Saturday and 6pm on Sundays.
Location: Bath city centre.
Reason to visit: Experience the Roman baths along with the festival Christmas experience at the markets.
Specialities: Hot drinks (take your own resusable cup to help reduce single-use plastic), cheddar cheese, artisan plum pudding.
Hotels near Bath Christmas Market
If you're looking for somewhere nice to stay, my guide to hotels near Bath Christmas Market lists all of the well-located hotels and recommendations for where to stay in Bath.
Whether you're going to experience Christmas in Bath or just a weekend getaway, there's something suitable for a range of budgets.
Hotel Eight is an excellent choice as it's located steps from the Christmas market, Bath Abbey and the Roman Baths.
Bath at Christmas
Bath is known as a 'wellbeing' city and has been for centuries. You can bathe in the hot springs, relax at a day spa and enjoy exceptional food from local producers.
Experiencing Bath at Christmas means you can enjoy all the highlights of the city while soaking up the festive atmosphere with the Christmas markets, decorations, lights, events, delicious food and boutique shopping.
The markets are spread out around the Georgian streets of historic Bath and there are events at several locations around the city.
At the Christmas markets, you'll find more than 170 chalets that sell a range of seasonal gifts, locally produced food and drinks, Christmas decorations and handmade gifts from local makers.
You can meet the makers and support businesses at the Makers Markets at Milsom Place.
Some of the great foodie experiences in Bath often involve baked goods for breakfast, a classic afternoon tea and dinner at a gastropub with a craft beer or locally made gin.
Bath artisan market and the vintage carousel are some of the highlights of the festive celebrations and Christmas lights and decorations cover the city streets and square.
Festive Christmas food and drinks will be for sale in the centre of Bath along with street performers and Christmas carol events.
Christmas Events Nearby
Christmas Artisan Market – The Bishop's Palace & Gardens in Wells. 5th November to 6th November 2022, 10am to 4pm.
Christmas at Stourhead – 25th November to 1st January 2023, 4:30pm to 10pm.
Enchanted Christmas – Westonbirt Arboretum in Tetbury.
The Enchanted Garden of Light – The American Museum & Gardens in Claverton. 1st December to 31st December 2022.
If you're looking to visit other Christmas cities, read my list of the best Christmas markets in the UK. Almost every city now has its own Christmas market, each unique in its own way.
Please be sure to follow all government guidelines and restrictions while in Bath and Somerset which may change at short notice.
Visit Bath has information regarding events and things to do.
Location of Bath Christmas Market
Sustainable Travel Tips
The choices we make have an environmental and social impact on the places we visit. When visiting the Christmas markets, it's important to keep sustainability in mind.
Implement some or all of these simple measures to create a positive impact.
Shop mindfully. Only purchase what you really need.
Walk, cycle and use public transport to get around.
Stay in a sustainable hotel powered by renewable energy.
Stay in hotels. Short-stay apartment accommodation can lead to a lack of affordable housing for locals.
Avoid using plastic or buying items made or packaged with plastic.
Try to eat locally sourced organic food where possible.
Limit your consumption of meat and dairy.
Be open to diverse cultures and experiences.
Explore more than just the main tourist areas.
Support the arts and attend local events.
Visit fewer places but stay longer at each destination.
FAQ
What date is Bath Christmas Market 2022?
24th November to 11th December 2022.
Where is Bath Christmas Market held?
Bath City Centre in the streets around Bath Abbey.
What time does Bath Christmas Market open?
The Christmas market opens at 10am every morning.
What time does Bath Christmas Market close?
The Christmas market closes at 7pm on Monday, Tuesday, Wednesday, 8pm on Thursday, Friday, Saturday and 6pm on Sundays.
Is Bath Christmas Market on this year?
Yes, the Bath Christmas Markets returns in 2022.
If you have any questions or comments about visiting Bath Xmas market in 2022 or Bath at Christmas more generally, please leave a comment below.
—
Recommendations are independently chosen based on personal travel experiences and extensive research. This post contains affiliate links to hotels and tours in Bath, UK. This means I get a small commission from any bookings at no extra cost to you.