Edinburgh's winter festivals combine Christmas and Hogmanay over the November to January festive period. It's one of the best times for visiting the city as you can pick and choose from a vast array of events and things to do.
Edinburgh Christmas Market is one of the most popular events and in this guide, I list the updated dates for 2023 with opening times and locations.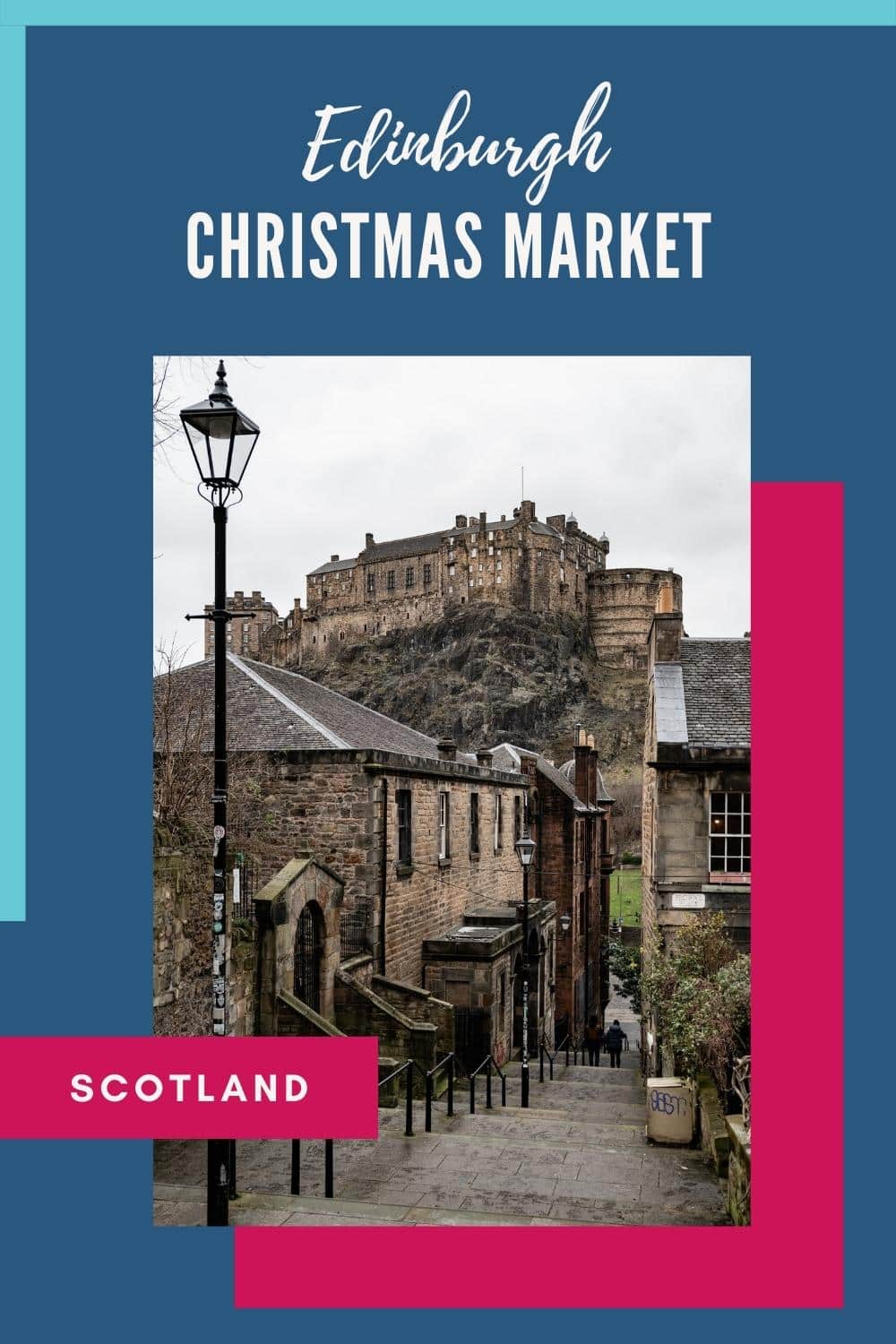 Edinburgh has two main Christmas markets: the traditional European Christmas market at East Princes Street Gardens and the Scottish Market on George Street towards St Andrew Garden.
While in Edinburgh, you can enjoy a ride on the Big Wheel, the Star Flyer or a traditional Christmas carousel. Ice skating is always popular; you can hire skates if you don't have your own.
Edinburgh Christmas Market 2023
Access to the Christmas markets is free, and tickets are not necessary. Nevertheless, crowd control measures are implemented to guarantee everyone's safety. This implies that you might experience brief waiting times during peak periods, but overall, it's manageable.
The Christmas markets in Edinburgh are undoubtedly a highlight of the winter season. You'll find enticing smells of mulled wine, roasting chestnuts, festive lights, and live music; there is something for everyone to enjoy.
The markets have an array of traditional Christmas treats, handcrafted gifts, and unique souvenirs that are perfect for those looking to do some shopping.
But there's more to these markets than just shopping and eating. In addition to the charming Christmas stalls, there are several other activities to indulge in.
For instance, the ice rink at the market is a popular attraction, particularly with children. If you're interested in skating, booking your tickets in advance is best to avoid disappointment.
If you're looking for a more interactive experience, you might enjoy finding your way through the Christmas Tree Maze. The maze is a great way to have fun with your family and friends while enjoying the festive atmosphere.
Below you will find all the information you need, including dates, locations, opening times, what to expect, and instructions on how to book.
Dates and Locations
Edinburgh Christmas Market dates: Likely dates: 24th November 2023 to 3rd January 2023.
Location: East Princes Street Gardens in the Mound Precinct and along George Street in New Town.
Opening times: 10am to 10pm daily.
Christmas Day: Open.
Admission: The Christmas market is free and unticketed.
Ice rink: You can book tickets here.
Big Wheel: Book tickets online.
Christmas Tree Maze: Located at West Princes Street Gardens. Book here.
Christmas lights: Yes, switch on date: 24th November.
Santa: Yes.
Vegetarian: Yes, plenty of options.
Vegan: Yes, plent of options.
Gluten free: Yes, but very limited.
Accessible: Yes.
Pet-friendly: It's advised to keep dogs at home.
Parking: Please take public transport to help limit congestion.
Reason to visit: Special events, food, loads of drinks, the Christmas Tree Maze and reindeer carousel.
Recommended tour: Take Edinburgh's most popular tour, a ghost tour of Edinburgh's vaults.
Specialities: The
Travel tip: Hogmanay is a 3-day event that includes Party at the Bells and the Torchlight Procession for which you must book tickets in advance. This year's tickets are still to be announced. Check back here closer to the time for more information.
Where to stay: Market Street Hotel is highy-rated hotel located in the Mound Precinct in the Old Town.
Hotels near Edinburgh Christmas Market
Edinburgh Castle overlooks both the Old Town and the New Town and the area where the Mound Precinct intersects. This central area is where you'll most likely want to stay to be near the Christmas markets and the city's main sights and attractions.
I suggest staying at Market Street Hotel as it's a 6-minute walk to both East Princes Street Gardens and George Street.
You might also like to stay in one of Edinburgh's cool neighbourhoods like Stockbridge, Dean Village or even Leith on the waterfront.
If you'd prefer to stay elsewhere, my guide to hotels near Edinburgh Christmas Market lists several well-located hotels covering all budgets.
Location of Edinburgh Christmas Market
City and Christmas Tours
A city tour of Edinburgh is an excellent way to immerse yourself in the city's rich history and culture. With its charming old town, historic landmarks, and stunning architecture, Edinburgh can be an interesting experience for everyone.
I highly recommend taking a city tour of Edinburgh as it allows you to see all the highlights of the city. You could also take this ghost tour of Edinburgh's vaults, which is one of the most popular things to do in Edinburgh. If you'd prefer a regular walking tour, then this Old Town history tour is the way to go.
Alternatively, you could consider a food tour to learn about the local Scottish culture through their cuisine. Food tours are always fun and delicious. Most of Edinburgh's food tours are alcohol-based, but I prefer this tour which is all about the food.
On a city tour, you can visit some of the city's most iconic landmarks and attractions, such as the historic Royal Mile, the beautiful Edinburgh Castle, and the towering St. Giles' Cathedral. You'll also get to explore the city's hidden gems, such as its picturesque alleyways, quaint shops, and atmospheric pubs.
What to Expect in Edinburgh
To get an idea about what the Edinburgh Christmas Market is like, then watch this video. It shows a glimpse into the magical atmosphere of the market, from the twinkling lights to the festive music and the Christmas stalls.
Christmas Specialties in Edinburgh
There are lots of Christmas specialties in Edinburgh that are worth trying. Keep an open mind, as these are often tastier than they sound.
Haggis: The traditional Scottish dish made with sheep's heart, liver, and lungs, mixed with onions, oatmeal, and spices, served with neeps (turnips) and tatties (potatoes). Vegetarian haggis is also available, made with mushrooms, lentils, and oats instead of meat.
Cullen skink: A thick and creamy soup made with smoked haddock, potatoes, onions, and cream, a warming and hearty dish to enjoy on a cold winter day.
Cranachan: A Scottish dessert made with whipped cream, honey, toasted oatmeal, raspberries, and a dash of whisky, a sweet and indulgent treat to finish off your festive meal.
Mince pies: Small pies filled with a mixture of dried fruits, spices, and suet, often served warm with a dollop of whipped cream or brandy butter.
Shortbread: The classic buttery and crumbly Scottish biscuit made with sugar, flour, and butter, often served as a snack or dessert during the Christmas season.
Roast vegetables: Roasted root vegetables such as parsnips, carrots, and turnips, seasoned with herbs and spices, make a delicious and hearty vegetarian side dish.
Vegetarian haggis samosas: A fusion of Scottish and Indian cuisine, these vegetarian samosas are filled with spiced vegetarian haggis and make for a tasty and unique snack or entree.
Food at the Christmas Market
Plenty of street foods available at Edinburgh Christmas Market are perfect for enjoying as you wander around the festive stalls. Here are some popular options:
Hot toddy: A warm and soothing drink made with whisky, honey, lemon, and spices, often served in a glass mug, a Scottish classic that's perfect for sipping while wandering around the market.
Haggis pakora: A fusion of Scottish and Indian cuisine, haggis pakora is a deep-fried snack made with spiced haggis (or vegetarian haggis) coated in chickpea flour batter, a delicious and unique street food that's sure to delight your taste buds.
Irn-Bru fudge: Irn-Bru is a popular Scottish carbonated soft drink, and during the Christmas season, you can find Irn-Bru fudge at the market. It's a sweet and creamy fudge that's infused with the unique flavour of Irn-Bru.
Scottish tablet: A type of traditional Scottish confectionery that's similar to fudge but with a harder and crumbly texture, often made with sugar, butter, and condensed milk, a sweet treat that's perfect for snacking on while exploring the market.
German-style bratwurst: A grilled sausage served on a fresh bread roll, often topped with onions and mustard, a classic street food that can be found at many European-style Christmas markets.
Crepes: Thin, French-style pancakes filled with a variety of sweet or savoury toppings, such as Nutella, bananas, ham, and cheese, an easy-to-eat snack that's perfect for a quick bite while on the move.
Churros: Long, thin doughnuts that are fried and coated in cinnamon sugar, served with a dipping sauce such as chocolate or caramel, a delicious and indulgent snack that's popular in Spain and Latin America.
Roasted chestnuts: A classic winter treat, roasted chestnuts are sold in paper cones and are perfect for warming your hands and your stomach while exploring the market.
Mulled wine: A warm and spiced wine that's perfect for sipping while you stroll around the market. It's typically made with red wine, cinnamon, cloves, and citrus peel and is a popular European drink at Christmas markets.
What to Buy in Edinburgh
The Christmas market in Edinburgh has a wide range of unique gifts and products that are perfect for Christmas presents or for treating yourself. Here are some examples of traditional and unique items you can find at the market:
Tartan accessories: Scotland is famous for its tartan patterns, and you can find a range of tartan scarves, hats, gloves, and bags at the market. These items make great souvenirs or gifts for friends and family, even if they're a bit of a cliché.
Whisky and gin: Scotland is also known for its whisky and gin, and you can find a variety of locally produced bottles at the market. These could be good for the alcohol connoisseurs in your life.
Edinburgh Gin Christmas baubles: A unique and festive gift, these Christmas baubles are filled with Edinburgh Gin and come in a range of flavours, including rhubarb and ginger, pomegranate and rose and classic gin.
Scottish knitwear: Another traditional Scottish item, you can find a range of cosy knitwear at the market, including jumpers, cardigans, and hats.
Handmade crafts: The market is also home to a variety of handmade crafts, including pottery, jewellery, and art. These items are perfect for adding a unique touch to your home or as gifts for those who appreciate handmade items.
Things to do in Edinburgh in Winter
Edinburgh is a fantastic city to visit during the winter months. The crisp air, festive atmosphere, and abundance of activities make it an ideal destination for those looking for a winter getaway. Here are some more details on some of the top things to do in Edinburgh during the winter:
Edinburgh Castle is a must-visit attraction all year round, and winter is no exception. The castle offers stunning views of the city, and you can explore its history with a skip the line tour, which is extremely popular.
Ice skating at the George Street ice rink is a popular winter activity in Edinburgh. The rink is surrounded by festive decorations, and special events are often held there, such as ice discos.
The Christmas Tree Maze at West Princes Street Gardens is a fun and festive activity for all ages. Navigate your way through the maze and take in the stunning Christmas decorations along the way.
Santa's Grotto is also located at West Princes Street Gardens and is perfect for families with young children. Meet Santa and his elves, and enjoy the festive atmosphere.
The Festive Light Trail is a unique way to explore Edinburgh during the winter. The trail runs throughout the city and features stunning light displays and installations.
Edinburgh Zoo also has some exciting winter-specific events, such as a Christmas trail, and it's a great way to see some exotic animals during the winter months.
Finally, the Royal Botanic Garden is a beautiful escape from the city and a great way to connect with nature during the winter. The garden is a living museum of plants, and special events are often held there during the winter, such as a Christmas at the Botanics event.
Extend you Christmas holiday this year by adding another destination to your trip. This guide to the best Christmas markets in the UK could help you choose where to go. Discover things to do and the best ways to experience British food, history and culture.
Visit Scotland has information regarding events, places, and the best ways to experience Edinburgh at Christmas and Hogmanay.
Sustainable Edinburgh
It's important to keep sustainability in mind when visiting the Edinburgh Christmas markets. The choices we make as visitors have an environmental and social impact on the city.
To be a responsible traveller, you can implement some or all of these measures:
Shop mindfully, and only purchase what you really need. Consider buying handmade, locally sourced gifts to support the local economy and reduce carbon emissions.
Walk, cycle, or use public transport to get around the city. This helps to reduce air pollution and traffic congestion.
Stay in a sustainable hotel that's powered by renewable energy. Edinburgh has a range of eco-friendly accommodations, providing affordable and sustainable accommodations for travellers.
Try to eat locally sourced, organic food where possible. Edinburgh is famous for its food scene, and plenty of farm-to-table restaurants and street food vendors offer sustainable and delicious meals.
Limit your meat and dairy consumption, as animal agriculture is a significant contributor to greenhouse gas emissions.
Be open to diverse cultures and experiences, and explore more than just the main tourist areas. Edinburgh has a rich cultural heritage, and there are many hidden gems waiting to be discovered.
Support the arts and attend local events. The city has a vibrant arts scene, and plenty of festivals and events are held throughout the year that showcase local talent.
Visit fewer places but stay longer at each destination. This helps to reduce your carbon footprint and allows you to experience the city more deeply and authentically.
By implementing these responsible travel measures, you can help to ensure that your visit to the Christmas markets is sustainable and beneficial for both the environment and the local community.
FAQ
When does Edinburgh Christmas Market start?
Edinburgh's Christmas market starts on 24th November 2023 and continues until 3rd January 2024.
Where is Edinburgh Christmas Market?
The Edinburgh Christmas Market is located at East Princes Street Gardens in the Mound Precinct and along George Street in New Town.
What time does Edinburgh Christmas Market open?
Edinburgh Christmas market opens at 10am daily.
What time does Edinburgh Christmas Market close?
Edinburgh Christmas market closes at 10pm daily.
Is Edinburgh Christmas Market free?
The Christmas market in Edinburgh is free to enter and you don't need to buy tickets.
If you have visited Edinburgh in winter or want to leave a review of the Xmas market, please comment below. This helps others interested in visiting and trying to plan their holiday.
—
Recommendations are independently chosen based on personal travel experiences and extensive research. This post contains affiliate links to hotels and tours in Edinburgh, Scotland. This means I get a small commission from any bookings at no extra cost to you.