When I was living in Budapest, I quickly discovered the city has one of the best Christmas markets in Europe. I'd often sneak out to pick up a fresh off-the-fire chimney cake or a quick mulled wine. Not only did I love visiting it myself, but I'd see tourists swarming in the streets. It's a hugely popular event.
The highlight is the Vorosmarty Square market, open from mid-November until New Year's Day. This isn't the only market in Budapest; there are several others, and don't forget the not-to-be-missed ice rink at City Park.
In this guide, you'll find Budapest Christmas Market dates, location details and what you can expect during your visit.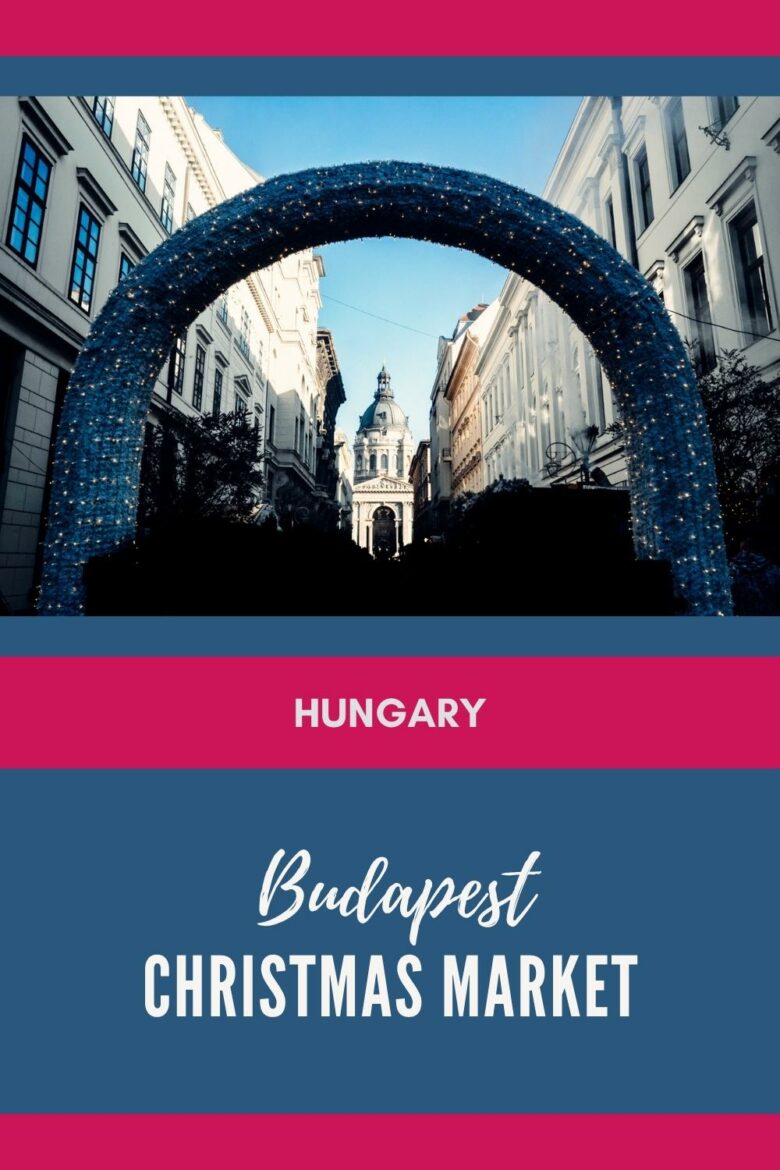 Budapest Christmas Market 2023
I'd start your visit at Vorosmarty Square, one of Budapest's most picturesque cobblestone squares in the heart of the historic 5th district.
The runner-up location is the market in front of St. Stephen's Basilica. It's a little smaller and much cosier, and it's an equally stunning area, also in the 5th district. These are very close to each other so you can easily visit both in one day.
I've listed several other locations below, which might be more convenient if you're staying in Buda or another part of the city.
1. Vorosmarty Square
Vorosmarty is Budapest's most bustling square on the Pest side of the Danube River.
The square is home to several famous attractions, including the renowned Cafe Gerbeaud, famous for its coffee and cake.
It also marks the start of Váci utca, a prominent shopping street leading to the Great Market Hall. Both the historic indoor food market and the cafe are well worth a visit.
Dates and Information
Budapest Christmas Market dates: 17th November to 31st December 2023.
Location: Varosmarty Square.
Opening hours: Sunday to Thursday: 11am to 9pm. Friday and Saturday: 11am to 10pm.
Christmas Eve: 11am to 2pm.
Christmas Day: Open 12pm to 6pm.
Boxing Day: 12m to 6pm.
28th December: Final day for the craft stalls.
New Year's Eve: Food stalls: 11am to 5am.
New Year's Day: 11am to 5pm.
Admission: Free.
Christmas lights: Yes, switch on date: 17th November.
Santa: Possibly!
Ice skating: No. Head to City Park for skating. There is children's skating at the Basilica.
Vegetarian: Yes, plenty of options.
Vegan: Yes, plenty of options.
Gluten free: Yes, but limited.
Accessible: Yes.
Pet-friendly: Yes, dogs are allowed on a lead.
Reason to visit: Budapest is vibrant, dynamic, affordable and one of the most beautiful cities in the world.
Specialities: Langos, goulash, kurtosh kalacs, salami, handmade lace and toys.
Recommended tour: I recommend taking this city tour of Budapest and Buda Castle.
Temperature in December: December temperatures are typically around 4-8C during the day with temperatures occasionally dropping below zero during the night. These days, it rarely snows in Budapest, especially not in November or December but rain is likely.
Where to stay: The Aria Hotel for a luxury stay or the D8 Hotel for a more affordable option.
Convenient Hotels
I suggest staying anywhere in the 5th district as this is the most central neighbourhood. The 7th district is also well-located, although this is the nightlife district, so it might not appeal to everyone.
Buda and the Castle District are on the other side of the Danube. This area is quieter and more residential. I stayed in Buda one time and found a lot of places were closed over the holidays.
The Aria Hotel is one of the most exceptional in the 5th district and is located near both Vorosmarty Square and St Stephen's Basilica. It has a beautiful rooftop terrace.
If you prefer a budget hotel, the D8 Hotel is a great option and is only 2 minutes from Vorosmarty Square.
I lived in Budapest for several years. Using that experience, I created a guide to hotels near Budapest Christmas Market. You can read about the different neighbourhoods and the best areas to stay in.
Location
Recommended Tours
Budapest offers something for everyone with its picturesque old cities of Buda and Pest, thought-provoking museums, a unique ruin bar scene and Art Nouveau architecture.
I recommend taking this city tour of Budapest with a local historian. It'll take you to popular sights in the Castle District, such as Fisherman's Bastion and Matthias Church, where you'll get incredible views of the Hungarian Parliament building.
You might also like to try this food tasting experience to discover some local Hungarian specialties. I did a tasting with this group, Taste Hungary, and it was a lot of fun. Such lovely people!
Other famous sights in Budapest include the Chain Bridge, Heroes Square, the Shoes on the Danube Bank memorial, the Hungarian State Opera House, Gellért Hill and be sure to visit Széchenyi thermal baths.
2. St Stephen's Basilica
St Stephen's Basilica is a pretty market held in the square in front of the basilica and in the surrounding streets.
This is a smaller market but a wonderful location in historic Pest, in the centre of the historic 5th district. From here, you're not far from the Hungarian Parliament, one of the most incredible sights in the city.
St Stephen's Basilica dates: 17th November 2023 to 1st January 2024.
Location: Szent István tér (St Stephen's Square).
Opening hours: Sunday to Thursday: 11am to 9pm. Friday and Saturday: 11am to 11pm.
Christmas Eve: 11am to 3pm.
Christmas Day: Open 11am to 8pm.
Boxing Day: 11am to 8pm.
New Year's Eve: Food stalls: 11am to 3pm. Craft stalls: 11am to 10pm.
New Year's Day: 11am to 6pm.
Travel tips: For a small fee you can take the lift to the viewing platform at the top of the Basilica. If you have visit the nearby parliament. Official ticket info. Be careful of people selling fake tickets.
3. City Park Ice Rink
Opposite Heroes' Square, Budapest's City Park becomes a winter wonderland over Christmas and New Year.
The park features an expansive outdoor ice skating rink, which has been a cherished attraction since the 19th century. You can rent skates or have your own sharpened right there.
4. Erzsébet Square
Erzsébet Square, near Vörösmarty Square, also hosts a vibrant market. Known for being a hub of events in Budapest, the square buzzes with energy.
You can try street food from food trucks and experience the lively atmosphere of outdoor bars that become especially animated in the evenings.
Additionally, a Ferris wheel in the square provides stunning aerial views of Budapest.
5. Buda
On the Buda side of Budapest, a quaint winter market comes to life, dotted with stalls selling regional products.
The market is set against the backdrop of the historic Buda Castle, a major tourist attraction, which you can reach via the funicular. Don't miss Fisherman's Bastion while you're up there.
Within the Castle District and along the Danube's banks at the foot of Castle Hill, markets and events regularly take place.
While these events vary, a visit to the area's winding streets presents a contrast to Pest's spacious layouts and is a worthwhile experience.
Christmas in Budapest
I filmed the city's winter charm when I first moved to Budapest. It gives an idea of what to expect and some footage of the New Year's Eve fireworks over the Chain Bridge.
I love this city. It's worth visiting if you have the chance.
Hungarian Specialties
The Christmas markets offer an excellent opportunity to sample traditional Hungarian cuisine. Try the classic goulash or chicken paprikash, or for something to eat on the go, grab street food classics like lángos or kürtőskalács, also known as chimney cake.
The markets cater to both dining experiences: you can enjoy full meals with seating at benches and tables, or you can choose snacks that are perfect for eating as you stroll through the markets.
Langos – A Hungarian speciality, langos is a deep-fried flat dough, usually topped with garlic, sour cream and grated cheese. One of the best is from Karavan on Kazinczy utca in the Jewish Quarter.
Kürtőskalács (chimney cake) – This is the famous woodfired, sugar-coated cake prepared in a tubular shape. It is essentially a sweet dough rolled around a long, circular spit and cooked over coals, then optionally topped with cinnamon or coconut. This dish is thought to have originated in the Transylvanian region of Romania by ethnic Hungarians.
Beef goulash – This classic Hungarian beef stew is known around the world. You can try it at the markets, but you'll have much nicer versions at one of the nearby traditional restaurants. You can also find vegetarian goulash at a few places in Budapest.
Chicken paprikash – Another classic Hungarian dish, this slow-cooked chicken is served with a creamy paprika sauce, again probably best at a restaurant.
Chicken schnitzel – It's not just the Viennese that love a schnitzel; the Hungarians have their own delicious version, which is a good option at the markets as you can easily eat it in sandwich form. If you can't find it at the markets, one of the best, cheapest and freshest versions can be found at Belvárosi.
Hungarian salami – Mild and spicy versions of this specialty are easy to come by in Budapest. Go to the Great Market Hall for the most extensive range.
Pancakes – Sweet and savoury pancakes are a great snack in the festive atmosphere. This is a cheap street food that is commonly available.
Dobos torta – This famous Hungarian cake layered with chocolate buttercream and topped with a thin layer of caramel. There are many Hungarian cake shops around Budapest, but Cafe Gerbeaud in Varosmarty Square is one of the most famous and fanciest places to try it. You can order a takeaway or eat inside the beautiful, historic cafe. Alternatively, if you're on a budget, you can get a more affordable slice at Jégbüfé at Kígyó utca 4-6 in the 5th district.
Tokaj wine – It's not just Slovakia where you can find the famous Tokaj wine region; it also crosses the border into Hungary. While this region isn't near Budapest, you can get this sweet wine in many places. It's a lovely complement to a slice of dobos torta.
Palinka – Every country has their own version of brandy; in Hungary, it is known as palinka. It comes in various fruit flavours, and you can get shots from food trucks and bars. Of course, it's very strong, so that it won't be to everyone's liking, but you might find a flavour you like.
Unicum – A strong herbal liqueur unique to Hungary, this is a very special drink that locals drink as an aperitif or digestif. First produced in 1790, the drink is bitter and, in my opinion, tastes awful. It's most definitely an acquired taste. You can read about the drink's long history here.
Unique Traditions
One of the celebrated traditions is Mikulás, the Hungarian name for St. Nicholas Day. Occurring in early December, it's a special time when St. Nicholas visits to deliver gifts to children.
Another custom in Hungary is the making of traditional gingerbread. Infused with cinnamon and cloves, these gingerbread creations are intricately decorated with Hungarian folk patterns, often in the national colours of red, green, and white.
Further Information
Visit Hungary publishes the latest information for locals and travellers that can help with trip planning.
Sustainable Travel Tips
Here are some simple measures that visitors can implement to travel with a lower impact:
Shop with care: Try to only to purchase what you need rather than indulge in impulse buying.
Sustainable transport: Walking, cycling, and public transport are excellent ways to reduce carbon emissions. Budapest has a well-established public transport network, and cycling is an excellent way to explore the city.
Green hotels: Budapest has several eco-friendly accommodation options powered by renewable energy.
Avoid short-stay apartments: Short-term rentals can lead to a lack of affordable housing for locals, resulting in social and environmental problems. Booking a hotel is a more sustainable choice.
Eat local organic food: Eating locally sourced organic food supports Hungarian farmers and biodiversity.
Explore beyond tourist areas: Exploring the less-explored areas of Budapest can offer visitors a more authentic experience while contributing to the local economy. Try the 8th district for somewhere different.
Attend local events: Budapest hosts many art and cultural events annually. You can support the local arts community and contribute to sustainable tourism by attending such events.
If you have any questions or comments about visiting the Budapest Xmas market in 2023 or visiting Budapest in winter more generally, please leave a comment below.
—
Recommendations are independently chosen based on personal travel experiences and extensive research. This post contains affiliate links to hotels and tours in Budapest, Hungary. This means I get a small commission from any bookings at no extra cost to you.