Budapest has one of the best Christmas markets in Europe leading the city to be a popular winter break destination. Most visitors tend to stay 3 or 4 days but there are more than enough things to do to keep you occupied on a longer visit.
The main Budapest Christmas Market and Fair is open from November and continues past Christmas Day until New Year's Day.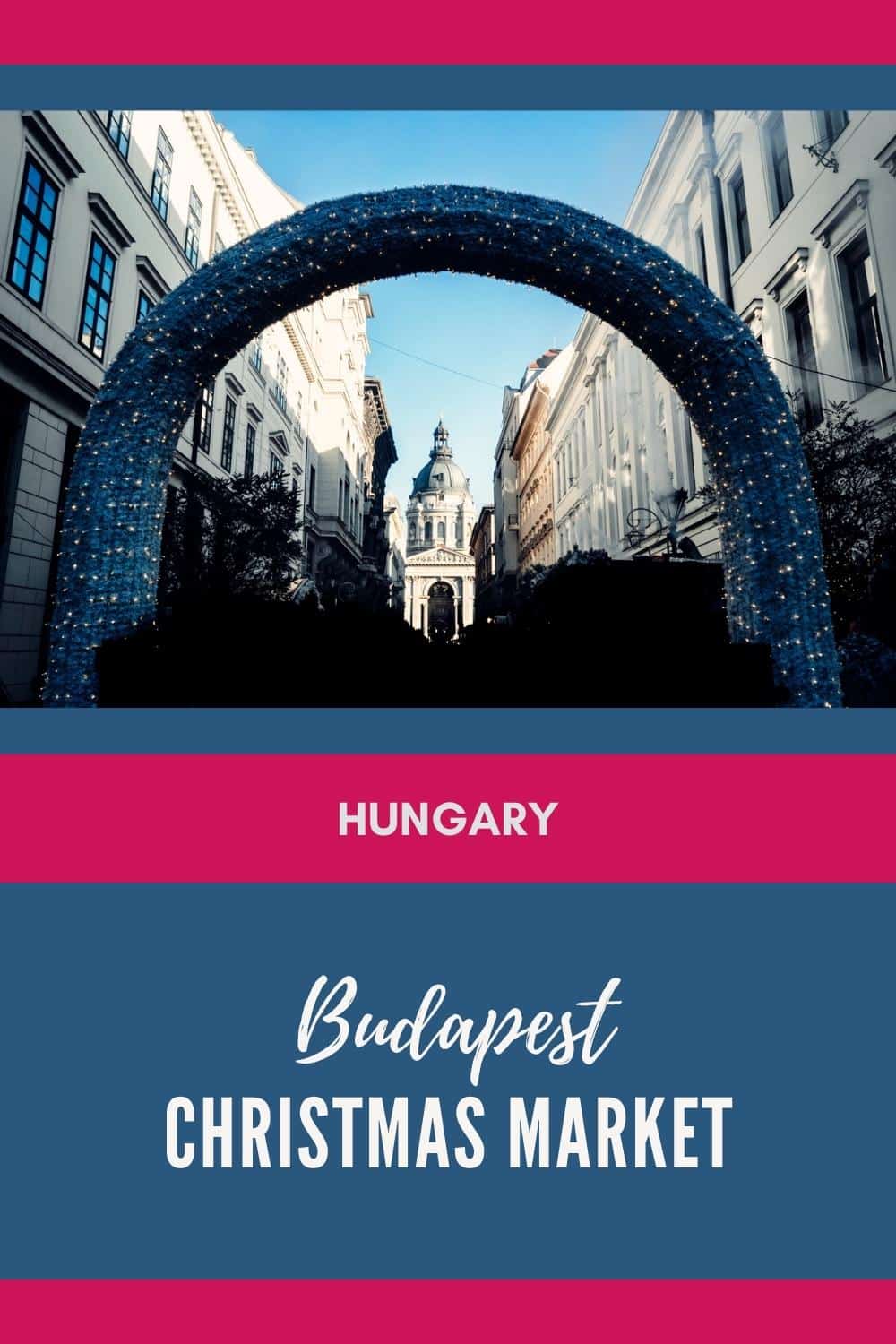 Budapest Christmas Market 2022
There are multiple markets around the city, but the Vorosmarty Square Christmas Market is the most popular.
The second most popular is found in front of St Stephen's Basilica. Both are located in the central 5th district.
1. Vorosmarty Square Christmas Market
The main market is known as the Budapest Christmas Fair and is sometimes referred to as the Vorosmarty Square Christmas Market.
Vorosmarty Square is one of the busiest squares on the Pest side of the Danube River.
It's home to the famous Cafe Gerbeaud and Budapest's largest Christmas market.
The square is the starting point of Vaci utca, Budapest's main touristy shopping street which leads all the way to the Great Market Hall, the historic indoor food and shopping market.
Dates and Locations
Budapest Christmas Fair: The main Christmas market in Budapest.
Budapest Christmas Market dates: 18th November to 31st December 2022.
Opening hours: Generally from 10am to around 9 or 10pm.
Location: Varosmarty Square in the beautiful 5th district of Budapest on the Pest side of the river.
Reason to visit: Budapest is vibrant, dynamic, affordable and one of the most beautiful cities in the world.
Specialities: Langos, goulash, kurtosh kalacs, salami, handmade lace and Christmas toys.
Temperature in December: December temperatures are typically around 4-8C during the day with temperatures occasionally dropping below zero during the night. These days, it rarely snows in Budapest, especially not in November or December but rain is likely.
Hotels near Budapest Christmas Market
I lived in Budapest for several years. Using that experience, I created a guide to hotels near Budapest Christmas Market. You can read about the different neighbourhoods and the best areas to stay in.
I suggest staying anywhere in the 5th district as this is the most central neighbourhood. The 7th district is also well-located although this is the nightlife district so might not appeal to everyone. Buda is on the other side of the Danube and is quieter and generally more residential.
The Aria Hotel is one of the most exceptional in the 5th district and is located near both Vorosmarty Square and St Stephen's Basilica.
If you would prefer a budget hotel, the D8 Hotel is a great option and is only 2-minutes from Vorosmarty Square.
2. St Stephen's Basilica Christmas Market
There is a great Christmas market in front of the basilica from November to January. This is a smaller market but a wonderful location in historic Pest, in front of St Stephen's Basilica. From here, you're not far from the Hungarian Parliament, one of the most incredible sights in the city.
Dates and Opening Hours
St Stephen's Basilica Christmas Market dates: 18th November 2022 to 1st January 2023.
Opening hours: Usually 10am to 8pm and later on the weekends.
Location: Szent István tér (St Stephen's Square), in front of the St Stephen's Basilica in the 5th district.
Reason to visit: A small but cosy market with a small ice rink and Christmas tree in the centre.
Specialities: Langos, goulash, kurtosh kalacs, salami, handmade lace and Christmas toys.
Travel tips: For a small fee you can take the lift to the viewing platform at the top of the basilica. If you have time to visit the nearby parliament, it is free to visit for EU nationals and a small fee is payable for others (bookings are required).
3. City Park Ice Rink
Just across from Heroes' Square is Budapest's City Park. This turns into a winter wonderland over the Christmas and New Year period, with the park's lake being turned into an outdoor ice skating rink.
Ice skating has been a popular event here since the 19th century and continues to be so today. You can hire skates here or have your own sharpened if you need to.
4. Erzsébet Square Christmas Market
Erzsébet Square (Elizabeth Square in English) is located just steps from the Vorosmarty Square Christmas Market, yet they hold one of their own.
There are lots of things going on here as it's one of the most popular locations in Budapest for holding events.
You'll find plenty of food trucks here and outdoor bars, which can get very lively at night. The square has a Ferris wheel for great views over Budapest.
5. Buda Christmas Market
The Buda side of Budapest holds its own small winter market with Christmas stalls that specialise in gifts, food and drinks like mulled wine.
Buda Castle is an interesting destination for tourists in this area and there are often markets and events within the Castle District as well as at the base of Castle Hill along the banks of the Danube.
These events change from time to time but it's worth stopping by and exploring the narrow streets of Buda that are very different to the wide open districts of Pest.
Hungarian Specialties
The Christmas markets in Budapest are a great place to try out traditional Hungarian specialties from the famous paprika-spiced goulash or chicken paprikash to quick and easy street food like langos or kürtőskalács (chimney cake).
You can get full meals at the Christmas market and there are plenty of benches and tables where you can sit but other items can easily be consumed while standing or walking around the markets.
A great introduction to Hungarian cuisine can be experienced via a food tour with a local guide. I recommend this food tour as you get to try many different specialties while also learning about Hungarian and Budapest history and culture. The tour is run by Taste Hungary, a highly respected food tour company in Budapest.
Langos – A Hungarian speciality, langos is a deep-fried flat dough, usually topped with garlic, sour cream and grated cheese. This is not only popular at the Christmas markets in Budapest but at most European Christmas markets. If you don't get the chance to try it at the Christmas markets, you can get it at any time from Karavan on Kazinczy utca in the Jewish Quarter.
Kürtőskalács (chimney cake) – This is the famous woodfired, sugar-coated cake that is prepared in a tubular shape. It is essentially a sweet dough that is rolled around a long, circular spit and cooked over coals then optionally topped with cinnamon or coconut. This dish originated in the Transylvanian region of Romania by ethnic Hungarians.
Beef goulash – This classic Hungarian beef stew is known around the world. You can try it at the Christmas markets but you'll have much nicer versions at one of the nearby traditional restaurants. You can find vegetarian goulash at a few places in Budapest.
Chicken paprikash – Another classic Hungarian dish, this slow-cooked chicken is served with a creamy paprika sauce, again probably best at a restaurant but you can get it from the Christmas markets at Vorosmarty Square.
Stuffed cabbage – A well-known and popular dish all around Central Europe, the Hungarians love it too and it's worth trying if you're looking for a hearty meal.
Chicken schnitzel – It's not just the Viennese that love a schnitzel, the Hungarians have their own delicious version and this is a good option at the markets as you can easily eat it in sandwich form. If you can't find it at the markets, one of the best, cheapest and freshest versions can be found at Belvárosi.
Hungarian salami – Mild and spicy versions of this Hungarian specialty are easy to come by in Budapest at any of the markets or supermarkets. It's great as a snack, for a picnic or to take home with you.
Smoked cheese – There are plenty of locally made Hungarian cheeses worth trying while in Budapest. Smoked cheese is quite common in Hungary and a unique flavour that some love.
Pancakes – Sweet and savoury pancakes are a great snack you can enjoy while taking in the festive atmosphere. This is a cheap street food that is commonly available.
Dobos torta – This famous Hungarian cake layered with chocolate buttercream and topped with a thin layer of caramel. There are many Hungarian cake shops around Budapest but Cafe Gerbeaud in Varosmarty Square is one of the most famous and fanciest places to try it. You can order it takeaway or eat inside the beautiful, historic cafe. Alternatively, if you're on a budget, you can get a more affordable slice at Jégbüfé at Kígyó utca 4-6 in the 5th district.
Tokaj wine – It's not just Slovakia where you can find the famous Tokaj wine region, it crosses the border into Hungary too. While this region isn't near Budapest, you can get this sweet wine at the Christmas markets and bars in the area. It's a lovely complement to a slice of dobos torta.
Palinka – Every country has their own version of brandy and in Hungary, it is known as palinka. It comes in various fruit flavours and you can get shots from food trucks and bars. Of course, it's very strong so won't be to everyone's liking but you might find a flavour you like.
Unicum – A strong herbal liqueur that is unique to Hungary, this is a very special drink that locals drink as an aperitif or digestif. First produced in 1790, the drink is bitter and in my opinion, tastes awful. It is most definitely an acquired taste. You can read about the drink's long history here.
Hungarian Traditions
Hungary has a long, rich history and cultural traditions. Budapest is a wonderful city to experience these and learn about its past and present.
Hungary celebrates St Nicholas an event that is called Mikulás in Hungarian. St Nicholas arrives in early December to give gifts to children.
Hungarians also celebrate Christmas by preparing traditional gingerbread. The gingerbread is flavoured with cinnamon and cloves and then decorated in folk motifs using red, green and white national colours.
Location of Budapest Christmas Markets
Sustainable Travel Tips
The choices we make have an environmental and social impact on the places we visit. When visiting the Christmas markets, keeping sustainability in mind is important.
Implement some or all of these simple measures to create a positive impact.
Shop mindfully. Only purchase what you really need.
Walk, cycle and use public transport to get around.
Stay in a sustainable hotel powered by renewable energy.
Stay in hotels. Short-stay apartment accommodation can lead to a lack of affordable housing for locals.
Avoid using plastic or buying items made or packaged with plastic.
Try to eat locally sourced organic food where possible.
Limit your consumption of meat and dairy.
Be open to diverse cultures and experiences.
Explore more than just the main tourist areas.
Support the arts and attend local events.
Visit fewer places but stay longer at each destination.
FAQ
When does Budapest Christmas Market start?
Budapest Christmas Markets starts 18th November 2022 and continues until 31st December.
Where is Budapest Christmas Market?
Varosmarty Square and 4 other locations.
What to buy at Budapest Christmas Market?
Handmade toys, jewellery boxes, lace and traditional food like langos, goulash and chimney cake.
Is Budapest Christmas Market good?
Yes, it's one of the best in Europe. The atmosphere is incredibly warm and festive, the food is delicious and it is more affordable than markets in Germany, Austria and the UK.
If you have any questions or comments about visiting the Budapest Xmas market in 2022 or visiting Budapest in winter more generally, please leave a comment or review below.
The latest information for locals and travellers is published by Visit Hungary, the official office of tourism.
—
Recommendations are independently chosen based on personal travel experiences and extensive research. This post contains affiliate links to hotels and tours in Budapest, Hungary. This means I get a small commission from any bookings at no extra cost to you.