Budapest is a hugely popular winter destination that sees many hotels sold out months before the festive season as well as for New Year's Eve. In this guide to hotels near Budapest Christmas Market, I simplify the hotel search and booking process.
You'll find a list of various accommodation options that covers all budgets but offers quality service, facilities and a central location near Vorosmarty Square and the other Christmas markets in Budapest.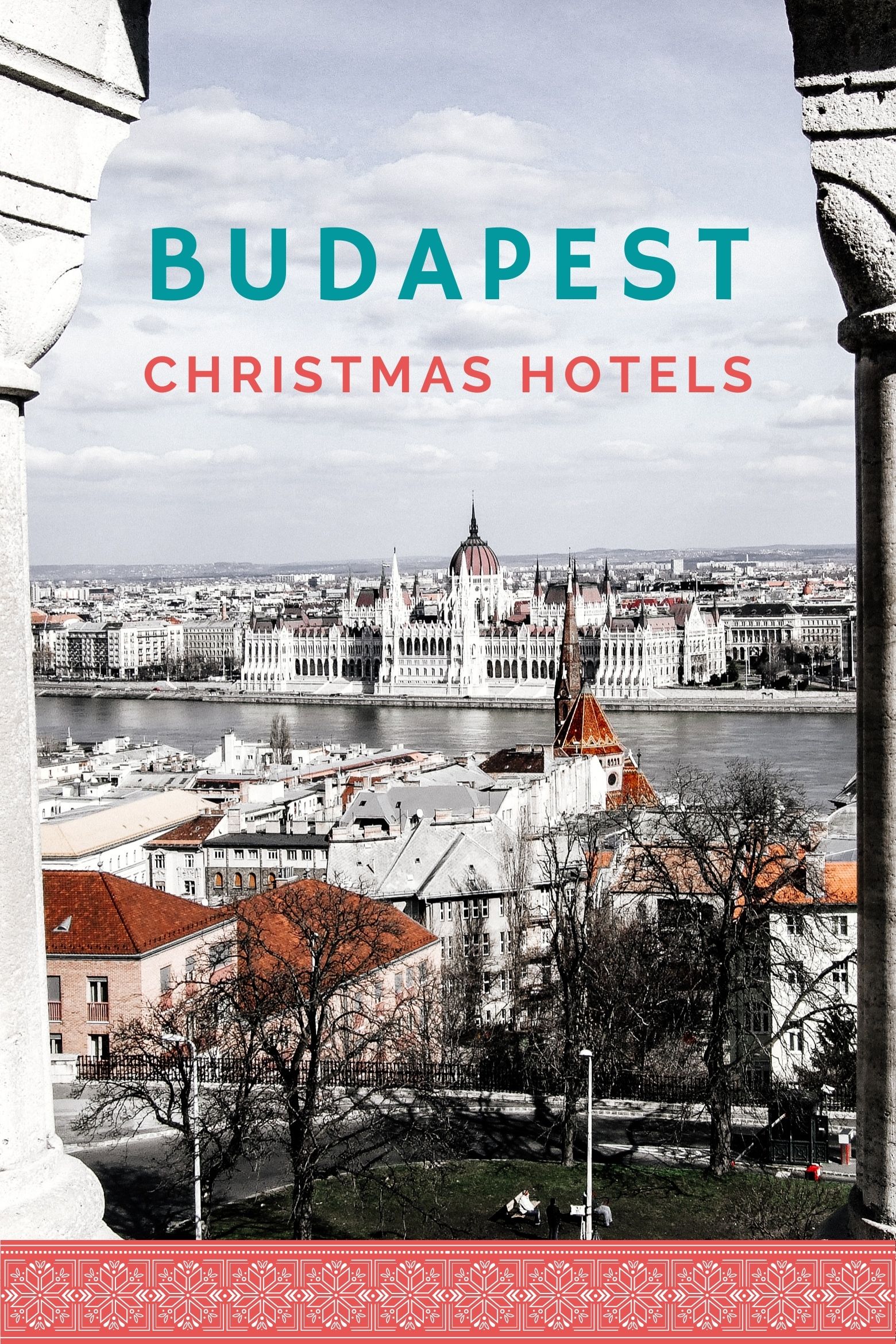 Hotels near Budapest Christmas Market
If you're looking to simplify your trip planning, go ahead and book my top pick for accommodations and move on to the next aspect of your trip. However, if you're interested in learning about the best areas to stay in close proximity to the Christmas markets, keep reading for more information.
Top Pick
Aria Hotel Budapest
Address: Hercegprímás utca 5, Budapest 5th District
If your priority is the be near the Christmas markets, Aria Hotel is in the perfect location. Steps to St Stephen's Basilica Christmas Market and less than a 5-minute walk to the main Christmas market at Vorosmarty Square everything is nearby. The hotel has a rooftop terrace with wonderful views over the city and the hotel is exceptionally rated in all categories. Daily, breakfast, tea, coffee, snacks, fruit, cheese and wine are complimentary for guests.
Check Availability
Location of Aria Hotel
If my top hotel pick is out of your budget, consider my next recommendation, which offers a quiet, clean, and affordable stay while conveniently located near the Christmas market.
Great Value Hotel
D8 Hotel
Address: Dorottya utca 8, Budapest, Hungary
One of the best budget hotels in Budapest is D8 Hotel. The location is brilliant, halfway between the Chain Bridge and Vorosmarty Square. The rooms are simple, stylish, clean and comfortable. I highly recommend this hotel if a location close to all the sights, attractions and restaurants in Budapest is important to you.
Check Availability
Location of D8 Hotel
Where to Stay in Budapest
Below are the top hotels in Budapest sorted by district. If you're interested in learning more about each district and what it has to offer, keep reading.
Hotel Rum Budapest
Address: Királyi Pál utca 4, Budapest, Hungary
Budapest is home to a number of excellent boutique hotels, and Hotel Rum has a beautiful design, friendly service and a convenient location in the 5th District; the rooms are great value for money. The hotel is located next to a stunning university building and the beautiful Károlyi Garden. It is near the Hungarian National Museum, Central Market Hall and some of Budapest's best specialty coffee shops, including Madal, Mantra and Fekete.
Stories Boutique Hotel
Address: 26 Király utca, Budapest
Located in the 6th District on the border of the Jewish Quarter and the 5th District, Stories is one of the newest boutique hotels in Budapest, and it's well-located near the Christmas markets. Within a 10-minute walk to both Vorosmarty Square and St Stephen's Basilica, this is a great area to stay in central Budapest. The hotel is located on Kiraly utca, one of the main streets in the Jewish Quarter, where you'll find many cafes, ruin bars and boutique stores. The rooms are beautifully designed with bold colours and quality fittings. The hotel is close to the Great Synagogue and the Opera House.
Roombach Hotel
Address: Rumbach Sebestyén utca 14, Budapest
The Roombach Hotel is very affordable and well-located in the Jewish Quarter, less than 10 minutes from Vorosmarty Square. The rooms are clean, and quiet with a funky, colourful design. The single rooms are particularly affordable, making this a great budget hotel for solo travellers.
Párisi Udvar Hotel
Address: Petőfi Sándor utca 2-4, Budapest
If you would love to stay in one of Budapest's historic old buildings, Párisi Udvar Hotel is the hotel for you. Párisi Udvar is a historic arcade that was only recently restored to its former glory. It's honestly spectacular. Even if you don't stay here, I recommend stopping by to admire the building. You'll never have seen anything like it.
If you're wondering where to stay in Budapest for Christmas, let me help you to decide with a quick explanation of Budapest's layout and the best areas to stay.
Buda vs Pest
In simple terms, Budapest is made of what is essentially two cities, Buda and Pest, which are separated by the Danube River.
Buda is centred around the Castle District and the hills that overlook the Danube and the city of Pest. Buda's old town consists of narrow cobblestone streets, and the main sights are Buda Castle, Fisherman's Bastion, Gellert Hill and the historic funicular that takes you up and down the hill. Aside from the tourist areas, Buda is predominately a residential area, and it's very quiet in winter.
Pest, on the other hand, is flat with large open spaces and wide boulevards. It is a vibrant, bustling area home to many of the city's sights, attractions, museums, places to eat out, ruin bars, the Great Synagogue, the Hungarian Parliament, the Central Market Hall, St Stephen's Basilica, Heroes Square, many thermal baths and Budapest's Christmas markets.
Buda and Pest are joined by several historic bridges, the most famous being the Chain Bridge but the Liberty Bridge and Margaret Bridge are also worth crossing over. If you cross the Danube at Margaret Bridge, you can access the beautiful Margaret Island from the bridge.
Budapest Neighbourhoods
Budapest's 5th district, where the Vorosmarty Square Christmas Market and markets in front of St. Stephen's Basilica and Elizabeth Square are located, is one of the city's most visited neighbourhoods. It's a bustling area, home to several restaurants, cafes, shops, and attractions like the Hungarian Parliament Building and the Danube Promenade.
The adjacent 7th district, or the Jewish Quarter, is also a popular area to stay in. It features a vibrant nightlife scene with unique bars and ruin pubs, like Szimpla Kert and Instant. The area also boasts several historical landmarks, including the Dohány Street Synagogue, the largest synagogue in Europe, and the Gozsdu Courtyard, a lively street with a variety of restaurants and bars.
Another popular neighbourhood to stay in is the Castle District, located on the Buda side of the Danube River. This historic area is home to the iconic Buda Castle, Matthias Church, and Fisherman's Bastion, all offering stunning views of the city. The area is also known for its charming streets and alleys lined with picturesque buildings and shops.
The 6th district is also a great option for travellers who want to be close to attractions like the State Opera House, Andrássy Avenue, and the House of Terror Museum. This neighbourhood has a lively atmosphere and offers an abundance of restaurants, cafes, and shopping opportunities.
Finally, the 8th district, also known as Józsefváros, is an up-and-coming neighbourhood in Budapest that is worth exploring. While it may not be as well-known as some of the other districts, it has a rich history and a unique character. The area is home to several hidden gems, including the Rákóczi Market, a large indoor market offering a wide variety of local produce and street food. The district also features several trendy bars and cafes, like the popular Szatyor Bar and Magvető Café. Additionally, you can explore the district's diverse architectural styles, ranging from classical to art nouveau to socialist realist.
For more information on visiting Budapest at Christmas, read our complete guide to Budapest Christmas Market that includes sightseeing tip, things to do, local specialties and Hungarian traditions.
Final Thoughts
Staying in Budapest's 5th district or the Jewish Quarter, which borders the 5th district, is a great option if you want to be near the Christmas markets.
These areas offer a lively atmosphere and are home to several attractions, shops, and restaurants. The Castle District and 6th district are also great options if you're looking to stay close to the markets while experiencing different aspects of Budapest's culture and history.
Ultimately, there are plenty of unique areas to stay in Budapest to suit every traveller's interests and budget, so it's worth researching and considering different areas before making a decision.
—
Recommendations are independently chosen based on personal travel experiences and extensive research. This post contains affiliate links to hotels in Budapest, Hungary. This means I get a small commission from any bookings at no extra cost to you.