As the halfway point of the Wild Atlantic Way, Galway is a wonderful resting point with plenty of intriguing sights and things to do. Spend time wandering through the cobblestone streets, venture down to the wild coastline or relax with a beer at a classic pub. In this guide, I share dates and details of Galway Christmas Market, one of the best in Ireland.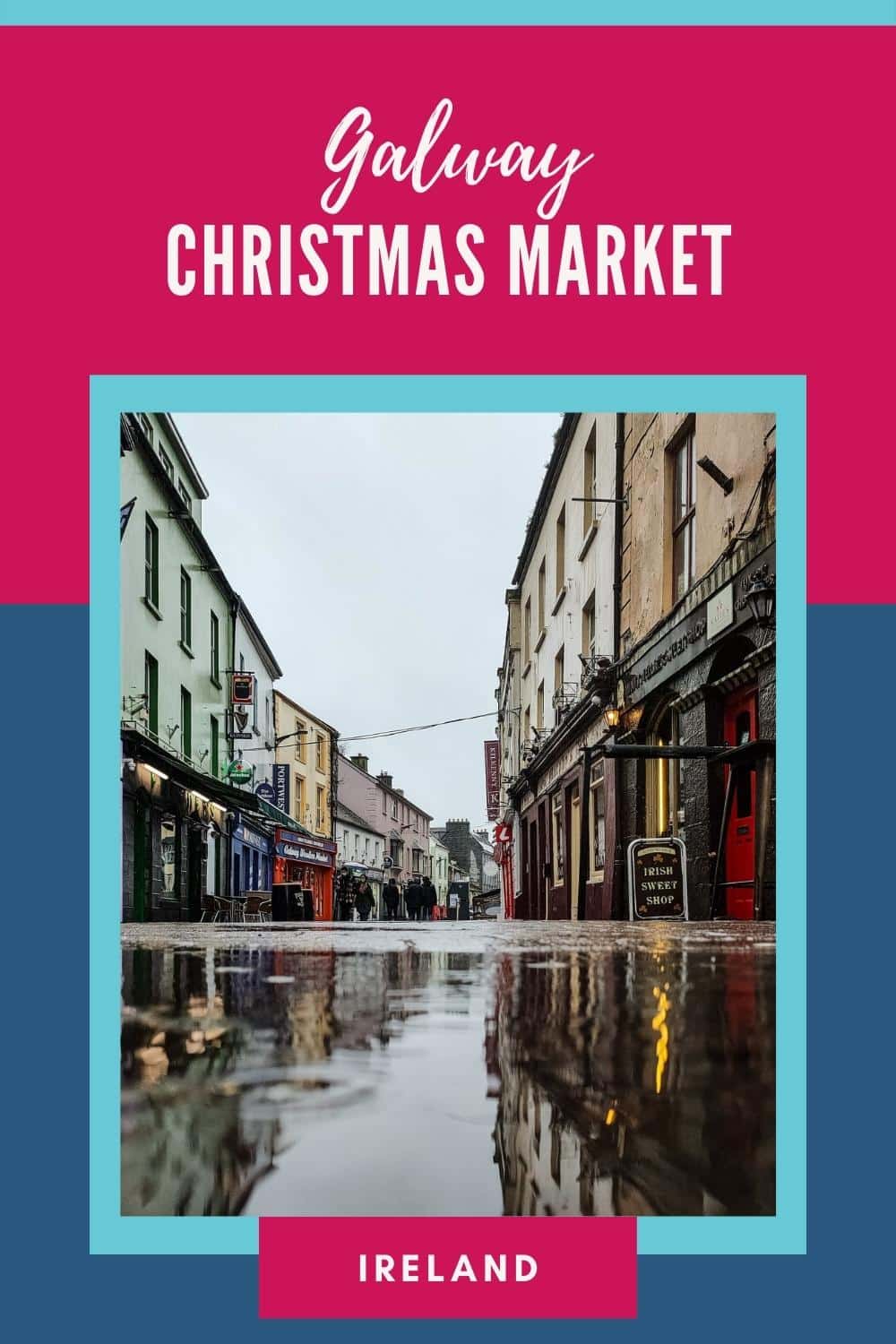 Galway is an absolutely stunning city, surrounded by beautiful landscapes. But the city centre itself is gorgeous. Expect to see beautiful waterways, green open spaces, charming streets and historic town squares. Winter is one of the best times to visit as the season is packed with festivals and events.
Galway Christmas Market 2022
More than 350,000 people visited Galway Christmas Market last year, and this year is likely to draw an even larger crowd. Held at Eyre Square, the ideal destination for the more than 50 Christmas chalets, carousels and decorated trees.
Galway Christmas Market dates: 11th November to 22nd December 2022.
Opening times: 10am to 10pm, closes at 8pm on Sunday. Opens at 12 noon to 8pm from Monday to Wednesday.
Location: Eyre Square in Galway city centre.
Recommended tour: Get a taste of Galway's specialties with walking food tour.
Reason to visit: A great atmosphere plus the Big Wheel, Carousel, Santa's Grotto, the German Bier Keller.
Specialities: Bratwurst, French pastries, pretzels or confectionery, crêpes and waffles.
Where to stay Skeffington Arms Hotel is a comfortable hotel located directly on Eyre Square.
Hotels near Galway Christmas Market
Galway city centre is surrounded by waterways. The central district spans from the Latin Quarter up towards Eyre Square. Anywhere between these two destinations would be an ideal area to stay.
I suggest staying at Skeffington Arms Hotel if you would like to stay near the Christmas market as you'll find it directly at your door.
Location of Galway Christmas Market
Add another destination to your Christmas holiday. Pick from my list of Christmas markets in Ireland. Discover where to go, things to do and the best ways to experience Ireland's food, history and culture.
Galway Tourism has information regarding events and the best ways to experience Galway Christmas. Their website is especially useful if this is your first time in Galway.
Sustainable Travel Tips
The choices we make have an environmental and social impact on the places we visit. Try to implement these responsible travel measures when visiting the Christmas markets.
Shop mindfully. Only purchase what you really need.
Walk, cycle and use public transport to get around.
Stay in a sustainable hotel powered by renewable energy.
Avoid using plastic or buying items made or packaged with plastic.
Try to eat locally sourced organic food where possible.
Limit your consumption of meat and dairy.
Be open to diverse cultures and experiences.
Explore more than just the main tourist areas.
Support the arts and attend local events.
FAQ
When does Galway Christmas Market start?
Galway Christmas Market starts on 11th November and continues until 22nd December 2022.
Where are the Christmas markets in Galway?
The Christmas market takes place on Eyre Square in Galway city centre.
What time does Galway Christmas Market open?
Galway Christmas Market opens at 10am from Thursday to Sunday and at 12 noon from Monday to Wednesday.
What time does Galway Christmas Market close?
Galway Christmas Market closes at 10pm from Thursday to Saturday and closes at 8pm on other days.
If you would like to leave a review of Galway Xmas Market, feel free to comment below.
—
Recommendations are independently chosen based on personal travel experiences and extensive research. This post contains affiliate links to hotels and tours in Galway, Ireland. This means I get a small commission from any bookings at no extra cost to you.