If you're looking for a white Christmas, Oulu, in northern Finland, is a great choice, where you'll likely find snow-covered streets and nature.
This wouldn't be for me, but if you're up for it, ice swimming is popular, or you could go skiing for a more conventional activity.
The city also hosts the Oulu Christmas Market for a short period in December. Read on for dates and opening times and local products you might find interesting.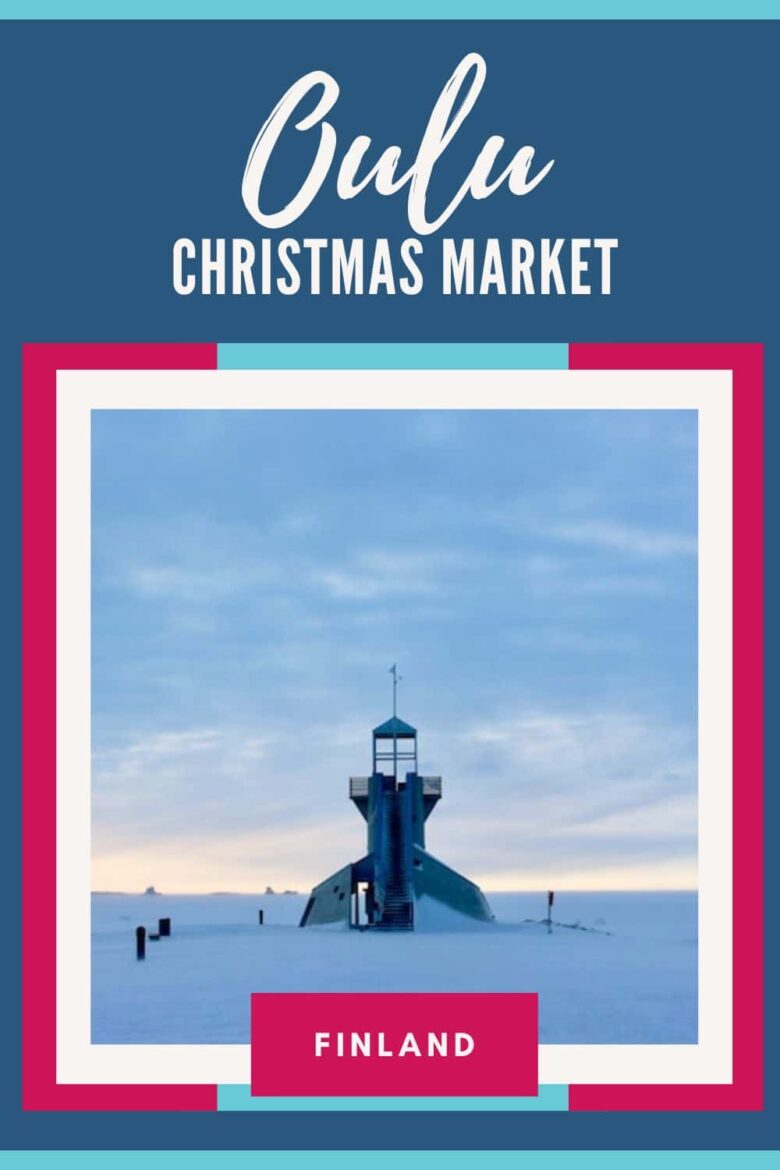 Oulu Christmas Market 2023
Be prepared to experience the polar nights in Oulu, a unique atmosphere in this part of the world with limited daylight in the middle of winter.
Despite darkness falling around 3pm, the city stays illuminated; many houses put up electric candles and Christmas lights to brighten the streets.
A Christmas forest is located at Rotuaari Square, with a few food stalls, and the shopping and gift stalls are along Kauppurienauiko in front of the Valkea centre.
A unique treat in Oulu is their version of glögi, a mulled wine with a Finnish twist that includes lingonberries and blackcurrants.
Dates and Information
Oulu Christmas Market dates: 7th to 22nd December 2023.
Christmas forest: 6th to 26th December 2023.
Location: Valkea, Kauppurienauiko and Rotuaari Square.
Opening times: Monday to Friday: 11am to 5pm. Saturday and Sunday: 1 am to 3pm.
Christmas Day: Closed.
Admission: Free.
Christmas lights: No switch on date announced.
Santa: No.
Ice skating: Yes, at Raksila Artificial Ice Rink.
Vegetarian: Yes, plenty of options.
Vegan: Yes, plenty of options.
Gluten free: Yes, but limited.
Accessible: Yes.
Pet-friendly: Yes, but not recommended during busy periods.
Parking: Please take public transport to help limit congestion.
Reason to visit: A white Christmas with Finnish crafts. Polar nights. Potential to see the Northern Lights.
Food specialities: Berry flavoured glögi, Finnish pastries, local fish dishes.
Where to stay: Original Sokos Hotel is a popular hotel, located one block from Valkea.
Where to Stay
Oulu is a relatively small city, so staying anywhere in the city centre should be convenient. The area is central and gives you easy access to festivities and shopping.
I recommend the Original Sokos Hotel for its location in this area.
To get a complete overview of winter markets in the region, read my Finland Christmas Markets guide.
Location
Christmas in Oulu
Local Specialties
Karelian pasty (Karjalanpiirakka): These small pastries are filled with rice, mashed potatoes or carrot and rice filling. They're a staple in Finnish cuisine.
Finnish Meatballs (Lihapyörykät): Served hot from the market stalls, they differ from their Swedish cousins. The mix usually includes pork and is seasoned with white pepper and ginger. They are often served with gravy and lingonberry sauce.
Gingerbread cookies (Piparkakut): In Oulu, you can find these cookies shaped in various forms like stars, hearts and animals. They are often elaborately decorated and make for great gifts.
Fish dishes (Kala): Especially grilled salmon and fish pie appear. The freshness of local fish makes these dishes stand out. The grilled salmon is usually seasoned minimally to let the natural flavours shine.
Glögi: This Finnish mulled wine includes red wine, spices, and often almonds and raisins. The drink can also be non-alcoholic, and you can buy a cup to warm up while you walk around the market.
Sausages (Makkara): These are often grilled on an open flame at the stall. Unlike typical sausages, these might contain unique ingredients like reindeer.
Rice Porridge (Riisipuuro): This creamy dish is often flavoured with cinnamon and sugar, and sometimes a single almond is hidden inside. It's a traditional Christmas Eve breakfast in Finland.
Leipäjuusto: Also known as Finnish squeaky cheese, this is a fresh cheese traditionally made from cow, goat or reindeer milk. It's often served with cloudberry jam.
Gifts and Stocking Fillers
Lappish Handicrafts: Unique to the Lapland region, these crafts often incorporate natural materials like wood and reindeer antlers. The designs are rooted in Sami culture and are often functional, such as kitchen utensils or small furniture.
Finnish Design Items: Renowned for its design ethos, you can find small items like dishcloths, ceramics and wooden bowls from vendors specialising in Finnish design.
Kalevala Jewellery: Named after the national epic, this brand offers traditional Finnish jewellery. The pieces often feature designs inspired by nature and Finnish folklore, making them unique gifts or souvenirs.
Rye Bread (Ruisleipä): While not a souvenir, this traditional Finnish bread is something many choose to take home. It's darker, denser and more sour than most other bread, making it unique to Finland.
Puukko Knives: These are traditional Finnish pocket knives and are often intricately designed. Handles are often carved out of curly birch, and the blade is usually made of high-quality steel.
Cloudberry Products: Whether it's cloudberry jam or liqueur, these products are made from the rare berry that grows in the region. It's a regional specialty and is often purchased as a luxury gift.
Birch Bark Products: From small baskets to intricately designed boxes, these items are made from the bark of a birch tree. They are eco-friendly and are often used for storing dry goods.
Travel Information
To stay updated on winter activities and the latest events, take notice of the city's official website, Visit Oulu, as a reliable source of information.
Sustainable Travel Tips
I have a few tips on travelling more responsibly in Oulu at Christmas.
Eco-Friendly Hotels: Oulu has several hotels that operate on renewable energy sources. Prioritise these over traditional ones to minimise your carbon footprint.
Reducing Food Waste: The Christmas market in Rotuaari Square features local food stalls. While sampling local treats, consider sharing portions to avoid wasting food. Many vendors also use compostable or recyclable packaging, contributing to less waste.
Ethical Consumption: When shopping for gifts or souvenirs, think about the longevity and usefulness of the items. Handmade crafts by local artisans are not only unique but also support the local economy. Try to buy only what you need or can use.
Sustainable Diets: At Oulu's market, there's an option for locally sourced produce and plant-based food items. These choices reduce the carbon footprint associated with your meal.
Sustainable Transport: Public transport in Oulu is efficient and often powered by cleaner fuels. The city also has well-maintained pedestrian paths and cycle lanes. Try to walk or bike to reach nearby destinations, reducing environmental impact.
Comment below if you want to leave a review of Oulu Xmas Market or have any questions.
—
Recommendations are independently chosen based on personal travel experiences and extensive research. This post contains affiliate links to hotels and tours in Oulu, Finland. This means I get a small commission from any bookings at no extra cost to you.