Chatsworth House Estate is open over Christmas, when you can visit the stately home, garden, farmyard and playground. You can also visit Chatsworth Christmas Market in November, a family-friendly event with over 100 festive stalls. Tickets must be booked in advance. Read on for full details and dates.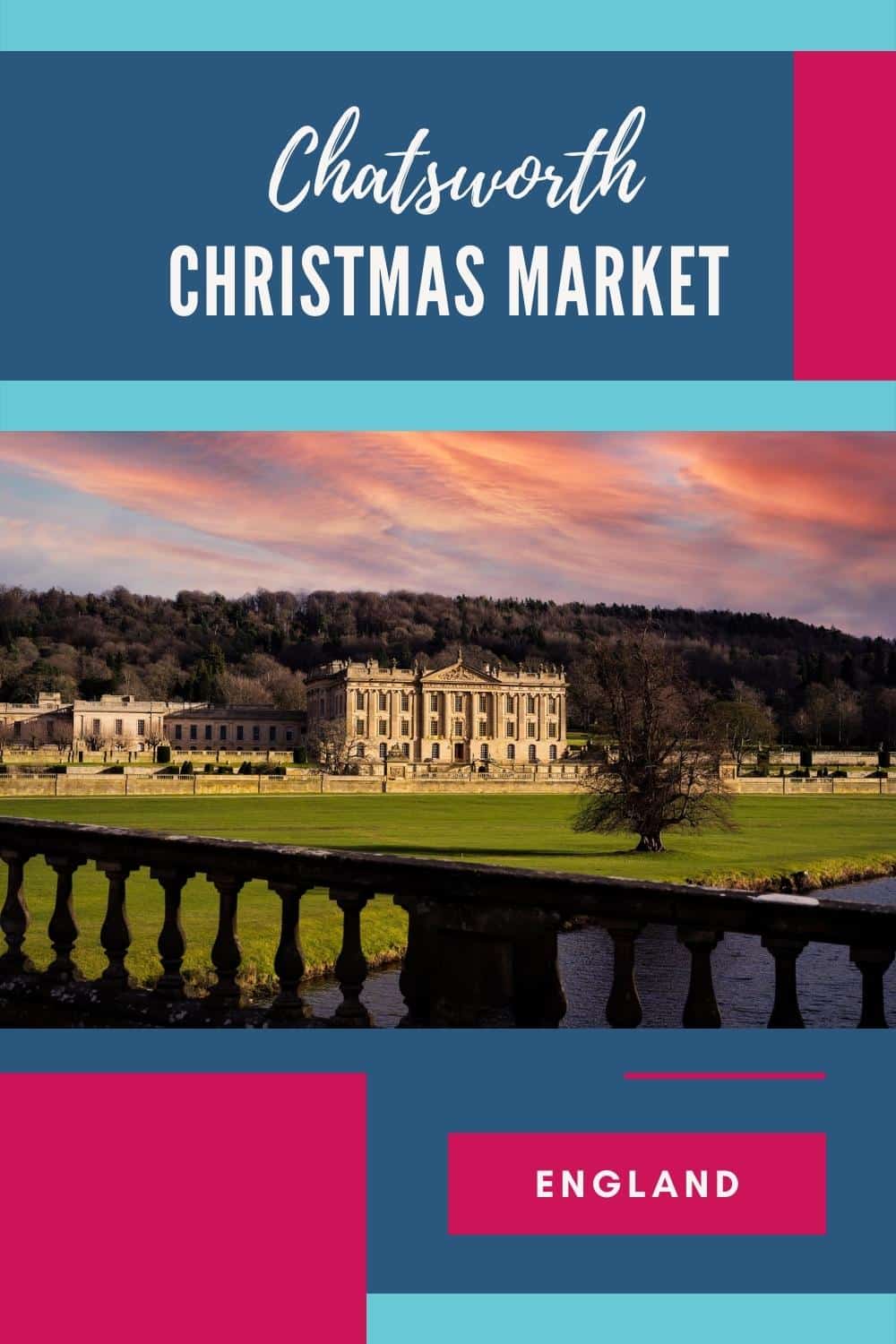 Chatsworth Christmas Market 2023
The Chatsworth House Christmas Market is an event within the larger Christmas at Chatsworth event that continues into January.
The ticketing system appears a bit confusing at first glance, but it's actually straightforward.
Firstly, you need to decide if you simply want to visit the Christmas market or if you want to visit the event inside the house or maybe the gardens.
Arriving by Bus – Free Entry
The Christmas market on its own is a free event only if you arrive by public transport. Take the bus for free entry.
Arriving by Car – Ticket Required
If you're not arriving by public transport, you'll need to either:
Book and pay for a car park ticket.
Or purchase the Christmas at Chatsworth ticket.
Themed Event
If you want to take part in the themed event that takes place inside the house, then that requires a ticket. There are various ticket options available. See below.
Same-Day Tickets
Tickets must be booked in advance. Same-day tickets are available if not sold out prior, but it's recommended that you book your ticket well in advance. Tickets often sell out before the day.
Dates and Tickets
Chatsworth Christmas Market dates: 4th November to 26th November 2023.
Christmas at Chatsworth continues until 7th January 2024.
Location: Chatsworth House, Peak District, Derbyshire.
Opening times: 10am to 5:30pm and until 6pm on Fridays and Saturdays.
Free entry: Admission is free if you arrive via public bus.
Car park only ticket: Parking is £15 on weekdays and £25 on weekends. This includes access to the Christmas market.
Christmas at Chatsworth ticket: The Christmas at Chatsworth ticket includes access to the themed Christmas event inside Chatsworth House and the Christmas market.
Christmas at Chatsworth ticket price: Adult – £29.50, child – £18, family (2 adults, up to 3 children) – £78.
Christmas theme 2023: Available from mid-September.
Book online: Chatsworth
Reason to visit: A unique themed Christmas event at Chatsworth House and the free Christmas market on the beautiful grounds.
Specialities: German beer, British sausages, hot pork rolls and pancakes.
Where to stay: Holly Cottage B&B is a highly-rated B&B in Pilsley, 5 minutes drive from the Christmas market. Catch the bus to Chatworth House for free entry to the Christmas market.
Hotels near Chatsworth House
Accommodation near Chatsworth House is mostly B&B cottages and suites in the Peak District. There are many well-rated places in the surrounding villages of Baslow, Pilsley, Beeley, Rowsley and the market town of Bakewell.
I suggest staying at Holly Cottage B&B as it's located in beautiful Pilsley, a 5-minute drive to Chatsworth House. But take the bus for free access to the Christmas market.
By avoiding a long drive back to your hotel, staying nearby makes it easier to enjoy the Chatsworth Christmas lights in the evening.
Location of Chatsworth Christmas Market
Christmas at Chatsworth
Chatsworth House is a grand house and estate home to the Duke and Duchess of Devonshire. It's located in Derbyshire, England and is known for hosting an annual Christmas market each November and the Christmas at Chatsworth event that continues until early January.
The house is often decorated extensively for Christmas, usually around a particular theme that is announced each September. Visitors can tour the house and see the elaborate holiday decorations, which traditionally include beautifully decorated Christmas trees, intricate table settings and festive accessories throughout the rooms.
During the Chatsworth Christmas Market, a variety of vendors typically set up stalls offering a range of goods. This might include artisan food and drink, unique crafts and Christmas-themed items. The event generally provides an opportunity for visitors to purchase unique gifts and enjoy festive foods and beverages.
Outside, the garden and surrounding estate are also often incorporated into the festivities, with Christmas lights and other decorations adorning the landscape.
What to Expect at Chatsworth
Artisan Food and Drink: You'll find an impressive array of artisan food and drink stalls at the Chatsworth Christmas Market. Imagine the aromas of freshly baked pastries and warming mulled wine filling the air as you wander among the stalls. Each stallholder brings their unique touch with an array of homemade and locally-sourced foodstuffs. From delicious cheeses to indulgent chocolates, you'll discover treats to delight your palate and make your festive period even more special.
Unique Crafts: Craft stalls shine brightly at the heart of the Christmas Market in Chatsworth. Skilled artisans from across the country converge here, displaying their beautiful handiwork. You'll find everything from intricately carved wooden toys to delicately crafted jewellery. These unique pieces make perfect, thoughtful gifts for your loved ones, or you might find something special for your own home.
Christmas-Themed Items: To truly get you in the festive spirit, there are plenty of Christmas-themed items at the market. Picture beautifully handmade decorations, festive wreaths and twinkling lights. You'll also find Christmas cards with delightful designs, wrapping paper and all manner of Yuletide accessories to make your holiday season sparkle.
Gift Shopping: As you walk among the market stalls, you'll uncover a treasure trove of potential gifts. The Chatsworth Christmas Market is a perfect place for finding unique and meaningful presents. With so many diverse stalls, there's sure to be something for everyone on your gift list. Plus, shopping in such a festive atmosphere makes the experience more enjoyable.
Festive Foods and Beverages: Lastly, let's not forget the pleasure of festive foods and beverages at the market. Warm up with a comforting hot chocolate, enjoy a satisfyingly rich mince pie, or why not try a traditional British Christmas pudding? The flavours of Christmas are waiting for you at the Chatsworth Christmas Market.
While you're in the area, you might like to visit nearby Bakewell Christmas Market in the Peak District.

Extend your Christmas holiday by adding a visit to one of the best Christmas markets in the UK. Discover where to go, things to do and the best ways to experience British food, history and culture.
Sustainable Christmas Tips
Here are a few tips on how we can travel more responsibly in Chatsworth at Christmas.
Renewable Energy: At your accommodation, you might want to consider staying somewhere powered by renewable energy sources. For instance, many of the charming cottages dotted around the Peak District use solar panels or wind power for their energy supply. Your stay will be less carbon-intensive, aligning with your sustainable intentions.
Food Waste Reduction: You'll likely sample some delicious festive food during your visit to Chatsworth House. Be conscious of not over-ordering or wasting food. Portion sizes can sometimes be large, so you could even share dishes. Any leftovers might be returned to your accommodation later if facilities allow. Additionally, many artisan food stalls are likely to use locally sourced ingredients, which reduces the food miles and overall carbon footprint of your meals.
Ethical Consumption: Chatsworth Christmas Market, with its array of artisan stalls, presents a great opportunity for ethical consumption. Many of the vendors at the market are likely to be small-scale producers selling handmade, high-quality goods. By purchasing from these stalls, you'll support local businesses and reduce the demand for mass-produced items, which often have a higher environmental impact.
Sustainable Diets: During your visit, you might choose to lean towards a more plant-based diet. Numerous studies show that reducing meat and dairy intake can significantly lessen our environmental impact. You'll likely find stalls at the market offering delicious vegetarian and vegan options, making it easy to eat sustainably while you're enjoying the festive atmosphere.
Sustainable Transport: Lastly, consider your transport options. The Peak District and surrounding area are well-served by public transport. You could take a train to Chesterfield or Sheffield and then a local bus to Chatsworth. By using public transport, you're reducing your carbon emissions compared to driving. If you're staying nearby, why not make the journey part of the adventure and walk or cycle to Chatsworth? It's an excellent way to soak up the beautiful Peak District scenery and enjoy the crisp winter air.
FAQ
When is Chatsworth Christmas Market?
The Chatsworth Christmas Market typically takes place in November and December, but specific dates vary each year. Please check the Chatsworth House official website for the most accurate, up-to-date information.
Where is Chatsworth Christmas Market?
The Christmas Market is held on the grounds of Chatsworth House, located in the heart of the Peak District in Derbyshire, England.
What time does Chatsworth Christmas Market open?
Opening hours for the Chatsworth Christmas Market are from 10am to 5:30pm and until 6pm on Fridays and Saturdays.
What can I buy at Chatsworth Christmas Market?
You can buy a variety of goods from artisan food and drinks to unique crafts and Christmas-themed items. It's a great place to find unique and thoughtful gifts, as well as to indulge in some festive treats.
How is Chatsworth House decorated for Christmas?
Chatsworth House is beautifully decorated for the festive season, often around a unique theme each year. Expect grand Christmas trees, festive table settings, and decorations throughout the rooms of the house.
Is Chatsworth House open for tours during the Christmas period?
Yes, Chatsworth House is usually open for tours during the Christmas period, allowing visitors to see the festive decorations. You must book your ticket in advance and check the official website for the most up-to-date information.
What other activities can I do in the Peak District during winter?
Apart from visiting the Christmas Market, the Peak District offers several winter activities. You could go for a winter walk to enjoy the beautiful scenery, visit other historical sites, or explore local towns and villages. Always check local conditions and guidelines, particularly for outdoor activities, as winter weather can sometimes be unpredictable.
If you visited Chatsworth at Christmas, please leave a review or feedback below in the comments.
—
Recommendations are independently chosen based on personal travel experiences and extensive research. This post contains affiliate links to hotels and tours in Derbyshire, England. This means I get a small commission from any bookings at no extra cost to you.