Brussels is one of Europe's best winter city breaks. The city is home to great museums, concert venues, incredible art nouveau architecture and of course Brussels Christmas Market. Many people visit Brussels purely for the food, whether that means eating out in top restaurants, enjoying street food like Belgian frites or treating themselves to the best chocolate in the world.
In Brussels, you'll find one of the most beautiful squares in the world knkown as the Grand Place and this is the location of the main Christmas market in Brussels. It's a wonderful winter event that takes place in November and December each year.
Brussels Christmas Market 2022
Brussels Christmas Market is known as Winter Wonders where you'll find around 240 wooden chalets spread out around Grand Place and neighbouring squares. The chalets surround the beautifully decorated Christmas tree and Nativity scene.
Brussels Christmas Market dates: 25th November 2022 to 1st January 2023.
Opening times: 12 noon to 10pm daily except on Christmas Eve and New Year's Eve when it closes at 6pm.
Location: Grand-Place and extending to the Bourse, Place Sainte-Catherine, Marché aux Poissons and Place de la Monnaie.
Reason to visit: Grand-Place is one of the most beautiful, historic squares in Europe.
Specialities: So many incredible food specialties. Chocolate, waffles, beer, fries, mussels, pastries. Prepare to eat a lot.
Travel tips: If you're interested in architecture, Brussels is famous for its Art Nouveau mansions including the Horta Museum.
Where to stay: Rocco Forte Hotel Amigo is located just behind Hotel de Ville de Bruxelles (the Town Hall), steps from the Christmas market.
Hotels near Brussels Christmas Market
Brussels has several beautiful districts that are popular with visitors but if you want to be near the Christmas markets, you'll want to stay as close to the Town Hall and Grand Place as possible.
I suggest staying at Rocco Forte Hotel Amigo as it's literally only 1 minute from Grand Place.
If that doesn't suit you, I prepared a list of hotels near Brussels Christmas Market that cover all budgets.
Location of Brussels Christmas Market
When in Brussels this Christmas, look out for the incredible light displays and artwork around the city in a Christmas event known as Brussels by Lights.
Along with the artwork are 142 streets and shopping areas filled with lights, making Brussels at Christmas one of the most festive cities in Europe.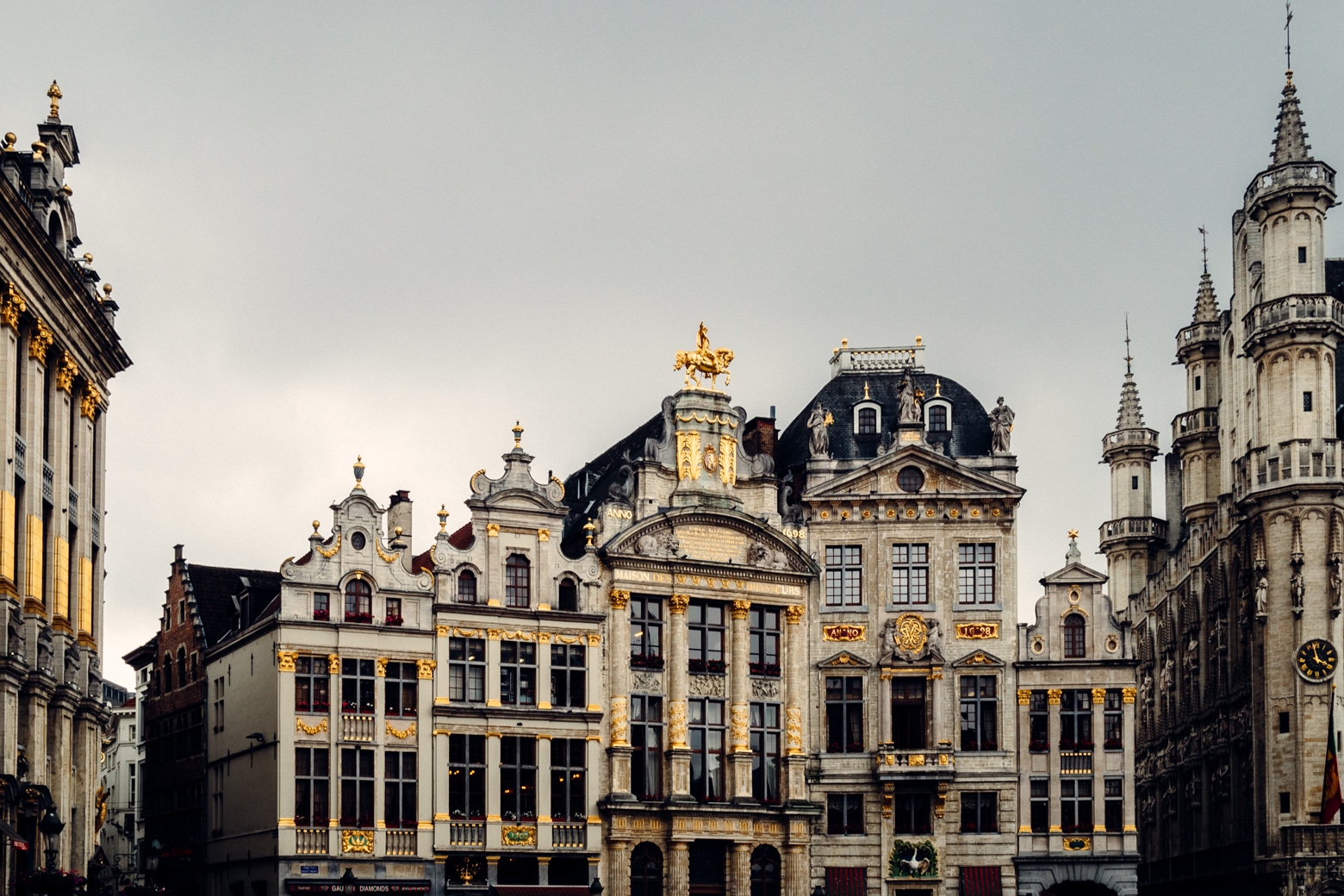 Discover Belgian Specialities
I recommend starting your visit by taking this Brussels food tour that includes 10 tastings of local specialties. This will give you a delicious overview of what you can find in Brussels.
Even if you don't consider yourself a foodie, I'm sure you'll want to try some of the incredible local specialties while in Brussels. Here are some examples of what you can expect.
Belgian chocolate – it goes without saying Brussels is famous for chocolate. You'll see plenty of well-known brands as you walk around but some of the smaller artisan chocolate shops are often the best. This list will give you some options for where to go for delicious handmade chocolate or head directly to Place du Sablon, the heart of chocolate in Brussels.

Mary – 23 Grand Place, Brussels
Wittamer – 6 Place du Grand Sablon, Brussels
Pierre Marcolini – Place du Sablon, Brussels
Frederic Blondeel – 39 Rue de Ganshoren, Brussels
Darcis – Boulevard Lambermont, Brussels
Galler – 44 Rue au Beurre, Brussels

Frites (fries) – Belgian chips or fries are one of the best street foods you'll find in Brussels. You will find stalls at the Christmas markets but look out for the famous friteries located around the city, some of these are tourist attractions in their own right.

Maison Antoine – Place Jourdan 1, Etterbeek. The most well-known, most touristy and still one of the best.
Fritkot Bompa – Avenue de la Couronne 71, Ixelles. One of the best suburban frites shops, perfect if you're staying in the fun Ixelles neighbourhood.
Friture Pitta de la Chapelle – Place de la Chapelle. Good option if you like crispy fries and the handy location near Place du Sablon near many of the chocolate shops.

Belgian waffles – Brussels waffles are the classic rectangular waffles that are typically offered with a huge number of decadent toppings. Liege waffles are the thick, rounder waffles that are rich, sweet and a little chewy, often eaten on their own or simply with powdered sugar. Try both and pick a favourite.
Locally brewed beer – I'm not much of a beer drinker but Belgian beer is world-renowned. There are plenty of breweries and pubs where you can try or visit a supermarket to pick out a few to enjoy in your hotel or back home.
I rate Brussels as the number one Belgium Christmas market. Click through to see which other destinations make the list.
Sustainable Travel Tips
The choices we make have an environmental and social impact on the places we visit. When visiting the Christmas markets, it's important to keep sustainability in mind.
Implement some or all of these simple measures to create a positive impact.
Shop mindfully. Only purchase what you really need.
Walk, cycle and use public transport to get around.
Stay in a sustainable hotel powered by renewable energy.
Stay in hotels. Short-stay apartment accommodation can lead to a lack of affordable housing for locals.
Avoid using plastic or buying items made or packaged with plastic.
Try to eat locally sourced organic food where possible.
Limit your consumption of meat and dairy.
Be open to diverse cultures and experiences.
Explore more than just the main tourist areas.
Support the arts and attend local events.
Visit fewer places but stay longer at each destination.
FAQ
Does Brussels have a Christmas market?
Brussels has several Christmas markets in different neighbourhoods around the city. The main Christmas market is located at Grand Place.
When is Brussels Christmas Market?
25th November 2022 to 1st January 2023.
Where is Brussels Christmas market?
The main Christmas market is in Grand Place (Grote Markt). There are also Christmas markets in front of the Bourse, Place Sainte-Catherine, Marché aux Poissons and Place de la Monnaie. Many Brussels neighbourhoods also have their own winter markets and are nice to visit if you have the time.
What time does Brussels Christmas Market open?
The Christmas market opens at 12 noon daily.
What time does Brussels Christmas Market close?
The Christmas market closes at 10pm except on Christmas Eve and New Year's Eve when it closes at 6pm.
Which Belgian city is famous for its Christmas market?
Brussels has the most famous and biggest Christmas market in Belgium but Bruges and Ghent also have popular markets.
If you have any questions or comments about visiting the Brussels Xmas market in 2022 or visiting Brussels in winter more generally, please leave a comment below.
—
Recommendations are independently chosen based on personal travel experiences and extensive research. This post contains affiliate links to hotels and tours in Brussels, Belgium. This means I get a small commission from any bookings at no extra cost to you.